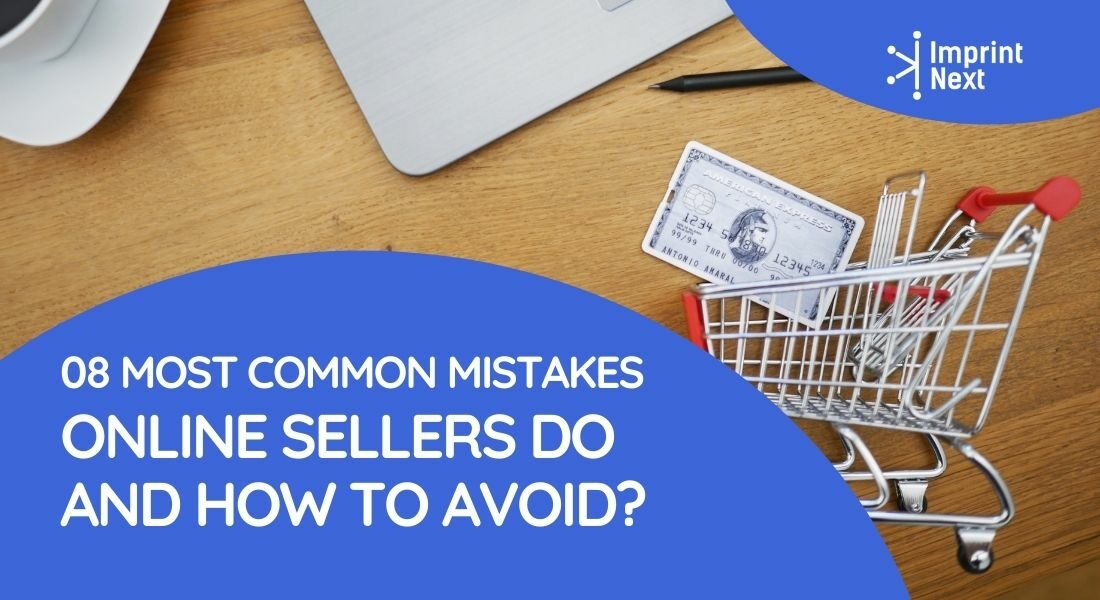 Last Updated on: 9th October 2023, 01:19 pm
Customers are part of what defines your company. They keep lighting the work they bring to you. Also, some of them help your business grow by introducing you to new customers. So it's only natural to print the best products every time.
But no matter how good your business is in printing products, you've probably come across some common pitfalls when it comes to customer experience. Even if you're confused about image requirements, order costs, or lack of general knowledge about business norms, they can be frustrating for both you and your customers.
But you don't want to tell your customers what to do? surely. But you can also chat with them and teach them to avoid some common pitfalls in their orders.
Even better, you can use some of ImprintNext's tools to work around these issues. It's a win-win situation and helps to solidify your reputation. The busy spring sports season is also beginning to pick up. Therefore, the sooner you get the tools to track your customer's orders, the better.
Some of these hurdles are related to decoration-specific factors, while others simply require clear communication with the business owner. Here are five common pitfalls that can slow down the checkout process and cause confusion, and how to avoid them.
1. Graphic design work:
Most of the people who come to your store for your service have no experience in graphic design. This is a reality, not a criticism. In particular, graphic design for promotional items and decorative clothing requires a little more attention than Instagram posts and email graphics. Perhaps the client's share came up with a design idea that, with the magic of illustrator, there's no way to act as a graphic printed on a T-shirt, let alone a keychain.
Your customers can look forward to the design. However, if you can put together something that mimics what they're looking for, you'll probably save them a lot of extra time. After discussing with them what they need for their design, be sure to develop something that you know will meet the specifications required for printing.

Do you have printers? Are those printers sitting idle?
Become a Print-on-Demand dropshipping app like Printful or Printify. Dropship your merchants' orders.
Unlimited Merchant stores. Dropship and Fulfil Merchants' orders. Manage merchant invoice, sales commission, etc. Merchants sell the designed products in shopify, etsy stores, etc.
Know more
You can streamline this process using ImprintNext's online artwork approval tool. Once you have submitted your client's design ideas within the platform and received feedback, you can proceed to set up your order.
As mentioned earlier, you don't want to "teach" your customers what to do. But if you can help guide them to a design that is known to work with the requested product, it will be a lot less work for both parties. The customer does not have to go back to the drafting board. Also, you don't have to charge extra effort to fine-tune images with strange color combinations, unstable font layouts, and vibrant graphics.
2. Image Requirements:
How many times a month do I need to send such an email? We don't expect our customers to know all of the best graphics. Nevertheless, standardizing the process makes it relatively easy to avoid these pitfalls.
Prepare a set of printable dimensions to share with the client.
Use this page to list the dimensional requirements for standard items to print, such as hats, tote bags, hoodies, coffee mugs, and more. You can also add a standard size picklist of popular items to your order form.
3. Avoid Printing Licensed or Copyright images:
Another part of the pitfalls of image requests is the printing of licensed or copyrighted images. As a business owner, you know that printing copyrighted images on anything can be a legal nightmare. There seems to be a scenario where the client immediately brought you the idea of ​​knowing that it was copyrighted.
Maybe it was a Star Wars character, a popular band logo, or the NFL logo. We immediately notified our customers that it was illegal to use this artwork, let alone print it on products such as hoodies and hats.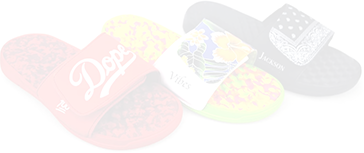 Boston based custom slide sandal maker has become $10 Million company using an online designer and unique growth marketing.
Read more
ImprintNext's online designer makes the process even easier. Customers can choose from a vast library of vector designs, clip art and fonts to design their products. You don't have to duplicate the copyrighted image, but it makes the process easier for both parties. This is a catalog of professional images that facilitates team design and saves both parties from legal hassles. Also, for clients such as team sports and league clients, online designers create a smoother process. Otherwise, you end up with a series of emails that contain a myriad of attachments that both parties have to sort out.
4. Color Selection
Your customer wants you to print a yellow logo on a red shirt. Sounds easy. This is another trap your customers fall into: they have different ideas about what red and yellow look like than what you get at your ink and fabric store.
But you can't expect your customers to know what the Pantone 107 is, so let's make it easier to avoid this trap. Instead, create a mockup of your client's design and use ImpritNext to send a quote so you can see the colors. You can also use this strategy to preview the designs of multiple types of products, such as T-shirts, tote bags, and baseball caps. ImprintNext also handles the busy spring sports season more efficiently and makes it easier to share information with coaches and other school staff with suggestions, as there is usually a designated person at school to manage the team's orders. increase.
This pitfall also ties back to the design concept. Customers may come to you very excited with an idea, but it might feature too many colors. Help them understand that too much color can make the design harder to match with substrate and fabric colors.
And while it's good to get a job that brings a lot of money to your business, you have to be honest with your customers about color. Some printing methods, such as screen printing, cost money each time you add another color to your job.
You will definitely have customers who are willing to pay extra for their goods. However, you can avoid this trap by letting us know in advance. In addition, you can avoid price confusion before making an offer.
5. Cost Estimation:
This is easier to avoid than the other pitfalls described so far. But it's also overlooked. And that is a source of many inconveniences between printers and customers. A serious customer pitfall when it comes to pricing is that they only see the cost of empty goods and clothing and don't understand how much work it will take for all the hard work. Regardless of the working hours of printing, packaging and design, everything goes back to the cost of the customer's order.
When making a quote, be sure to tell the customer the total cost of the order, not just the price of the raw material. Think about the other companies you use in your community. When you bring your car to the store, you pay for new brake parts and technicians to repair your car for his working hours. Instead of giving a long explanation to the client, just add a job quote to the job.
6. Payment:
Payment is part of the cost. This is another factor that is often overlooked that business owners do not identify. Customers may see common terms like "on receipt" and think they can pay next week or next month. Or keep it postponed while the sales team has to make a nasty phone call every week to collect the payment.
This part of avoiding the pitfalls has much in common with everything else we have covered. Keep it as simple as possible so that your customers know when to pay you. Please specify on your invoice whether it is 1 week, 15 days or 30 days after the order is completed. It's even easier for customers by providing them with online payment options for faster checkouts.
Requesting customers to agree to payment terms can seem awkward. Still, it's another step to helping your customers and protecting your business. In reality, no one likes to receive threatening emails or phone calls that the bill is late. And unfortunately, some people who bring their orders to this state may skip payments.
7. Delivery Times:
Customers often do not understand how delivery times work because the pressure on the product is different from other finished products. Customers tend to think that every company offers a "get tomorrow" service.
Needless to say, ordering at the print shop is not the same as ordering at Amazon Prime. Of course, you may be able to order in a hurry from time to time, but that's not ideal. If you take too long in a hurry, it can lead to production errors, missing print jobs, customer dissatisfaction, and ultimately poor online reviews that damage your reputation.
8. You Need Order & Production Management Tools:
If it's a new client, they may not realize that they have 10 jobs to do this week. If you reply to his email, you still need to queue it. What can you do in the era of two-day delivery and front door delivery?
You can avoid this trap by using the core technology described in this blog. You guessed it, clear communication.
ImprintNext's production and order management tools improve communication with teams and customers. Use these tools to provide your customers with realistic deadlines, plan orders, and coordinate custom production with your team. If you can complete the quest early, you have mastered the technique of "delivery that does not disappoint."
9. Navigating E-Commerce:
This doesn't have to be a "pitfall", but learning e-commerce is another challenge that both shops and customers face. When your business needs a better online sales solution. You can also set up an online store for your customers, from spring fundraising for schools and team sports to corporate programs and local businesses. The more products your customers sell, the more products you print, which is beneficial to your business.
By helping your customers avoid these pitfalls, you can focus on printing more products and spending less time on confusion and friction. In addition, clear communication with the customer shows that they are interested in more than just ordering, which helps them stand out from the competition. Your job is to build long-term customer relationships that bring you a follow-up business.
Want to outshine the competition with ImprintNext and help your customers avoid these common mistakes? Contact an ImprintNext a personalized tour today and change how you sell online.

Do you have printers? Are those printers sitting idle?
Become a Print-on-Demand dropshipping app like Printful or Printify. Dropship your merchants' orders.
Know more