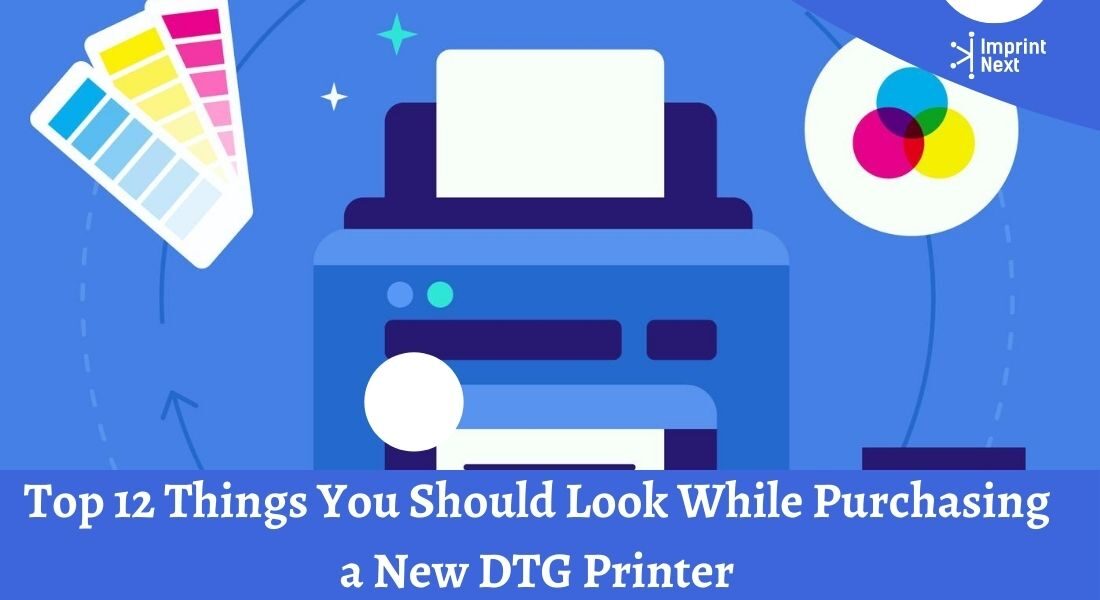 Last Updated on: 11th January 2022, 12:56 pm
The latest Direct-to-garment printing should be easy for your shop so that you can print high-quality artwork or apparel. Most importantly, if not all; you do not have to hire a highly experienced DTG professional for your shop.
Then how can you perform that?
The DTG printing process is simple. When you add a DTG printer to your shop, one employee can take the order, print, and prep products for delivery, then start the next job.
Moreover, it is not only the employee but also the DTG printer that do not force you to hire more than an employee, to undergo the entire printing process.
So, how can you choose the right DTG printing for your print shop?
Top 11 points you need to consider while purchasing a new DTG Printer:
1. Easy Setup and occupies smaller space:
When you bring-in home a new DTG printer, you have to assemble parts before you begin to function. Like print settings, printing software, finding the right platen size, ink flow adjustments, and many more.
If the DTG printer comes with accessories, RIP software that you can easily fix, set-up, and use. Go for that printer.

Do you have printers? Are those printers sitting idle?
Become a Print-on-Demand dropshipping app like Printful or Printify. Dropship your merchants' orders.
Unlimited Merchant stores. Dropship and Fulfil Merchants' orders. Manage merchant invoice, sales commission, etc. Merchants sell the designed products in shopify, etsy stores, etc.
Know more
Furthermore, space is also an important factor. Some DTG printers may be huge which will be difficult to accommodate in your shop. It will lead to a confused workspace and that won't work for a long time.
All DTG printers come with dimension specifications. Based upon that, find the right printer that occupies your shop.
2. Printing flexibility:
You should get the flexibility of printing one-off pieces, along with medium and full production runs.
From using RIP software to preparing screens, every operation should be flexible and easier to perform.
Purchase the DTG printer that requires no screen preparation. And you can crank out low quantities of high-color designs, and then offer quick and easy reprints.
3. Print Speed:
Everybody wants to purchase a machine that is the fastest. Therefore, speed is the ultimate need for all print shops. Because time is money, especially for decorators.
The more pieces you can print in an hour, the more profit you'll make. It increases your productivity as you can print more garments in less time.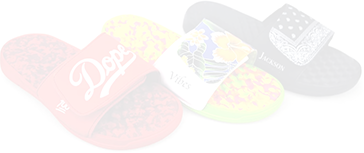 Boston based custom slide sandal maker has become $10 Million company using an online designer and unique growth marketing.
Read more
4. DTG Printer that prints on a variety of apparel:
To generate more profits, it won't be feasible to print only t-shirts or hoodies. You should have the printing ability to print on a variety of products like t-shirts, zippers, jackets, hoodies, sweatshirts, with pockets, headwear and coasters, and much more.
Similarly, your capability is determined by your printer. Therefore, purchasing the DTG printer that provides a larger gap lets you print on the greatest breadth of products.
Most importantly, any substrate that accepts water-based ink is suitable for DTG printing.
5. Recirculating print heads:
You do not want print heads to get choked or blocked is due time. I may lead to replacement, and you won't get anything for free.
When you purchase a new DTG printer, ask the seller for a recirculating head.
Recirculating heads keep your white ink flowing and avoids the need to replace print heads.
6. Seek for low maintenance:
The more maintenance time your printer requires, the less time you have to print, lowering your shop's productivity and profits.
Moreover, you also save money on maintenance costs.
7. Ink is the Ultimate Player:
Before you buy a printer, check that the ink is durable and not washable. Your ink quality is important that determines your brand reputation. The competition is high, and you don't want to lose the game.
Another thing to note is while some screen-printing inks may contain PVC, phthalates, or other chemicals, many DTG manufacturers have become OEKO-TEX 100 certified.
That means the water-based inks, cleaning solutions, and overall processes are environmentally
(and people and animals) safe.
8. What accessories and add-ons you get:
As we discussed previously, you should have all accessories, that won't stop your task when something is missing.
The larger variety of platens and accessories you get with a printer, the more flexibility you can offer items to your customers in print sizes (the larger, the better).
9. Experience Matters:
When you're evaluating vendors, look for a company that entered the DTG arena early, as the team will have more knowledge of what it takes to build a quality printer.
In addition to experience navigating the learning curve and growing pains of the process.
10. Financing a DTG Printer:
A DTG printer is an investment, so remember to evaluate your financing options whether leasing or buying.
To determine which best matches your needs, it is better to lease equipment from a reputable supplier and work on it. Because DTG printers cost huge, you should not invest until you are sure about it.
11. Expand what you offer:
DTG printing is not as skillful as other printing methods, especially screen printing. You have access to unlimited color options and accurate reproduction of the design with DTG printing.
Plus, with your easy-to-port printer, you can run full name and number services, and even start attending mobile activities.
12. What else?
DTG printing today can be extremely profitable. If you print around 70 garments every week, you'll get a huge one-year return in investment.
That is to say, if you start printing 15 garments a week, you can make good profits besides overhead costs and lease payments.
Normally, reputed print shop chargers $20 or more to print on a t-shirt. If you set a price little less, i.e. $10 for light-colored and $13 for dark-colored t-shirts, you can easily receive more orders and gain huge profits.
With a DTG printer, you can offer customized products in a wide variety of materials and expand your design locations with ease.
Now, there won't be any problem printing through zappers, pockets, and seams as DTG printing makes it simpler.
It is time to open the door to offer existing customers a new world of possibilities by offering them diverse custom printing options. Thus increasing your business over time.

Do you have printers? Are those printers sitting idle?
Become a Print-on-Demand dropshipping app like Printful or Printify. Dropship your merchants' orders.
Know more