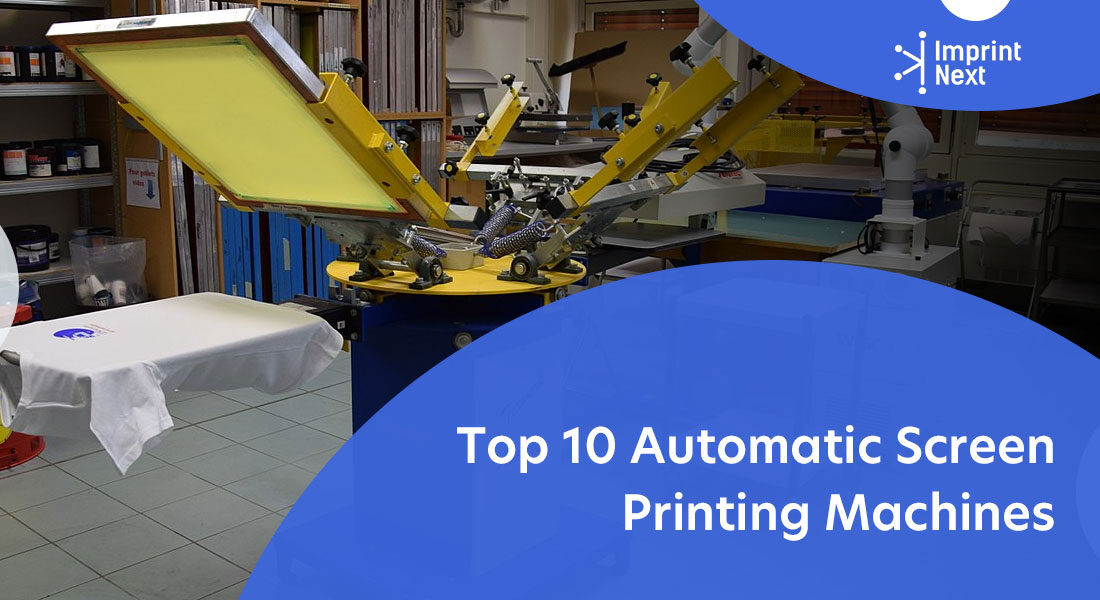 Last Updated on: 25th September 2023, 12:42 pm
Screen printing can be a tedious task and requires a bit of manual effort. However, if you are a medium or large-scale screen printer, you cannot afford to have a manual process under your roof.
Looking forward to the demand for automatic screen printers, I have come up with a list of the top 10 automatic screen printing machines.
However, for the interest of my readers, I came out of my comfort zone to meet all the screen printing experts who have more than five years of experience in this industry. Therefore, they recommended me a few.
Moreover, I also consulted the respective screen printing companies and tried to dig out all sorts of information that may be helpful to you. More to say, out of my research and hard work I have come with the list of top 10 screen printers.
I hope you like my work.
Moreover, I would welcome and appreciate your comments based on the information stated below.
What are the Top 10 Automatic Screen Printing Machines? There are a number of automatic screen printing machines available but I have boiled it down to just the best 10 that you should get if you are serious about your screen printing business. 

Do you have printers? Are those printers sitting idle?
Become a Print-on-Demand dropshipping app like Printful or Printify. Dropship your merchants' orders.
Unlimited Merchant stores. Dropship and Fulfil Merchants' orders. Manage merchant invoice, sales commission, etc. Merchants sell the designed products in shopify, etsy stores, etc.
Know more
These machines are designed to handle high volumes of orders, complicated prints, and faster output. Here is the list of top 10 machines in order, more on it is described further.
M&R Stryker Automatic Oval Screen Printing Press
MHM Synchroprint 5000
ROQprint ECO P18 XL
Brown ElectraPrint Automatic Textile Printer
MHM IQ-Oval Compact
Workhorse- The Sabre Series
RPM Revolution series
Tas Hawk HX20
Anatol VOLT XL Screen Printing Machine
Printex Hurricane SL
Top 10 Automatic Screen Printing Machines:
You need to automate this process. Therefore, you need a way to print thousands of screen-printed machines at a time.
So, here I have come up with a list of the top 10 automatic screen printing machines you need to run your print business like a pro.
It is a versatile and affordable oval screen printing press available. M&R's Stryker™ is a 10-station based module and can be expanded to create 16, 22, 28, up to 52 station configurations. In other words, there are no restrictions on printhead placement.
All other stations can support print-heads and any station can be left open. In addition, It can be tailored to any production requirement.
A digital touchscreen control panel with icon-based graphics can display information and commands in multiple languages.
Precise a three-point pallet leveling system with multiple (1-4) print stroke capability.
Additionally, it comes with a two-year or 2,000,000-cycle limited warranty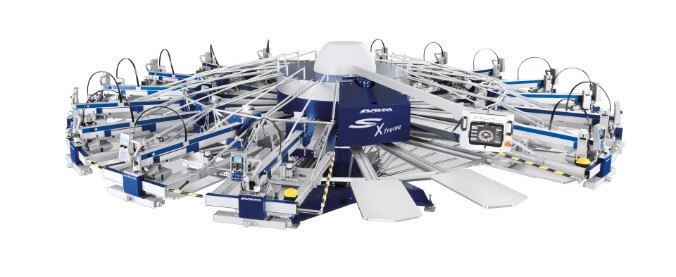 The MHM Synchroprint 5000 is available with 18 colors and 16 print stations with a standard print area of 28×39 inches.
It is the only screen printing machine that features an automatic screen positioning system where motors are used to control and record the screen position. Once set, you can save it in the future with the memory capacity being unlimited.
You control all operations with the tablet controller with wifi connectivity features. You need not stop the machine to re-adjust screens at the printing station. It can be done directly through the main tablet controller.
A simple push-web button to change the palettes.
The MHM screen-printer features an extremely fast squeegee changeover. The squeegee has a unique floating mechanism to ensure uniform pressure and a perfect spread of ink.
Production capacity – 900 to 1400 (pieces/hour)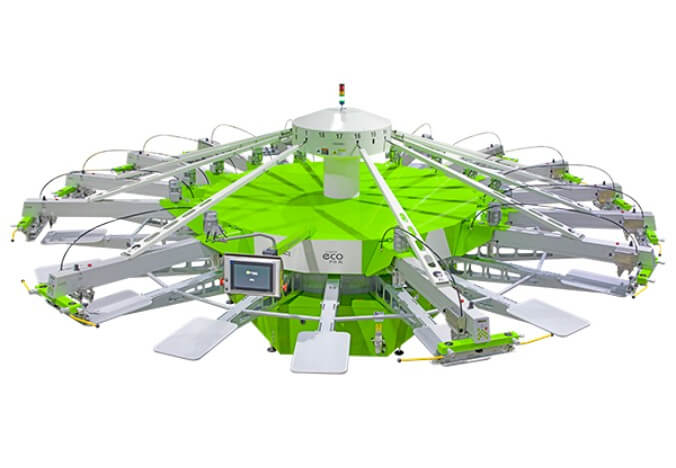 The ROQprint Eco incorporates ROQ's latest technological innovations. It ranges from a minimum of 12 pallets to a maximum of 20 pallets and from a minimum of 1 color up to 18 colors.
Especially, this is suitable for the most demanding of printers as it is efficient and is capable of output a maximum of 1400 pieces per hour.
It has a central control panel with a Polychromatic 10 inch LCD touch screen to give you complete control over the screen printing machine. 
It has a maximum printing area of 1000×1100 mm and best for suits of sizes L, XL+, 2XL, and 3XL.
This is particularly efficient in printing with water-based inks and the printer can manage the time that the screen is in contact with the hot pallets.
Less time in contact means less evaporation of the inks, which leads to fewer stops during the printing of the job.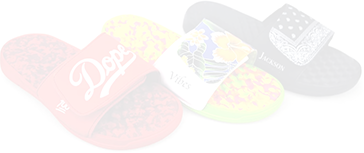 Boston based custom slide sandal maker has become $10 Million company using an online designer and unique growth marketing.
Read more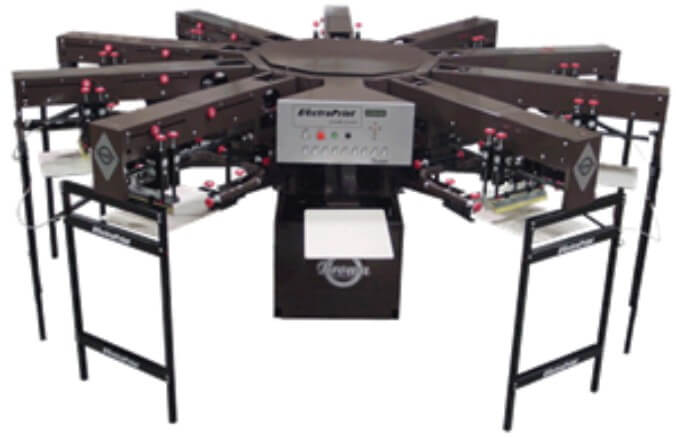 The Electraprint model makes printing less expensive to operate. They are proven to produce a more consistent result compared to an air-driven system.
It has 10 print stations with each screen size: 23 x 31 inches and platen size:16 x 24 inches.
Being completely electric, certainly, eliminates any risk of expensive airline and valve contamination. There is no need for an expensive air compressor, air chiller, regulators, etc. Above all, simply plugin in the printer and you are good to go.
The overall dimension of the screen printing machine is 144.00 x 144.00 x 60.00 inches having a Weight: 2600.00lbs.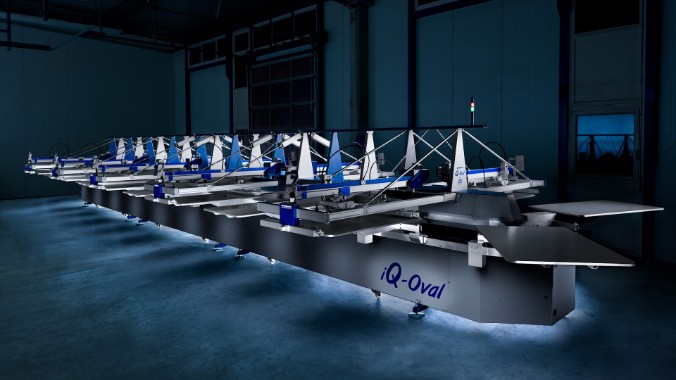 iQ Oval machines are modular and can be configured for almost any production requirement that can be expanded in the future. In other words, it accommodates your growing screen printing requirement.
Most importantly, when your production requirements grow, simply add additional stations and colors to your current configuration.
Moreover, it can be configured to have a maximum of 60 stations.
The Max. production capacity (pieces/h) is 1200 – 1800
Above all, it comes with the iDS intelligent drive system which offers super smooth and accurate high-speed movement.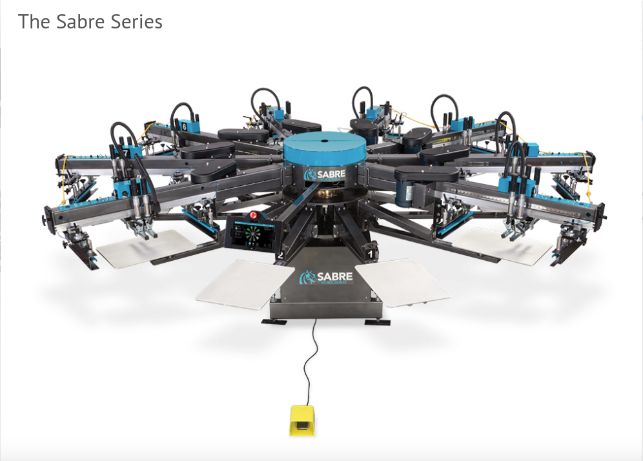 Workhorse Sabre Series automatic screen printer is ideal for any mid-size to high-volume screen printing industry.
This press features a touch-screen control panel that allows operators to have full control over all functions at their fingertips.
It is a 12 color and 14 station screen printing machine with a print area of 20 x 20 inches. 
The 8 stations automatic screen printing machine each having a dimension of 16 x 22 inches. The 14 feet(diameter) pivoting screen printing machine comes with 1-9 print stroke capability all controlled with a touch screen panel.
You get real-time production data, Automatic Index Foot Pedal, 6 Point Registration System, Front and Rear Micro Registration, Foot Pedal Control, and much more.
Additionally, you get 2 years warranty on the Workhorse sabre series screen printing machine.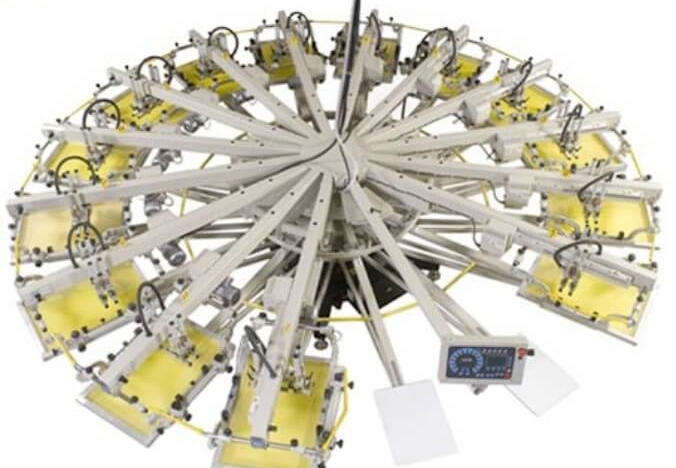 The RPM Revolution series features 14 color press.
The new Color Electric Revolution is fitted with an Electric Servo Crank for low maintenance and high-speed performance.
It comes with electric-driven printheads for consistent power and digital control of stroke settings.
It features programmable multi-stroke settings per head (5x).
More to say, other features include independent squeegee flood bar lift and side screen holders for easy flash insertion and screen removal even with the squeegee and flood bar in position.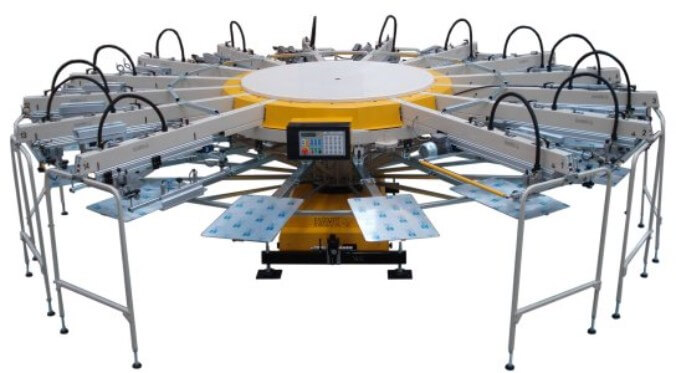 The HAWK HX20 series is perfect for medium-scale screen printers.
It comes with a standard print area of up to 50 x 63 cm (20" x 25"). It is the most popular model of TAS.
The HAWK series is available in up to 16 colors upon request. It can accommodate 20 colors, 22 stations, and features electric print heads with a max outside frame size of 660mm X 940mm (26" X 37") and a max print area of 508mm X 635mm (20" X 25").
The diameter of the machine is 7300mm and its approximate weight is 4200Kg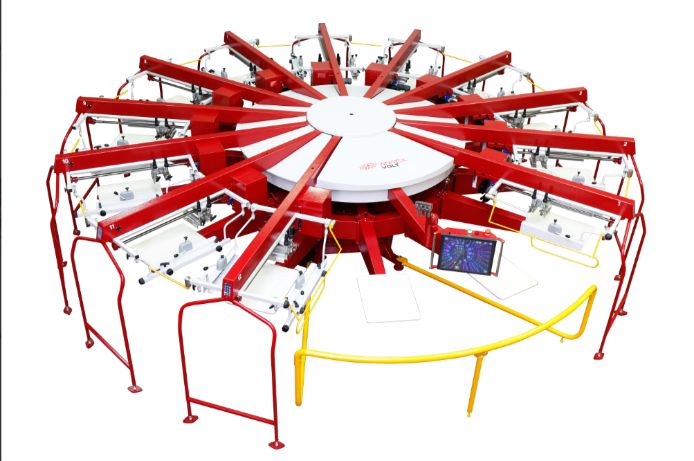 The Screen printing machine is available with 20 print stations/18 colors having a screen size of 23 x 31 inches
It is installed with a 17" touchscreen control panel and individual membrane control panels to give you complete control of each print station.
The standard size of the palette- 18 x 22 inches
Moreover, the screen printing machine comes with 3 years warranty.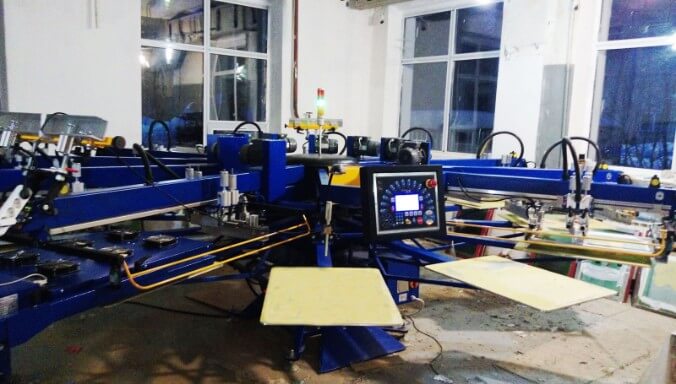 HURRICANE-SL has four different models ranging from 8 to 12 stations and 6 to 10 color options.
It is a fully equipped compact machine, with AC drove print heads as well as features servo INDEXER rotation system.
There are control keypad systems on every head.
The software accompanies the machine hardware setup such as multi print flashing, fully implemented IR Quartz flashes, a half index in both directions, etc.
The maximum screen size of the high-end model i.e HURRICANE-SL 12/10 is 56 x 80 cm (22 x 31″)
The machine has a maximum printing speed of 1100 prints/hour
Additionally, it comes with a 2-year warranty service agreement on special conditions.
Related Questions
What Do I Need to Start a Home Screen Printing Business?
Your home screen printing supplies should include:
Screen and frame (~$15)
Photo emulsion and sensitizer (~$20).
A 250-watt bulb (~$5)
Latex gloves
A pitch-black room
A t-shirt
Squeegee (~$15)
Silk Screen Fabric Ink (~$5)
Small piece of cardboard
Recommended books: A Practical Guide to Starting Your Own T-Shirt Business
What is the Cost of Starting a Home Screen Printing Business? 
It is relatively cheaper compared to starting a DTG printing business. A basic printer would cost nearly $10,000; supplies would cost nearly $5,000; setting up a website will cost nearly $500; and other advertising would cost nearly $5,000; so, you can expect to spend nearly $21,000 initially to starting a basic screen printing business. 
What is the Cost of Each Screen Print?
A 1 color print on a cotton t-shirt would range from $5 to $9 per t-shirt. For a 6 color print for 72 shirts, it would take less than 30 minutes and would cost nearly $600 in total or nearly $8 per t-shirt.
What are the tools needed for screen printing?
The minimum set of tools you would need includes screens, squeezes, emulsion, fillers, clamp, plastic glass, acetate, lightbox, masking tape, mesh sheets, gloves, aprons, stencils, etc.

Do you have printers? Are those printers sitting idle?
Become a Print-on-Demand dropshipping app like Printful or Printify. Dropship your merchants' orders.
Know more