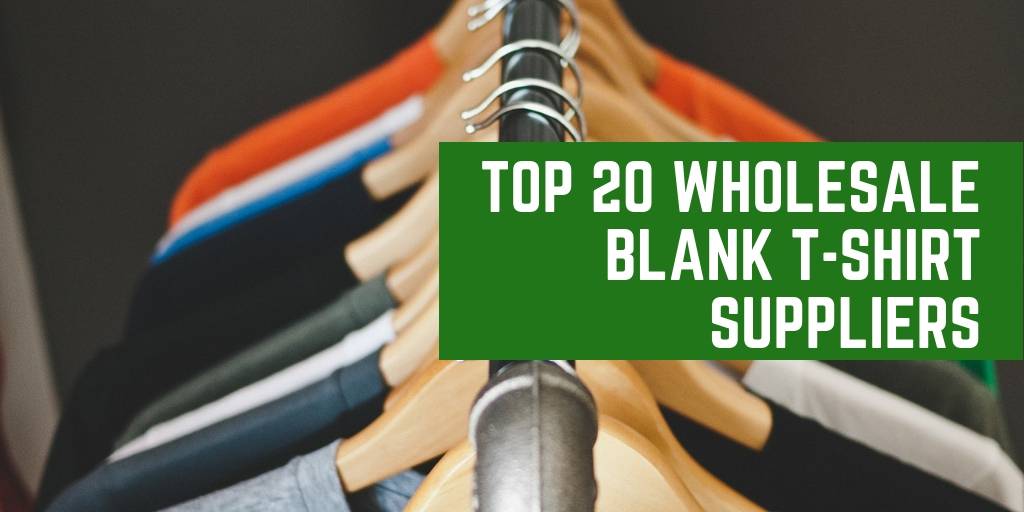 Last Updated on: 24th February 2021, 06:07 am
Indeed, if you have a print shop and plan to start your online print business, you would need blank t-shirt suppliers. You can either print your design or let customers design their t-shirts.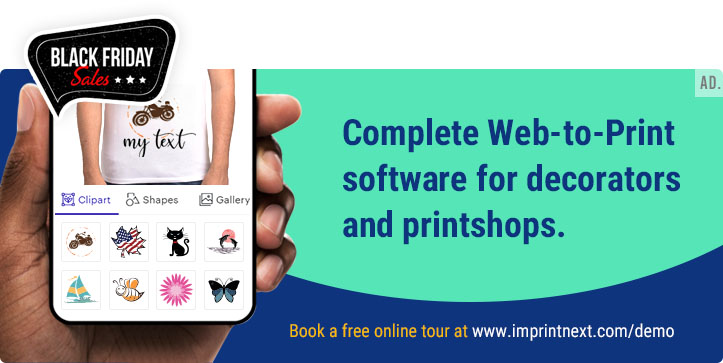 Therefore, you need blank t-shirts if you are not planning to manufacture your own.  I hope you like the list, sorted by its popularity, meanwhile explore more below.
Top 20 Wholesale Blank T-shirt Suppliers in the USA
To clarify your preferred search option, I've listed 20 wholesale blank t-shirt bulk suppliers (t-shirt vendors) in the USA. 
Contact: Toll Free: (855) 653-2796
ShirtCotton is the top online blank clothing supplier specializing in wholesale blank t-shirts starting from 2$. If you are looking for a wholesale blank clothing vendor and need your blank t-shirts, hoodies, jackets, or polos quickly, look no further. With warehouses stocked with thousands of products throughout the continental United States.
The online catalog is easy to browse and order from, and full apparel, bags, and hats collection mean you can get your need at any budget. Start by checking out the fantastic brand selection that includes Bella+Canvas, Next Level Apparel, Gildan, Dickies, and Yupoong.
Additionally, you get free shipping on shipments over $99.
Catalog: All Wholesale Brands
Buy Blank apparel Online at Needen USA. Purchase all brand-related products like jackets, long sleeves, athletic wear, bags, headwear, etc. at the lowest prices.
Additionally, shipping is free on all orders starting at $149 only! However, If you have a problem with your order, you may contact within 14 days of delivery, at their Helpdesk at customerservice@needen.com.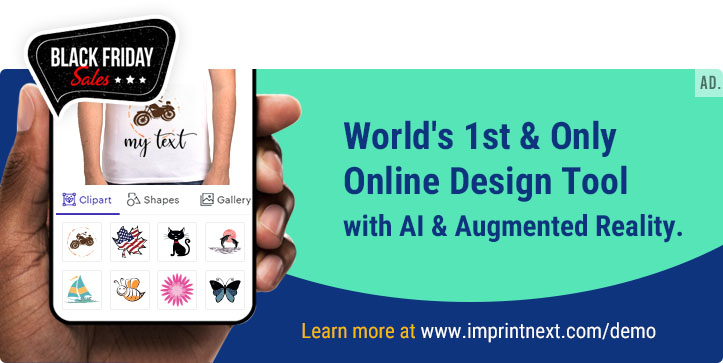 Blankstyle has some of the lowest new apparel prices online. They have a vast selection of wholesale blank apparel and other unused clothing to supplement your brand. From blank hoodies, jackets, pants, and tank tops to wholesale hats and totes, we have a full line of blank apparel, hats, and bags to fit all of your branding needs.
You can purchase apparel based on printing methods like Screen Printing, Embroidery & Direct to Garment.
Additionally, you get free shipping on orders over $399 on all brands and $199 over a single brand.
Note:-If you are a resident in the state of California, you do not need to pay any sales tax.
Cotton Connection is a leading wholesaler of blank apparel like activewear, sportswear, and underwear products. Their products include T-Shirts, Sweatshirts, Sport Shirts, Hooded Pullovers, Boxer Shorts, Socks, Briefs, etc. for men, ladies, boys, toddlers, and juniors.
Cotton Connection is all one source for all your apparel and hosiery needs at a starting price of $1 only. The blank garment is best suited for screen printers, embroiderers, wholesalers, promotional product companies, non-profit organizations, flea market vendors, dollar stores, and independent and mass-market retail stores.
However, if you are not satisfied or received a damaged product, you can contact Customer Services within seven days of receipt of merchandise.
Contact: customerservice@wordans.com, Call- 1-302-440-8395
Wordans quickly became one of the world's first textile wholesalers of blank apparel, which are perfect for customizing to your liking if you are a company, an embroiderer, a clothing print shop, or even if you are a simple consumer.
They sell a broad range of products such as bulk t-shirts, bulk sweatshirts, tank tops, polos, shirts, sport shirts, jackets, hats, work clothes, accessories, and many more. 
Additionally, you get. Shipping is free on all orders starting at $149 only. However, if you receive a damaged product or any complaints, you can contact the help desk within 72 hours of receipt of merchandise.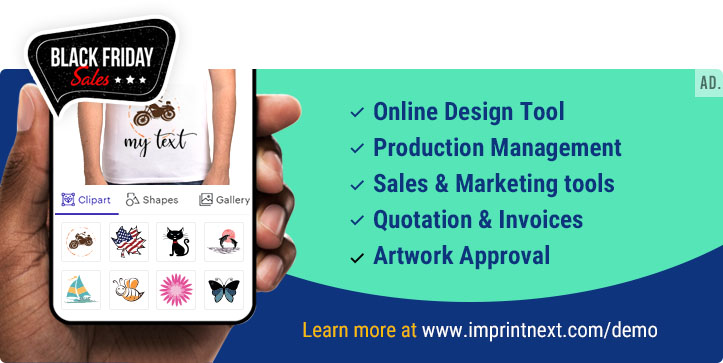 Apparel N Bags are one of the largest wholesale providers of blank apparel, caps, bags, and promotional products best suitable for your printing business. It established in Houston, Texas.
They provide wholesale blank t-shirts of various brands like Champion, Gildan, Hanes, Next Level, Port-Authority, Sport-trek, Team 365, and much more.
You get free shipping if you shop for $149 or more. However, if you are not satisfied with the product, you can return it within 72 hours of receipt of the merchandise. T&C
Contact: 1(888)988-7462
info@pimaapparel.com
Pima is a direct manufacturer and distributor of imported blank T-Shirts for men, ladies, youth, etc. Its brand features top designer-like fabrics constructed from the finest combed ringspun cotton. All fabrics are pre-washed for the ultimate fit and softness.
You get a big list to choose from fabric types like 100% cotton, Cotton Polyester Blend, Rayon from Bamboo Blend, Polyester Linen Blend, and many more.
Royal Apparel of Hauppauge, New York, is a clothing manufacturer of a wide range of styles of clothing, including blank apparel for customization. It is one of the few t-shirt manufacturers USA and wholesale blank apparel suppliers to small and large companies.
Moreover, you get business assistance with a wide range of production and customization services, or you may purchase blanks and inventory stock items for your resale. Royal Apparel is the company that you can rely on for superior quality U.S.A.-made clothing.
Besides being infant clothing wholesale suppliers, Royal Apparel offers a wide range of clothing in sizes for toddlers, kids, youth, and adult women's and men's sizes as well.
Additionally, you get free shipping on all orders over $250. However, if you are not satisfied or received a damaged product, you get ten days return policy.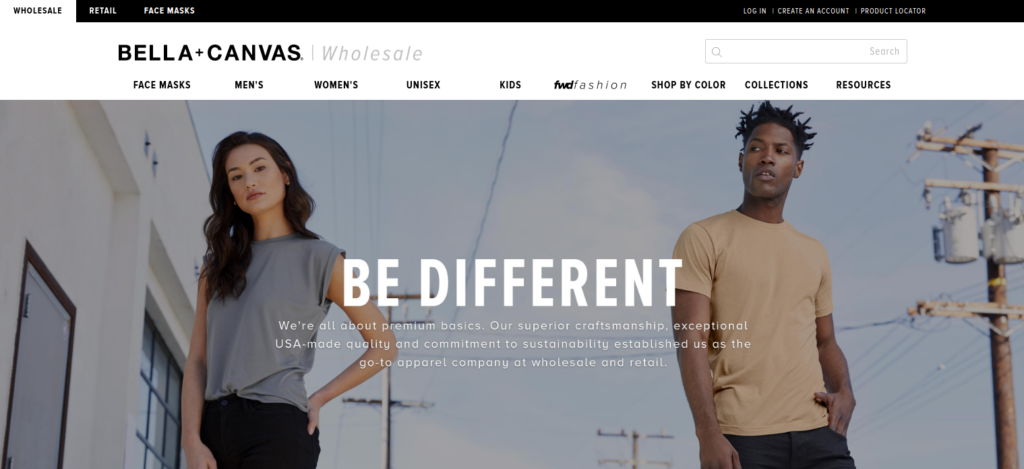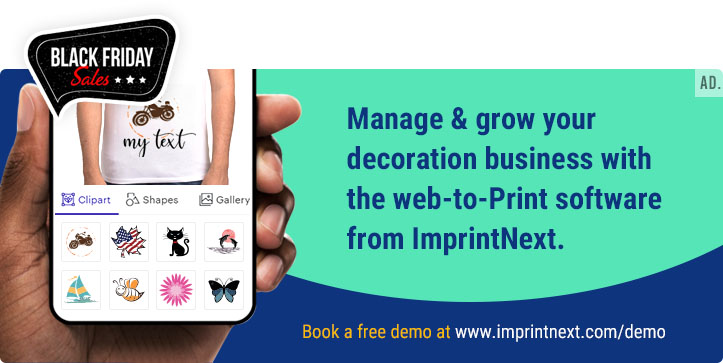 Bella Canvas is a wholesale blank tee shirts perfect for custom printing. Its apparel catalog includes polo shirts, hoodies, fleece, tri-blend, and Heathers for men, women, unisex, and kids. It is the wholesale and retail apparel company for selling USA-made products.
If you are looking for high-quality ring spun cotton t-shirts, then Bella Canvas 3001 is also 100% soft and true to size fit. Bella Canvas is not only the supplier but primarily the American manufacturer of tees.
Mainly, the company houses heavy-duty efficient automated machinery to produce its cotton apparel.
Catalog: SpectraUSA Catalog
SpectraTees creates premium quality blank t-shirts and activewear in California, USA. It houses industry-manufactured apparel for men, women, youth, and unisex, including a wide range of products like tees, shorts, bags, headwear, sportswear, kids wear, outerwear, team sports, workwear, and more at a low price.
Additionally, if you are not satisfied with the product, you may return it within ten days of delivery of merchandise beyond which you shall be charged extra. Remember, you cannot replace a product after you have made a custom print on it.
TSF Sportswear has been the top blank apparel wholesale distributor for over 30 years. It houses nearly thirty brands of apparel to supply it to screen printers, embroidery, etc.
Therefore, the company supplies t-shirts, sweatshirts, hoodies, hats, performance wear, bags, and totes.
Staton provides both corporate and casual blanks to screen printers, embroidery, and promotional product printers. Mainly, it houses multiple brands and a range of products, including tees, shorts, bags, headwear, sportswear, kids wear, outerwear, team sports, workwear, and more at a competitive price.
Additionally, you get free shipping with a minimum order of $200.
Jones T-shirts is the best wholesale supplier for blank T-shirts in bulk for printing, embroidery, tie-dye, etc. The most popular product categories sold are T-shirts, tank tops, polo/golf shirts, hoodies, performance apparel, and ladies apparel 
Particularly, if you are looking for basic T-shirts, you quickly get a complete list of basic wholesale T-shirts. Apart from that, the non-t-shirt products at wholesale prices include hats, athletic shorts, sweat pants, aprons, and tote bags.
Additionally, you get free shipping for purchasing products worth more than $89.  However, if you are not satisfied with the product, you get 30 days return policy.     
Jiffy Shirts has one of the most exquisite collections of blank apparel and clothing products. Primarily, it serves screen printers, embroiderers, sublimation printing businesses, and other print shops.
Moreover, it operates along with its ten warehouses nationwide. The company offers 1-3 days delivery. Meanwhile, the blank products include t-shirts, sweatshirts, polos, pants, hats, bags, jackets, shorts, work shirts, towels, aprons, blankets, etc.
The Adair Group is a supplier of affordable, stylish, and diverse shirts for organizations and print shops. Mainly, it has a wide variety of options available for every need and offers apparel at a discount price.
Above all, It also houses one of the largest selections of clothing in various color options, including soft tones, earth tones, bright colors, dark colors, and more.
ePacificSports was founded in 1992 and had since then become one of the largest t-shirt providers, with most of its fabric made in the USA. Notably, the company provides blank t-shirts for adults, youth, jury, and toddlers alike.
Moreover, it delivers cotton and cotton-blended garments with the best possible color, hand, and shrinkage control on tubular and side seamed fabric nationwide.
T-ShirtWholesaler ships 99% of all orders on the same day for in-stock items. Uniquely, it stocks apparel from basic to branded for print shops of all sizes. Therefore, the products include t-shirts, polo shirts, tank tops, hoodies, hats, workwear, bags, and totes.
Most importantly, the company provides products at a much competitive price than other wholesale t-shirt vendors.
Blank Shirts is one of the lowest rates of apparel suppliers in the USA. Primarily, the company provides t-shirts, polo shirts, tank tops, hoodies, hats, outerwear, workwear, and kids blank t-shirts.
Most importantly, the company has a large inventory and offers same-day delivery of 99% of products. Moreover, it operates through its eight warehouses located in Seattle, Reno, Dallas, Minneapolis, Robbinsville, Cincinnati, Jacksonville, and Phoenix.
Clothingshoponline.com the web's one-stop-shop for the apparel of all kinds. You get a wide selection of new apparel styles, brands, and sizes for crafting DIY projects, and just wearing them every day.
From cozy fleeces to casual t-shirts and sweat-wicking athletic wear, for men, women, and kids the online shoppers with plenty of options at affordable sizes. Moreover, the blank apparel online store provides apparel from trusted brands, including Gildan, Bella + Canvas, Hanes, Champion, Jerzees, Next Level, Boxercraft, Anvil, and Comfort Colors.
Additionally, you get a discount of 15% on the purchase of products worth more than $250.  However, if you are not satisfied with the product for any reason, you can return the order within 30 days from the date of purchase     
Facebook: @ShirtSupplier
Catalog: Free with all orders
Shirt Supplier is one of the trusted wholesale blanks suppliers of t-shirts for women, men, big & tall,  kids, babies, bags, caps, sports teams, performance t-shirts as well. Since its inception in 1985, it has become a reliable and most opted source for im-printable apparel. The company also provides one of the best customer services in the industry.
Other Top 144 Promotional Product Suppliers
Blackinton Insignia and Awards – blackinton.com

Gloves For Professionals – gfpgloves.com

Kleenbore

LaGasse Sweet Janitorial

LAPCO Manufacturing, Inc. – lapco.com

Mellow Walk

Monadnock

Personal Security Products – psproducts.com

Pinnacle

ProTech Tactical

Red Kap Construction – redkap.com

White Cross –
Related Questions
What is a Tri-Blend Fabric? Most regular t-shirt is 100% cotton. Besides, the tri-blend tees are a blend of 50% Polyester, 25% Cotton, and 25% Rayon. This makes it softer and has a better texture than pure cotton.
What are the Best Fabrics for T-shirts? Indeed, some of the best fabrics used for making t-shirts are cotton, linen, polyester, rayon, tri-blends, etc.
Are 100% cotton t-shirts good? Yes, most importantly, 100% cotton t-shirts are comfortable to wear, well built, and beautiful fabric. Moreover, if you are t-shirt design and color-specific, then you should look for a 50/50 cotton blend with other material t-shirts.