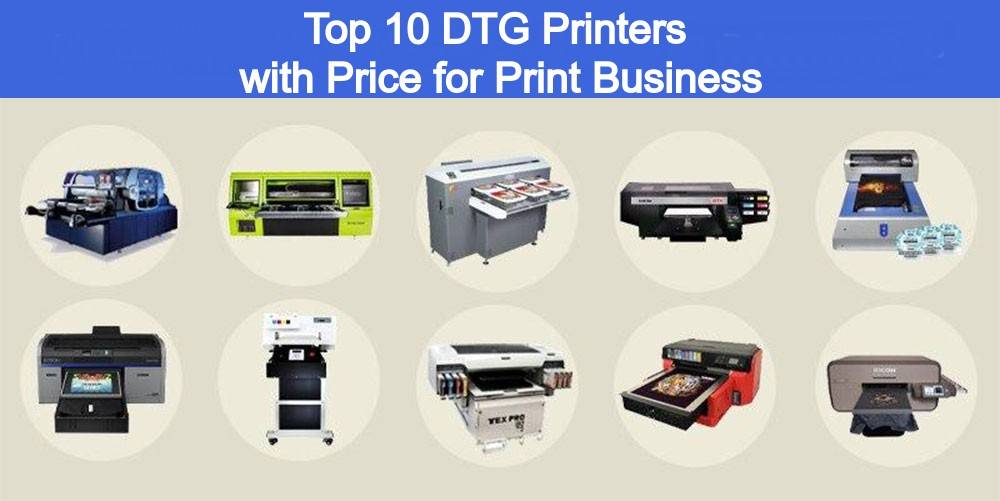 Last Updated on: 25th September 2023, 09:36 am
Web-to-print innovation has launched a significant change in today's printing practice by introducing DTG printers that have transformed printing processes with increased efficiency.
With the advancement of technology and the need for more detailed and complicated prints on t-shirts, the print industry has moved from traditional screen printing and embroidery to more digital direct-to-garment printing.
Although the popularity of screen printing and embroidery is not going out of style, the DTG printing industry, on the other hand, DTG Printers sale is growing higher for its fast delivery and printing of high-quality artworks.
What is the best DTG printing machine? Today, the best DTG printer on the market is the M&R Maverick, which costs around $70,000. It produces some of the lowest cost per print in the industry with high-quality print on t-shirts & apparel. The second best is the Brother GTX Pro DTG printer, which costs $28,999 onwards. A professional industrial-grade DTG printing machine can cost between $10,000 to $70,000. Moreover, as we know the DTG printer price differs as per its type, quality, manufacturing & more.
What are the top DTG printers in the industry?
10 Best DTG printers 2023-24 in the industry are:
Top 10 DTG printers with Price in 2023-24:
Here is a list of Top 10 DTG printers with pricing, pros & cons to help you choose the best suited for your printing business / small business:

Do you have printers? Are those printers sitting idle?
Become a Print-on-Demand dropshipping app like Printful or Printify. Dropship your merchants' orders.
Unlimited Merchant stores. Dropship and Fulfil Merchants' orders. Manage merchant invoice, sales commission, etc. Merchants sell the designed products in shopify, etsy stores, etc.
Know more
1. M&R Maverick:
Price: ~ Around $70,000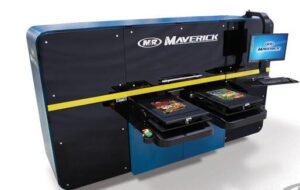 Pros
Industry Type:
The M&R Maverick is a heavy-duty industrial-grade DTG printer designed with an emphasis on printing and speed.
Technology Used:
The M&R Maverick features a dual-shuttling platform that allows an independent pallet shuttling system based on operators' needs. The two-digitally controlled heat presses use air cylinders to flatten garment fibers and heat the surface prior to printing.  Moreover, it comes installed with RIP software that gives complete print control and image costing.
Speed and efficiency:
It can deliver a typical annual production capacity of up to 350,000 impressions, maximizing productivity, and decreasing ownership costs. Moreover, it comes with dual-printhead IR heaters that speed up the printing and curing proces.
Printing Area:
It has a printing area of 38 x 48.25 cm (15″ x 19″) on various printable substrates like Cotton, Polyester, Cotton- Polyester Blends, Lycra, Viscose, Silk, Leather, Denim, Linen, Wool, and more. It can print images as multiple copies and produce them in various shirt color configurations.
Color configuration:
It has 12 industrial grade printheads with supplying ink channels which include 6 Colors CMYKRG+White with an expanded color gamut. It produces an output of maximum print resolution up to up to 600 x 1200 dpi.
Product Dimension:
Moreover, the M&R Maverick DTG printing machine has a dimension of 190 x 305 x 229 cm (75″ x 120″ x 90″) and a shipping weight of 1597 kg (3520 lb).
Cons
Sometimes colors do not seem to pop out on the printed apparel.
2. Brother GTX Pro Direct to Garment:
Price ~ $28,999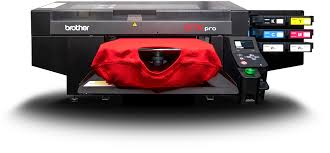 Pros
Industry Type:
The DTG printer fits small to medium-scale decoration industries. Its output capacity is fit for any commercial printer for their business.
Technology Used:
Brother GTX Pro uses Innobella Textile Inks that allow you to incorporate a wider color gamut than other inks for amazing clarity.
Print speed and resolution:
Brother GTX Pro can print a t-shirt in 30 seconds without sacrificing the print quality at 1200 dpi x 1200 dpi, with a maximum platen size of 16 x 21 inches.
Printing Area:
It has a large platen size of 355mm x 406mm that allows you to print over seams, across the zipper, on pockets, and more. Thus, allowing you to expand your product offering rather than just limiting it to selling custom t-shirts.
Color configuration:
Brother GTX DTG Pro machine has two print heads of CMYK and White with a maximum print area of 16 x 21 inches.
Printer Dimension:
The dimensions of the DTG printer are 1400mm x 1300mm x 550mm. It uses a Water-based pigment ink available in 200ml and 500ml pouches.
Cost effective & User-friendly:
With ink circulation system and ink capping station, it helps to reduce maintenance cost in a long run. Moreover, it comes with a built-in memory system that stores multiple image files that is easy to use even for a newbie.
Cons
Cannot print more than one garment at a time.
3. Epson SureColor F3070 Industrial DTG Printer:
Pros: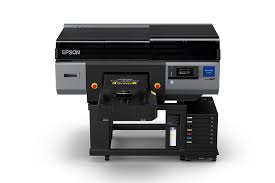 Industry Type:
The first of its kind to meet the demanding needs of high-production print shops, the F3070 was built from the ground up to deliver professional-quality, one-pass prints at industrial-level speeds.
Print Technology & Resolution:
It comes with 16,000 nozzles delivering industrial-print-quality output at 1200×1200 resolution with impressive production speeds. Combined with a first Epson direct-to-garment ink system, the F3070 is capable at times of printing a full-sized t-shirt, which enables printers to print hundreds of shirts a day at a dramatically reduced cost of ownership.
Print speed and Efficiency:
The DTG printer is vest suitable for high production print shops that can print a t-shirt in less than fifteen seconds.
Low Maintenance & Cost-Effective:
The DTG printer has low maintenance downtime with dedicated cleaning solution channels and a fabric head wiper system. It comes with a Dual PrecisionCore print-head, which maximizes productivity and reduces downtime for fast, cost-effective print production. You can optimize workflow efficiency with the integrated print stand featuring casters for easy repositioning and standard mounting points to add accessories.
Product Dimension:
The overall dimension of the DTG printer is 53″(H) X 68″(W) X 72″(D) with an Ink Shelf Life of two years from the printed production date.
Cons
Epson inks are expensive, and the printer uses a lot of them. On the brighter side, the low maintenance, speed, and quality worth the higher cost of ink.
4. RICOH Ri 6000:
Price ~ $25,000 to $30,000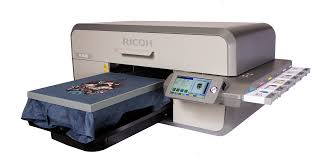 Pros
Industry Type:
Expand your business by offering a wide variety of printed garments, including shirts, socks, and canvas grocery bags. The Ri 6000 is ideal for printing on natural fibers and can also print on light poly and dark garments with up to 50/50 blends.
Print Speed:
The RICOH Ri 6000 can print full-color 12-inch x 10-inch graphics on light garments in less than 27 seconds in speed print mode and 53 seconds in the fine print. Suitable for medium to large-scale print shops and custom decorators.
Works with CorelDraw and Photoshop:
Works seamlessly with your favorite graphic design software such as Illustrator, Photoshop, Corel Draw, etc., giving you full control of printing options including ink settings and image placement.
Comes with AnaRIP Software:
The DTG printer comes with a custom software package i.e. RIP software(AnaRIP) that lets you modify graphics easily. Change the shape, add text, remove colors; it is all one click away with AnaRIP and Spark. AnaRIP tells exactly how much ink you'll use and how much it costs so you can price your shirts appropriately.
Print Quality:
CMYK-plus-white technology lets you lay a white base beneath full-color designs to make images jump off of dark garments that get you a vivid and life-like color output. The specially formulated inks give you the flexibility to print on natural fabrics and synthetic blends including 100% light poly. Simply load your garment, preview the image on the console, and push the print button.
Color Configuration:
It has 192 nozzles per channel, and RICOH Ri 6000 has 12 such channels. Ri 6000 is equipped with Ricoh print heads rated for 100 billion actuations, providing excellent longevity and capacity. Built-in white ink circulation and water-based inks dramatically improve ink flow and minimize waste.
Print Resolution:
Easily print high-definition photo prints and CMYK designs. You get a 600×600 dpi print resolution.
Product Dimension:
The overall dimension of the DTG printer is 50.3 cm x 107.4 cm x 111.8 cm.
Cons
The print on garments may not be as vibrant as other DTG printers.
It uses a bit of old technology as compared to other DTG printers. However, it enough to make your work done.
Not suitable for large-scale printing.
5. DTG M6 Industrial Direct to Garment Printer:
Price ~ $39,995 onwards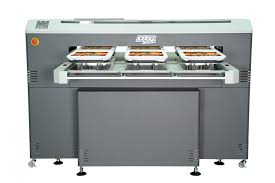 Pros
Industry Type:
This DTG printer is suitable for printing multiple garments at a time. A single machine that can print three numbers of XXXXL oversized garments, six numbers of standard garments, or 12 numbers of smaller garments. From small to large-scale printers, the DTG printer is suitable for all custom decorators.
Technology Used:
DTG M6 incorporates IQ Interweave technology that can even give a perfect print even at lower resolutions. You get enough flexibility to print a wide range of garments, textiles, and fashion panel prints.
Print Speed and efficiency:
It utilizes a maximum print space of 1150mm x 750mm (44″ x 30″) to its full capacity that prints more than one t-shirt at a time.
Ink Configuration:
The printhead with 180 nozzles per channel with eight dual CMKY independent ink channels that can give a high print resolution of 2880dpi. The 4-2-1 platen system enables the opportunity to gain maximum profit. You can print any garment that comes to your mind like apparel, towels, blankets, and many more.
Panel Size:
The panel size of DTG M6 is 1100 x 980mm that you can easily decorate multiple finished garments at just under 100 square feet per hour with the dual CMYK piezo print head with a minimum 3.5 picolitre drop size. It prints more than one image at a time.
Product Dimension:
Moreover, the DTG M6 printer has a physical dimension of 1810(W) x 1250(H) x 1300(L)mm, weighing 170 Kg.
Cons
Post your comments about this product.
6. Aeoon Flatbed DTG Printer:
Price: ~ $160,000 onwards
Pros
Industry Type:
If you are a print shop or product decorator that sells/intends to sell custom printed products based on materials like leather, wood, glass, or metal. The Aeoon flatbed DTG printer is designed to suffice your purpose.
Technology Used:
This high-quality large-scale printer is available in any size chosen, automatically recognizes the 3D object, and is available for various ink systems.
Speed and Efficiency:
Depending upon the type of design and substrate, the Aeoon Flatbed DTG printer can printer at a speed of 400 m2 per hour.
Color Configuration:
With its exclusive use of water-based ink, it provides the highest protection and environmental quality. Thanks to its high versatility, integration in existing production lines are simple. This is why the Flatbed Series is the perfect option for businesses with a large variety of diverse materials with high development and adaptation requirements.
Print Resolution:
The Aeoon Flatbed DTG printer can give a maximum print resolution of 2400 x 2400 DPI with 600 DPI native resolution.
Product Dimension:
Moreover, it has a dimension of 620 x 400 x 200 cm weighing 2000kg. Additionally, it comes with a one-year warranty.
Cons
Post your comments ab
Price ~ $49,995 onwards out this product.
7. FreeJet 700TX DTG Printer:
Price ~ $19,995 onwards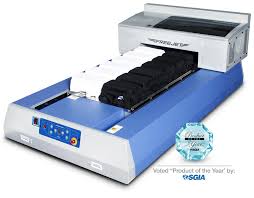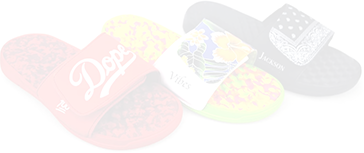 Boston based custom slide sandal maker has become $10 Million company using an online designer and unique growth marketing.
Read more
Pros:
Industry Type:
The Freejet 700TX has the biggest printable area, which is capable of producing up to four wide shirt prints (17″ x 30″) simultaneously, allowing less configuration for multiple clothing or printing on promotional items. If you own a large print shop, it is definitely for you. The 700TX is the perfect solution for a garment or contract printer that requires a single or dual-plate entry-level and wishes to produce larger DTG print orders.
Technology Used:
It comes with an interchangeable platen system and moving head technology to virtually print on anything with ease. You can instantly print on t-shirts, hoodies, hats, towels, mouse pads, jeans, polo t-shirts, and more.
Print Quality:
For higher-production environments, it has the capacity to print in vibrant, full color onto light and dark garments, using industry-standard high-quality CMYK and white inks. Features automatic white ink separation by circulating the white ink throughout the day in between printing, reducing the need to perform multiple heads cleans, or purges when idle. You can save new money on white ink. Set print height manually with the new fully automated print height adjustment with a touch of two buttons. Your printer will automatically set the print height, saving them the time and effort involved in manual height adjustment.
Print Resolution:
With Ink Jet Piezo Drop print head technology; it attains a print resolution of up to 2880 x 1440.
RIP Software:
FreeJet 700TX comes with Direct RIP Software exclusively built for Direct-to-Garment Printing. It features automatic white base generation with automatic ink cost calculations.
Color Configuration:
The DTG printer comes with 8 channels,(CMYK+4xWhite) or a 2xCMYK ink configuration.
Product Dimension:
Moreover, the DTG printer has a maximum dimension of 47" x 90" x 47" and weighs about 480 lbs.
Cons:
It is expensive and has a relatively slow printing process.
8. NeoFlex 800 DTG printer:NeoFlex 800 DTG printer
Price ~ $17,995.00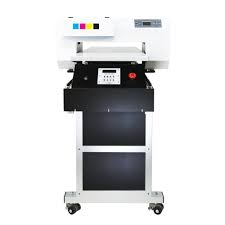 Pros
Industry Type:
The NeoFlex 800 is a convertible direct-to-garment printer designed to give you the flexibility and efficiency to take your company to the next level. Built as a modular device, you can easily move between textile and edible ink printing systems in a matter of minutes.
Print Speed and efficiency:
The NeoFlex 800 DTG printer can print an image of size 8 x 10 inches on a garment within 39 seconds.
Large Print Area:
It has a print area of 17×42 inches that is large enough to print three adult-sized t-shirts in a single time.
Print Resolution:
The NeoFlex 800 DTG printer is a faster and easy-to-use Direct Inkjet Garment printing machine. It prints 1440×1440 resolution images on light or dark garments in a single pass.
Color Configuration:
Ink Type- Water-based Pigment Ink, Mild Solvent Dye Ink, Editable Ink. The DTG printer uses 8 color CMKY+White ink for the textile option and dual CMKY for all printer options. It employs the Epson 4880 MicroPiezo AMC print head type that has a life of 45,000 impressions.
Product Dimension:
Moreover, the machine size is 823mm x 2004.1mm x 1196.3mm and weighs 124.7kg.
Note: Neo flex Dtg printer achieved first place in the 38th Impressions Awards.
Cons:
Post your comments about this product.
9. Azon Tex Pro DTG printer:
Price ~ $12,000 to $15,000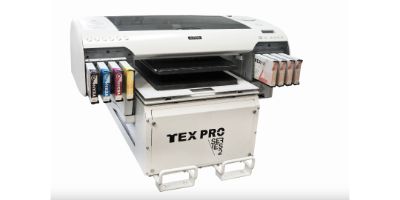 Pros
Industry Type:
With Azon Tex Pro DTG printer, you can print beautiful full-color prints on light and dark-colored textiles like t-shirts, towels, jeans, aprons, bags, or else, with superb adhesion of ink. If you are a large-scale industry that sells all types of merchandise, then this DTG printer is suitable for you.
Technology Used:
The DTG printer uses Ink-jet (Micro Piezo Head) that can print a maximum area of 400 x 600 mm and a maximum thickness of 100mm
Print Speed:
It is a cost-effective and easy-to-use DTG printer that you can print up to 50 light shirts to 15 dark shirts per hour.
Print Resolution:
You get a maximum printing size of 400 x 600 mm with a maximum resolution of 1440 dpi.
Color Configuration:
It contains 4 CMYK and four white inks with laser beam printhead protection.
Product Dimension:
Moreover, it has a physical dimension(LxBxH) of 960mm x 810mm x 460-580mm weighing 113kg.
Cons
Post your comments about this product
10. Summit RT Direct to Garment Printer:
Price ~ $11,400 to $15,000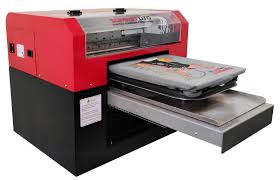 Pros:
Technology Used:
The advanced print head technology dispenses variable-sized ink droplets, giving the printer the highest resolution to speed ratio. Other print heads deliver ink droplets that are roughly 4 – 8 picoliters in size.
Speed and Efficiency:
The DTG printer can print an 11×11 inch full-color design in one minute and thirty-four seconds.
Print Resolution:
The Summit RT prints in ultra-high resolution up to 5760 x 1440 dpi, giving you the ability to produce stunning photo-quality prints with millions of colors.
Comes with RIP Software:
The Summit RT works with Kothari Print Pro RIP software to give precise control of the droplet size, down to as small as 1-1/2 picoliters. It also gives you the ability to print partially transparent colors.
Color Configuration:
The variable ink droplet system produces ink drops as small as 1.5 picoliters for accurate fine details.
Features Auto-clean System:
The built-in auto-clean feature automatically cleans the ink lines every time you power on the printer, yet wastes almost no ink.
Product Dimension:
The overall dimension of the Summit RT DTG printer is 25 x 31.5 x 23 inches and weighs approx 130 lbs.
Warranty:
Lastly, the DTG printer comes with one year's non-consumable parts warranty.
Cons:
Post your comments about this product.
Other Notable DTG Printers:
Some of the notable printers mentioned here are legends on their rights. Some of them may have been discontinued, but you may be able to purchase from other sources or buy a used one for your new DTG venture.
Brother GT-782 – Price ~60,000
Freejet 700TX – Price ~30,000
Anajet MP10i – Price ~20,000
Brother GT-541 – Price ~20,000
Anajet F125 – Price ~16,000
Anajet Sprint – Price ~16,000
Epson SureColor F2100 – Price ~20,000
Anajet MP5i – Price ~15,000
* The prices mentioned above are close to their original cost. However, for a used printer, the prices could be 1/3rd of the original Price.
4 Steps to Print Your T-shirt Using DTG Printers:
Step 1: Preparing Your T-shirt:
The first step to your t-shirt printing using DTG is pretreatment. It's like adding a primer before printing to help colors adhere better to the fabric. It is also a necessary step when tough fabrics are involved, such as canvas and denim. You can pretreat your garment by hand spraying manually.
Usually, the pretreatment spray comes with the printer itself, or you can buy it from other stores. Spray the pretreatment onto the garment evenly in a smooth back and forth motion.
You could also pretreat your t-shirts using automatic pretreatment machines. A machine would spray an even layer of pretreatment onto your garment and also lets you control the amount of pretreatment you can spray. One of the most significant advantages of using a machine is that it saves time, which is paramount if you are running a big store.
Step 2: Creating the Graphics:
With DTG printing, the artworks have to be clean and of high resolution. You might have to use professional graphics software such as CorelDRAW or Adobe Illustrator. The quality of the image will make a significant impact on the result.
You should create your print quality standards to make sure that the artwork is as vibrant on the t-shirt as it was on the computer screen. Many would print out the artwork on a desktop inkjet printer to decide the quality of the artwork. If it came out well on the paper, it is more likely to come out right on the t-shirt as well.
A big part of printing t-shirt demands to have excellent quality artwork. There are various ways to get your artwork, such as hiring a graphic designer, buying artworks from third-party sources, or you could design it yourself. Both hiring designers and buying designs are expensive for creating by yourself.
However, it requires you to have a good understanding and experience with professional software such as Illustrator and Photoshop. If you don't have any experience, you might have to invest initially in training, which has a steep learning curve.
Step 3: Printing Using DTG Printers:
To print on the garment, you would need RIP (Raster Image Processor) software. This software is a printing utility that translates the image you feed into the type of image that your DTG printers can process.
Some modern DTG printers do come with their RIP software, and for some, you can have to purchase from third-party companies. The software gives you more control and generates other essentials such as white ink under base for dark garments, amount of white color, color matching, ink cost calculation, image placement, etc.
Therefore, RIP software also doubles up as a color management software, job management software, and a cost estimator.
Step 4: Finishing Your DTG Print:
Now that your print is done, you will need to cure the t-shirt to bond the ink with the fabric. It also ensures maximum washability. Typically cure time ranges between 2 to 3 minutes at 160 degrees C. That said, it's not an easy job to cure your garment as various garments have various curing temperatures and times. For some, you will need higher temperatures and a shorter time, and for some, you need a lower temperature and longer time. More to say, the only way to ensure is to have a few tests run in the beginning and cure them to get the right curing temp and time you need for your garment.
For your various finishes, you can use multiple curing sheets such as Teflon, embroidery backing, parchment, etc. However, you have to select a good heat press machine for your curing.
DIY DTG Printers at Under $1000:
(Not recommended, only for information)
Although highly not-recommended it can be recommended only for home use, I cannot resist but to include this as we got many requests on the topic. A professional DTG printer can cost more than $10,000 just for a basic setup for a hobbyist.
On the other hand, professional DTG printers, would not have any problem coughing out over $50,000 to set up a store. But, for a hobbyist, a DTG printer under $10,000 makes little sense.
Read a book here – Direct-to-Garment: A Practical Guide to Starting Your Own T-Shirt Busines
Therefore, we have tried to discover a way to use our regular printers and turn them into a t-shirt printing machine.
Equipment You Need:
A printer (Epson)
Scrap aluminum
Drawer track
Screws
3 Plywoods (3/4 inches, ½ inches, ¼ inches)
Tools You Need:
Pen
Dremel
Drill press
Measuring tape
Table saw
Sand Paper
6 Steps To Building Your DIY T-Shirt Hobby Printer:
First off, you will have to take apart a printer of your choice, preferably Epson, and take out just the print head and its carriage. You will also need a paper feed motor, shaft, power supply.
Next, you have to cut the plywoods into pieces that will act as the structure and platen for your DTG printers. At first, you will need three sections. One will go at the base and two to the sides. We recommend you cut out a piece of plywood of 11×25 inches and two 5×25 inches.
Next, you have to cut the plywoods for the drawer. Cut one piece of 10×25 inches and two pieces of 1×25 inches. Here the side plywoods are mounted on top of the bottom.
Next, you have to create a "T" shaped material holder for which you have to cut out one piece of 13×9 inches plywood and another 13×3 inches plywood.
Now drill two holes of 13/32 inch into the shell for the shaft to roll the drawer. Make sure that the shaft rolls are straight.
Now mount the printer on the drawer and put the belt on the shaft. Finally, put on your t-shirt holder, and you are ready to go.
Some DTG Printers Maintenance Tips:
01. Keeping the Environment Suitable for Printing:
To keep the printer functioning the way it should perform, you will have to give it a suitable environment to work with the t-shirt. Meanwhile, you will regularly keep a check on the humidity levels, heat, and dust. Therefore, it is wise to keep your printer in an environment that doesn't get dramatic temperature changes.
02. Regular Maintenance of Nozzle:
Perform a nozzle check every day before printing your t-shirt. It helps to keep your printing and your business in its best performance. While, if the nozzle is not at its best, it has to be taken care of immediately. Moreover, clogs left unattended will become a permanent blockage making your printer unusable.
03. Smooth Flow of Ink:
If your printer has an agitator, it will keep stirring the ink to prevent it from settling down. However, if it is not present, you could shake the cartridges periodically and definitely before starting the day. It is wise to do it every day, even if you are not using your printer every day. To keep the ink flowing smoothly, you could print a few samples of t-shirts every day or at least once every three days.
04. Keeping Capping Station Clean:
The capping station produces a vacuum near the nozzle plate so that the ink is pumped inside the station. The pressure clears out the nozzles, thereby preventing inks from drying out. Therefore, it should be cleaned with demineralized water or other cleaning fluids.

Do you have printers? Are those printers sitting idle?
Become a Print-on-Demand dropshipping app like Printful or Printify. Dropship your merchants' orders.
Know more