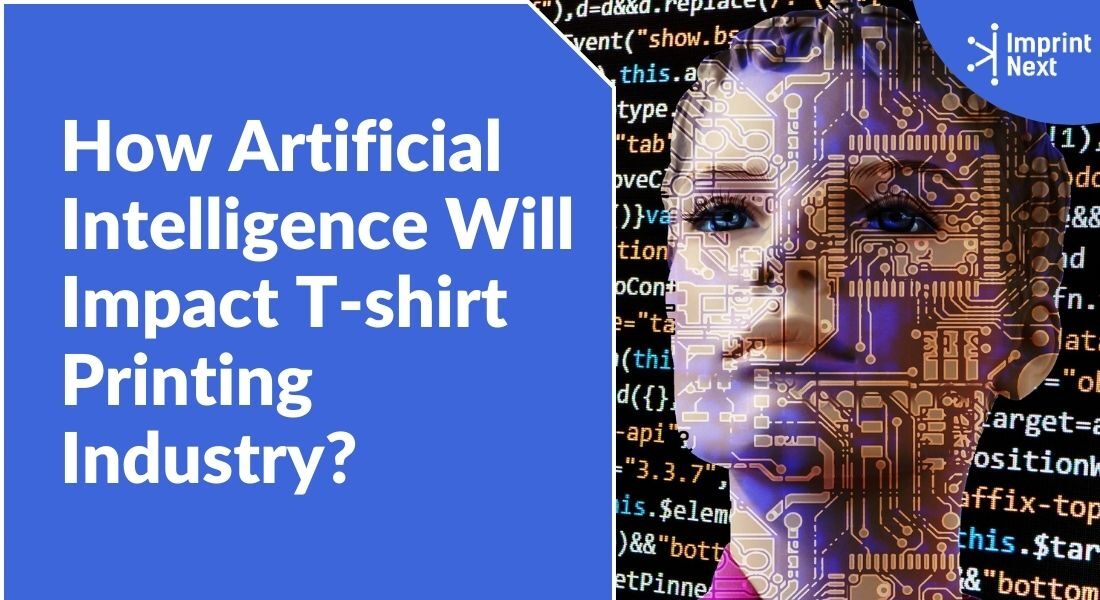 Last Updated on: 26th November 2021, 09:45 am
Artificial intelligence & machine learning can have a huge impact on your custom t-shirt printing industry. These technology trends shall revolutionize your print shop and custom decoration industries. With the help of artificial intelligence and augmented reality, it recommends the most suitable print process for apparel, signage & promotional products in screen printing, DTG, sublimation printing, embroidery, etc.
Moreover, augmented allows users to add/scan the QR code to get an image or video content of the design onto a product. When it comes to the printing of t-shirts, it accomplishes the same task and mimics human intelligence.
In the t-shirt printing industry, artificial intelligence and production automation carry out tasks right from receiving & managing orders, quotation approvals, production workflows to order fulfillment. It can streamline your custom printing business of the end-to-end t-shirt printing process through deep learning from experience.
So, how can AI benefit the shirt printing business? It can automate the entire business functions, production workflows, customer communication, artwork approval, production automation, remove bottlenecks, and accomplish sales and marketing automation tasks.
It will let your employees and staff members focus more on the production workflows you can easily track at the central management center. At the same time, there are many product designer tools or design software in the market. If the print shops & vendors need the same technology as above, then ImprintNext is a perfect choice.
Let us get deeper into how artificial intelligence can bring out an optimum outcome in a t-shirt printing business:
1. Maintenance:
To streamline efficiency, the predictive maintenance technique is what all t-shirt printing companies opt for by default, t-shirt printing equipment like automatic screen printing or direct-to-garment printer. It comes with integrated sensors that gather data.

Do you have printers? Are those printers sitting idle?
Become a Print-on-Demand dropshipping app like Printful or Printify. Dropship your merchants' orders.
Unlimited Merchant stores. Dropship and Fulfil Merchants' orders. Manage merchant invoice, sales commission, etc. Merchants sell the designed products in shopify, etsy stores, etc.
Know more
The advanced automatic printers can foresee any likely bugs that may show up in the system which required timely maintenance. However, it can't regulate the data generated by the printing devices. Artificial intelligence will help in this situation.
With the help of artificial intelligence, t-shirt printers time data and embed it into the printing devices. T-shirt printing companies can use this form of valuable data to improve strategies for extracting and analyzing data and come up with optimized and cost-effective apparel printing system maintenance procedures.
2. Printing Automation:
Printing automation is a marvel in today's world, but many printing companies, including t-shirt printing companies, still rely on old and antiquated manual systems to run their operations. They spend most of their time manually performing activities such as data entry, quality assurance, information validation, data migration, and so on.
Printing automation can be carried out using a digital automation mechanism such as Robotic Process Automation (RPA), which mimics human behavior. RPA provides a virtual workspace that runs without interruption for 24 hours.
This interactive workspace, on the other hand, is incapable of anticipating any irregularities or contradictions. This is where artificial intelligence (AI) comes into play, as the combination of AI and RPA creates a self-sufficient, strong, and fruitful tool. This combined tool uses algorithms to collect complex data and then feeds it into the workspace to protect against potential irregularities and discrepancies.
This method can be used to perform a variety of manual tasks, including printing, order processing, invoice production, and quality assurance. Several banks and insurance firms are now using AI and machine learning. Algorithms are used in this technology to translate handwritten and typed data into digital files.
3. Tackle T-shirt Printing Error:
Artificial intelligence technology works pragmatically to address many of the flaws in the t-shirt printing process. If you want to print many images, say 10,000 copies, any problem with the printing system will result in faulty performance. Printing problems may include photo printout errors, the number of copies printed, and the ink supply for photo colorization.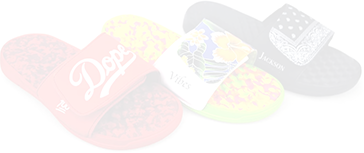 Boston based custom slide sandal maker has become $10 Million company using an online designer and unique growth marketing.
Read more
Many printing companies provide downloadable software and drivers for various operating systems and devices to address these issues. In this situation, AI technology may provide real-time alerts and alarms to identify the problems before they arise. Following that, it will initiate a protocol for a fast and convenient response to avoid printing flaws.
4. Protection against cyber threats:
Malware-based cyber-attacks pose a significant security risk to custom printers. Customers often attach multiple devices to printers in printing shops and the decoration industry. This makes it easier for malware to spread to printers through these devices.
Owing to the vast consumer base of these stores, determining the source of malware is virtually impossible. In this case, using AI and machine learning to solve the problem will provide network-level analytics and real-time anomaly detection.
AI can be both a friend and a foe. According to experts, new generation malware can use AI to infiltrate targets and evade detection to act like a human intruder. However, with the introduction of AI for self-protection from AI attackers, network printers, which are primarily IoT devices, need a whole new set of security systems.
5. Runs AI-powered business:
Installing printer drivers for any user, whether it's a smartphone or a machine, is one of the most inconvenient aspects of printing or getting it printed on substrates. This is inconvenient and, without a doubt, slows down the printing process.
Using artificial intelligence, smartphone users can be relieved of the needless hassles of printer drivers.
With a few quick and easy configurations, AI-powered printers can automatically detect and pick up data. Further, it allows mobile users to print the required graphics without using a printer.
Conclusion:
So, will AI be a boon or a bane for print shops, vendors, and custom decoration industries? It can logically leave the same results whether it is a t-shirt printing industry or some other industry.
Are you concerned that robots will eventually replace humans in the commercial sector or assist humans in performing tasks? The experts' opinions on this point are split. But we can only conclude that the result would be somewhere between the two extremes.
Industrial systems will continue to be revolutionized by artificial intelligence. Humans must continue to concentrate on studying, gaining skills, and discovering the optimization of personalization systems. The combination of AI technology and human skill, as well as commitment, will help businesses succeed.
Further, many online product customization businesses use a single centralized system supported by AI.  It handles a variety of printing methods such as screen printing, sublimation, Direct to Garment (DTG), and more. This is how they are able to provide a diverse range of products to their consumers.  Moreover, they may still extend their company's scope.

Do you have printers? Are those printers sitting idle?
Become a Print-on-Demand dropshipping app like Printful or Printify. Dropship your merchants' orders.
Know more