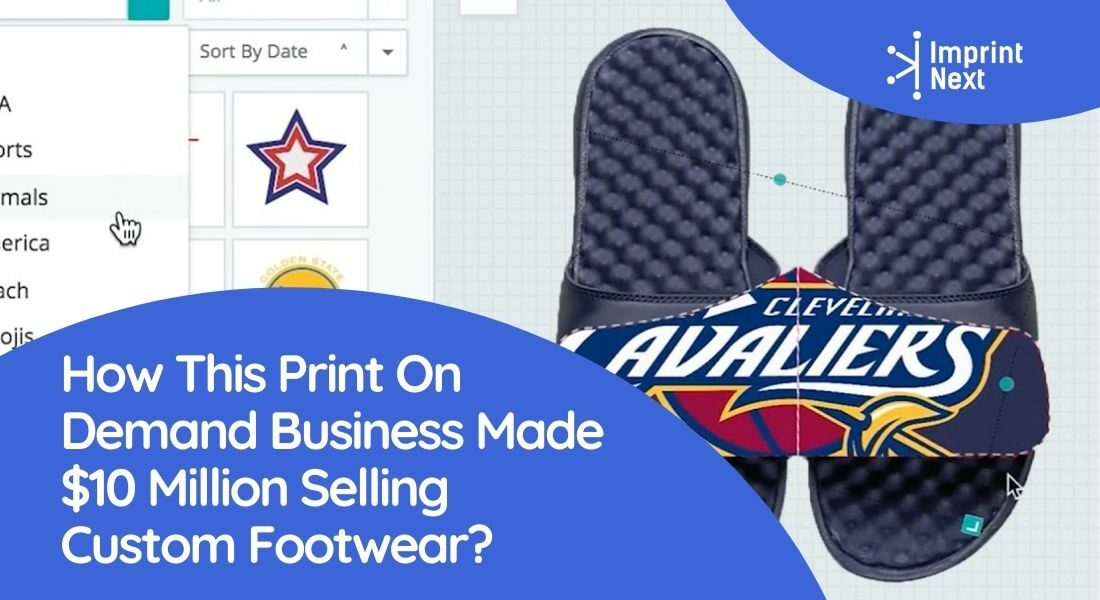 Last Updated on: 16th September 2022, 09:33 am
ISlide, was founded in 2013 by footwear industry veteran Justin Kittredge. It has become a global leader in footwear innovation and is growing in the market year after year. The business has a diverse group of experienced and prominent investors. It offers a range of custom slide sandals through collaboration, partnerships, and licensing deals. ISlide also allows the individual customer to uniquely customize their own pair with any passion in mind.
ISlide closed a successful deal in its most recent investment by adding three major investors, bringing the company evaluation worth more than $10 million. The investors include Peter Feigin, who is the president at Milwaukee Bucks, Jae Crowder and David Baxter, former executives at Adidas.
"Bringing these new investors into our ISlide family is a testament to what we have been able to accomplish in this short period of time," said Justin Kittredge, founder, and CEO of ISlide, in a statement. (Source: bizjournals)
ISlide holds licenses for the NBA, MLB, NHL, NCAA, and more. Recently, it entered into a two-year licensing deal with the NHL to manufacture and distribute custom footwear products.
1. ISlide embodies a message – "Stand In What You Stand For ". 
The premium slide sandal company can manufacture and ship custom footwear for anyone within two weeks. Along the way, they have a huge number of designs. The ISlide allows consumers to create their own personalized designs on high-quality sports and fashionable slides and sneakers as well as the newly added premium socks. Thus, allowing them to express their individuality and introduce themselves to teams, colleagues, family, and friends.
With a personalized approach and custom services, ImprintNext has been an integral part of this footwear industry. It adds value to their customers and a ton of value for the organization. 
From custom licensed logos to phrases, family photos, and even jokes, people love the opportunity to create something they feel connected to. In fact, ISlide has successfully filled the void of creating high-quality slides that are customizable.

Do you have printers? Are those printers sitting idle?
Become a Print-on-Demand dropshipping app like Printful or Printify. Dropship your merchants' orders.
Unlimited Merchant stores. Dropship and Fulfil Merchants' orders. Manage merchant invoice, sales commission, etc. Merchants sell the designed products in shopify, etsy stores, etc.
Know more
2. Celebrities and Recognition:
ISlide has also been seen on the feet of countless athletes and celebrities including Lebron James, Rob Gronkowski, Sidney Crosby, Ice Cube, Steph Curry, Justin Bieber, and others.
For the 2018 Winter Olympics in South Korea, ISlide produced custom slide sandals for the Nigerian women's bobsleigh team and American speed skater Erin Jackson, the first African-American long-track speed skater. ISlide joins the ever-growing list of Perfect Game youth baseball and softball supporters that produces world-class products and services.
The ISlide has become an ultimate accessory for celebrities and athletes and those who want to work on their fitness while they have fun. It provides an easy way to practice speed, agility, and other athletic skills without having to run.
3. Brands and Collaboration:
ISlide has dozens of collaborations and over 50 licenses including the NBA, MLB, WHL, NCAA, Warner Bros, NASCAR, WNBA, etc. In addition, it has been a longtime supporter of the NCAA and WNBA.  
Several NBA players such as Kyrie Irving and Isaiah Thomas collaborated with the company and now have their own designs available for purchase on the site. (Source: Front Office Sports)
Moreover, it is the newest addition to Perfect Game's list of corporate partners. It includes Augusta Sportswear, Diamond Kinetics, Top Chops Beef Jerky, Rawlings, Oakley, Yeti, Texas Baseball Ranch, New Balance, Dick's Sporting Goods, Marc Pro, G-Form, and Next College Student Athlete.
4. Online Design Studio:
The best addition to the ISlide is an online footwear design studio made by ImprintNext. The design studio helps users design their own custom slides.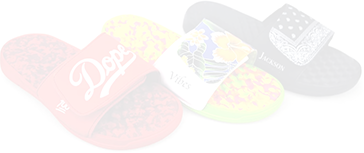 Boston based custom slide sandal maker has become $10 Million company using an online designer and unique growth marketing.
Read more
Users start by choosing their size. Then pick their colors from the design studio. Once users select their color, they start customizing slides from a great variety of graphics. Users can search for specific graphics based on categories such as NBA, MLB, sports, events, emojis, etc. 
Users can place the graphics anywhere they want. They can change the size, rotate, stretch, and flip images. To add text or put names on it, the footwear design studio allows users to choose from different fonts and colors.
The best part of the design studio is that users can upload their own graphics, Whether it's a photo or just an artwork. Feel free to put it on your slide. Once done, users can place their order and ISlide takes care of the rest. 
5. Product Categories:
ISlide, an online premium footwear marketplace. The company has a wide variety of product categories including a range of slides, socks, and apparel for yourself, teams, brands, and groups. They have designed the website to be an easy and interactive way to browse through all of their premium athletic footwear and find the perfect pair for you or your team. 
Once you've found the perfect pair, you can customize them to your taste. With the option to customize the sandals with a specific color, pattern, and material, With over 1,000 different styles to choose from, you'll be sure to find something that suits your taste. Moreover, it is an excellent way to find the perfect pair of sandals for any occasion. Whether looking for a sandal for everyday wear or for a special occasion, ISlide has something for everyone. 
ISlide custom slides come with an extra-long, durable slide and are available in the following colors: blue, red, green, purple, yellow, pink, black, white, and gray.
6. Product Quality:
ISlide custom slide sandal company focuses on quality. The ISlide sandals are designed to make it easier to run, walk, and perform other fitness activities. The company uses high-quality materials to ensure durability and comfort. 
The company's mission is to provide users with the best possible footwear while helping to protect the environment. The sandals are made of a non-slip rubber sole, with high-quality straps and buckles. 
The sandals are also customizable, meaning you can choose the strap colors, buckle colors, and sandal colors.
References:
https://footwearplusmagazine.com/news/islide-adds-three-investors-valuation-at-10-million/
https://www.bizjournals.com/milwaukee/news/2019/12/10/bucks-president-feigin-among-new-investors-in.html
https://billionsuccess.com/justin-kittredge/
https://frontofficesports.com/islide-custom-footwear-company-sports/

Do you have printers? Are those printers sitting idle?
Become a Print-on-Demand dropshipping app like Printful or Printify. Dropship your merchants' orders.
Know more