Last Updated on: 26th November 2021, 09:45 am
Decorating athletic apparel is not a new concept or idea. It has been an evolution since the 1900s. If we take at a glance in the sport's history such as numbering on football and hockey jerseys, or a baseball team to number uniforms.
Name and numbers can be sewn onto mascots and uniforms. Most importantly, was adopted for easier player recognition by fans and sports announcers. But these methods were common in the early days.
But, now there are various decoration options available such as heat transfers, screen printing, appliqué, digital printing, and more.
Moreover, it is important to research all methods while considering which print method is ideal for your business.
For instance, screen printers, a numbering press is a great option; likewise, the heat-transfer
method or sewn-on appliqués both are great ways for embroiderers to get into team-uniform decoration.
Large manufacturers of sporting goods emblaze their business logos on a wide range of sports apparel for retail sales, but team-uniform design for local sports teams offers great opportunities for large as well as small clothing decorators.
Here are some of the mainstream methods for athletic-apparel decoration.

Do you have printers? Are those printers sitting idle?
Become a Print-on-Demand dropshipping app like Printful or Printify. Dropship your merchants' orders.
Unlimited Merchant stores. Dropship and Fulfil Merchants' orders. Manage merchant invoice, sales commission, etc. Merchants sell the designed products in shopify, etsy stores, etc.
Know more
1. Screen Printing:
For direct screen-printed numbers, there are two main types of numbering machines: rotary and inline. Similar to a manual printing press, a rotary numbering machine features multiple screens for printing numbers 0-9 and an indexing system to allow double-digit number printing.
Inline numbering machines have one long panel pictured with the numbers 0- 9 and a shirt board connected to a rail below the panel that can be rotated back and forth to match the garment with the written digit.
Using this type of press, two-color numbers can also be printed, as the printer has a second screen with the outline of the number. The solid number is written within the outline color after the outline is drawn onto the fabric and flashed.
2. Mesh Screen
In the past, screen-mesh selection for athletic printing typically involved those in the 60-, 86- and 110-monofilament range. This method still is used by screen printers today, and such mesh counts produce thick, durable athletic numbers.
However, with the soaring popularity of performance apparel, mesh counts in the 195-230 range are being used to achieve a softer hand and better print drape.
A 70-durometer, straight-edge squeegee works well for printing athletic numbers, and new innovations in triple-durometer squeegees (65/90/65) provide excellent choices for printing on performance fabrics.
Printing with the 65-durometer edge of the squeegee lays the ink on the polyester surface and the 90-durometer center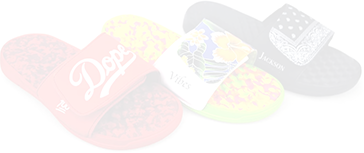 Boston based custom slide sandal maker has become $10 Million company using an online designer and unique growth marketing.
Read more
3. Performance Fabrics:
Performance fabrics primarily are 100% polyester or polyester dominant [and they] require a bleed-resistant ink.
Also, the weave is designed to stretch more than normal, requiring an ink with great stretch.
A new ink technology was developed in response to these specifications, which combines the bleed resistance, elongation, and cure characteristics that function in conjunction with the application to solve all of these problems.
4. Screen Printing on Polyester:
Screen printing on polyester team uniforms has often posed the dye migration challenge through the name or number of the printed team.
A low-temperature cure is a secret to the solution.
The dye is heat-set in the fabric. It begins to escape and penetrate plasticizers in the ink after exposing the dye to high-cure temperatures.
If the ink-cure temperature is less than or close to the dye-set temperature, the bleed-resistant component is able to slow the migration with less effort.
It is best to use a bleed-blocking under a base coat on more difficult dyes in such fabrics. Such goods have a portion of carbon that acts as a filter to remove the dyes as they release. It has an outstanding mat-down coating.
5. Heat Transfer:
Heat-transfer team names and numbers are a great option for decorating team uniforms. Team numbering packs are available in many different fonts, sizes, and colors.
Number sizes range from 4, 6, 8, and 10 inches for front and back prints. For many years, the industry-standard was individual die-cut numbers for the names and numbers added to team uniforms.
Although this method is in use, the hot-split and cold-peel screen-printed transfers mostly used today by the decorators of the team-garment.
Certain heat transfer choices include sublimation transfers for 100 percent polyester sports apparel, which reflects a smaller portion of printed athletic apparel because sublimation is not invisible for heat printing on dark-colored garments.
Sublimation transfers are becoming increasingly common with light-colored polyester apparel which features full, seam-to-seam garment decor.
A sublimation-transfer print has the softest hand of any heat transfer option on polyester and allows the garment to breathe since the application doesn't cover the fabric weave's open areas.
6. Embroidery:
Twill applied logos and numbers offer ways for shops with embroidery equipment to decorate team uniforms and offer a high-end look similar to that of professional football team jerseys.
Special embroidery software helps the machine operator to insert the mark or number on the fabric first in a positioning stitch outline. Then, within the positioning thread, place the twill appliqué and sewn with a zigzag thread onto the fabric.
There are various forms of appliqués to twill. Most have a heat-sensitive adhesive on the back, activated by a heat-press to hold the appliqué in place as sewn.
Some have a pressure-sensitive adhesive exposed when the carrier sheet backer keeps the twill in place and withdrawn when sewn onto the uniform team.
Sewn-on appliqués add a high-end look to team uniforms and since the stitch count is lower than embroidery make the process more affordable for customers.
7. Vinyl Cutters:
Cad-cut vinyl numbers are another way for shops to cash in on the team-numbering market.
These team names and numbers are suitable for decorating team jerseys. Whereas it is easy to transfer individual player names to the back of the uniforms.
Team logos and numbers cut from rolls of vinyl material with a digital vinyl cutter.  A removing nd the backdrop or weeded away from the team name or number and placed onto the dress then transferred to heat.
Another advantage of using cad-cut vinyl is that reorders for one or two additional garments can be done easily. Athletic uniform decorator with limited shop space. But prefer to keep out of the way the heat plate while printing the team logos and numbers.
This configuration allows the flexibility of a swing-away press and the counter-space saving of a clamshell press.

Do you have printers? Are those printers sitting idle?
Become a Print-on-Demand dropshipping app like Printful or Printify. Dropship your merchants' orders.
Know more