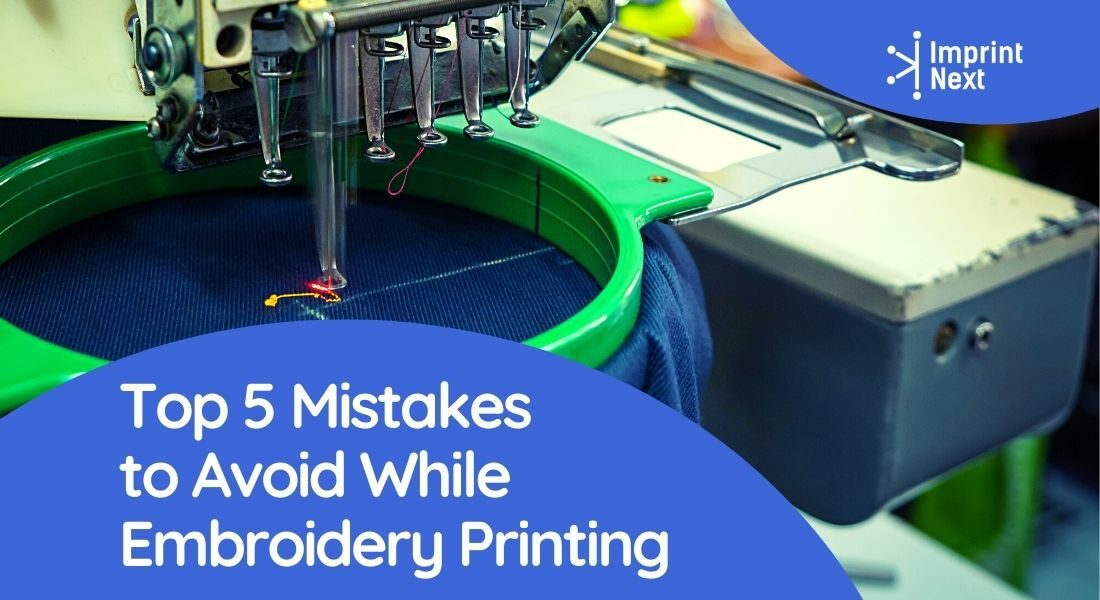 Last Updated on: 6th July 2022, 01:34 pm
An embroidery is a great option for customizing your apparel, bags, and other fabric items. It is common among buyers to decide whether to print or embroider their logo or graphics onto their clothing items.
Screen printing puts a simple print on the apparel, whereas embroidery gives a much more expensive look and feel. And also, embroidery is a little expensive than screen printing. However, unlike screen printing, it is not charged per color but on the design's number of stitches.
Embroidery provides a more prestigious-looking and harder-wearing personalization solution. An embroidered logo is perfect for workwear when the garments will be washed frequently.
It is mostly opted by customers who want to give their apparel a premium look, especially to special items, and they plan on keeping it for a longer time with them.
However, Embroidery is not easy; it is riddled with problems and takes a bit of finesse for the job. So, here are our top six problems in embroidery:
Mistakes to Avoid in Embroidery Printing:
1. Puckering:
Embroidery used to be a manual process, but today, it is often accompanied by machines. Humans set everything up, and the machines do the rest of the work; because it is fast and precise. However, if the embroidery technician is inexperienced, things may pan out differently.
One of the most common and horrifying problems is called puckering. It doesn't show up immediately after printing but definitely after being washed. It is caused by too much tension on the garment during the sewing process. Puckering is what it looks like in the picture.


Do you have printers? Are those printers sitting idle?
Become a Print-on-Demand dropshipping app like Printful or Printify. Dropship your merchants' orders.
Unlimited Merchant stores. Dropship and Fulfil Merchants' orders. Manage merchant invoice, sales commission, etc. Merchants sell the designed products in shopify, etsy stores, etc.
Know more
2. Bad Density:
The poor density of the embroidery artwork has to do with the digitizing process. Embroidery digitizing is converting existing artwork like a company logo into a stitch file that an embroidery machine can sew on a garment.

It takes a keen eye and an in-depth knowledge of the software and the embroidery machine, thread, and material being decorated. It may look spot on the screen, but things can change when it comes to the physical piece.
The density refers to how close the stitches are to each other. Too high density will lead you to pay more than you should, and low density means the stitches will be far apart, and your design will have open spaces and look like something is missing.
3. Digitizing Small Text:
Embroidery is primarily used for designs placed on the chest of polos and tees, and more often, it involves numbers and letters. These areas are small and require the design needs to be made accordingly.
This is where everything goes wrong because most embroider then overdo lettering. When too small and tiny lettering is given to fit into a small area, it brings trouble. It would typically lead to an improper letter sew-out, and it is prominently noticeable after the embroidery is done.

4. Inconsistency in Color:
There are many manufacturers of embroidery floss, each with its hues and shades. And there are many manufacturers of inks too. When you create both an embroidery and print version of the same design, the color may not match up. So, now you have to make sure that the colors match.
The best way to do this is to get PMS color profiles and make sure that your embroidery and print decorations look the same. The blueprint on the embroidered emblem should look the same as the blue heat press vinyl.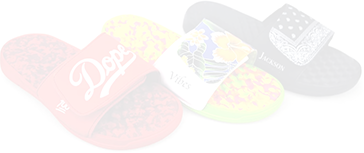 Boston based custom slide sandal maker has become $10 Million company using an online designer and unique growth marketing.
Read more
5. Inconsistency in Placement:
It is common for embroiders to print the same emblem on various shirts but placed them differently. Some are placed a little under, some are tilted etc. It isn't much you can do when it has already happened. So, it takes a bit of experience and finesse to produce the embroidered design exactly at the same place every time.

Conclusion:
Identifying and avoiding embroidery mistakes is the key to minimize production delays and losses. Besides, it is worth framing and minor trimming during production without disrupting the workflow. Repairing mistakes at the end is recommended.
Moreover, in commercial embroidery machines, most problems can be avoided or solved easily. It is fast and performs error-free stitch work.

Do you have printers? Are those printers sitting idle?
Become a Print-on-Demand dropshipping app like Printful or Printify. Dropship your merchants' orders.
Know more