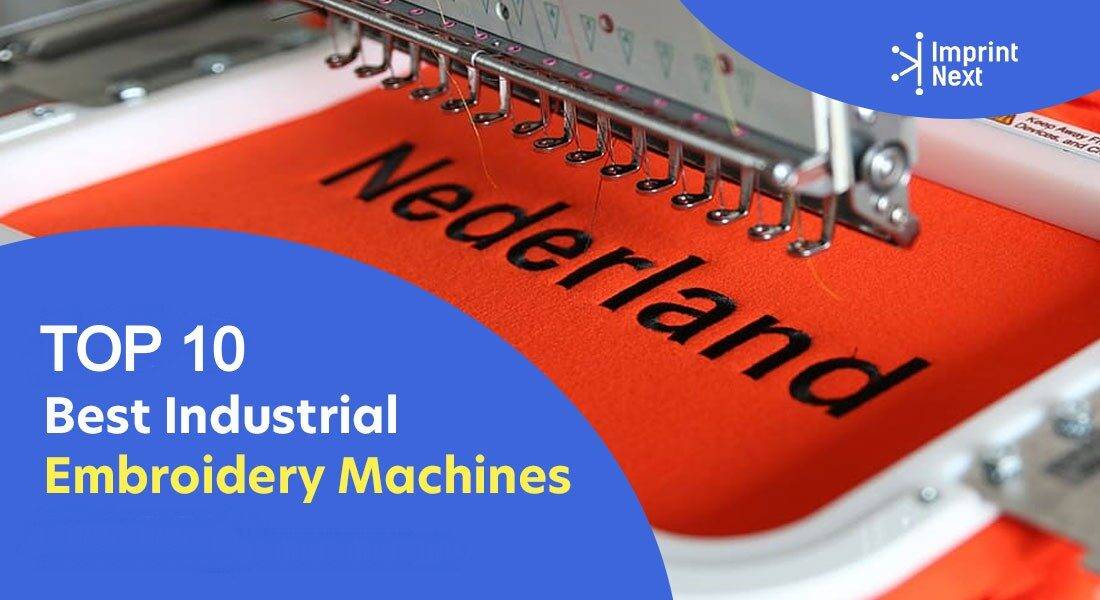 Last Updated on: 25th September 2023, 11:36 am
Embroidery Machine – If you are looking for the best embroidery machines for commercial use, then you are in the right place, top 10 list is here.
Before we go through each feature of these industrial embroidery machines, let us know what you look for in a commercial embroidery machine package to get the most value from your purchase.
Embroidery area:- For commercial purposes, you must have a large sewing field machine that covers a large area to cover a wide variety of embroidery designs that your customers ask for.
Additional parts for attachment:- The additional parts are important to pay attention to when you purchase an embroidery machine. Make sure to know how many hoops or packages are included in an industrial embroidery machine.
Also make sure that, whether it comes with software that you need to install on your computer.
Therefore, you must be sure about the package that is all-inclusive to your main product. Else, you would land up paying extra for these attachments.
So, to save you time in searching for the best commercial embroidery machine that goes in line with modern embroidery trends, I have listed the top 10 embroidery machines for you. They are:-

Do you have printers? Are those printers sitting idle?
Become a Print-on-Demand dropshipping app like Printful or Printify. Dropship your merchants' orders.
Unlimited Merchant stores. Dropship and Fulfil Merchants' orders. Manage merchant invoice, sales commission, etc. Merchants sell the designed products in shopify, etsy stores, etc.
Know more
Meistergram Pro1508
SWF MAS-12 Embroidery
Richpeace NON-STOP Automatic Sewing and Embroidery System
ColDesi Avancé 1501C Multi-head
Ricoma CHT2 Series Multi-head
EMT16 PLUS Multi Needle
Tajima TMAR-V1512C 
Brother PR1050X
Melco EMT16X Single/Multi-head
Happy's multi-head
Read also – How Much Should You Price Your Embroidery Work?
Top 10 Industrial Embroidery Machines:-
The 10 best embroidery machines for commercial use which you can fulfill your customers' orders quickly are as follows:-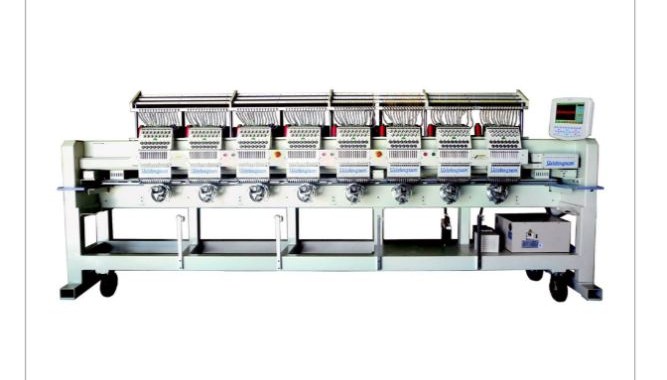 The Meistergram Pro1508 is an eight-head embroidery machine that has a sewing speed of 850 stitches per minute.
The sewing machine is best for mid-level production industries that give you a finished product in terms of best quality patterns, stitches, and quality.
The size of the sewing field is 350mm x 450mm and has a storage capacity of 2,000,000 stitches with a stitching efficiency of 99 unique designs.
It comes with an onboard 9-inch LCD color monitor and additionally built-in noise reduction technology.
You can also connect the embroidery machine to a computer so that you can import custom designs to be crafted on a garment.
The overall dimension of the Meistergram Pro1508 embroidery machine is 48″ (L) x 144″ (W) x 71″ (H) and weighs 2420 lbs.
02. SWF MAS-12 Embroidery Machine: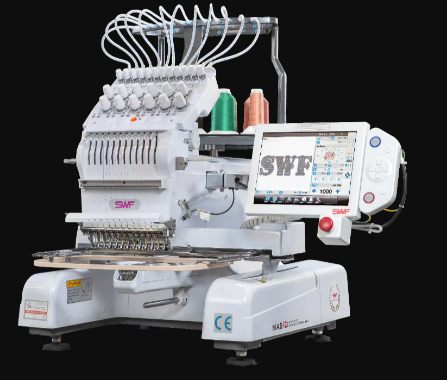 The portable embroidery machine has a 12-needle automatic color change feature with an automatically controlled threadTop 6 Embroidery Tips to Make Your Work Faster & Easier(Opens in a new browser tab) tension system.
It has a sewing field of 14″ x 9″ that combines a thread break sensor and bobbin sensors that alert you. Moreover, it immediately stops the embroidery process when a problem is found.
The laser guide feature helps you place the garment in the exact sewing line so that you do get the wrong piece of work.
The embroidery machine takes care of every detail and accuracy while crafting designs on your garment.
Moreover, the machine comes with a High resolution 6.4″ LCD Control panel and interestingly Wi-Fi enabled.
The machine is compact and portable with dimensions of 2' x 2' and weighing about 90 lbs.
It can perfectly fit in any room of your house and is mostly suitable for small industries.
Finally, the SWF MAS-12 Embroidery Machine comes with a 7-year limited warranty.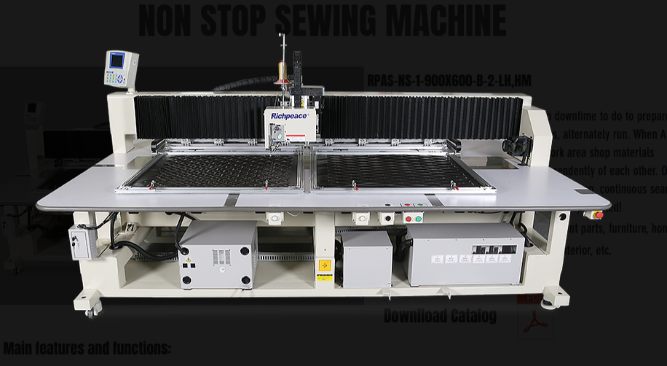 If you are looking for an embroidery machine that can o sew on a 3D template with a head lifting system, then you must go for this.
Interestingly, this embroidery machine needs no downtime to prepare before starting design work. The non-stop embroidery machine continuously runs at full capacity.
The one-person operation machine does not require you to employ new staff for the embroidery work.
It has a working speed of 2500 rpm over a large working area of 2,500 mm X 800mm.
The embroidery machine comes with a large storage capacity of 2 million stitches with four automatically switchable design patterns.
Lastly, you can perform embroidery work on a huge catalog of garments like Winter jackets, down jackets, garment parts, furniture, home textile, automotive interior, shoes and caps, and a lot more.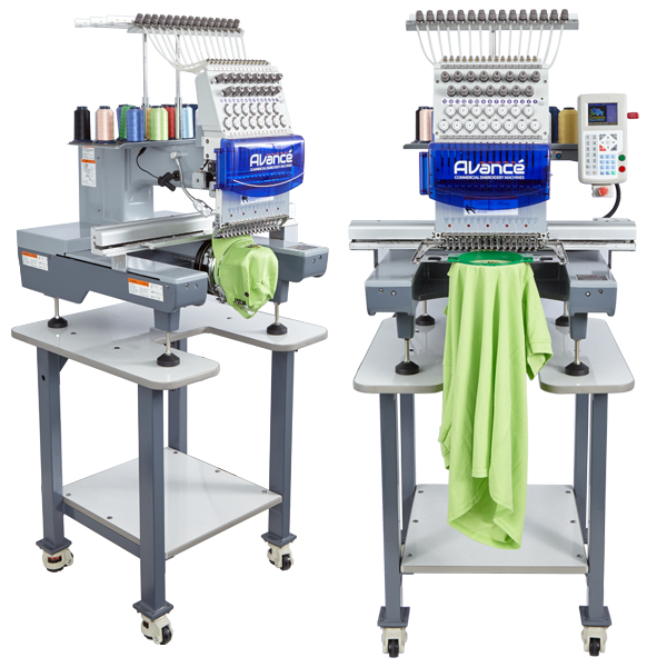 The ColDesi Avancé 1501C is 15 needles multiple single-head embroidery machine that has similar advantages to owning a 6 to 12-head embroidery machine.
You can make a cluster of more than 6 units to make it into an incredibly versatile multi-head embroidery system.
The greatest advantage you get with this machine is "space". Suitable for small-scale industries to handle medium to large orders.
Although the machine's size is small, it has a top-stitching speed of 1,200 stitches per minute.
If the machine finds a thread break at one head, then the entire machine stops until one thread is fixed to start.
Most importantly, if your machine suffers damage, you do not need to wait until you repair it or get it replaced. The modular system of Avancé 1501C keeps you making money while repairs are made.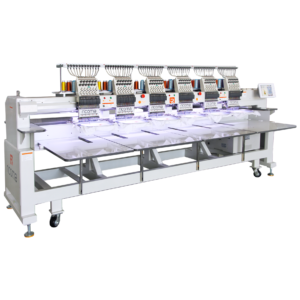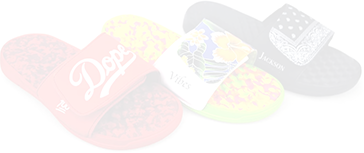 Boston based custom slide sandal maker has become $10 Million company using an online designer and unique growth marketing.
Read more
Ricoma CHT2 commercial embroidery machine has 12 heads that can easily stick caps, flats, and plenty of garments with accuracy and precision in design.
Comes with a 10.4″ true-color high-definition LCD touch screen. It has a memory capacity of storing 50 million stitches. The computerized panels allow adding/editing functions of existing designs or creating new ones.
The embroidery head covers a maximum area of 400 x 450 mm (15.8 x 17.7 in) covering a cap embroidery area of 215°.
The Ricoma embroidery machine can stitch at a making speed of 1000 spm (stitches per minute) with a power consumption of 1.5 kW.
The machine comes with an embroidery machine such as flat hoops of different sizes per head and cap hoops, plus a sash frame, etc.
The overall dimension of the machine is 5960mm L x 1230mm W x 1650mm H and weighs about 1500 kgs.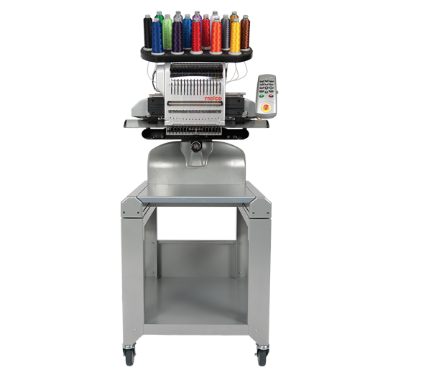 EMT16 PLUS is a 16 Multi Needle Commercial Embroidery Machine that simultaneously does Single-Head AND Multi-Head Embroidery.
It is superior to any other standard embroidery machine in which you can add individual heads to the system anytime to match your production needs. For instance, if three heads are running for t-shirts, then one head can be set up for a Hat. Also, you can consider it to best one for the hat embroidery machine.
It has a laser alignment system that helps in easy and accurate alignment of garments to eliminate any sort of design flaw.
The embroidery machine has small and cylindrical that can perform embroidery in small areas like shirt pockets, golf club covers, or any tight places that are not possible for other machines to reach.
Moreover, EMT16 PLUS Embroidery Machine comes with a 6 years warranty.

Tajima TMAR-V1512C is a high-volume 15-needle embroidery machine that assures high-quality sewing, fewer thread breaks, and overall smooth performance for maximum output.
It is a perfect machine for specialty fabrics like caps and three-dimensional foam.
The embroidery machine has a maximum speed of 1000 stitches per minute over a flat working area of dimensions 450 mm x 360 mm.
It has a large storage capacity of 40 million stitches or 650 designs.
The machine is LAN enabled and easily connects to your network without having to rely on USB Drivers or Disks.
The Slim cylinder is 12 mm narrower than a standard size cylinder that making it possible to embroider on small areas like gloves, pockets, socks, logos, etc.
The machine has automatic thread break detection that stops the machine from detecting a thread break.
The overall dimension of the machine is 223″ L x 58.5″ W x 67.5″ H and weighs 4739 lbs.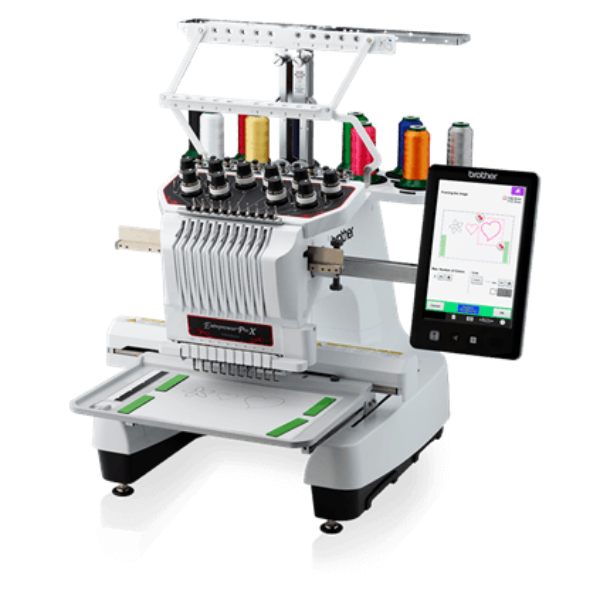 Brother PR1050X is a highly powerful 10-needle embroidery machine that is best suited for small-scale businesses.
It has a large 10.1″ built-in high-definition LCD with large, more defined icons and a scrolling menu.
The machine has 699 built-in embroidery designs, 8 monogramming font styles,140 frame pattern combinations, and 37 lettering fonts.
The maximum speed is 1000 stitches per minute.
Moreover, the machine has two sensors, namely Upper Thread System and Bobbin Sensor. Moreover, in addition to embroidery; Brother is among the top sellers of sewing machines.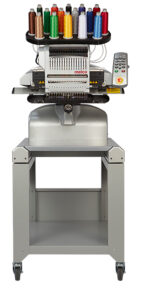 Melco EMT16X is a 16-needle commercial machine, single or multi-head. It is the best fit for small and large-scale businesses to fulfill single or multi-head requirements.
It comes with an Acti-Feed thread control system. Unlike conventional machines, it does not require manual thread tension adjustment. It delivers the precise amount of thread automatically.
With a high-speed Pantograph, it can stitch at a speed of 1500 Stitches per Minute.
The embroidery printing machine comes with a small cylindrical lower arm for embroidery on hats and pockets.
For easy mobility, it comes installed with a sturdy, wheeled cart. You can easily add machines for converting single-head to multi-head embroidery.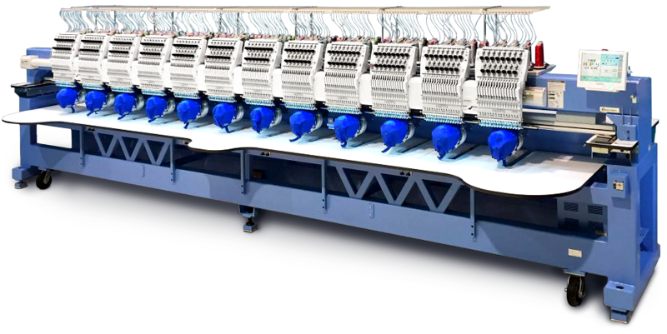 The Happy's HCR3-1512 Multi-Head machine features a servo drive system for quieter and higher-speed operation.
The 12-head embroidery has 15 needles per head.
It has a maximum sewing speed of 1000 stitches per minute having a maximum needle distance of 360mm.
With a memory capacity of 999 designs or up to 40 million stitches, it can make 99 unique color changes per design.
It has User-friendly touch screen control with onboard help and an auto-error correction system.
The machine has a tubular frame field of dimensions 320mm x 320mm and Ballcaps of 80mm x 360mm.
Lastly, you get a 5-year limit on this machine.
Read also: Top 5 Mistakes to Avoid While Embroidery Printing
Conclusion:-
So, I have listed out the brands of commercial embroidery that people most often search for. There are so many other brands you can look but the actual embroidery features are pretty much the same across the board. Lastly,
I hope the above list of top 10 machines can help you choose the best one required for your custom printing business.

Do you have printers? Are those printers sitting idle?
Become a Print-on-Demand dropshipping app like Printful or Printify. Dropship your merchants' orders.
Know more