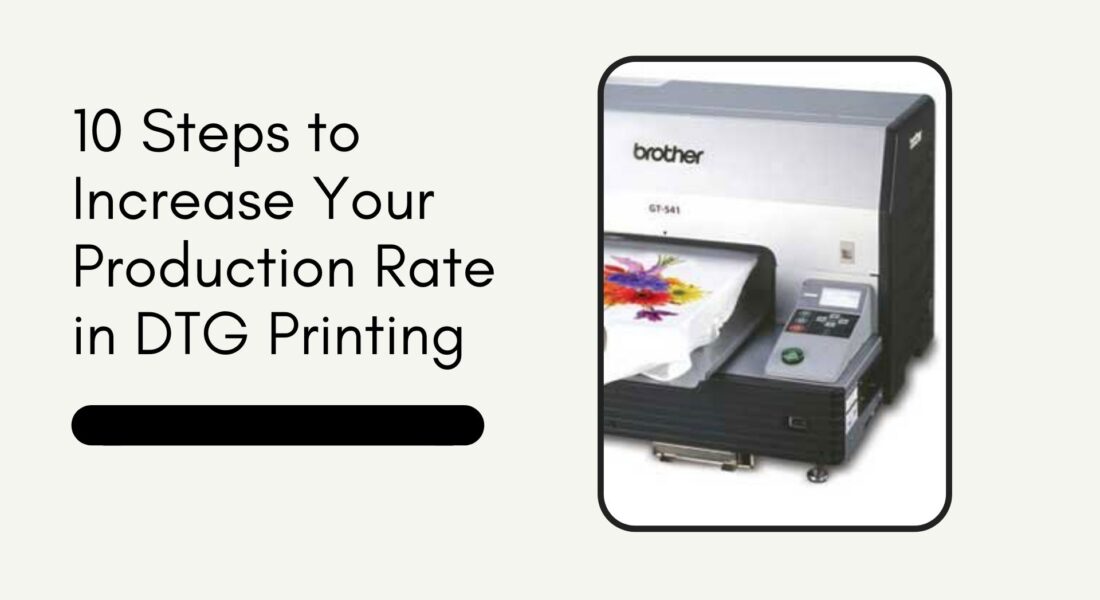 Last Updated on: 20th January 2022, 03:03 pm
The purpose of all garment decorators is to save time during production. This is particularly true for DTG printing, which has no reputation as the fastest decoration technology.
Decorators need to understand the realities of short-term production. These are a few things you can do to improve your production.
1. Pretreat Garments in Bulk:
The process of scaling-up DTG print production begins with the treatment of clothing. The thumb rule is: You must prepare shirts prior to printing with white ink. CMYK prints are only a matter of personal preference for the treatment of white or light-colored shirts.
When you want to save time, you can save money on light-colored shirts. Test some of the products in your shop to find out if your personal standards accept an untreated shirt.
2. Pretreat Multiple garments at once:
The pretreatment of several shirts is another time-saving step. A full-face area with an automatic pretreatment machine takes approximately six seconds and costs about 25 cents per garment.
Wet pretreated shirts can be passed through a transport dryer or stick to dry air on a rolling rack. For months or more, pretreated shirts can be stored. There are two truly acceptable methods for pretreating garments.
3. Use an Automatic Pretreatment Machine:
The first is the use of an automatic enclosed pretreatment machine, which offers a speed of shirt to shirt. This choice is mandatory if your goal is to save time.

Do you have printers? Are those printers sitting idle?
Become a Print-on-Demand dropshipping app like Printful or Printify. Dropship your merchants' orders.
Unlimited Merchant stores. Dropship and Fulfil Merchants' orders. Manage merchant invoice, sales commission, etc. Merchants sell the designed products in shopify, etsy stores, etc.
Know more
You may use a power paint sprayer to pretreat under tight budget constraints, but procedures are required to make it proper.
Other methods are not efficient or consistent, for example using paint rollers and pump spray bottles.
You will also have to dry the preset clothing for a few seconds prior to printing whether you dry it with a conveyor dryer or air drying. This puts the fibers of the shirt down and creates a better image.
4. Use Garments That Suit DTG Printing:
All shirts are not created equal when it comes to DTG printing. The 100% ring-spread cotton usually for the lightest and most détailed printed photos has a smooth surface and a strong weave.
The fact that the fabric is ringspun, however, does not really make DTG printing preferable. Spun ring cotton is made from thinner thread, resulting in an imprimable smooth surface. And these garments are simply superior to the fabrics, not the ring-spun cloth.
5. Double pre-treatment adds time:
Some DTG operators or customers prefer clothing outside the ring category. They can still be successfully decorated, however additional preparations, including double pretreatment, are necessary.
This adds time and cost to the process, so it is the most attractive option to use a DTG-friendly garment.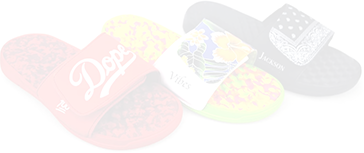 Boston based custom slide sandal maker has become $10 Million company using an online designer and unique growth marketing.
Read more
6. Change Settings for RIP Software:
In addition, DTG-suitable clothing can be printed most often using standard settings for a RIP/print driver software.
In order to try to make the un-DTG friendly clothing fit the criteria, special printing settings are often required.
7. Using Automatic Heat Press Increases Workflow
Many DTG shops use a heat press to dry shirts and cure the ink. Changing to an auto-release platform would make a better workflow possible.
Whenever the buzzer sounds indicating that the press should be opened, the process is interrupted with a standard heat pressure. Thanks to disrupted workflow, development minutes are lost all day long.
An auto-release unit opens when time elapses to allow a decorator to continue work until a finished garment is ready to wait on the plate. A function is available on the most popular clam-shell heat presses.
8. Conveyor Dryers is an alternative to Heat Press:
The need for a heat press when curing DTG-printed clothing is eliminated by a conveyor dryer. For the treatment of water-based DTG ink, a dryer with good airflow is needed.
However, before decoration, a heat press is still required to help lay down the fibers of a garment.
9. A controlled environment is essential:
Since DTG printers need to be located in a controlled environment, which has a bureau-like temperature and moisture of at least 40%, it is not practical to place a printer near the conveyor dryer on a screen printing floor.
In order to prevent the room from heating and drying the air, the DTG transport driver must be well isolated and ventilated. A cheap hygrometer helps to track the level of humidity.
10. In-expensive Method of Printing Caps:
Most DTG printers have the optional cap attachment to decorate the seam in a six-pane style easily and economically. Consider using a heat pistol instead of buying a cap heat press for curing or elevating the input and outlet of your transport dryer.
Put the printed hats on a tabletop and apply a heat punch to dry the ink to the touch in any hardware store.
It is important to get the perfect cure on a shirt so that the design is resistant to repeated washing, but rarely washed. Therefore, the cure doesn't have to be perfect, so a heat gun is more than sufficient.
Conclusion:
Inherently, DTG printing is slower than many other methods of decoration, such as screen printing.
However, the need to produce short runs is real and these steps can help speed up the production process

Do you have printers? Are those printers sitting idle?
Become a Print-on-Demand dropshipping app like Printful or Printify. Dropship your merchants' orders.
Know more