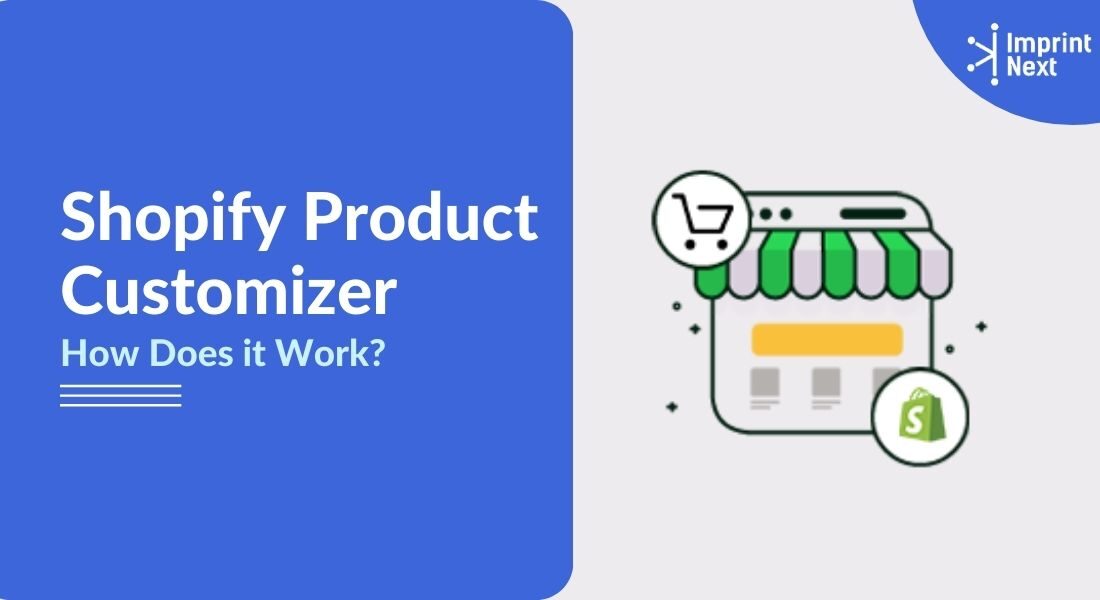 Last Updated on: 3rd May 2022, 11:39 am
Shopify Product customizer is a custom product design software for e-commerce stores in Shopify. Being a store owner benefits you on all fronts. You can easily sell personalized products such as t-shirts, hoodies, sweatshirts, caps, mugs, signs, banners, and more. The custom product designer tool integrates into your e-commerce store that directly displays at your storefront. Your customers easily choose a product, click on the "Customize" option, and they are into the customizing interface. As it is built in HTML5 and Javascript, it seamlessly works on all devices, including mobiles with any operating system. Thus, product customization is made possible anywhere, anytime.
Personalization of your online merchandise with the Shopify Product Customer is a single way for you. You can give your users a range of choices to choose from certain fabrics, color variations, and more. With a personal statement, consumers have the right to own goods. A supplier will then develop a specific client base who can find them before hitting ready-made solutions.
Of course, it can be an attractive feature to bring in new customers and get them into the shop for longer and inspire them to buy back in the future. Any shop can be customized as a product, particularly if it is either a gift or a valuable purchase. Therefore, it could range from a pen to a car to everything a consumer wishes to have. ECommerce development platforms such as Shopify, BigCommerce, Magento, and Woocommerce have increased their support for the futuristic features that improve the performance and capabilities of your e-commerce store.
Through this blog, we will shed some light on the variety of ways in which the Shopify Product Designer App works in your online stores and how crucial they are to keep up your e-commerce business.
How Does it Work?
You can provide your customers with something additional by adding a custom product design tool such as Shopify Product Customizer to your web store. You can add a message if anyone wants to buy custom t-shirts, phone covers, jerseys, mugs, stationery products, and more, choosing from various types of design and color combinations. Often products check all the required catalogs but don't get the right product they are searching for. As a result, it becomes a major reason for cart abandonment.
Your customers want to stand out and have the things that they use to define them. And in this current age, that is the trend. Your business will benefit from catering to customer demands. However, it won't be as easy as you think. You have to work to figure out what level of customization you can provide on which of your products. For example: if you sell custom t-shirts, coffee mugs, signs, banners, etc., you can use the same screen for a coffee mug and a t-shirt, but you would need a different type of machine such as a heat press to print on a mug. Your DTG printer won't work for this. So let's look at the process of how to go about this.
Why do we Choose a Shopify Product Customizer?
This is a feature that your customers shall appreciate. It is the type of tool that eliminates cart abandonment and makes your customers want to buy from you, time after time.

Do you have printers? Are those printers sitting idle?
Become a Print-on-Demand dropshipping app like Printful or Printify. Dropship your merchants' orders.
Unlimited Merchant stores. Dropship and Fulfil Merchants' orders. Manage merchant invoice, sales commission, etc. Merchants sell the designed products in shopify, etsy stores, etc.
Know more
As for why we chose to speak in this article about Shopify, it is because it is one of the best and rich e-commerce platforms currently available. It includes features that produce a slice of cake, an online shop. You can create your shop without the need for a developer, choose themes, fonts, colors, fancy product design, etc., and drag and drop the elements to build your store.
Therefore, integrating the interactive product designer tool with your Shopify e-commerce store would be a hit. It seamlessly integrates into your online store. So, it is completely hassle-free.
Once your Shopify custom product designer tool is up and ready, your business is only to flourish more!
Integrate Shopify Product Design Software:
This means that the first step is to determine which items you should customize. Invest in the tool to integrate into your shop is a compatible product designer.
If your web store is on Shopify, you can choose to integrate a Shopify product designer plugin. Search for it, and you will find plenty of them on the internet. Check out all of them and then pick the one (recommended ImprintNext) that fits in properly according to your business requirements. If you chose ImprintNext, a detailed guide with support would be provided," how can you add a Shopify product design studio in your online store."
After you pick and integrate the designer tool with your e-commerce platform, you must design a section in your store to show off the ready customizations you offer and highlight how you also offer personalization on top of the ready designs.
Choosing the Right Shopify Product Design Software:
The following points below shall help you choose the Best Shopify Product Designer App/Extension/Plugin for your online store: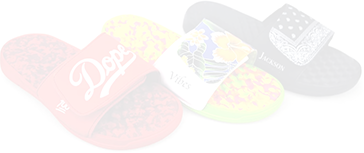 Boston based custom slide sandal maker has become $10 Million company using an online designer and unique growth marketing.
Read more
[Recommendaton – ImprintNext is used as the best web to print product designer plugin for the Shopify e-commerce platform. check reviews]
1. Product Personalization for Shopify Store:
As a development platform for e-commerce, more than 600,000 companies worldwide depend on Shopify. Not only does it have a user-friendly administrator panel that provides retailers with full control of their e-commerce stores, but it also offers an app market that requires almost any ready-made solution.
Customers appear to be more inclined to customize products. It means that your already available product's components and features cannot be twisted and supplied anymore. You must give them what they want, and a custom product designer from Shopify can help you do that.
They would be able to choose the color of the t-shirt, put their favorite quote, emboss the Targaryen logo, embellish it with some dragons, and they're done. Now, only a custom product designer tool that is compatible with Shopify would provide this amount of freedom to personalize.
2. Flexible UI/UX:
One major function of our software's versatile user interface to your clients is our differentiator from other existing products.
Most of the current products were developed. Compared to our personalization software, retailers play with the customization page and have interactive the front end according to their needs.
3. Easy Configuration:
By incorporating this design software, shop owners can customize customer-specific items using uploads of text, clipart, or photographs. When orders are issued, the files for custom art can be printed ready to fill in, and the manual process can be minimized. When an order is received.
The admin is also benefitting from some functions. They will set up pre-decorated editable models so that consumers can personalize the products and position the orders online with any degree of graphic expertise. This tool also provides a 3D preview for improved user experience and rapid acceptance of this customized product.
It also allows the store owners to customize the design tools' look and feel with easy color configuration to match the design studio color theme with their brand, thus maintaining a consistent brand identity and user experience in their store.
4. Responsive Software for Design Convenience:
Personalization of products using a product designer tool is not all that your customers want. It becomes convenient for your customer to design products from anywhere, anytime. Most possibly as they chew on their daily businesses or snack on a cup on the underground. You can provide your customers with many conveniences through mobile or computer-sensitive software that offers personalization. They can build designs independently through various devices such as notebooks, tablets, and mobile devices.
There is no difficulty in finding a mobile Shopify product design tool. All you have to do is research. Once integrated, you can easily design any product, save it on your mobile, upload photographs from your device, share your creations on social media, and do more. So in case, your search for a Shopify Product Designer Tool, make sure that it is mobile responsive.
5. Can Add any Print Method:
Now the best thing is to incorporate such a tool. Let's claim that you began with personalizing paperwork. If your customers enjoy the goods, you sell and appreciate them. It would help if you started introducing new items to your e-shop, and you make successful sales. Therefore you can add more items once your Shopify stores start winning sales.
However, before adding products, you must note that your products have a printable surface in your e-store. Your method should also be compliant with the various styles and formats of printing. Only then would you be able to make the way you want your customers.
6. Get Print Ready Files:
You should be able to print all types of design orders placed by your customers. You get print-ready files in the form o PDF, PNG, and TIF formats.
Moreover, the Shopify product configurators generate high-resolution print files that you can easily download from the admin panel.
7. Dynamic Pricing Feature:
For customizing each item, retailers have the option of fixing a price tag.
If a customer modifies the product color, and design assets, and chooses a specific print method or feature, the product's price will be adjusted according to their preference. Suppose customers opt for screen printing; you may charge a higher price than DTG prints as the former involves more production expenditure.
Final Thoughts:
Nowadays, customers want their personal touch on the things they are buying.
Hence online businesses also strive for product customization options that can meet the customer's desires. And Shopify Product Customizer is the most suitable product designer tool for e-commerce stores on Shopify.

Do you have printers? Are those printers sitting idle?
Become a Print-on-Demand dropshipping app like Printful or Printify. Dropship your merchants' orders.
Know more