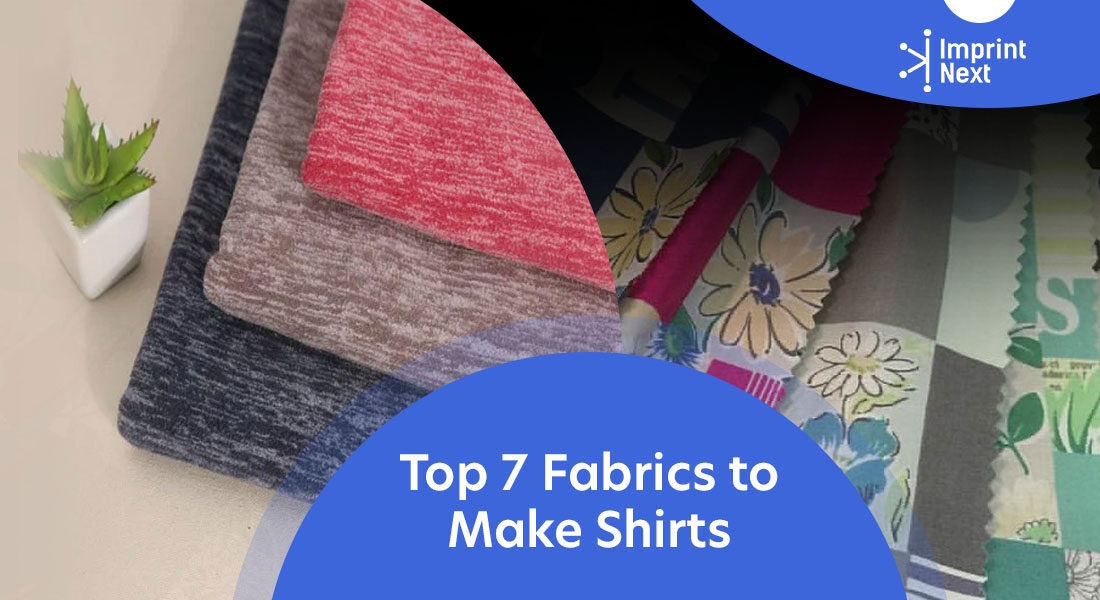 Last Updated on: 29th November 2021, 09:28 am
If you are making shirts and you want to know the best fabric, then this is the right place for you. In this blog, I've discussed the top materials that are best to make shirts.
These fabrics make shirts printing friendly and also feel great on the skin. Keep reading if you want to know the best high-quality materials for your shirt.
Some of the most important things to consider include the thread count, ply, and the weaving process.
The higher the thread count, the softer, smoother, and silkier is the fabric and also the most expensive. Considering ply construction, there are either single-ply fabrics or two-ply fabrics.
The two-ply structures have two yarns spun into one, which prevents wear and tear and pilling.
However, fabric with more than 100 thread count will typically have 2-ply construction with two yarns twisted, thereby making it a durable material.
Without further adieu, let's get into the top 7 best fabrics for making shirts, and we will see why they are so important.

Do you have printers? Are those printers sitting idle?
Become a Print-on-Demand dropshipping app like Printful or Printify. Dropship your merchants' orders.
Unlimited Merchant stores. Dropship and Fulfil Merchants' orders. Manage merchant invoice, sales commission, etc. Merchants sell the designed products in shopify, etsy stores, etc.
Know more
Cotton
Poplin
Twill
Linen
Flannel
Gabardine cotton
Oxford
01. Cotton:
Fine cloth is an excellent choice for making shirts, especially if you are making dress shirts. Three important cotton qualities include Pima, Swiss, and Egyptian cotton of two-ply cotton and a high thread count of nearly 200. Shirts made from these fabrics are elegant and can make you look dapper in your work.
The best options among them are Egyptian, Pima cotton, Sea Island, which can be expensive depending on where you live but can produce some of the best dress shirts.
These cotton fabrics are made from extra-long staple length cotton, which is built into beautiful and durable yarns. It makes the fabric soft with a high thread count and has a two-ply construction.
Among these, the Egyptian cotton is the best and the finest, among which Giza 45 is the best, however, if you want to purchase shirts made of this, you will have to cough out a lot of dollars because these fabrics go to the top designers to make exclusive dress shirts.
Pima cotton, on the other hand, is high quality but inexpensive material that has a soft and smooth texture. It is something you can purchase from your favorite brand.
02. Poplin:
One of the most popular shirt fabrics is Poplin, and it is a plain weave fabric that is a smooth, fresh, and breathable fabric with a crisp texture.
An ethical quality poplin is a tightly woven, high-quality fabric and is one of the favorites among fashion enthusiasts to make dress shirts.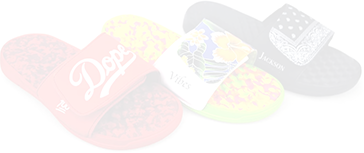 Boston based custom slide sandal maker has become $10 Million company using an online designer and unique growth marketing.
Read more
The material is also soft and smooth to touch, but the disadvantage is that it is semi-translucent and is like a see-through fabric with a thin and lightweight feel. Another problem with its thinness is that it wrinkles a lot.
When it is freshly pressed, it is smooth and soft, perfect for a dress shirt. Considering all the above facts, it can say that Poplin is a great fabric to make formal shirts.
In the end, Poplin is a great dress shirt fabric with a very subtle texture as it is woven that way where the weft thread is one color, and the warp thread is of a different color.
Sometimes a colored ribbon and a white-colored thread are used in the warp and weft respectively to give it a traditional effect. Many pick this pupil over the solid Poplin for its added texture.
03. Twill:
Twill is a fabric weave, and the other fabrics made with the design are Hnerrigbone and Denim. Some other similar weave fabrics are Houndstooth and Cavalry are some of the very popular for making shirts.
The twill weave makes the materials soft to touch, however, making it heavier than cotton, silk, or Poplin. It is a durable and robust fabric, and at the same time, it hangs well on the body.
A tightly woven twill fabric will be soft, such that cavalry twills have a striking weave pattern. For a more subtle twill weave, the diagonal weave of twill is an excellent option for an attractive appearance.
High-quality twill is somewhat shiny, which is easy to iron and is resistant to wrinkles.
Another great twill fabric is the chino fabric, which is lightweight and soft. On the other hand, Houndstooth is a twill fabric with a check pattern in a black and white appearance.
The will has a zig-zag design that is unique to its structure. Most of the twill fabrics are hard wearing and durable, which is best for all seasons.
04. Linen:
Linen is a very posh, high-fashion fabric used to make elegant clothes which like wine gets better with age and washing. It is a loosely woven fabric than cotton and is a perfect fabric to be used to make summer fashion shirts.
However, it wrinkles a lot and not the most drapey. It is slightly crisp.
However, this fabric is natural and breathable and looks very elegant to the eyes. 100% linen fabric is excellent, but a blended line such as a bamboo-linen or cotton-linen is also high because they are less wrinkly, and almost all problems of 100% linen are gone.
05. Flannel:
Also called as brushed cotton is soft to touch because it is the cotton that is brushed to remove its lint and fibers.
However, it is a thick weave heavy fabric that typically used to make winter shirts. It can be 100% cotton or a blend of wool and cashmere. Because of its insulating quality, it is used in making winter wear.
06. Gabardine Cotton:
It is a healthy, medium weight, twill-weave fabric but has a smooth finish and has a raised ribs on the back. Moreover, it can make from both wool and cotton fibers.
It is one of the best fabrics to make workwear and suits for its durability and long-wearing nature. It drapes quite well and doesn't wrinkle so easily.
However, its disadvantage is that it is a little coarse and heavy, which many may not like, but it can be made soft and lighter.
07. Oxford:
This fabric is a relatively rough material that is warm and breathable. They are also very durable, making them great for casual wear.
Although it can also make for formal wear, they are not as beautiful and dressy as other alternatives.
It is rough, robust, and more substantial than Poplin fabric. Their durability also makes them suitable for workwear and sportswear fashion. These casual shirts are worn with a button-down collar.
Oxford has a symmetrical basketweave, in which two or more warp yarn crosses an equal number of weft yarns.
There is another variant called the Royal oxford fabric, which has a better appearance for its prominently visible weave and a shiny face.
The luster and texture of the royal oxford fabric make it a popular shirt fabric in the fashion industry.
Conclusion:
Everyone considers wearing fabric for t-shirts that are comfortable and woven with 100% natural fibers. All of the above fabrics are excellent choices with their own merits.
Whatever you choose out of the above list, remember to choose the fabric for the best comfort and experience.

Do you have printers? Are those printers sitting idle?
Become a Print-on-Demand dropshipping app like Printful or Printify. Dropship your merchants' orders.
Know more