Last Updated on: 26th November 2021, 09:45 am
There are so many website builders in the market, but which one to choose. Which website builder would be the best for an eCommerce store. Can you add personalization software to your online store?
Here, we will choose the perfect website builder that does not need any developer or designer to get started with your own website.
Best Website Builder Platforms to Create Your Website:
Whether you build an eCommerce store or a blogging website, you just need to pick one of the six website builders to get started with your online business. They are as follows:
1. Squarespace:
Let's start with Squarespace. Squarespace is the best all-around website builder. It's what I'd recommend for most small websites.
We use it to create an eCommerce website. Moreover, Squarespace has the best themes of any website builder which sounds subjective.
But honestly, there's no other website builder that matches their clean modern themes do tend to have a specific look and feel bold typography and lots of room for photos.

Do you have printers? Are those printers sitting idle?
Become a Print-on-Demand dropshipping app like Printful or Printify. Dropship your merchants' orders.
Unlimited Merchant stores. Dropship and Fulfil Merchants' orders. Manage merchant invoice, sales commission, etc. Merchants sell the designed products in shopify, etsy stores, etc.
Know more
Squarespace is easy to use but among website builders, it's not the easiest
I'd say Weebly is the easiest which we will get to later in this article.
So instead of being easy to use I describe Squarespace as intuitive everything is just thinking. You can say Squarespace is like the Apple of website builders.
Let me give you an example. Let's say you have a photo gallery, and you want your thumbnails to be perfect squares.
That probably means the photos will need to be cropped most website builders just crop automatically around the center of the photo and leave it at that but that can be frustrating if the subject of the photo isn't in the exact a center
That's why Squarespace includes a handy focal point tool that adjusts the crop.
It's a small thing but it shows you the attention to detail you'll find throughout Squarespace.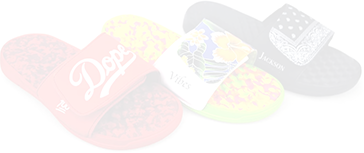 Boston based custom slide sandal maker has become $10 Million company using an online designer and unique growth marketing.
Read more
When it comes to features Squarespace has some of the best features of any website builder. Their iOS and Android apps are great. They have excellent eCommerce and a great form builder. They have the best donation system for nonprofits of any website builder.
Most website builders say they have a donation system but really it's just an embed PayPal button, not Squarespace.
Squarespace lets you customize the checkout ask for suggested amounts and they even let you customize email receipts that their donor-friendly.
Squarespace also has the best blogging of any website builder, it's really the only website builder that can compete with WordPress.
For blogging also Squarespace is the only website builder that lets you syndicate a podcast just to briefly explain another website builder.
Say they can host podcasts but all they mean is that you can embed your podcast in an audio player.
They don't let you syndicate the podcast which is what is required to submit your podcast to Spotify and Apple podcasts.
This is the kind of attention to detail I just appreciate about Squarespace.
Pricing:
Squarespace's cheapest plan is their personal plan it costs one hundred and forty-four dollars and includes a domain name.
Squarespace says $12 per month but really you're gonna be billed one hundred and forty-four dollars per year.
2. Shopify:
Shopify is what I recommend for e-commerce websites.
The other website builders in this list can all build e-commerce websites but they're also designed to build other types of websites, portfolios, blogs, small businesses, websites, and a bunch more.
Shopify is just for e-commerce that's it. It's designed purely for e-commerce.
So as a result they put a lot more time and energy into e-commerce features.
Now Shopify is not the only website builder to focus exclusively on e-commerce.
There's actually a whole class of these e-commerce website builders. But of them, Shopify is the industry leader and it's the one I recommend this.
Google Trends shows interest in the top five eCommerce website builders are Magento, WooCommerce, Volusion baked Commerce and Shopify.
Shopify pulls away from the pack and becomes the industry leader, how did this happen?
Well, it happened because Shopify kept shipping innovative features while also keeping their software easy to use.
Other e-commerce website builders have struggled to keep up with the pace of their innovation
For instance, in Shopify's app store you see all eCommerce websites have basically the same core needs products, orders, discounts, analytics, etc.
Customers that kind of thing Shopify score covers these really well.  Then there are the things that only some eCommerce websites will need like digital downloads, gift wraps up, sales, back-in-stock notifications, order mapping, and just a ton more.
If you want these features you just go to Shopify's app store and add them and because Shopify was the first e-commerce website builder to launch an app store.
They also have the largest amount of apps available by far.
The third-party app developers typically develop their apps for Shopify because that's where the users are but the app store also does something less apparent.  The app store means Shopify doesn't have to shoehorn unnecessary features into the core.  The core stays clean tidy and intuitive.  This is kind of the secret to why Shopify is easy to use.
All I have to do is try another e-commerce website builder like Volusion to see what happens when you don't have an app store.
Volusion has to squeeze everything into the core the interface is bloated.
Disorganized users are stuck waiting through pages of forms.
The app store is just one of the innovative features Shopify has launched.
There's honestly more than I could cover in this overview. For example, Shopify is the only e-commerce builder with its own payment gateway.
Basically, you need a payment gateway to accept credit cards for a long time you had to use a third-party provider like Braintree or PayPal Shopify. Therefore, Shopify took that entire step away by launching their own payment gateway.
It's just one less thing for you to think about all of this is in an effort to reduce the hurdles necessary to starting a store that's the big vision of Shopify.
Shopify is an innovative and intuitive software. That has made it the best e-commerce website builder.
Pricing:
Shopify's cheapest plan is Shopify delight but it's not really for websites, it's more for embedding a Buy button on an existing website.
Their cheapest website plan is basic Shopify at three hundred and forty-eight dollars. It doesn't include a domain name, so let's put it at three hundred fifty-eight. So Shopify is clearly the most expensive but it's for e-commerce websites.
3. WebFlow:
Web flow feels almost magical.  at the heart of web flow is their designer tool the designer is what gives you the power of coding.
Even if you don't know how to code the interface roughly matched a front-end code.
These are HTML elements and these are CSS Styles though you don't need to understand.
This to use web flow at first a designer might seem a bit intimidating and that's kind of the point.
Because web flow isn't shying away from complexity.  Instead, it's about embracing complexity.
For instance, we add a paragraph element to this blank page it'll just sit there lamely spanning the width of the screen.  Web developers will understand what's happening here but non coders probably won't basically to constrain the width of this element. It needs to be placed within a container this is what's called the box model. It's a fundamental concept of web design and web flow doesn't want to abstract you away from concepts like the box model.
Web flow is a categorically different tool than the other website builders in this list.  For example, Squarespace isn't designed for you to have complete freedom.
You don't design a theme from scratch, and Squarespace instead provides templates and smart defaults.
It purposely abstracts you away from the complexity of code.
Well Webflow purposefully embraces the complexity of code because of this webflow has a steeper learning curve but it's also much more flexible you can design just about anything with a web globe.
In fact, there is a community of designers who will rebuild websites just to show that you can do it in web flow.
Here's an example of someone rebuilding the airport's website with web flow where I think Webflow starts to get really interesting is when you mix in the web flow
Moreover, Webflow has a learning curve.  It's not nearly as easy to use as Squarespace or Wix you will need to understand the fundamentals of web design but if you put in a couple of hours of learning in the web flow university you might be surprised at how far you get.
Pricing:
Webflow's cheapest plan is their basic website plan it costs a hundred and forty-four dollars and includes a domain name.
4. Carrd:
Carrd is for building one-page websites.
It can be a simple about page or a landing page or sometimes something just a little bit longer but basically, all the content is on one page because Carrd is only for one-page websites.
It's also the easiest way to build one-page websites you just add elements, style them and you can create links between sections.
Technically you can make one-page websites with other website builders, but they often feel like you're hacking the editor.
In order to do it since Carrd is made exclusively for one-page websites, it's actually a more intuitive way of building them.
Moreover, Carrd is also way cheaper than its competitors
Carrd that makes sense for your website to be one page but you might be surprised at what you can do with one page.
If you're on the fence I'd suggest just trying Carrd for 15 minutes.
Pricing:
Carrd's cheapest plan is pro-lite but it doesn't let you connect a domain name. The cheapest Carrd plan to let you connect a domain name is pro standard.
It costs $19 per year but doesn't include a free domain name. So let's say you buy the domain name from Namecheap for ten bucks which mean the annual cost for Carrd comes to twenty-nine dollars. Moreover, any other website builder on this list but remember it's for one-page websites.
5. Weebly:
Weebly is not as sophisticated as like say Squarespace but it is a little bit friendlier if you're not particularly tech-savvy.
You might want to try Weebly. It's easy to use. The interface is always simple and it's clear.
It starts with the website editor pages are built by dragging elements from the side drawer into your page elements are then edited within the page.
In Weebly, they keep the editor uncluttered and focus you on the task at hand.
Honestly, this is the type of thing you might not even notice but it's also these details that make me be easy to use this
However, when you try other website builders who just stack additional interfaces on top of one another and it quickly gets overwhelming even though Weebly is easy to use.
It's not just simple it's actually quite powerful. There's a good eCommerce membership system, a good form builder, and an app store.
The App Store includes apps like multi-language which lets you add pages with different languages and paid members as an app that lets you sell memberships.
I should point out though Weebly's app store isn't anything like Shopify's.
It's been around for a few years but it hasn't really taken off in the same way. If there's a shortcoming to Weebly, it's in theme customization. You can only choose one color for your theme and it's applied scattershot throughout the website.
There's no way to customize where or how it's applied this is a bit lame.
Pricing:
Weebly has a $72 personal plan but it includes an ad that scrolls along with your websites. So we're not going to count that the cheapest plan with no ads is the professional plan cost 144 dollars and includes a domain name.
6. Wix:
I have complicated feelings about Wix which has a long list of strong features, tons and tons of design elements, a booking system, good e-commerce, a good form builder, and an app marketplace.
Plus, when you look at market share it's also the most used website builder but which is a blank canvas editor basically. That means you can drag any element to anyone on a page. You can even nudge this one pixel over if you wanted to.
It's sort of like how you might edit a PowerPoint presentation. This is fundamentally different from other website builders.
For example, Weebly lets you drag elements but snap within a preset grid.
You don't have that with Wix.
Wix lets you drag and drop without any constraints which sounds nice but it does come with challenges.
Moreover, Wix is a blank canvas editor that creates more knock-on issues.
Wix does its best to stay ahead of these issues but it often feels like they're playing whack-a-mole with these bugs and not addressing the underlying problem.
Pricing:
Wix's cheapest plan is their combo plan. It costs $156 and includes a domain name technically.
Final Words:
Squarespace is the best all-around website builder Shopify is the best e-commerce website, builder.  WebFlow gives you the flexibility of code without requiring you to learn how to code.
Carrd is the best website builder for one-page websites. Weebly is good for ease of use and the thing to know about Wix is that it has a blank canvas editor.

Do you have printers? Are those printers sitting idle?
Become a Print-on-Demand dropshipping app like Printful or Printify. Dropship your merchants' orders.
Know more