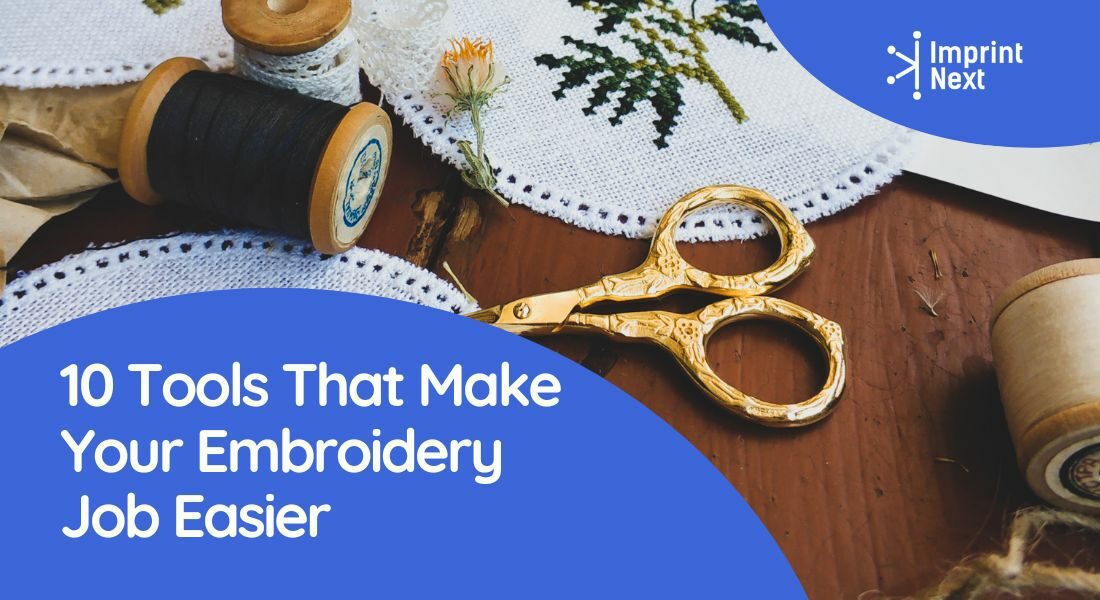 Last Updated on: 28th April 2023, 11:20 am
Struggling with embroidery machines is no new for any decorator. And there may be numerous reasons and the most probable one is, not having proper tools for embroidery jobs.
Some tools make it faster and easier to embroider on a wide variety of products. Moreover, it also corrects and prevents errors.
While there are various options available in the market that make your job easier.
These 10 tools must be in every embroiderer's arsenal to make the job done in an easier way.
1. Embroiders Helper:
If you are an embroiderer, you must have these tools inside your box.
When it comes to placing and centering left- and right chest embroidery designs on polo and placket shirts, tees, and sweatshirts.
With notches that take the guesswork out of the design placement Show where to put the center symbol, based on the size and style of the jacket.

Do you have printers? Are those printers sitting idle?
Become a Print-on-Demand dropshipping app like Printful or Printify. Dropship your merchants' orders.
Unlimited Merchant stores. Dropship and Fulfil Merchants' orders. Manage merchant invoice, sales commission, etc. Merchants sell the designed products in shopify, etsy stores, etc.
Know more
2. Stitch eraser:
Even the greatest embroiderers fail. It usually ends in stitches being cut by everything you can use (scissors, tweezers, and hair clippers), although it may be dangerous.
That is when the Stitch Eraser from Peggy falls to the rescue. '
The tool was designed by an enthusiast of embroidery and sewing who had the vision to help other embroiderers remove threads without tarnishing their garments.
It also makes the stitch removal process much less tedious and more efficient, even when removing thicker threads.
The package includes clipper oil, a cleaning brush, and detailed instructions on how to use this tool.
3. Slimline Clamps:
The use of the Slimline Clamping System gives embroiderers advantages.
With a wide array of requirements to be provided. This accessory is composed of one machine-mounted master bracket and interchangeable frames available in various sizes.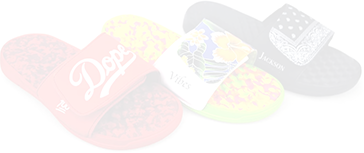 Boston based custom slide sandal maker has become $10 Million company using an online designer and unique growth marketing.
Read more
Its slim design enables the embroiderers to frame hard-to-hoop areas with limited space, such as wallets and shirt sleeves.
Its high-pressure lever gets a firm hold on stiff items, such as leather bags and boots, that are too difficult to hoop traditionally.
4. Robot Frame:
Sticking shoes is not a simple task, but a Robot Frame will contribute to better work and trouble-free operation.
The device consists of two flexible, high-pressure clamps which during the embroidery process keep securely thick shoes such as cleats and leather boots.
You can also get creative about embroidering other hard-to-hoop items, like bags.
5. Cap Frame:
If you're passionate about hat embroidery, the cap frame might be a valuable tool for browsing.
This specialty cap frame extends the embroidery area to allow you to stitch closer to the hat's
bill without having needle breaks.
The frame also includes images to keep the stabilizer, simplifying the hooping cycle while hooping the plates.
Overall, this tool makes the hooping and embroidery caps much more effective, saving companies time and possible errors in development.
6. Hoopmaster:
This tool is helpful for embroiderers who struggle with consistent design placement.
This hooping station's placement guides reveal exactly where to place a design with respect to the shirt and hoop size.
Because of these capabilities, the Hoopmaster will cut the time it takes to complete bulk orders, thus maximizing productivity.
7. Hoops:
If you own these hoops, you'll probably use them for holding Zip. Why? For what? Essentially, they hook up the stuff themselves.
Even though they have a similar shape to standard hoops, they contain magnets that automatically attach when they touch. Which saves time and makes it easier to hoop heavy things like containers.
8. Hoop Set:
The 8-in-1 hoop collection is made up of one master bracket and eight specialty hoops in different sizes that allow you to embroider on a comprehensive item list.
This device helps embroiderers to use elastic stabilizers to float the material over the thread, rather than typically hooping it.
It is ideal for the management of areas of apparel with limited space for embroideries, such as pockets, sleeves, cuffs, baby clothing, and more.
The 8-in-1 hoop set also provides a simple solution for embroidering the back and sides of caps. In addition to their versatility, these hoops also help prevent embroidery issues such as puckering on knit items like beanies.
Usually, when you embroider knits, the material tends to stretch when hooped, causing the fabric to bunch up around the embroidered design.
However, when you float the material using the 8-in-1 hoop, you can maintain the material's original properties to ensure the best-possible embroidery.
9. Placement stickers:
Placement stickers provide simple and effective ways of marking design placement. Usually,
embroiderers make placement marks using water-soluble pens and even chalk, which can be a hassle to remove.
Such reusable positioning stickers secure garments clear of stains and markings.
The stickers contain crosshairs, making it easy to position the machine's needle in the center to ensure proper placement.
Once the needle is centered in the crosshair, it is almost impossible to have a failed attempt at stitching within the desired area.
10. Tension Gauge:
Proper thread tension is important in machine embroidery for maintaining smooth running.
Tension gauges enable you to calculate and change the thread tension of your machine until the correct state is reached.
Top-thread friction gauges are attached from the presser foot to the top line. By pulling on the fabric, you may assess the stress added to the fabric by the embroidery machine.
Both top- and bobbin-thread tension gauges may be used with industrial and home embroidery machines and are sold in a multitude of supply stores with embroidery.

Do you have printers? Are those printers sitting idle?
Become a Print-on-Demand dropshipping app like Printful or Printify. Dropship your merchants' orders.
Know more