Last Updated on: 24th November 2023, 09:10 am
We embroider many items or knit beautiful and creative logos on them. It is a regular cycle that goes on with time that we put under the needle.
But have you ever thought about what changes we can make that transform our embroidery styles and designs? Or how we can change the way we used to perform embroidery before.
That's right!. The tread we use to embroider changes as we opt for various embroidery sizes. Moreover, in tandem with what's current in fashion trends and even new technological developments in fiber science.
1. Embroidery thread material:
We used to embroidery logos primarily with a thread size 40. Larger sizes, such as size 30, gave way years ago to the more defined appearance and finer diameter of 40 threads.
But, along the way, the so-called most popular thread fiber changes over time. In the 1970s and 1980s, print shops used to embroider high-end logos with cotton threads for the country- clubs favored for their distinctive matte appearance.
However, until the 1990s, rayon thread was widely used for commercial embroidery. Size 40 thread still is sold in rayon and polyester versions, but polyester's popularity gradually has overtaken rayon.
2. Shift from Rayon to Polyester:
Polyester is favored for its strength, colorfastness to bleach, and abrasion resistance, making it suitable for a broad range of products and uses.

Do you have printers? Are those printers sitting idle?
Become a Print-on-Demand dropshipping app like Printful or Printify. Dropship your merchants' orders.
Unlimited Merchant stores. Dropship and Fulfil Merchants' orders. Manage merchant invoice, sales commission, etc. Merchants sell the designed products in shopify, etsy stores, etc.
Know more
While, rayon is better to create soft hand embroidery designs, beautifully into fabrics, and is a favorite for apparel and natural-fiber materials.
Thus, we can observe that there is a gradual shift in popularity from rayon to polyester.
In its early form, the polyester thread had a dull appearance and tended to stretch. This elongation created maddening loops in otherwise smooth fill and satin stitches.
However, we find that polyester is the most preferred fabric among machine manufacturers because of its strength, and it began to be shipped in starter sets for new machine owners.
It helped create the polyester trend for entrants into the world of embroidery and any other aspect. Thanks to changes in polyester threads and to the training of computer owners to submit
From the start of their embroidery careers, this thread type didn't take long for a polyester takeover.
3. Change in Thread Size:
In recent years there has been a significant change in thread sizes. The current trend shoes that smaller-diameter and larger-diameter thread sizes have accelerated in recent years.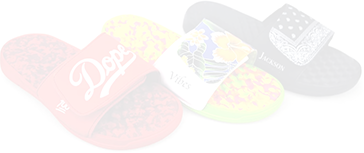 Boston based custom slide sandal maker has become $10 Million company using an online designer and unique growth marketing.
Read more
When the retro apparel trend heated up, embroiderers started imitating hand-embroidered looks using chunky threads in sizes such as 12 and 15.
Companies recommend using a light density of 9 points when using embroidery threads, which is a dramatic contrast with typical densities of 3 or 4 points for the 40-weight thread.
The blended threads are acrylic as it is spun from wool and cotton, respectively.
Thread with 100% acrylic called Gunold's Filaine also is of size 12. The higher the density of threads, the fewer stitches it requires.
Interestingly enough, the thick thread is light on the garment, allowing large designs to be appropriate on lightweight fabrics.
Let's take an instance of DIME. It is a 100% polyester Vintage thread that comes in two versions: size 15. Moreover, the matte version comes with a size of 40 for smaller design elements and accents.
All of the thicker threads require a needle with a wider groove and a larger eye to reduce friction.
4. Thread size for special machines:
For commercial machines that use a round shank needle, use a size 90 or 100.
Those using crossover machines that use a flat-shank needle. Use a size 90 or 100 embroideries or topstitch needle.
The size spectrum makes use of small-diameter threads. Most thread companies offer a size 60 thread in a more limited color range for better clarity in fine detail and small.
Burmilla is a heavy, size 12, wool-blend embroidery thread that gives a hand-embroidered look. It is currently popular for simulating fur and feathers.
Another instance is Madeira that offers a thread size of size 75, which is even smaller in
Diameter.
Much like the thicker threads, a suitable needle is needed when using good, small-diameter threads for better performance.
The groove of the needle plays the function of directing the thread into its head. A needle with a smaller blade and a narrower groove is better at guiding a fine thread to the eye, resulting in better quality and clarity of the stitches.
5. Speciality Thread Types:
Fortunately, thread producers tend to endorse the need for specialized threads for embroiderers.
While the competition for conventional types is not as strong as this, variegated threads, for example, offer a simple solution for achieving multicolored embroidery using a single cone.
6. Threads varying in colors:
Such lines, at frequent or unpredictable intervals, change one or more color groups' hues, generating excitement and confusion in some design styles. In satin-stitched products, the variegated thread is typically not appropriate unless a striped look is required.
It overcomes the stripped appearance of satin stitches and regular-interval fill fragments that occur with multicolored thread variegation. It provides a lifelike look in plants and animals, and the tans and grays are perfect for rendering brick buildings more practical.
7. Fire and Flame Resistant Threads:
Fire-resistant and flame-retardant threads fulfill an important requirement.
Gunold offers a polyester thread in 27 colors with a flame-resistant coating.
Madeira offers a fire-resistant thread. The thread is made of 100% fire-resistant Aramid fibers containing Nomex by DuPont.
It is designed to resist fire or ignition, thus preventing the flame from spreading. Moreover, it can self-extinguish if caught after removing the fire source.
8. Metallic threads:
Many embroiderers have a relationship of love-hate to this type of thread. We enjoy the sleek shine but dislike the kinks, and the frequently associated thread splits.
Interestingly, many of the best-performing metallic thread comes from Japan. You may be able to use a standard embroidery needle when using a high-quality metallic thread, but many companies recommend a special metallic needle.
9. Retro and vintage Look:
For a few years, retro-style has been a popular look in retail apparel. Some of the most popular yarn thread brands like Filaine, Burmilana, and Vintage Rope offer threads with a matte appearance in various fiber types.
Some cotton threads today have more shine than in previous years, as most of them are mercerized by a procedure that eliminates them. And fuzziness, which causes more light to reflect.
To guarantee its suitability, check one or more colors of each thread intended for a retro feel.
10. Change in Thread Quality:
The thread industry is dynamically increasing in recent years to cater to the embroidery fashion trends. With a few inexpensive items being launched to cater to the flood of hobbyist embroiderers.
Those sold at prices that seem like a deal. In the end, it can break, shred, and fray.
Conclusion:
Most skilled embroiderers agree that keeping with established products offered by renowned companies is wise.
Stickers, therefore, have the largest variety of high-quality threads accessible. It has been available ever since machine embroidery was started.

Do you have printers? Are those printers sitting idle?
Become a Print-on-Demand dropshipping app like Printful or Printify. Dropship your merchants' orders.
Know more