Last Updated on: 17th January 2023, 11:50 am
Think about the customers in your store and the types of products and services you offer. Think "You are a screen printing or a direct-to-garment printing company and T-shirts are your business" or "Because you are a sportswear printer, are jerseys and sports gear your niche?"
Whatever, you have years of ​​expertise in printing, you should add more products to your store and offer more product customization services either in your local shop or an eCommerce store. That is to say, if you can offer more to your customers, you can stay competitive and attract more visitors.
The big reasons why you need to be offering more products:
01. E-commerce doesn't go anywhere:
While every custom merchandise business has a physical store , it's no secret that e-commerce is booming and its boom won't slow down quickly.
The more you can offer your customers online, the more you can retain existing customers and attract new ones. And 2023 will be a very busy year in e-commerce. According to a recent report from Adobe, Americans will spend $ 1 trillion online by 2023. It's a huge market share worth getting.
02. Customers Want a One-Stop-Shop to Customize, Print & Buy:
How many times have you created a client's work order, but have you noticed that you also need other printed matter that your store does not provide? They may be able to print the T-shirts, hats, and hoodies they need, but to buy custom printed banners and stickers, you need to go online or on the street.
When you can present your business as a one-stop shop for your customers, you have less chance of them buying their printed matter elsewhere.
03. New Opportunities/Demographics for Your Shop –
Simply put, the more products and services your store can offer to the public, the more you can do business and increase your profits.

Do you have printers? Are those printers sitting idle?
Become a Print-on-Demand dropshipping app like Printful or Printify. Dropship your merchants' orders.
Unlimited Merchant stores. Dropship and Fulfil Merchants' orders. Manage merchant invoice, sales commission, etc. Merchants sell the designed products in shopify, etsy stores, etc.
Know more
In addition, by offering a new and diverse product group, we are more likely to attract customers from different niches and demographics than before. For example, if you print for team sports but offer products such as key chains, lanyards, and banners, you can get the attention of your corporate customers.
You might think, "I don't have the budget / overhead to provide more products." Fortunately, ImprintNext allows you to offer more products and services without the need for additional equipment or internal inventory.
04. Here's how ImprintNext can help you offer more product:
Establishing a partnership with a third-party signage company has made it possible to launch products in a completely different category. Using ImprintNext Signage or banner design software you can reach new customers who need custom signatures and banners.
It can also be used as an add-on or upsell to an existing customer account. Use this service to establish yourself as a one-stop shop for customers who need everything from printed apparel and promotional items to signs and stickers. You can also use this service to differentiate yourself from your competitors and keep your work more profitable.
In addition, you don't have to buy other equipment or add your own inventory to offer signage products. Products are printed, processed and shipped directly to customers, saving time and money in working hours. Also, if customers are in a hurry to need a product, multiple quick turnaround options are available depending on the time of day.
05. Accelerate Your Service with a New Set of Products
Offering more products to your current customers a variety of new product customization features to combine with clothing and promotional items. Bundle your T-shirt, hoodie and hat orders with fresh products such as:
Stickers
Banners
Signage
Decals
Vehicle Wraps
Floor Graphics
Window Graphics
06. Tap Into a Booming Market
As mentioned earlier, adding more products to your range opens up new markets and niches for your business. And it becomes 100% when using ImprintNext for custom signage and banner design. Some estimates suggest that the large format printing market (where most sign customers are present) will grow from $ 9.3 billion to $ 11.2 billion by 2025. This is a huge revenue chunk available just by adding a sign as another product category offered by the store.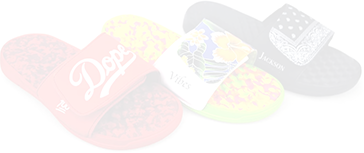 Boston based custom slide sandal maker has become $10 Million company using an online designer and unique growth marketing.
Read more
07. Seamless Integration with ImprintNext
If you are an existing ImprintNext user, your customers can use the online designer to easily access and customize their signage products just like any other custom branded product.
Customers can create custom signs, banners, stickers and decals on your website. Best of all, the designer comes with a bleed and cutline guide, so the design mockup is specially tuned to sign the print specs.
08. Online Sign and Banner Designer
With the integration of ImprintNext's signage products, you can become a one-stop shop for all types of customers, maintain a strong e-commerce presence and enter a booming market like never before. Plus, you don't have the ability or staff to fill an order, so you don't have to reject an order or lose a big deal.
Are you ready to start selling more products today? Learn how easy it is to sell a profitable sign with ImprintNext.
Not an ImprintNext user? Contact an ImprintNext Advisor today for a free, personalized tour where we'll answer all your questions.

Do you have printers? Are those printers sitting idle?
Become a Print-on-Demand dropshipping app like Printful or Printify. Dropship your merchants' orders.
Know more