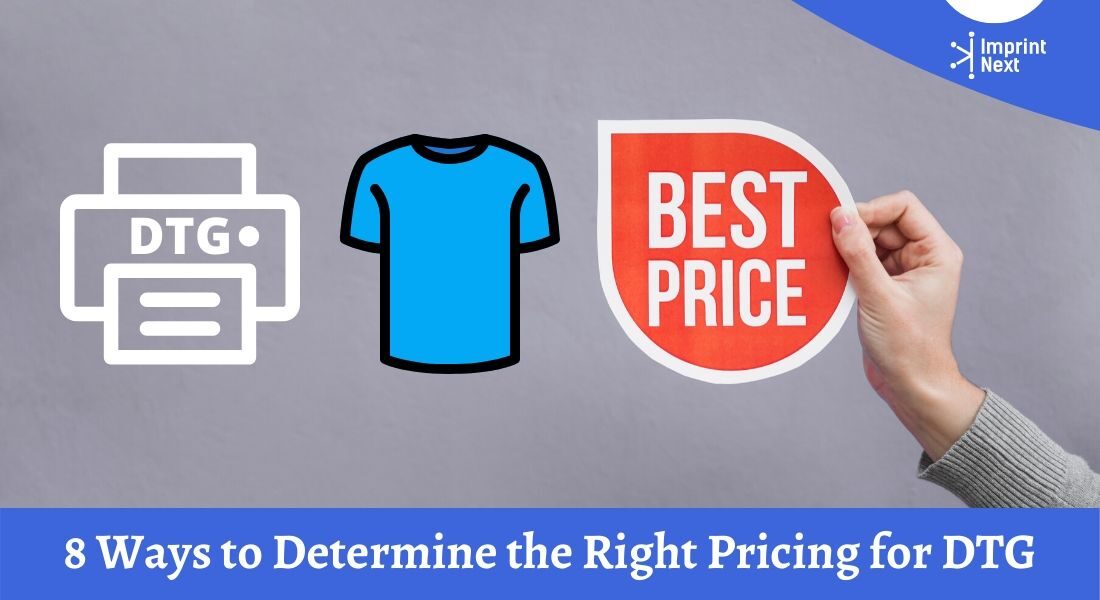 Last Updated on: 28th November 2023, 01:31 pm
Direct-to-garment printing (DTG) is a new technology in apparel decoration. In 2004, it began to hit the mainstream and was featured in screen printing, embroidery, heating, and even independently decorated enterprises.
A different pricing approach came along with the innovations. When developing methods to charge the right amount of money for your wares, which consideration should you take? What external factors will be taken into account? The cost of the printing process DTG and the correct pricing procedures for a finished product, we will be discussing here.
The Right Pricing Procedure for DTG Prints:
1. The cost incurred for ink:
The cost of ink may greatly vary from one machine to another. A 10 "x 12" image format is deemed normal for pricing purposes. Using your own average size to calculate your income costs while your specific niche uses a bigger or smaller picture region.
In addition, printing on white or light clothing vs. dark clothing costs are substantially different. Lastly, only CMYK tints are used, while dark clothing requires a white base. It can not be called a "dark garment" because you require a white under base for any color of the garment.
The CMYK inks are transparent on all DTG printers to enable the printing of millions of other colors together. Every type of ink you use brings on the hue of your clothes.
2. Take an instance:
For example, a blue ball printed on a yellow shirt will appear green. For our purposes, if a color shift negatively impacts the final image, we'll consider that garment to be dark — thus necessitating a white under base.
Image quality also may have a direct effect on ink costs. With
many DTG printers, the highest-quality print will use two white-ink passes before color for the most vivid image.

Do you have printers? Are those printers sitting idle?
Become a Print-on-Demand dropshipping app like Printful or Printify. Dropship your merchants' orders.
Unlimited Merchant stores. Dropship and Fulfil Merchants' orders. Manage merchant invoice, sales commission, etc. Merchants sell the designed products in shopify, etsy stores, etc.
Know more
This results in substantially higher ink costs compared to a print with one pass of white and color ink. With most DTG printer brands, the raster image processor (RIP) or print driver indicates ink costs for any image imported into the software.
Load several typical images and determine the average ink cost for light and dark garments in your product line. This number will be the ink cost to be used in your pricing formula.
2. Wastage of ink and other solutions:
The cost of DTG printing requires not only the cost of the ink on a garment but also the costs of the ink that end up in the waste tank of the machine. The ink needs to be regarded as total costs any time you manually clean the head or the computer does it automatically.
The producer should be in a position to charge each head for the cleaning cost. Manual head cleaning may also be graded as moderate, medium, or hard, with related costs.
3. How to stop the wastage?
Here you have certain control. In general, during a typical eight-hour business day a DTG printer undergoes one automated head cleaning. If more cleaning is carried out automatically
Probably in a day because of low humidity.
A DTG printer can undergo head cleaning to cool the head in an environment of less than 40 percent humidity. Maintaining the proper humidity level should reduce the frequency of these head cleanings. Waste ink is calculable as part of the overwhelming monthly costs.
You also need to flush your white ink from the system regularly in certain DTG machines. You can arrange this every month or if there is no need of a white-ink.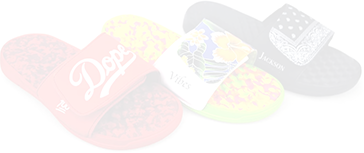 Boston based custom slide sandal maker has become $10 Million company using an online designer and unique growth marketing.
Read more
4. Weekly Flushing:
Determine if your machine needs flushings weekly or weekly, and also as overhead costs, calculate this. In the press head or capping station where print head parks, most machines need to use a cleaning solution as well.
You can apply by the hand or the cartridge cleaning automatically. These costs vary widely, as low as $8 a month or as high as $100 or more a month.
Also, as part of this monthly overhead cost, determine this cost.
5. Pretreatment:
If the DTG operator prints white paint, a liquid pretreatment solution will be used to clean the fabric. The manner you pretreat clothes can influence prices.
The most consistent application will be an automated pretreatment machine, followed by the application of a pretreatment solution using a handheld paint sprayer.
Additional techniques, including a manual pumping-action machine, contribute to incoherent coverage and a paint roller becomes so much of a remedy..
Some garments are printed better than others, primarily ring-spun cotton. Double treatment of pre-treatment solutions is necessary for the use of less process-friendly clothing.
The simplest way of assessing the costs of pretreatment is by tracking the number of pretreated clothing in a container and then dividing the cost of the solution by the number of pretreated parts. In the industry there is a common number of around 25 cents per cloth, but this depends on the amount of solution used.
6.Other miscellaneous costs:
One cost most decorators don't want to think about is spoilage — a product that can't be sold because of misprints, etc.
All garment-decorating methods result in lost product. Figuring into your overhead 1.5%-3% spoilage should cover this. Monthly labor cost determining how much time one or more employees devotes to DTG also is a fairly easy number to calculate.
After doing so, you then will build that number into your monthly overhead expense. Add it to any share of rent, utilities, etc. attributed to the DTG part of your business.
7. Pricing after printing a product:
The number of shirts you foresee printing should split monthly costs and you can apply your portion of the expense to every clothes. Add the garment's cost (including shipping) and all other aforementioned costs to get your break-even point; anything higher than this cost per garment is your profit.
8. Upselling:
DTG Inks are water-based and easy to use for added-value applications, such as rhinestones, vinyl, and more. The printing of a large DTG image and the addition of a small brotherhood give a garment much more value at a low cost.
It can be immensely lucrative to Print non-traditional goods like denim, sneakers, artist towels, and more. The overall interest of the client and the DTG operator is of great importance when a pair of jeans that display a custom application map.
Conclusion:
Decorators who perform events benefit not only from immediate sales but also generally gain a number of new customers.
Thus, it is new for customers to this development in such a modern sector. And it fascinates by the method and possibilities.

Do you have printers? Are those printers sitting idle?
Become a Print-on-Demand dropshipping app like Printful or Printify. Dropship your merchants' orders.
Know more