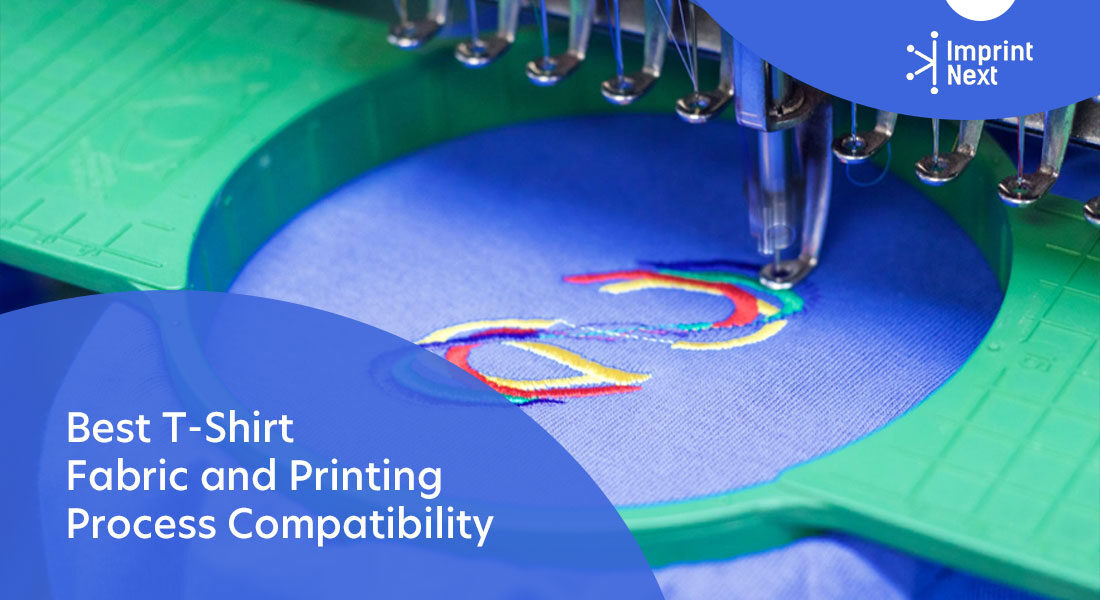 Last Updated on: 26th August 2022, 05:15 am
The choice for printing process of fabric is an important aspect for the printers. And when it comes to fabric for t-shirt, not all are created equal. A t-shirt made out of poor quality material can ruin your print and your business.
Today, in this post we are going to talk about fabric and the best options for each printing process. But first, let's learn a few bits about fabrics and its types. Here we will discuss the types of fabric that are natural and synthetic.
Natural Fabric:
A natural fabric has been there since the beginning of civilization. You would love to hear that there are strands of cotton which has been found in Mexico and Pakistan which date back to 5000 BC and the oldest known piece of wool dates back to 1500 BC which was excavated in Denmark.
 As the name suggests, these fabrics come from plants and animals. The fibers are extracted from the natural resources and through other processes turned into textile. 
Here are some plant extracted fibers such as Abaca, Bamboo, Coir (Coconut), Cotton, Linen (Flax), Hemp, Jute, Piña (Pineapple), Ramie, Sisal, Animal
Here are some animal fibers such as Camel hair, Cashmere, Mohair, Silk, Wool, Alpaca, Angora, Goat, Llama, Sheep, Vicuña
Synthetic Fabrics:
As the name suggests, these are man-made textiles. The first synthetic fabric ever made was in the early 1800s by Sir Joseph Wilson Swan, an English physicist, chemist, and inventor. He chemically modified the fiber found in the tree bark. 

Do you have printers? Are those printers sitting idle?
Become a Print-on-Demand dropshipping app like Printful or Printify. Dropship your merchants' orders.
Unlimited Merchant stores. Dropship and Fulfil Merchants' orders. Manage merchant invoice, sales commission, etc. Merchants sell the designed products in shopify, etsy stores, etc.
Know more
Synthetic fabrics have had a bad reputation for being plastic-like but, nowadays they have become nearly identical to natural fabrics. The only way to tell the difference is by looking at the label. They breathe well and are also sustainable.
They are typically designed to outperform natural ones in many aspects such as elasticity and impermeability. Which is why they have become a major choice of material for sportswear.
Some of the most popular synthetic fabric are Acetate, Acrylic, Nylon, Polyester, Rayon, Spandex/Lycra, Viscose, etc.
Relationship Between the Printing Process and Fabric:
When it comes to printing, natural fabrics are preferred more than synthetic simply because of its ability to absorb liquids better than synthetics. Synthetics are usually made out of plastic and oil and they tend to repel water.
The most common printing techniques are screen printing, DTG printing, transfer printing, sublimation, embroidery, etc.
Screen Printing: Preferred Fabric – (Cotton):
The technique typically consists of applying ink through the silkscreen onto the fabric. The ink only goes through the permeable areas. Most often screen printers use water-based ink which works wonders for the print. 
DTG: Preferred Fabric  – (Cotton):
It works just like a digital printer but instead of paper, it prints out the fabric. Prefer it for complicated designs that have a high level of detail and color variation. Unlike screen printing which uses different inks such as water-based and plastisol, DTG uses exclusively with water-based ink. Typically 100% cotton garment is used for the process.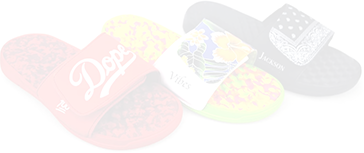 Boston based custom slide sandal maker has become $10 Million company using an online designer and unique growth marketing.
Read more
Transfer Printing: Preferred Fabric  – (Polyester):
There are different kinds of transfers which include CAD-cut vinyl which is a type of transfer that uses a computer to cut a design out of a self-adhesive vinyl. It uses heat to pass the design from a special kind of paper to the garment.
Transfers are the most versatile printing techniques and they work on almost all materials. Because most transfers are plastic it goes pretty well with synthetic fabrics.
Sublimation: Preferred Fabric – (Polyester):
Sublimation is a revolutionary printing technique, it doesn't just prints but melts pigments onto the material. Fuse the color into the fabric. Use this method for all types of prints. It only works on synthetic fabric and more specifically polyester.
Embroidery: Preferred Fabric – (Sturdy fabric):
In embroidery, we are not looking for fabric that can absorb but the ones that can be sturdy after multiple stitching. Not every material can resist the simultaneous drilling of several needles. The tighter the weave of the fabric the better the chances of success.
Conclusion:
The bottom line is when you are dealing with transfers and sublimation, stick to polyester and if you are employing any other technique choose cotton.
You may not get your hands on 100% cotton, then the best option for you will be a blend, but the more the cotton it has, the better the result will be.
Even if you use 100% cotton, the result may vary depending on the consistency of the fabric. Thicker material is heavy and tends to absorb more ink, resulting in rich colors that will outperform thinner materials.

Do you have printers? Are those printers sitting idle?
Become a Print-on-Demand dropshipping app like Printful or Printify. Dropship your merchants' orders.
Know more