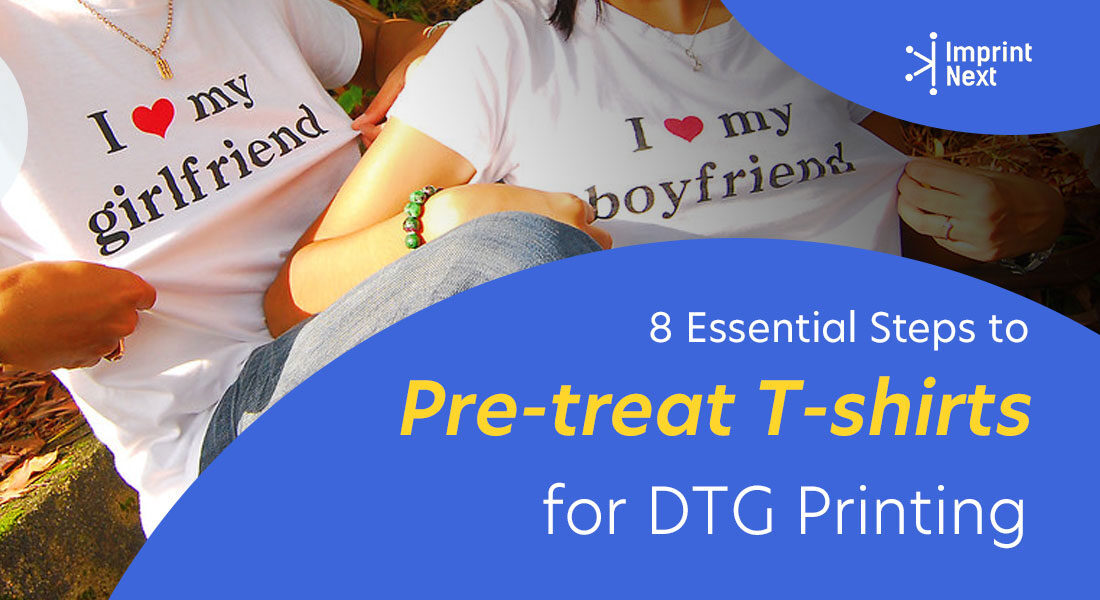 Last Updated on: 26th November 2021, 09:48 am
There is little doubt about how to pre-treat t-shirts as the cornerstone of the DTG printing process. As we move into the digital age, a lot of development has paved in with inks. The printing industry has adopted a wide range of fabric printability integrated with cutting-edge pre-treatment solutions. Without pre-treatment, your designs won't turn out the way you want them.
How to pre-treat T-shirts for DTG printing? To get optimum results, spray the T-shirts with a pre-treatment liquid. The liquid allows the ink to gel properly with the fabric for a vibrant effect. Press the shirt in a heat press for a few seconds. And guess what, your pre-treated T-shirt is now up for DTG printing!
This blog post emphasizes a few aspects, such as a T-shirt pre-treatment, why pre-treatment is essential, the right pre-treatment for your garment, and much more.
How to Pre-treat T-Shirts for DTG Printing?
The actual process of pre-treating a cloth before printing will probably be around for a long time.
The eight essential steps you need to follow to pre-treat t-shirts before DTG printing:

Get a large plastic container and create a stand to hold the plastic at a semi-upright position.
Switch on the heat press and turn the temperature to the volume suggested by the pre-treatment manufacture
Press your shirt in a heat press for about 5 seconds to reduce the moisture level
Adjust the settings until you get the perfect spray pattern. You don't want to drench the shirt.
Start spraying from side to side, moving in a downward position, and repeat the action.
Now bring your shirt to the heat press and hover it over the shirt for 11-16 seconds.
Use a Teflon sheet to press the shirt for 5 seconds.
Remove and replace the Teflon sheet. Repress the amount of time as instructed by the pre-treatment manufacturer.
Challenges Faced by Users while pre-treating t-shirts.
Pretreating clothes is no child's play. Putting the right pretreatment is an art in itself. The process is essential. Yet, the process of garment pretreatment has given birth to numerous challenges such as time interval of pretreatment, poor wash results, over pretreating, and much more.
The three significant challenges you face while pre-treating t-shirts:-

Over pretreating T-shirts: Too much liquid application creates a heavy layer on the shirt's top. It pushes the print away from the garment, leaving it less bonded to the actual fabrics.
Poor wash results: The use of low-quality detergent for washing garments has been attributed majorly to the poor wash results. It is commendable for a user to use a prescribed detergent to properly wash the garments before proceeding onto the pretreatment and, eventually, printing methodology.
Timeliness of T-shirt pre-treatment: Lack of information on the amount of time required for a garment to undergo pretreatment method has not benefited the users much.
What is T-shirt pre-treatment?
Pre-treatment is a solution applied to help white ink gel properly to the T-shirt you want to use. Mostly used on dark-colored shirts, pre-treatment is the glue-like structure that binds your ink to the shirt and keeps colors protected on the surface. Pre-treating helps the color to stay longer on the shirt.
To pre-treat your shirt, you start by utilizing a heat press joined with a heat-resistant sheet to make the surface smooth and flat. Next, you can pretreat your t-shirts in an all-around ventilated zone, ideally outside or in a decorated room with adequate space. Make sure your pretreatment solution is correctly diluted before utilization.

Do you have printers? Are those printers sitting idle?
Become a Print-on-Demand dropshipping app like Printful or Printify. Dropship your merchants' orders.
Unlimited Merchant stores. Dropship and Fulfil Merchants' orders. Manage merchant invoice, sales commission, etc. Merchants sell the designed products in shopify, etsy stores, etc.
Know more
Likewise, you are encouraged to wear a cover and gloves to secure your eyes and face against the chemicals in the pre-treat arrangement. There are various application techniques from which you can pick.
You may apply the pre-treatment utilizing a paint roller and a handheld sprayer or a pre-treatment machine. The nature of the laydown will affect the quality of the print. A pre-treatment machine is the most consistent strategy to get your work done.
Why is it essential to pre-treat T-shirts before DTG printing?
01. Prevent Fading Of Ink Colors:
Pre-treatment of shirts forms an important constituent of the DTG printing process as it acts as a primer to the ink being used. Without it, your colors may absorb excessively and fade into dull shades. When you don't utilize pretreatment on your shirts before printing, your shirts will look dull.
02. Get a Premium Look:
Utilizing a pre-treatment will enable your white t-shirt print to look better. Although your print may look OK on a white shirt without pre-treatment, colors and structures will look more nitty-gritty and dynamic with a properly applied pre-treatment base. To keep the dark shades looking clean and sharp, they require something to cling to when they're being used.
03. Printing White Ink on Dark T-shirt:
It would help if you utilized a shirt pre-treatment when printing white ink on a dark shirt. The white ink, specifically, needs the pre-treatment to keep itself up onto the shirt's surface. It is essential to have the best possible surface on which the colors will be printed. Thus, the white is more brilliant and more definite, and like imprinting on a light-shaded shirt, the subtleties are sharper and more articulated.
For instance, you may attempt to print a bright white on your shirt, and preferably, the white ink may wind up looking dark or vigorously muted. It can make your shirt low in print quality and difficult to pitch to clients. By utilizing the best possible pretreatment base, your inks will pop up with lively shading, and your design will turn out to look sharp.
Using the Right Pre-treatment for Your Tshirts:

It's extremely regular for new DTG users to be confused about utilizing dark or light pre-treatment. With a light pink shirt, you would use light pre-treatment, right? In most cases, actually, no. However, it does likewise rely upon the shade of the image you are printing.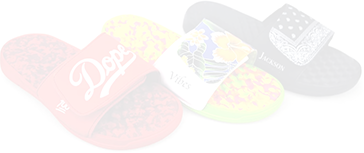 Boston based custom slide sandal maker has become $10 Million company using an online designer and unique growth marketing.
Read more
There is a fundamental rule to remember: If you are printing any white ink, you need to utilize dark pre-treatment regardless of the shirt color. Let's have an overview of what, when, and why of light and dark treatment.
01. Light Pre-treatment: 

A light piece of clothing pre-treat is used mostly on white t-shirts or white material. Sometimes, you don't generally need to pretreat a white shirt. In any case, you will get an OK print without pretreatment, and a few organizations, even utilize this as a selling point.
Any machine can do this. However, the print quality, color, and detail are night and day compared with a pre-treated clothing line.

When and why would you utilize light pre-treatment?
The answer is simple. A white shirt will probably never require white ink imprinted on it, so white clothes will continually utilize light pretreat. By pretreating a white shirt with a view pretreat, you will see a Goliath contrast compared with no pretreatment.
The colors will be significantly more energetic and darker, as well as stronger and vibrant. You will likewise see a higher quality of detail and no bleeding of coloring.
The pretreatment will likewise go about as a bonding agent when the heat is pressed and increases the wash's fast quality.
If you have sufficient time, print a similar image on the front and back of a white t-shirt, pre-treat one side, and compare the two prints. You will see what a distinction it makes.
Light pretreatment can be utilized in different colors like pastels. However, the color in the picture compared to the shirt's shade will be a deciding factor. The standard guideline for this is if the colors in the graphics to be printed are darker than the clothing shade, then use light pretreatment.
If you are printing a dark, purple, blue, and red picture on a pink shirt, you can utilize light pretreat and no white. If the image is yellow, lime green, and sky blue on a pink shirt, it would require dark pretreat and white ink. Since the ink is transparent, the shirt's pink would change the shade of those lighter colors. If the picture has any white in it, you would need to utilize dark pretreatment.
02. Dark Pretreatment:
Another method you can use to pre-treat t-shirts before DTG printing is Dark Pre-treatment. Dark pre-treatment is an unexpected equation in comparison to light and plays out a couple of more tasks.
The main functionality of dark pre-treatment is to make a surface that white ink can be imprinted onto. Without pre-treat, white ink would assimilate into the texture.
Why would you utilize Dark pre-treatment?
When printed, the white ink lands onto the shirt and begins to gel up when in contact with the pre-treatment. It prevents the ink from remaining wet and forming bubbles giving the color ink a surface to print on and not drain or blend.
When the shirt is placed in the heat press, the heat activates the pre-treatment as a bonding agent so the print can get into the fibers and wind up one.
Buying inks and pretreatments from your printer's manufacturer will likewise ensure that the item is a 100% genuinely marked formulae. It will turn out to be imperative to the lifespan of your product.
Conclusion
Applying pretreatment solutions resembles waving a wizard's wand over your clothing lines– without it, the magic won't occur. When you have identified the best pretreatment application and inclusion procedures suitable for your business, you'll have the power to deliver DTG magic each time you click print.
The right amount of spray will give you a perfect blend of color and put a smile on the customer's face. Happy Pretreating!
Related Questions:
Can the pre-treatment last longer? Can you pre-treat t-shirts in advance?
Totally. You can pretreat clothes ahead of time. It is advisable to pretreat shirts three weeks in advance and can expect a good outcome.
Do you pre-treat DTG printers?
We pretreat DTG printers with a liquid solution that allows printing and washability of white ink. It improves print quality, color, image detail on the pretreating garments.
Ever need to pretreat a light color shirt?
Pretreatment is necessary for light-colored garments as you will get improved colorfastness, and the image will wash better and last longer.
What are the types of material used for pretreatment?
You can pretreat all types of materials except for some wood products. Using the right equipment for the proper pretreatment method helps the gel to blend properly into the garment.
How long you need to pretreat per T-shirt?
Pretreatment usually takes less than a minute. It is best applied using an automatic pretreat machine or a hand-held power paint sprayer(pretreat machine vs. hand-held sprayer).
Does the ink bleed to the back of the shirt?
No, the ink doesn't bleed into the shirt's back if it is dried up properly. Dry your shirt properly before applying pretreatment. It will help you in avoiding ink bleeding issues.
Can you use a dryer to dry the prints, or do you have to use an iron?
To completely dry the prints, you need to use a professional heat press. A dryer doesn't dry the fabrics correctly to lay down for the most excellent quality print.

Do you have printers? Are those printers sitting idle?
Become a Print-on-Demand dropshipping app like Printful or Printify. Dropship your merchants' orders.
Know more