Last Updated on: 26th November 2021, 09:47 am
Sublimation Printing is unlike screen printing as it changes its printing rules and technology over time. At least not all, but to some extent. It is a type of disruptive technology that makes rules to increase personalized printing in less time.
It is for the digital decorators who want to create full-color printed artwork, with a minimum requirement of equipment and setup costs.
1. What is sublimation?
Let us know some of the basics of sublimation printing. Sublimation uses sublimation inks and inkjet printers for print transfers.
These inkjet printers use a piezo print head to vibrate the ink onto the release paper. This paper
is designed to carry the ink. Then release it onto the substrate as it turns into a gas during the heating process.
2. How does Print Transfer Occur?
The printed picture and paper are secured to the substrate to move up and put in a heat press, where it is normally pressed at 400 F for dwell time and pressure depending on the substrate.
Most fabrics are pressed for 45 seconds with light pressure, whereas ceramics require several minutes with medium-to-heavy pressure
3. Heating Process:
The sublimation dyes look for an oil-loving molecule (polyester) to bind to during the heating process. At the same time, in what is called the glass transition state, these molecules open up to accommodate the gas.

Do you have printers? Are those printers sitting idle?
Become a Print-on-Demand dropshipping app like Printful or Printify. Dropship your merchants' orders.
Unlimited Merchant stores. Dropship and Fulfil Merchants' orders. Manage merchant invoice, sales commission, etc. Merchants sell the designed products in shopify, etsy stores, etc.
Know more
It is important to remember that cotton is a molecule that loves water and does not tolerate dyes. Remove the substrate from the press once the transfer is complete and allow it to cool, thus closing its pores and trapping the dyes.
Once cooled, the results will be permanent, with amazingly bright and vivid colors.
4. What equipment Do you need?
If you're a business owner, sublimation equipment actually may be one of your
least-expensive investments.
All you need is a sublimation printer and heat press. This includes allover-printed T-shirts, cut-and-sew clothing, 40 "x 60" picture sheets, as well as all items in the category of laptop.
5. Use Translucent inks:
Because the ink that's used is not opaque, an item's color will show through an imprinted image.
Unfortunately, this means images can't be printed on dark-colored or black items.
6. The substrate should not melt:
Whether with a heat press or an oven, the object must be under temperatures of 350 somewhere between 350 F-400F without melting or deforming.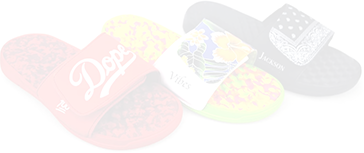 Boston based custom slide sandal maker has become $10 Million company using an online designer and unique growth marketing.
Read more
The item needs to be made of or coated with a material that will accept the sublimation gas.
7. Use Hard Substrates:
It is possible to sublimate just about anything made from polyester fabric. Soft substrates are compatible and include T-shirts, socks, flags, aprons, towels, and more.
There are thousands of hard-substrate products to decorate, in addition to fabrics. The decorators can produce a range of traditional hard substrates with just a printer and a flat press.
As well as new products such as metal photo panels, glass photo panels, and curved acrylic, such as coasters, and name badges
Investing in a mug press can add ceramic coffee mugs, water bottles, steins, and more to your product offerings.
8. Colors:
In simple terms, color management is the process of getting accurate color.
Due to its two-step method of printing the transfer and moving it to the substratum, sublimation decorating poses some challenges over and above conventional digital production.
The fact that each substratum has unique characteristics is also demanding. If you need to match spot colors on a business card, such as a Pantone color, school color, or color, you may need to print and sublimate a color chart that can then be used as a reference.
A great International Color Consortium (ICC) profile also is necessary for accurate and vivid photographs. An ICC profile is like a color filter; you feed it color data and it changes the values so you get accurate color on substrates.
9. Increase Profits:
Leave the comfort zone. There are two simple ways your business can expand. Second, widen your product range so that you can sell more to current customers. Why not exhibit them because you already have their artwork
What else is it they can buy? Highlight new products, such as performance shirts or sublimatable socks. Remember, just because you don't like a product, it doesn't mean that your customers won't buy it; don't let your opinions get into money-making.
Leverage the value of sublimation to produce a minimum quantity of one or small lots.
And once the artwork is finished, it will complete production in minutes. First, find new, satisfying customers. Most companies face a sluggish holiday season.
Start early promotion of photo gifts so you'll have more business during this traditionally slow period.
Consider wholesale fulfillment strategies, like selling products for fundraisers and partnering with pet groomers to sell pet-keepsake products.
10. What about Pricing?
Perhaps the greatest obstacle for decorators with sublimation is to work out proper pricing. One incorrect approach is to insert numbers into a formula that marks up or keystones the cost of a commodity to assess the price of sale.
For other items of high interest, like a bracelet. This process yields strangely undervalued products.
A ladies' cuff bracelet, for example, decorated with a monogram and pattern, costs only about $1 but has a selling price of $20- $25. With such margins, you easily can sell wholesale to a boutique store.
Conclusion:
The most important part of being successful at sublimation is receiving support in four key areas: the computer, printer, heat press, and sales/marketing strategies.
There are numerous decorators who have failed because they did not want to take advantage of the expertise and knowledge found inside the niche of sublimation.
Partnering with an experienced supplier or integrator who can put you on the road to sublimation success and keep you there isn't costing much.

Do you have printers? Are those printers sitting idle?
Become a Print-on-Demand dropshipping app like Printful or Printify. Dropship your merchants' orders.
Know more