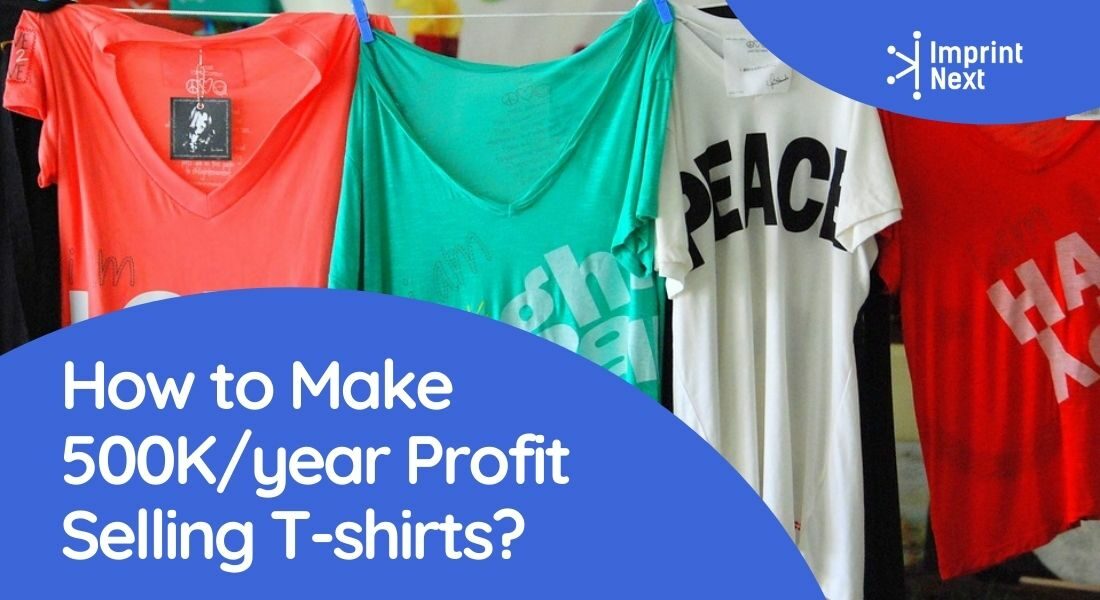 Last Updated on: 16th March 2022, 09:50 am
To make 500k/year sales, you need to be a million-dollar brand. And that's no easy feat. If we talk about Big Frog of Portland, it turns in $500,000 revenue selling custom t-shirts. They started slowly, sold custom t-shirts, built a brand, and got more customers now. Overall, it needs some years to achieve this.
You need not be a veteran businessman to start a t-shirt business. Moreover, you can get started at a low cost. We can say, you can be like Big Frog. It may take some time, a few months if you follow the right strategies as we have discussed below.
1. Your success depends on how the t-shirt is worth it:
Selling t-shirts is one of the most profitable ideas. After all, the t-shirt industry is projected to grow at nearly 10% annually through 2028, with the t-shirt market valued at $3.64 billion in 2020. No wonder the t-shirt business is growing fast!
Many people think of the t-shirt business as the first step to successful entrepreneurship. In addition to the temptation to run their own business, many employees around the world have enjoyed the remote working experience.
2. Investments Needed:
Time is the biggest investment when you begin your t-shirt business. Sit down and decide how much time you need to spend on your business for each day or week.
Considering the cost, your investment for the t-shirt business starts from anywhere between $25 to $200,000. Most of the investment shall need you to put it into work. Besides, you need to decide the goal of launching a successful t-shirt empire.
The funds available with you can help you determine a maximum budget for your startup costs. Your ideas, your target audience, the resources you already have, and your goals for the future are all factors that affect the cost of starting a business.

Do you have printers? Are those printers sitting idle?
Become a Print-on-Demand dropshipping app like Printful or Printify. Dropship your merchants' orders.
Unlimited Merchant stores. Dropship and Fulfil Merchants' orders. Manage merchant invoice, sales commission, etc. Merchants sell the designed products in shopify, etsy stores, etc.
Know more
When deciding on a t-shirt business budget, you have to make an important first decision. Do you want to screen print t-shirts? Or do you want to print on demand? This initial decision and investment will have a huge impact on your future earnings.
Typical t-shirt prices in a niche market can also help with this decision. Some viewers don't spend more than $10 on a t-shirt, while the most expensive t-shirts can sell for thousands of dollars.
3. Finding the right people who would buy from you:
The t-shirt business is so popular that competition in the industry is fierce. The best way to build a strong foundation and grow your t-shirt business is to create shirts for a specific niche.
Just cool designs aren't enough to build a t-shirt business that attracts audiences. Particularly, it is those buyers who will tell their friends and family to come back for more. Finding the right audience and niche takes a bit of online research, but even in this competitive marketplace, there are many unmet desires.
Spend some time in our online community to create t-shirts your fans will love. You'll also want to see how big your fan base is. Tools like Google Trends can help you understand the size of your audience and the size of your audience for your niche.
4. What details do you want to put on the t-shirt?
You decided on what investment you will make. But have you decided what details you are going to put on your t-shirt? Like t-shirt size for all age groups, fabric quality, designs, suitable printing methods.
The sizing is important. Some will prefer oversized while others prefer fitted. And also considering size options for males, females, and kids.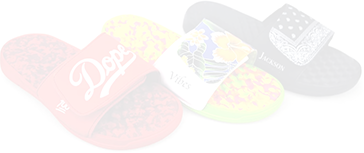 Boston based custom slide sandal maker has become $10 Million company using an online designer and unique growth marketing.
Read more
5. Printing Method:
Screen printing is profitable for bulk orders, yet it needs some skill and practice. You can easily outsource printing jobs done at a local print shop.
Initially, setting up your own printing platform needs a single silkscreen and each color requires its own screen. It also requires upfront investment in supplies and storage.
Besides, you can look for popular print-on-demand companies like Printful or Printify. These companies process your orders, print them, and ship them to your customers. All storage and warehousing are managed by these companies. You can focus on your business completely.
6. Handling Inventory:
When using print-on-demand, you need not worry about inventory. Because the vendor prints and ships it directly to your customers.
Whereas, if you're doing it yourself, you will need to pay for storage in addition to the cost of equipment and t-shirts.
Many physical product businesses can increase production rates to increase profits, lowering the cost per unit and earning more per unit sold. Whether you manage your own t-shirt printing or choose to use processes like screen printing or thermal transfer, you have control over that part of your business.
7. Right pricing is essential:
The easiest way to price a shirt is to double the cost of materials and production. For example, I spent $180 on making 20 t-shirts. It costs $9 to make a shirt. If you double that, each t-shirt costs $18. Although this approach is straightforward, it may not be the best approach for pricing.
Before setting a price, take a look at other t-shirts in your niche. This will help you figure out how much your customers are willing to pay. There is often a gap between a person's willingness to pay and their ability to pay, so don't set the price point for a t-shirt by looking at how much your target audience earns and what industry they work in.
Many startups experiment with pricing over time, so test your pricing idea by benchmarking your pricing against sales and making sure the price is right for your audience.
8. Decide the marketplace:
Many new t-shirt companies are starting to sell online. E-commerce is hot and starting a t-shirt business with it is easier than ever.
Don't forget that the internet isn't the only place you can sell t-shirts. The most effective way to engage with your customers is to meet them where they are already. This could be a local farmer's market, an event like a comic book or maker's fair, or a partnership with a local retailer.
If you start a business while still in college, you can start selling t-shirts on campus. You can even save money by using our on-campus printing service!
9. Frame your business plan:
A business plan is essential to bring all the different parts of your t-shirt business together and organize them. A good business plan synthesizes the decisions you've made with regard to marketing, budgeting, and scheduling to make it easier to move forward.
You can also use a business plan to remind you of easy-to-forget details like required fees and licenses.
10. Design t-shirts or allow customers to design their t-shirts:
Creating a t-shirt design is an option. If you are thinking about designing t-shirts and selling them, you wouldn't have to stock a huge product catalog based on colors and designs.
The other way is allowing customers to personalize their t-shirts. It is mostly recommended as customers purchase what they design. This decreases your time designing t-shirts yourself. And most importantly, it eliminates disapproval.
Copyright is another factor to consider, especially if your t-shirt design is based on another popular product or brand that might interest you. Before getting too attached to a specific design, familiarize yourself with the basics of copyright law. When you have a clear idea of ​​your rights, get creative with inspiration.
11. Branding:
Your brand helps your business stand out and builds a reputation for making great t-shirts.
Before you start selling t-shirts, it's important to figure out how you're going to advertise your t-shirt business. A solid content marketing strategy is essential for any new business.
Even if you are planning to sell online, don't forget to sell locally. Access your personal network first, then connect with the right people in your community and niche. Word of mouth is still the most effective advertising.
12. Customer Service:
Running a t-shirt business is the most time-consuming but one of the most important parts is customer service. No matter how great your t-shirt maybe, new customers will still have questions and concerns and will want to prepare the right answers.
Before you start building your website, write an ideal FAQ and buying guide for your customers. This will ensure that the language of your site matches your unique brand voice.
If you wait until the last minute and write a copy, other tasks can get in the way of creating a great customer experience. And don't forget to write scripts for online chatting. Whether you plan to answer customer questions via chat or use-friendly bots, the script ensures that your customers receive continuous and useful information.
13. Launch your Website:
These steps will give you an idea of ​​how each T-shirt went from idea to design to the final product. You have a solid marketing plan, are reminded of which platform to post and promote, and are ready to talk to your customers about how to get their T-shirts purchased.
You have prepared as much as you can and making your decision. Now it's time to act on them. Start selling on the sidewalk, new website, or local store, do some research, and then see the profits of your T-shirt increase.

Do you have printers? Are those printers sitting idle?
Become a Print-on-Demand dropshipping app like Printful or Printify. Dropship your merchants' orders.
Know more