Last Updated on: 13th January 2023, 01:37 pm
Print-on-demand is particularly trending among new entrepreneurs. Because it involves low cost and lower risk as compared to starting an online business standalone.
Print-on-demand eliminates all business-related responsibilities like procuring, inventory, packaging, shipping, returns, customer service. Though you get rid of all these orders-related processing responsibilities in drop-shipping, then what makes print-on-demand different. It is custom printing.
When you sell custom-decorated products online, you have the responsibility and capital to set up a printing workshop. If you do not then print-on-demand service providers work for you. The famous print-on-demand service providers are Prinjful, Gluten, Printify, Pixels, TeeLaunch, Kite, etc.
Having an eCommerce store in Shopify can be helpful particularly in integrating your supplier with your store. The supplier app integration helps you track inventory, stocks, orders fulfilled, orders delivered, etc.
Top 8 Steps to Start your Print On Demand Business:
To increase your sales, adopt print-on-demand to offer your customers a variety of custom-made things such as t-shirts, rugs, and home items. This company needs to have strong marketing techniques and be built on a high-performing eCommerce platform.
1. Choose your Niche:
To begin, pick a niche in which you have the best chance of succeeding. They ought to be feasible. To target the core clients, you must have a niche that is too specific. Yet it is broad enough that it largets a larger audience.
It is time to use search engines and social media to validate your ideas once you've chosen a niche or reduced your alternatives.

Do you have printers? Are those printers sitting idle?
Become a Print-on-Demand dropshipping app like Printful or Printify. Dropship your merchants' orders.
Unlimited Merchant stores. Dropship and Fulfil Merchants' orders. Manage merchant invoice, sales commission, etc. Merchants sell the designed products in shopify, etsy stores, etc.
Know more
If no one is talking about anything in a certain niche, it's unlikely that a print-on-demand business can be developed around it. You'll need one that's quite active and has a lot of chats going on.
Also, don't forget to keep track of these dialogues because the individuals who are interacting with them are likely to become your clients in the future.
2. Customized Products:
Let's get down to business. You'll almost certainly have an advantage if you're a skilled designer. Because we're in the business of print-on-demand. You'll design products or alter copyright-free design materials from Creative Market to make your products.
It is important to remember that copying and pasting someone else's work is both unethical and unlawful. You can use Imprintext Online Product Designer Software for your website if you don't have time or skill in design.
To host your website, you should select a platform. BigCommerce, Shopify, and WordPress are three major eCommerce platforms.
3. Choose Print on Demand Supplier:
One thing to keep in mind is that you'll need to work with a print-on-demand company to make your ideas a reality. Many print-on-demand providers have direct integration with eCommerce.
You can connect your store directly to your print-on-demand provider to make things easier.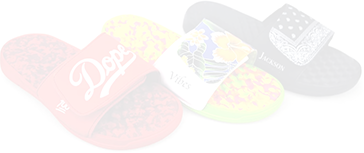 Boston based custom slide sandal maker has become $10 Million company using an online designer and unique growth marketing.
Read more
4. Online Promotion:
The best spot to identify new consumers is on social media networks, especially if you use them for free. Set up accounts on Facebook, Instagram, Twitter, and YouTube and utilize them to promote your business. Simply select the platform that is best appropriate for your business model or one with which you are most familiar.
Here are some pointers to help you get the most out of social media: Join groups for Print-on-Demand and post frequently.
Make a suitable hashtag for your business and ask your customers to use it when uploading photographs of your online product design on social media.
Make use of excellent content.
To help spread the word about your brand, reach out to influencers.
Paid social media to boost sales
5. Optimize your Store with SEO:
Search Engine Optimization (SEO) is and will always be a potent strategy for bringing your brand to the top of search engine results pages.
From the SEO perspective, good quality content optimized by popular long-tail keywords results in a high ranking website.
You must first identify the relevant keywords that a large number of people are searching for, and then use those keywords to create high-quality content.
6. Add Customer Review Section:
When it appears that your only goal is to promote your company, no one wants to listen to you. Independent customer reviews, on the other hand, are a powerful and reputable tool to market your business and increase sales.
Therefore, make sure they're prominently displayed on your homepage and that it's evident that the reviews and testimonials are from actual customers who have purchased your stuff.
7. Add good quality blog posts:
To get the word out about their products and services, most eCommerce platforms rely significantly on content marketing. Create roundup entries, reviews, and other content for your print-on-demand website's blog on a regular basis.
Remember to share the newly released information on your social media platforms to pique your audience's interest and drive more traffic to your website.
You'll establish a positive connection with your audience by being helpful to them, and you'll earn their trust as they learn from and engage with your material, making them more inclined to buy from you in the future.
8. Check Performance and Improvements:
When you own your own company, you know what works and what doesn't. As a result, you're aware that you'll have to remodel your website, tweak the price, change the collection pages, and add new products.
Make a bold move to find a one-of-a-kind working product that will propel your company to the forefront of your industry.
Final words:
To start an eCommerce business, you'll need a lot of money and time. You also have to deal with a variety of issues, such as inventory management, shipping, and product packaging.
Print-on-demand is a great alternative if you want to take on less responsibility and risk while still having a chance to succeed.
Related Questions:
1. Is the print on demand profitable?
Yes, print on demand is profitable for an e-commerce business. It depends upon your design & marketing skill to excel in this platform.
2. Is print-on-demand free?
No, print on demand is not free. The companies that provide print-on-demand services charge a percentage of the amount on every sale you make.

Do you have printers? Are those printers sitting idle?
Become a Print-on-Demand dropshipping app like Printful or Printify. Dropship your merchants' orders.
Know more