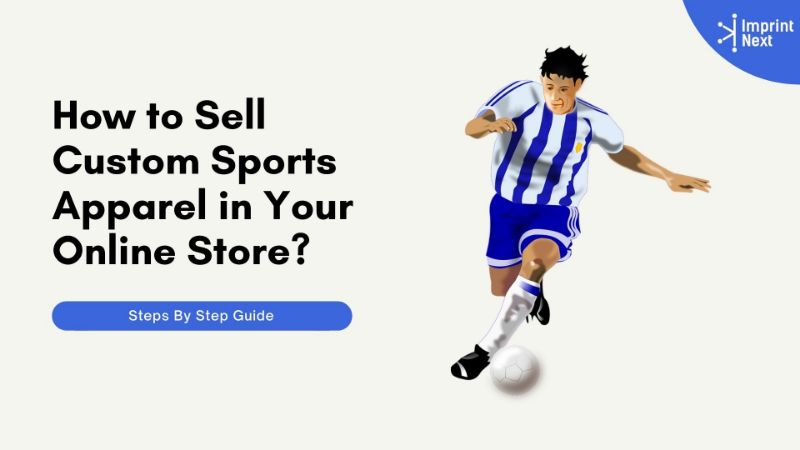 Last Updated on: 29th November 2021, 01:07 pm
When you want to make money selling sports apparel, starting a custom printing facility is a popular choice for both newbies and veteran eCommerce sellers. Selling customized products considered a universal appeal and craze among online shoppers today. So, how can you sell custom sports apparel in your online store? Let us dive into the step-by-step guide from setting up an e-commerce store to selling online.
Yoga pants, cross tank tops, t-shirts for cycling. It's not only sportswear but also fashionable casual wear for home or public places. The trend of athletic fashion is now on the track. This change in active apparel has motivated retailers to take advantage of this rising trend. And why the wear in athletics produced last year a global turnover of $414 billion is not shocking.
With colors and logos in your jerseys with your squad, fans will identify your team. Uniforms with a professional look make team members feel better, which can improve morality. The important reason for wearing customized sports apparel. And for such a customized facility, you need product design software(recommended Imprintnext). Moreover, a recognizable Team picture will allow fans to express their support with signs and other items such as t-shirts and hoodies. All who like sports love their suits and accessories to show off their favorite teams.
Look at those who wear it and think-' How can I sell what they wear? Then you have this blog.
We share insights into how you can start to sell sportswear online and even give you tips for business success.
1. Choose the right Sports Apparel:
Find an idea for a product. Ideation might take time, but it's worth it.
What pieces of clothes would you like to sell? Leggings, joggers, sweatpants, workout tanks, sports bras, hoodies, jeans, sneakers, and more are the most popular athletic equipment.

Do you have printers? Are those printers sitting idle?
Become a Print-on-Demand dropshipping app like Printful or Printify. Dropship your merchants' orders.
Unlimited Merchant stores. Dropship and Fulfil Merchants' orders. Manage merchant invoice, sales commission, etc. Merchants sell the designed products in shopify, etsy stores, etc.
Know more
Start with a market analysis and research by competitors to know what demand is. Add to the result, you get your creativity and interest and finalize a product.
2. Niche:
Let's say you chose to sell pants in yoga. Brands sell hundreds of yoga pants. It means that the market is in enormous competition.
So what you do is concentrate on a particular segment, like large-scale yoga pants. It helps you to reach your ideal clients and makes it relatively easy to enter the market.
3. Fabric:
Be realistic at this stage. You dream of being Nike next, and that's awesome. As a newbie, however, it is good to monitor the truth. Big weapons such as Nike have the resources and teams that work on fabrics that are not elsewhere available. Right now, you haven't. The best way to find producers that deliver quality products is to find them.
Customers are more and more environmentally aware, and this has led to lasting trends in clothing. The products made of organic cotton, recycled polyester, and low-impact non-toxic dyes are the solution you can meet these demands.
Products from the 90s are returning to the industry. The crop tops are light and airy in style. Also, it has recovered popularity over-dimensional and asymmetric.
4. Employ Product Customization:
Customization helps improve customer loyalty. When you offer customers two options, brands that provide them with an ordinary sweat, and the other allow them to make extraordinary pants by creating their design. You can even improve the retention of customers. Second, this is an excellent way to raise awareness of the brand. Your potential customers will likely share their social media experience. You will only benefit from this word-of-mouth advertising.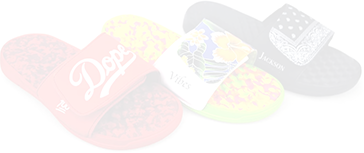 Boston based custom slide sandal maker has become $10 Million company using an online designer and unique growth marketing.
Read more
At one time, customers enjoyed mass production-even products at a lower price. It is no longer the case. There is a shift in shopping choice, and customers are more willing to pay for a customized brand.
ImprintNext is, therefore, a robust product design software. It aims to give users the freedom to design their products, providing a singular shopping experience—the best way to sell custom apparel in your online store.
5. Choose an Online Market Place:
If you don't have an online shop and don't have a budget, then the right idea is to sell on markets. These platforms, also known as print-on-demand sites, allow you to upload and sell items to potential buyers.
It is how platforms function:
Build 100s of activewear products print-on-demand
Make your shop unique with a completely personalized storefront.
Use a price tool to set your prices or allow the market to do so for you.
Let them manage inventory, development, shipping, and customer service.
Access the e-mail opportunities through customer contact details
You can sell your things to anyone in the world in this way. You must continue to advertise your shop when enjoying the web traffic from these markets.
Even with infamous retail outlets like Amazon, Etsy, and eBay, you can sell your activewear products. These may be relatively expensive compared to art markets as they charge (1) a listing fee for each of the pieces posted; (2) a monthly subscribing fee or service fee; (3) a transaction fee; or (4) a mixture of those. In return, however, you get massive traffic exposure.
6. Create an Online Store for Sports Apparel:
With an online shop, you have a competitive edge and an extended reach to boost your client base and future sales.
It is not a cakewalk to sell online items, but technology-facilitated things. Although it's fast, it's costly – that's what you think. Oh, you have to invest, of course. But it's nothing in comparison to earnings. If at this point you think it is possible to create an eCommerce site, go for it!
You can build your e-commerce website in two ways.
Hosted e-commerce website
Self-hosted e-commerce website
A host site is acceptable if you have little to no technical experience. And if you want to create a customized store, go to an independent website. The choice would, however, require some technological expertise.
7. Use Social Media for Business:
Selling your products on social media is right? The latest studies show that companies with social sales typically see a return of 5 dollars for every 1 dollar they are spending. It is only possible if you sell and correctly sell it on the right site.
Consider the composition of the public when choosing a forum. In your case, your audience would consist primarily of thousands of years, as they form a large section of the activewear industry. Instead of LinkedIn and Twitter, Instagram and Facebook should be your top options.
Social sale on Facebook- Use the product catalog functionality. You can connect your stock to your Facebook business profile with this feature. Click good photos, write details of useful goods, set prices, and start selling. You can target consumers very directly with Facebook advertising.
Social sales on Instagram– Instagram supplies shoppable messages. When a user clicks a posting, they will see the name of the item and its price. They'll get more details when they tap it again. If you like what you see, you can buy from the Instagram app right there. Recall that this is a visual medium when selling Instagram. Make sure your picture is of high quality to attract customers.
8. Shipping:
You have to take care of product length, weight, packing, etc. Shipping items. If you don't think you have time, dropshipping will work for you. The dropshipping model is where you buy goods from third-party vendors shipped directly to the consumer rather than storage products.
So works dropshipping:
Your client orders the commodity.
The order is forwarded to the provider of the dropship.
The dropship provider packages and delivers the order with the brand's name on the box directly to the client.
9. Product Giveaway:
Girlfriend Collective, a Seattle-based online store, has spent all their marketing budgets on their free launch. All the clients needed to share the shipping costs on Facebook or via email (about $20). Every pair had a $68-78 retail price. It resulted in 10,000 orders from the brand on their first day and a massive traffic crash within the early two days.
Product giveaway is a useful promotional strategy to raise awareness of the brand and its potential sales. But it would help if you had a sound strategy to reap its benefits. Take these issues into account when creating a promotional gift plan.
Select a prize suitable for your target public.
How long the contest will take->
Decide the platforms you'll use to promote your contest.
10. Marketing:
Customers rely on third-party reviews. By using this approach, brand awareness can be encouraged, and a potential audience developed. You can use influencer marketing in various ways-( a) ask influencers to share your products in their handle of social media; (b) you can publish blogs by influential people in an online shop. Some people buy thousands of followers. These influencers are false. You need to know how to qualify potential influencers to avoid them. Something called "the influence of R" shared by Hootsuite.
Relevance: Is content sharing relevant for your company?
Reach: Reach refers to the number of followers an influencer has on their social sites.
Resonance: Is the influencer's potential level of engagement can create with an audience both valuable and relevant to your brand?
11. Survival Tactics:
Activewear is a competitive market. How do you survive here? Recall – the law of life is change. It would help if you continued to evolve.
Once you think your brand is well established and you earn a decent sum, experiment with products. How long do people like the same blue-gray sweatshirts? You can add 3-4 various fabrics such as polyesters or move to organic material if you have started to sell cotton sweatpants.
Intend to expand your line of products. Don't just focus on a single product. Continue expanding your shop by introducing numerous activewear styles. Finally, the goal is to concentrate on various market segments. Let's say you started by selling women's bike t-shirts. Now that your business is growing, why not include children too.
12. Get Ready to Start:
The trend for activewear is to remain. At times it was only for athletes to buy activewear. Today in sneakers and yoga pants, we find people who go shopping or brunching. And the demand for comfortable wear is rising with home quarantine becoming normal.
Competition is here, no doubt. But brands that give their customers value by recycled goods or customized wear do an excellent job.

Do you have printers? Are those printers sitting idle?
Become a Print-on-Demand dropshipping app like Printful or Printify. Dropship your merchants' orders.
Know more