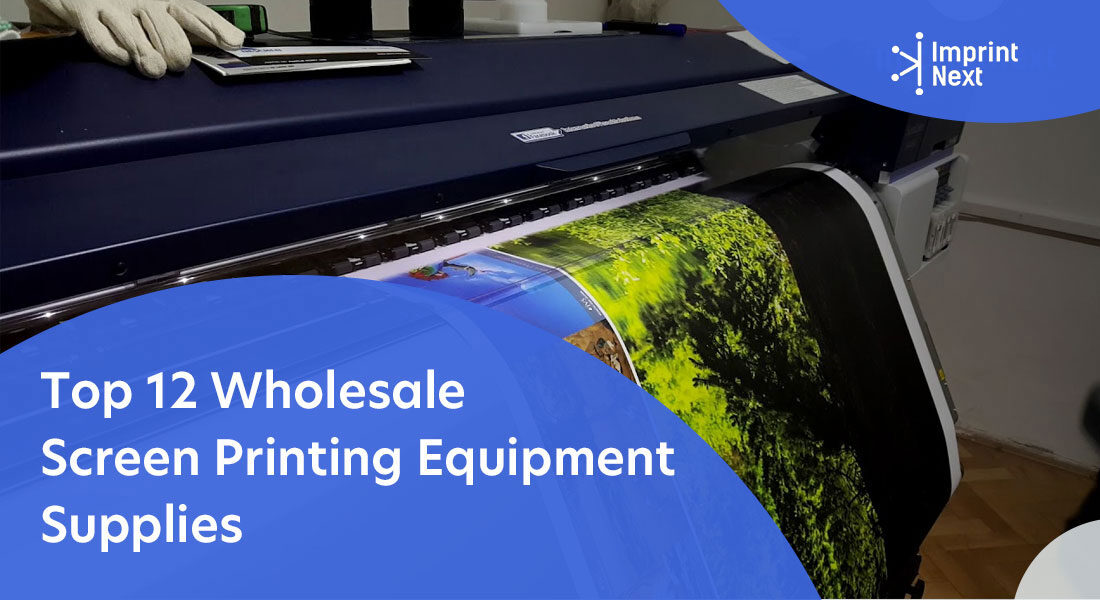 Last Updated on: 11th February 2022, 12:10 pm
Finding wholesale supplies for screen printing equipment, emulsions, screen printing ink, screen chemical, adhesives, screen printing kit, etc., can pose a challenging task for you.
Screen printing equipment and supplies are expensive. You won't take any risks buying from an unreliable seller.
When I found it on Google, most people search for a "screen printing supply store near me." Therefore, I did intensive research to find the best screen printing companies.
To make your work simple and easier, I have come up with a list of screen printing equipment suppliers that are reliable and the best known and leading, among others.
Top 12 Supplies of Screen Printing Equipment:
As you may know, that screen printing is not only about screen printing machines. It also includes a lot of supplies and accessories that you must have and have your business running.
Below the list of top 12 suppliers who sell a wide range of screen printing equipment are as follows:-
Ryonet powers the screen printing company. The leading and dynamic screen printing supplier that suffices all your requirements from scratch to advanced.

Do you have printers? Are those printers sitting idle?
Become a Print-on-Demand dropshipping app like Printful or Printify. Dropship your merchants' orders.
Unlimited Merchant stores. Dropship and Fulfil Merchants' orders. Manage merchant invoice, sales commission, etc. Merchants sell the designed products in shopify, etsy stores, etc.
Know more
If you are starting from scratch, you can access video lessons and eBooks to know all about the screen printing process.
However, if you run a screen-printing business, you can shop all the supplies, equipment, kits, and even blank apparel.
Talking in detail, you get an all-around supply of inks, emulsions, chemicals, screen mesh, squeegees, tools, accessories, and much more.
Suppose you are interested in screen printing equipment. In that case, you must know that Ryonet is the leading supplier of screen printing machines, conveyor dryers, flash dryers, wooden silkscreen frames, platters, vinyl cutters, and much more to explore.
The company also provides financing options if you cannot purchase any equipment due to a lack of funds.
The company provides four financing options. They are short term, start-up financing, mid-level, and automatic equipment financing.
So, beginners choose a plan to start screen printing.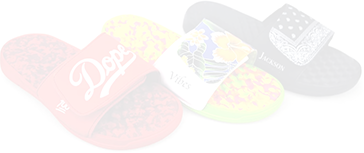 Boston based custom slide sandal maker has become $10 Million company using an online designer and unique growth marketing.
Read more
Ace Screen Supply Co. is a US-based company that sells all types of screen printing equipment like heat-press, dryers, pallets, screens, printing materials like ink, paper, sprays, and much more.
In addition to the above, It is a house to all screen printing solutions like financing. If you do not have enough funds to start your screen printing business, then Ace Screen Supply Co. will connect you with the best lenders for your business within 30 minutes.
The company has a return policy that initiates within three business days of your return request receipt.
American Niagara is a supplier of a wide range of industry-standard screen printing products in the United States and worldwide.
The company sells premier aerosols, plastisol inks, emulsions, lubricants, and much more screen printing supplies, etc., so that you can provide good quality screen printed products to your customers.
Besides the above supplies, the company also provides screen printers, foam cutters, cleaning guns, curing units, exposure units, and much more.
Atlas Screen Supply is one of the largest screen printing equipment suppliers and an education center that provides courses to build your screen printing skills.
The company is a supplier of more than 25 product categories and screen printing materials that fulfill tits and bits of screen printing requirements.
Some of the most sorted products like waterbased & plastisol inks, discharge ink, screen printing equipment from dryers to ventilation, frames, 20×28 screen printing screens, emulsion, chemicals, and much more.
The company supplies products of more than ten reputed brands. Some of them include Anatol, Albatross, Rhinotech, AR North America, Vastex, etc.
The company knows very well about your financial liabilities and is aware that the screen printing business requires a huge investment in machines and equipment.
Therefore, the company provides financing if you are unable to purchase a product/equipment. Financing gives you options to get new equipment for small and manageable payments.
You can make monthly payments within a range of 12 to 60 months. That's probably enough for anyone to set up a successful screen printing business and earn profits more than the procurement.
As the name suggests, Allureglow USA is a specific supplier of screen paints and inks, especially glow-in-dark inks.
Being specific in ink and paint supplier, it is one of the few sellers who sell plastisol, glow in the dark screen printing ink, plastisol reflective inks, high solids acrylic glow ink, discharge glow inks, etc.
Some of the most sorted paints like fluorescent paints, reflective paints, photoluminescent paints, primers, etc.
Those screen printers who are fascinated about using unique printing inks for glow-in-dark effect, saturated mix colors, etc., then you must go for this supplier.
The All American Print Supply Co. is a mixed supplier of screen printing, DTG printing, sublimation, UV printing, etc.
Screen printing not only requires large/primary equipment like machines, screens, squeegees, paints, etc. but also needs to use small helping tools.
These tools spatula, emulsion remover, pre-stretch wooden & frames, hardener, mist adhesive, mixing sticks & cups, etc.
As you won't call this company a specific supplier of screen printing products, therefore, you can also get blank apparel, t-shirts, sweatshirts, mugs, etc.
Moreover, this company supplies screen printing equipment like flash dryers, exposure units, conveyor dryers, flame treatment, etc.
AA screen printing supplier is the provider of screen printing inks, chemicals, equipment, and kits.
You get product specific inks like plastisol inks for colorful t-shirts, polyester inks for uniforms & jerseys, low-cure ink, waterbased discharge ink, etc.
The best part is that you can make your colors. You can achieve Pantone simulations most simply and cost-effectively with Wilflex Color Systems. It saves time helps you to get accurate color matches in the ink.
You also get inkjet transfer papers, screens, squeegees, aerosol sprays, emulsion, ink remover, and other accessories.
The company supplies automatic screen press, manual press, flash dryers, conveyor dryers, platen, exposure unit, etc.
The house of all screen printing and Direct-to-garment printing equipment and supplies may become a one-stop solution for you to suffice your requirements.
Mainly, if you are a start-up, then you have come to the right place. This company provides start-up screen printing kits & packages that include screen printing machines, direct-to-garment (DTG) printers, sublimation, heat transfer, digital printing, etc.
Start-ups also get training classes on the artwork, screen printing, sublimation, and much more.
You also get many supplies like plastisol inks, buckets of ink, stencils, emulsions, ink tools, cutters, aerosols, frames, cleaners, art supplies, and much more.
The company is a film positives supplier, screen making supplies, press equipment, clean up, and other screen printing equipment at reasonable prices.
You get RIP software to make printing easier and more efficient. The software improves the quality of your image. Therefore, it is vital to get this software, and you get it here.
You also get options to purchase any used equipment like flash cure unit, heat-press, single sleeve aluminum platen, squeegee, etc., at low prices.
Besides screen printing, if you are interested in embroidery, you get embroidery materials like thread, bobbins, stitch eraser, topping solve, etc.
Based on public reviews, one of the most sorted companies,s, i.e., McLogan, where people find it suitable to purchase good quality products that meet their expectations.
It is home to all screen printing supplies, equipment, and most essential parts and accessories required for your screen printing press.
McLagan provides education for the screen printing process, manual t-shirt press, and squeegees if you are a beginner and want to learn about screen printing techniques.
Most face issues while printing white under base on darker garments. McLogan exclusively provides training to tackle such issues. Therefore, go for it!
M & R Printing Equipment Inc is the primary supplier of textile screen printing equipment, screen printing exposure units, graphics screen printing equipment.
Most importantly, if you search for parts of a screen printing machine and accessories for replacement or addon to your screen printing equipment, this company is the ultimate stoppage for you.
The parts and supplies include mechanical parts, pneumatic parts, screen printing supplies, lubrication, electrical & digital supplies, and many accessories.
If you cannot afford to make screen printing equipment, the company has a finance gateway for you. Therefore, you can get equipment on lease.
T & J Printing Supply offers high-quality screen printing equipment and supplies.
Moreover, it offers a wide variety of products like chemicals, ink for all fabric types, adhesive, digital equipment, mesh, emulsion, aluminum frames, and much more.
You get a wide range of products and equipment from leading brands like M&R, Murakami, Ulano, Easiway, Mimaki, Rutland, and much more.
Conclusion:
I hope the top 12 screen printing suppliers can suffice all your screen printing needs. No worries, if you are a resident in any place of the world.
The above suppliers' list has both national & international shipping policies to reach your destination.
Lastly, if you have any questions or suggestions, I would appreciate your comments below.

Do you have printers? Are those printers sitting idle?
Become a Print-on-Demand dropshipping app like Printful or Printify. Dropship your merchants' orders.
Know more