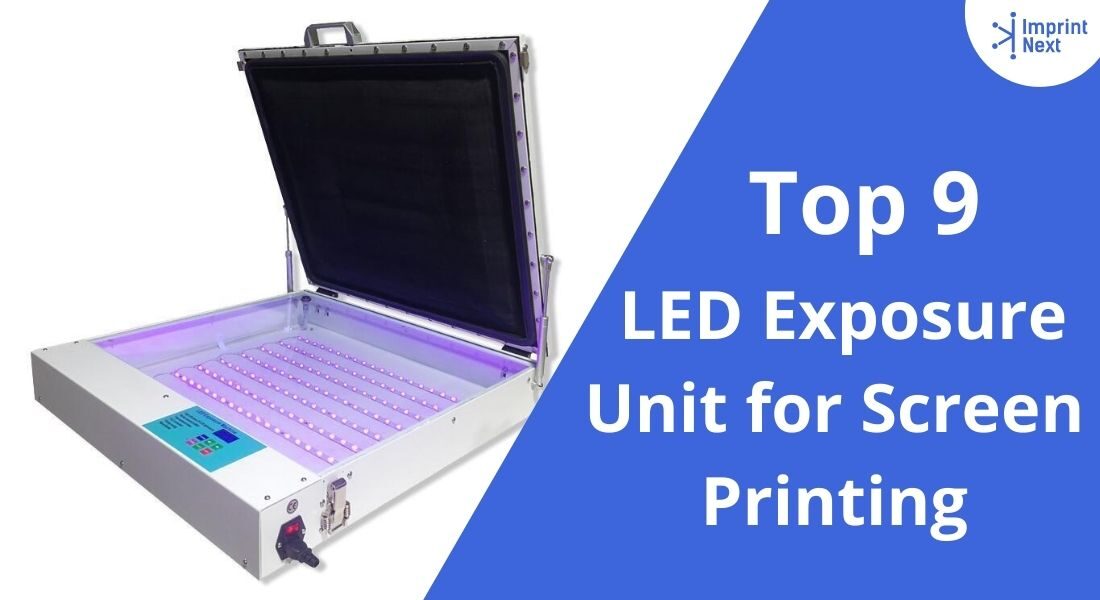 Last Updated on: 13th January 2023, 01:38 pm
Several variables make up a screen-making process. One of them is an LED exposure unit. An LED exposure unit uses direct and uniform light at full power that makes an ultra-fast exposure. Around 50% faster than metal halide exposure units.
Not only efficient but also long-lasting. LEDs can last around 100,000 hours, in addition to being energy efficient. Unlike metal halides, it does not produce excessive heat that keeps your workshop cooler.
So, the top 9 LED Exposure Units for screen printing are:
1. Ranar LED Exposure Unit
2. LFX LED SCREEN EXPOSURE UNIT
3. M&R UV LED Screen Exposure
4. Lawson LED-5000 Screen Printing Exposure Unit
5. E-2000 LED EXPOSURE UNIT
6. Workhorse LED EXPOSURE UNIT
7. Table-top LED Exposure Unit
8. PRO UV EXPOSURE UNIT
9. LINCOLN VACUUM EXPOSURE
Top 9 LED Exposure Unit for Screen Printing:
Now, let us discuss each one in detail and find the best one for your print shop.
The screen exposure unit allows you to make the best possible screen images and increase production. If you are small to medium-sized screen printing shop, this exposure unit is ideal for you. The bright LED lights send UV rays that optimize for the exposure of screen printing emulsions. LEDs emit high temperatures without the requirement of frequent replacement and degradation over time.
LED lights are energy-efficient and have a long life of over 50k hrs.
With ultra-fast accurate exposure times, you can get crisp detail of the finest designs.
You do not have to wait between exposures for the bulbs to cool.
You could quickly burn 100 screens in a day.
The unit has an overall exposure area of 28"x48".
The overall dimension of the machine is 56"x34"x35" and weighs about 285 lbs.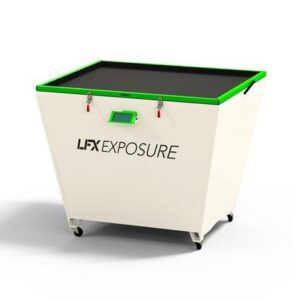 Do you have printers? Are those printers sitting idle?
Become a Print-on-Demand dropshipping app like Printful or Printify. Dropship your merchants' orders.
Unlimited Merchant stores. Dropship and Fulfil Merchants' orders. Manage merchant invoice, sales commission, etc. Merchants sell the designed products in shopify, etsy stores, etc.
Know more
The Ryonet's LED Screen Printing exposure unit works with large screens, most probably dual-screens, that improve workflow—made for medium to large scale production. It has an integrated vacuum unit and lightfast led lighting within 10 seconds. To match the highest accuracy and production speed, it has 450 watts LED light with reflectors. That creates an intense direct exposure at 85 LPI halftones in 305 mesh.
It comes with a 7″ Touchscreen display with smooth controls.
With durable steel body construction, it is enough to be called sturdy.
The exposure unit has an overall dimension of 64.5″(W) x 59.5″ (L) x 53.5″ (H), covering a Max Exposure Area of 55″ x 47."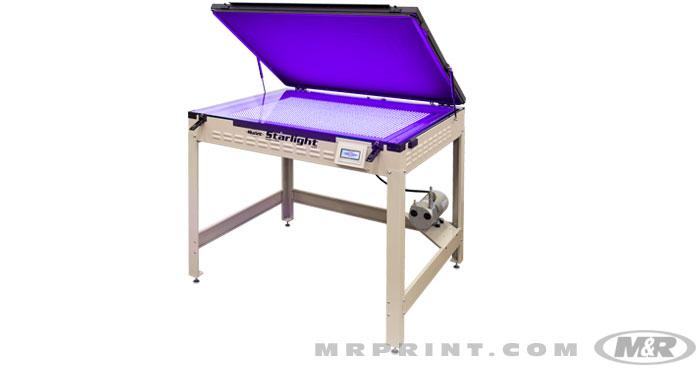 The UV LED screen exposure unit is versatile and affordable. It has a tabletop set up for convenient use. The high-density LEDs provide the finest detail and the most uniform coverage over the entire screen.
With the digital & computerized touch screen panel, you can control the automatic screen exposures on your fingertips.
It has a vacuum sensor that automatically initiates the exposure process as soon as the operator-defined vacuum setting is reached.
The UV LEDs ensure a cooler working area, reduce screen exposure time, and speeds production, unlike metal-halide bulbs.
The overall dimensions of the machine are 104 x 109 x 91 cm (41" x 43" x 36") and weigh about 147 kg (325 lb).
Moreover, the exposure unit comes with a one-year limited warranty.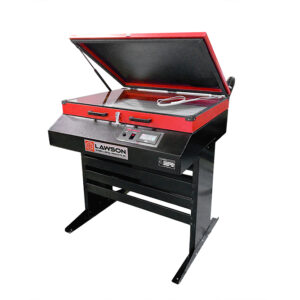 The sophisticated, easy-to-use exposure unit can be conveniently used with zero error.
If you want a hi-resolution halftone reproduction with a high-definition image, you must go for his exposure unit. The powerful LED lamps have a typical life of more than ten years. It is rich in UV output and provides exceptionally rapid exposure without compromising resolution.
The LED strips are equivalent to 5000-watt metal-halide bulbs.
It has an Easy-to-Use Control Panel that comes with a Digital Timer.
With 1.25 H.P. Instant Draw Vacuum Motor, it ensures even light distribution over the screen.
It has a maximum exposure area of 48″ x 72″.
The exposure unit's overall dimensions are 80″ wide x 62″ deep x 41″ tall and weigh about 616 lbs.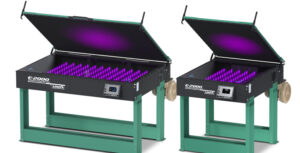 The led exposure unit by Vastex features a long-lasting LED light for ultra-fast exposure. It produces high-resolution half-tones and crisp detail on most artwork graphics. With less electricity consumption, it can last over 50,000 hours. Thus saving your operating and maintenance costs.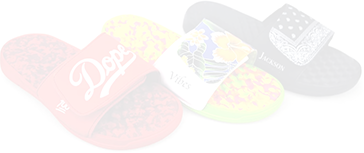 Boston based custom slide sandal maker has become $10 Million company using an online designer and unique growth marketing.
Read more
The exposure unit comes with an LED panel with ten preset functions.
The unit has overall dimensions of 38.3 x 49.3 x 44.5″.
With 5 30″ LED light bars, it can expose screens 10-15x faster than fluorescent bulbs.
It has a bulb life expectancy of 50,000-100,000 hours.
The exposure unit covers a maximum image area of 24″ x 36″.
Moreover, the exposure unit comes with a Three Year Warranty on the manufacturer's defects.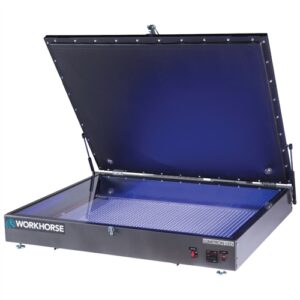 The tabletop LED exposure unit is a fast, uniform, and high-resolution exposure unit. It has long-lasting LEDs that reduce time, energy costs, and overall production expenditure.
With a powerful, oil-free vacuum pump, it has a flexible neoprene blanket to ensure film-to-screen contact.
It has a large exposure unit that can hold up to 25″ x 36″ frames.
The LED strips operate at much lower temperatures and can last over 50,000 hours.
Startup and cool-down times are eliminated because the LED bulbs start and stop immediately at a button press.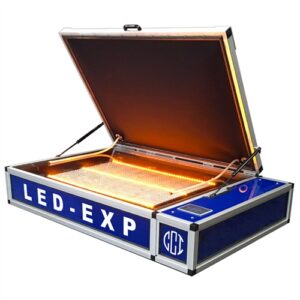 The LED Exposure unit by Anthem Screen Printing is designed for conventional or direct-to-screen exposures. It not only increases your production output but also saves space and energy costs. Unlike metal-halide bulbs, LEDs do not waste power and last longer.
The exposure unit comes with a controlled touch screen that gives you complete control.
With over 2,800 Energy Efficient UV LEDs, it is designed for the fastest production.
With the simple table-top design, it fits screens up To 36″ x 50″.
Its High Powered UV LEDs Optimized for Diazo / Dual Cure Emulsions
Moreover, the overall dimensions of the exposure unit are 12″(H)x70″(W)x48″(D).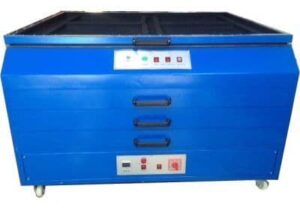 A great addition to any workshop that performs screen printing. It is so fast that you can burn screens immediately after removing them from the cabinet. And it also dries them in just minutes. Overall, the high-quality machine is an affordable purchase.
The machine covers a screen exposure area "39" x 51."
The exposure unit reaches a maximum temperature of 55 DegC.
It has three-layer tier drawers for increased production.
Moreover, the overall dimensions of the exposure unit are 61″w x 50″d x 58″h
Lastly, it has an approx weight of 120 kg.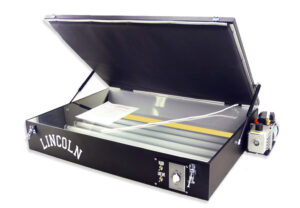 The exposure unit is best suited for startups and small-scale production requirements.
It is made of Non-Corrosive Light Weight Steel Construction that is easily portable.
It comes with a Durable 3MM Neoprene Vacuum Blanket with adjustable lid clamps.
The Unfiltered UV Blacklights is of high quality and requires minimal maintenance and operation costs,
Moreover, it has an overall dimension of 40″(W) x 39″(L) x 10″(H)
Lastly, it comes with a 5-year limited warranty.
Conclusion:
Finally, in my opinion, and based on public reviews, I found the Ranar LED Exposure Unit to be the best of all.
However, if you have a small print shop and space matters for you, then the Table-top LED Exposure Unit is the best one for you.
If you have a medium to large scale production, Else go for LFX LED SCREEN EXPOSURE UNIT.
Also read: Using UV ink in Screen Printing – A Beginner's Guide
Related Questions:
How does the exposure unit help in screen printing?
An exposure unit makes better screens that result in good screen prints.
How long should you expose your screen?
You should expose your screen for 5 minutes.

Do you have printers? Are those printers sitting idle?
Become a Print-on-Demand dropshipping app like Printful or Printify. Dropship your merchants' orders.
Know more