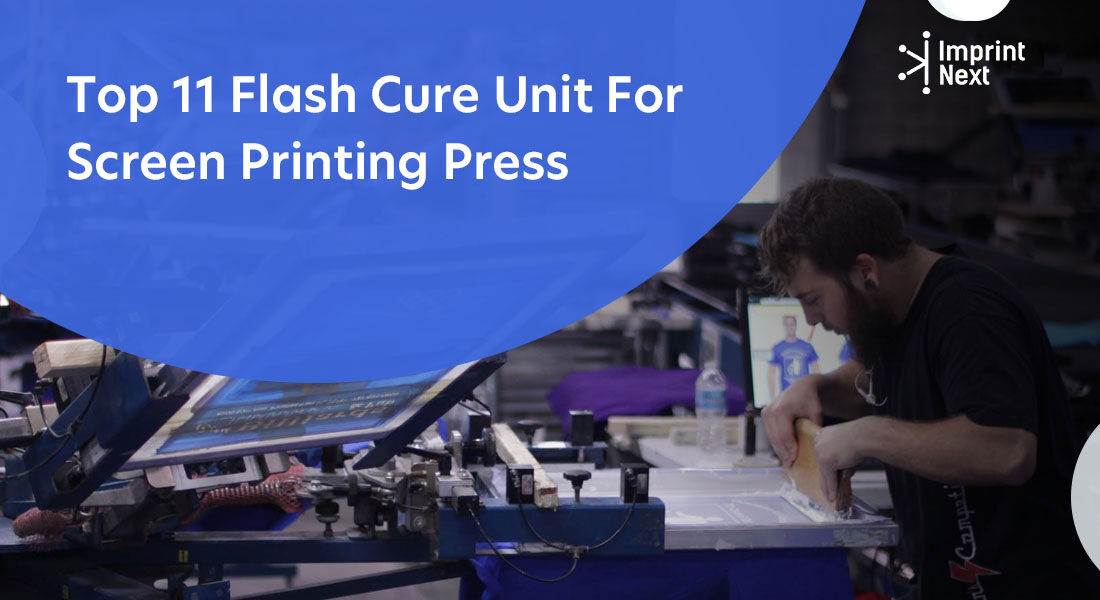 Last Updated on: 25th September 2023, 11:56 am
Flash cure unit is one of the most necessary items required for screen printing. Flash cure is necessary to cure inks to get better print and resistance to repeat wash. Different flash cure models work with either manual or automatic screen printing press.
Although screen printing ink dries in about 20 minutes, you need to hard dry it to properly set it. So, the flash cure unit is an essential addition to the screen printing setup.
Place the flash dryer two to three inches above the screen printing platen. Depending upon the wattage and the flash dryer position over the platen, place it for three to fifteen seconds. When the ink reaches the temperature of 240-250 Fahrenheit, it converts into gel form. If you use plastisol ink, it won't dry at the normal curing temperature. It must be exposed to a temperature of around 300 to 330 Fahrenheit to cure properly.
Most manual flash dryers apply infrared heat panels, whereas the advanced quartz flash curing uses quartz bulbs for fast heating and cooling, thus saving your time and cost upon electricity.
Therefore, we have a list of flash curing units/dryers that include infrared or quartz dryers to be used in manual or automatic screen printing presses.
Top 11 Flash Cure Unit for Screen Printing Press:
The top 11 flash curing units to choose for your screen printing press are as follows:-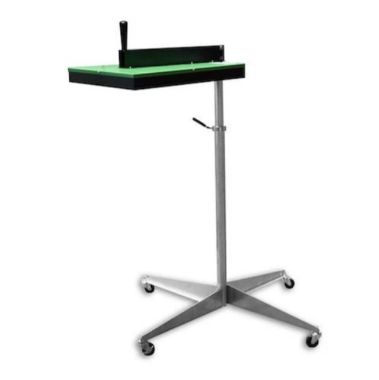 The Ryonet's RYO Infrared Flash Dryer is great quality and affordable 16 x 16-inch flash curing unit that can generate heat up to 1600 watts. Best for start-ups.
It quickly warm-ups in 10-15 minutes with consistent heat throughout the heating area. All due to the high-quality heating element used in RYO flash, which is comparable to high-end flash dryers of other reputed manufacturers. 
Easy to assemble and install with a few bolts to put it ready to work.
It comes with a stand, casters, and a 10-foot power cord with a plug for easy mobility.
It comes with a 1-year warranty.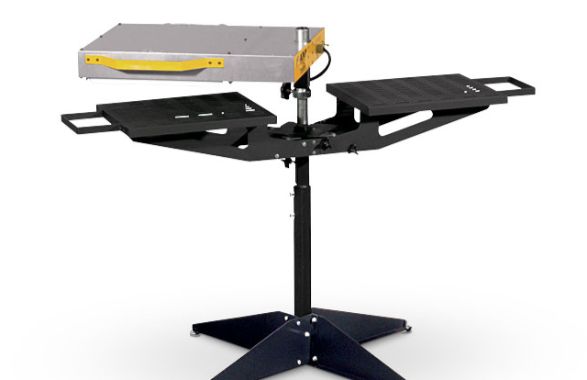 Do you have printers? Are those printers sitting idle?
Become a Print-on-Demand dropshipping app like Printful or Printify. Dropship your merchants' orders.
Unlimited Merchant stores. Dropship and Fulfil Merchants' orders. Manage merchant invoice, sales commission, etc. Merchants sell the designed products in shopify, etsy stores, etc.
Know more
Vastex F-1000 is Mid Level Flash Cure Unit for screen printing machines
Its size is 18" x 18" with a heating range of 1,950 or 2,600 Watt IR Heater.
The heat control system with power lights helps to regulate heating while the curing procedure in screen printing.
Heavy-duty side handles and locking wheels make it a user-friendly flash cure unit for screen printing.
The unique Head leveler has smart features to adjust the heater parallel to the pallet.
The powerful heat shields provide even heater temperature throughout the print area on the garment.
Most importantly, the flash cure unit comes with 15 years warranty on the heater.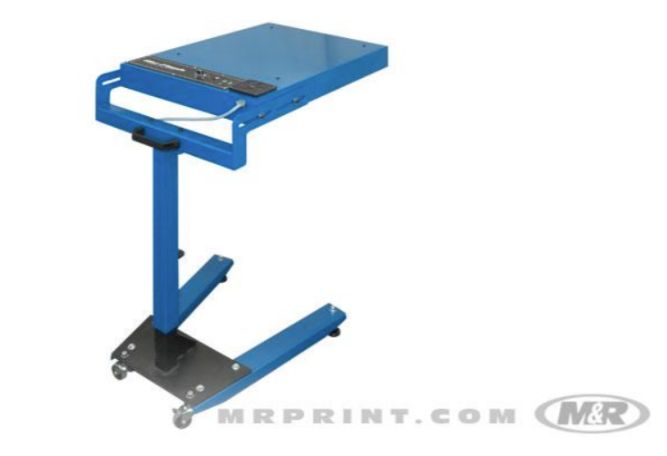 The M&R BLU-FLASH cure is an infrared flash cure unit for post screen printing operation.
18″ x 22″ is the overall curing area of the flash cure unit.
It features a powerful infrared radiant panel for rapid, consistent curing performance, thus increasing print durability after repeated washes.
The 100% power control adjustment system allows setting curing temperature easily.
The entire flash curing equipment is lightweight, sturdy, and portable to place at a small place at any screen printing shop.
The overall size of the BLU-FLASH flash cure unit is 81(H) x 53(W) x 107(L) cm.

The WorkHorse Super Seca, Flash Curing Unit, comes with different sized flash curing plates ranging from 16′ X 16″ to 24″ X 24″.
The Super Seca flash curing unit easily fits into various Workhorse screen printing machines like WorHorse Sabre and Freedom Express.
The flash cure unit features 360 Degree Head Rotation and a height-adjustable system for various requirements.
The Infrared Heat Panel of the curing panel has energy reflectors for an enhanced edge.
Moreover, the heating element comes with ten years warranty.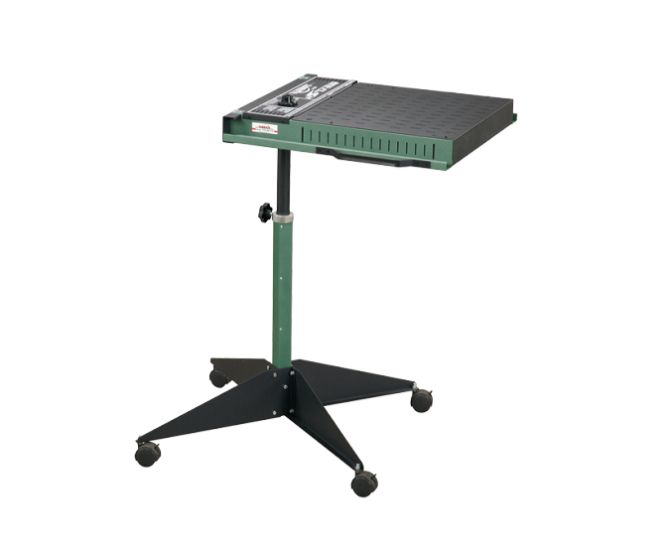 The Vastex RedFlash has an 18″x24″ Flash curing Unit with a dense coil heating element that generates an output power of 2600 Watts.
It features heavy-duty side handlers with low profile 2 3/4″ head height adjust.
It has the fastest HO heater flashes plastisol in as little as 4sec.
The flash cure unit has a lower volume fan that produces air-curtain of heat to increase efficiency and productivity,
The user-friendly flash cure unit comes with 15 years warranty.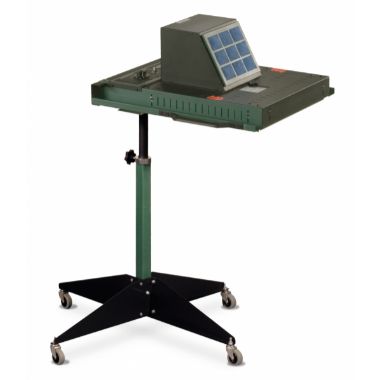 The AirFlash is an 18×24 Flash Cure Unit for curing after screen printing.
The adjustable flash unit combines infrared heating with forced air to heat the ink while cooling the garment, protecting delicate textiles.
It follows a mechanism in which the 140 CFM blower draws air through an oversized filtered intake, sends it through an air diverter, then distributes
it evenly across the entire heater face.
The forced air flow speeds the evaporative drying of water-based inks across the heated ink.
Forced airflow reduces the time and energy needed to flash-dry each garment.
The flash dryer comes with 15 years warranty on the heater.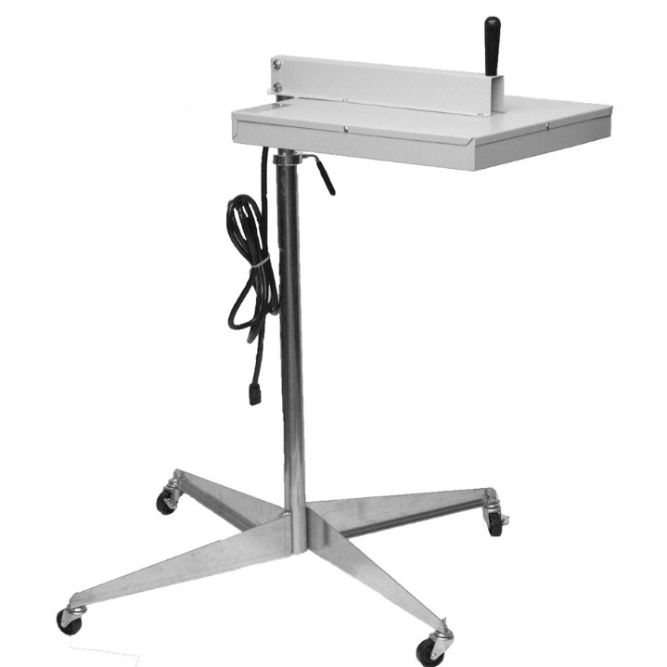 The BBC Industries manufactured Afford-a-Flash Dryer for screen printing shops and start-ups.
It comes with a 10-foot cord, stand, and casters.
The flash dryer comes in two different sizes, namely 16″ x 16″ or 18″ x 18″.
The fast and efficient flash curing unit heats to operating temperature in approximately 5 minutes.
Moreover, the curing unit comes with a 1-year warranty.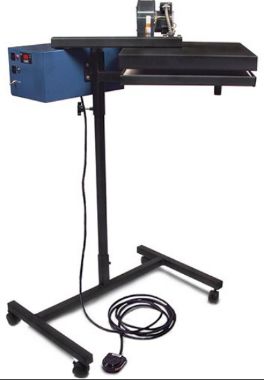 The Hix ASH 1818 is an Air-Auto Flash Unit with a heat head size 18″x18″.
The flash curing unit has an infrared heating element to ensure precision heating post screen printing operation.
It is easy to use a curing unit that has height adjustable from 28″ to 46″.
The flash curing unit is energy efficient saves you money up to 70% of your heat when idle.
It has two fans, which allow flashing of sensitive textiles and the heating element to remain at a greater distance from the substrate, thus ensuring safety in mind.
It has a full range temperature control system with a digital LED display and dwell timer.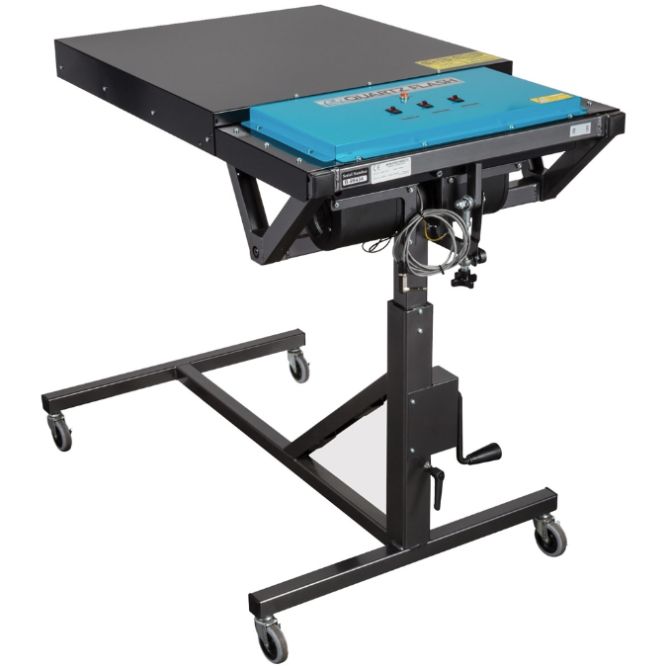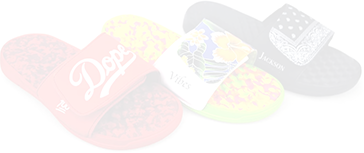 Boston based custom slide sandal maker has become $10 Million company using an online designer and unique growth marketing.
Read more
The WorkHorse Plug N Go is a quartz Flash Unit for curing inks after screen printing.
It works best for Cutlass and Sabre WorkHorse screen printing presses.
It has a heat head size of 20″ x 24″ with adjustable height functionality as per your requirement.
The heating element of the flash cure generates an output power of 9,600 watts.
The Plug N Go Flash Unit comes with nine quartz flashing elements that generate faster heating and cooling than other flashes like infrared, thus saving time and energy.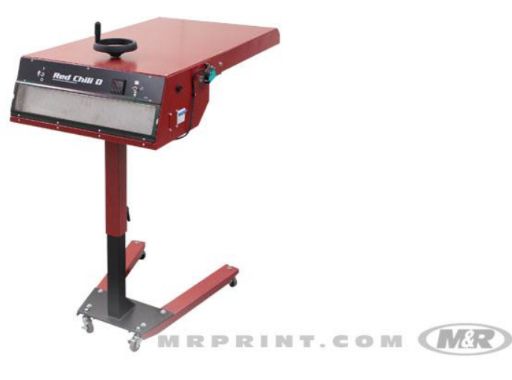 The M&R Red Chili D 1618-3 is a 16″ X 18 quartz flash cure system
It uses medium-wave sealed tungsten filament quartz lamps to work both for manual and automatic screen printing presses.
When the screen printing press is idle, the Instant-on flash cure technology conserves energy to switch the curing unit to standby mode.
The curing lamps are divided into three flashing zones to have small flash curing areas that lower heat application over non-application areas, saves
cost and leads to faster substrate cooling.
The flash cure unit comes with a digital timer to control the flash curing duration that automatically shuts off the flash cure unit when the substrate reaches operator-set temperature.
Moreover, the Red Chili flashes curing unit's overall dimension is 45″ Height x 23″ Width x 42″ Length.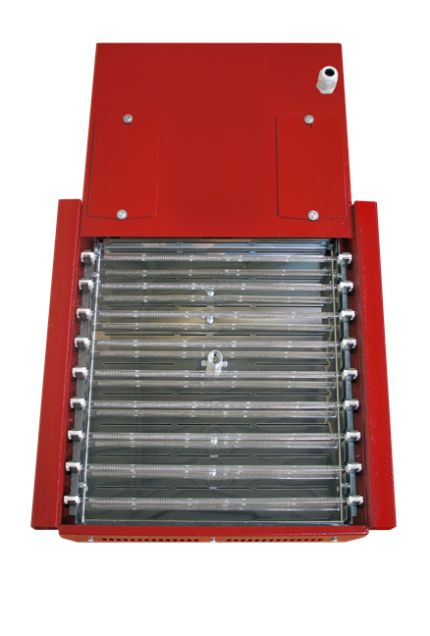 The Anatol Rapid Wave ultra-fast medium wave quartz lamps flash the Cure Unit with a variable lamp intensity control feature.
Quartz flashes are used for rapid flash curing, which is a step ahead of the infrared flash dryer.
Quartz flashes heat quickly heats and cures the ink, thus saving time and electricity.
The Rapid Wave Flash has three curing zones, i.e., front, center, and back. It enables curing over small application prints, thus prevents wastage over non-application areas.
It is integrated with a touchscreen interface with variable lamp intensity controls to fine-tune heat settings.
Conclusion:
Finally, the list of flash curing units makes it easier to choose the one suitable for you.
Moreover, before purchasing a flash curing machine, you should keep in mind the compatibility with your screen-printer. Confirm the details with respective dealers of flash curing units to supply the right product.

Do you have printers? Are those printers sitting idle?
Become a Print-on-Demand dropshipping app like Printful or Printify. Dropship your merchants' orders.
Know more