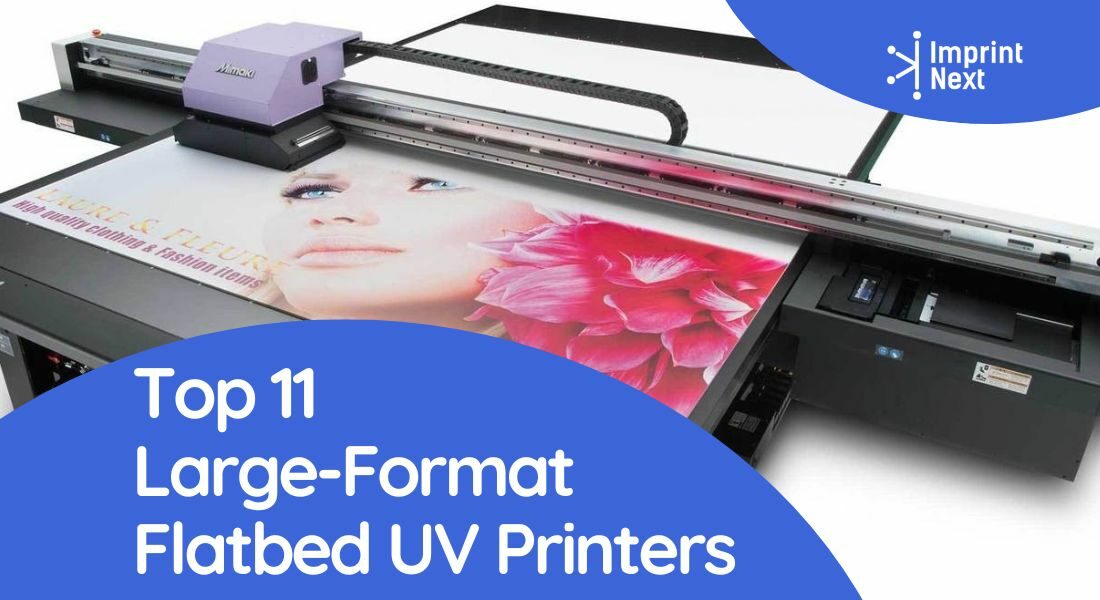 Last Updated on: 17th January 2023, 11:07 am
There are plenty of reasons that you need to buy a large-format flatbed UV printer If your current machinery is outdated or you want to upgrade your printing business including a wide range of promotional and signage products.
If you are an industry, you should finally purchase your UV flatbed printers after years of outsourcing them from a third party.
Further, you may also need a software program that each printer requires, and these brands come loaded with their RIP software, which we will be discussing below.
Of course, the most important factor for purchasing large-format UV flatbed printers is fulfilling or in most cases upgrading your printing goals. Moreover, the type of flatbed printer differs from the type of substrate.
And to get the highest quality print product, and the best value for your investment, we have provided the following features and capabilities for each printer.
Researching the best manufacturer and the UV flatbed printer models will help you select the printer for the purpose you needed. Here is the list:
1. Mimaki JFXJFX600


Do you have printers? Are those printers sitting idle?
Become a Print-on-Demand dropshipping app like Printful or Printify. Dropship your merchants' orders.
Unlimited Merchant stores. Dropship and Fulfil Merchants' orders. Manage merchant invoice, sales commission, etc. Merchants sell the designed products in shopify, etsy stores, etc.
Know more
2. Roland VersaUV LEJ-640FT
3. Ricoh Flatbed UV LED Printer
4. Canon Arizona 6170 XTS
5. X2 Flatbed UV Printer
6. Besjet Large UV Flatbed Printer
7. Flora HJII5000 UV PRINTER
8. CET Q5-500 Flatbed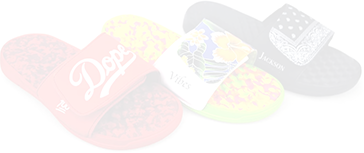 Boston based custom slide sandal maker has become $10 Million company using an online designer and unique growth marketing.
Read more
9. ColorJet UV Flatbed Printer
10. Docan H1600 UV Flatbed Printer
11. EFI Pro flatbed printer
Top 11 Large-Format Flatbed UV Printers:
If you are unsure which printer to purchase for your printing business, here we will; discuss each printer, its printing speed, dimensions, graphic quality, type of substrates, and a lot more.
The high-performance 7th generation large flatbed LED UV printer that delivers tremendous performance, high speed, and productivity for professional sign and graphics companies.
It is three times faster than all its previous variants. It has highly productive print speeds up to 200m2/h and 12.5m2/h that has a maximum print area of 2500mm x 1300mm
Crossing all printing boundaries, it can create Art Reproduction, Backlit Graphics, Signs, Displays, printing with 3D effects), ID Cards, Logos on substrates like Acrylics, polycarbonates, PVC, Glass, Aluminium, Metal,
Polyester, Foam Board, Styrene, Wood, Stone.
For operators' ease, it comes with a vacuum pedal to switch the vacuum power without the need to access the control panel on the front side.
It has a newly developed ink supply unit with multiple ink options for high-density white printing.
With a total dimension of 5.270mm x 2.800mm x 1.600mm and weighing approx. 1.100kg
The large-format Flatbed UV Printer delivers exceptional graphics that allows you to print on new substrates.
The flatbed printer has a 64"x 98" print bed that works perfectly with both thick and thin substrates.
With high-speed mode, it can print at 133 sqft/hr in CMYK
With Dual UV LED Lamps, it attains a maximum Printing resolution of 440×1440 dpi.
It can print on delicate film one job, and dense, rigid materials the next.
The UV printer is ideal for printing on standard materials like foam core, plastic, wood, glass, and metal,
Moreover, you can also print on USB drives, smartphone cases, or distinct items like guitar cases, water bottles, and more.
It is integrated with a media sensor that detects the surface height and front-end of a substrate.
The dimensions of the UV printer are (3200[W] x 3734[D] x 1207[H] mm) and weigh about 2612 lb.
With the Pro T7210 UV LEd printer by Ricoh, you tap into the profitable sign and graphics market. It is fast and efficient on substrates up to 4.3″.
With the help of twelve printheads, you can achieve the utmost productivity in printing promotional products, packaging, signs, and graphics.
It attains a maximum print speed up to 1,106 ft2/hr with low operating costs and superb image quality with a resolution of 635 × 1800 dpi
With the advanced technologies and industrial-grade inkjet printheads, you can print vivid colors up to a Print area of 6.9′ x 10.5′.
Finally, the overall dimension of the flatbed printer is 14.5′ x 12.7′ x 5.2′ (WxDxH) and weighs Under 4,916 lbs.
The large-format UV printer is ideal for a high-volume sign and displays graphics. It is best known for its exceptional print quality, speed, and versatility.
The printer has a superfast print speed of 155m2 per hour. on a 3.05 x 2.5 m True flatbed vacuum table
It uses 6-42 picolitres high-fidelity ink droplets that use VariaDotTM for superior print quality.
With a maximum print area of 51 m x 3.21 m, it supports edge-to-edge full-bleed printing.
It features Active Pixel Placement Compensation. for print sharpness and print geometry over the entire flatbed by actively mapping the table and adjusting the pixel placement.
The printer has a dimension of 5.72 x 4.82 m weighing around 1,815 kg.
The X2 UV printer is a perfect solution for those who need to print on parts up to 6" in height. It is designed for heavy-duty industrial printing and promotional products that are capable of handling a traveling fixture for consistent imaging. It is safe to use and abides by FDA regulations.
The high-performance flatbed UV printer can print a full 21″ x 25″ (540 x 640 mm) area in just 90 seconds.
It has a print speed of 12m²/hr that can print up to a maximum resolution of 1200dpi.
The six-color device has a CMYK plus two highly opaque UV LED curable white inks.
It can print detailed images directly onto unique part shapes. substrates like coasters, power banks, sporting goods
Lastly, the overall dimension of the printer is 1676.40 x 1549.40 x 1371.60 mm.
The Besjet large-format Flatbed UV Printer will change the way you do your business. It is a high-quality printer that you deserve to serve your customers with budget-friendly solutions.
The UV flatbed printer has a print size of 10'X6.5′ that prints uni-direction and bi-direction on substrates.
With high-speed mode, it can print at 175sqft/hr with various colors such as Cyan, Magenta, Yellow, Black,
Light Cyan, Light Magenta, White, Varnish
It can print on a wide range of substrates like Glass, aluminum, plastic board, wood, polystyrene board, leather, polyurethane, foam board, plastic sheet, metal sheet, textile, wallpaper, bricks, ceramic tiles, and many more.
It works with three Ricoh Gen5 on-demand piezo print heads and Onyx / Photoprint / Ultraprint Raster Image Processing Software.
The overall dimensions of the printer are Dimensions: 100″ x 85″ x 50″ and the net weight is 1700 lbs. Moreover, with a warranty period of one year
The UV flatbed printer is the best for print shops with large-scale production.
The UV printer comes with 8-16 spectra Polaris printheads of (CMYK)+LC+LM.
With an outstanding printing speed of up to 252sqm/hr, it can print up to a width of 5 meters.
It employs UV-curable,pigment-based ink that can print up to a resolution of 1400*800dpi.
The overall dimension of the printer is 810x170x210cm and weighs about 2500kg. Moreover, it also comes with a one-year limited warranty.
It features the latest Ricoh Printheads 1,280 nozzles per head.
Featuring variable dots, true grayscale imaging 7, 14, and 21pl.
With unidirectional and bidirectional print modes, it can print with a resolution of 1200×1200 dpi.
With a maximum print speed of 340 ft2 per hour, it is suitable for large-scale production
An Adjustable LED curing system allows for printing on heat-sensitive media.
Automatically detects the height of media up to 4inch thickness and calibrates print heads distance for variable dot placement and image quality.
The UV flatbed printer is the best in class, in terms of speed & resolution. It Enables high-speed printing. easy to assemble & calibrate.
The printer has an industrial-grade printhead with piezoelectric inkjet printing technology.
It has a maximum printing size of 2m x 3.2m with print resolutions up to 1200dpi. Moreover, it also comes with Onyx RIP software
With a print speed of 5 sqm/hr, it is suitable for medium to small-scale print shops.
The UV LED curing flatbed enables high-quality direct printing on almost any kind of material such as wood, glasses, leather, ceramic tiles, and much more.
The printer has an overall dimension of 4700x2660x1520 mm and weighs in a range between 1762 to 1962 kg.
Docan flatbed printer is one of the most comprehensive and innovative flatbed printers.
It has a maximum print area of 2440 x 1220mm which is ideal for facilities handling full-time industrial operations.
With UV in, it prints excellent images on various rigid media, such as glass, acrylic, wood, PVC foam board, KT board, MDF, aluminum, cellphone case, ceramic tiles, polycarbonate, polystyrene, etc.
The printer uses the Kyocera KJ4A 3,5p print head. In addition to Sai/ ONYX RIP software. you can print images up to a resolution of 604x1200dpi.
With a maximum printing speed of 165m2 per hour, it is the most suitable for industrial purposes.
The ink curing system operates with water-cooled Led UV lamps which have a longer lifetime and more silent operation.
Lastly, the overall dimension of the printer is 4880x2160x1520mm and weighs around 1962 kg.
The EFI Pro 30f flatbed printer does not compromise high productivity and image quality at a competitive price and easy-to-use.
It has a larger bed size that offers a printable area of 120 in x 80 in and bleeds printing. You can print on a substrate with a maximum thickness of 4 inches.
With a maximum print speed of 2,130 sqft/hr, it can print artwork with resolutions up to 1200 dpi over a maximum printable area of 120 in x 80 in
The powerful LED technology ensures lower power consumption, less waste, and the use of thinner substrates.
Finally, the dimensions of the printer are (528 cm x 340 cm x 145 cm) with an approximate weight of 3,200 lbs.
Moreover, it comes with one year warranty also.
Conclusion:
Fortunately, the list of 11 large-format UV flatbed printers will help you find the right machinery with a minimal investment.
All these printers are capable of printing high-quality graphics on various substrates.
If you want to go for a printer that can print using white ink, then Mimaki JFX200-2531 has greater production capabilities.
Going for maximum print speed, Canon Arizona 6170 XTS prints at a speed of 155m2 per hour.
Moreover, from EFI to Ricoh to Roland, all printers are the best in class and offer endless opportunities to upgrade your printing capabilities.
Lastly, we have researched and found a list of the best brands so that you can find the right large format flatbed printer for your business.

Do you have printers? Are those printers sitting idle?
Become a Print-on-Demand dropshipping app like Printful or Printify. Dropship your merchants' orders.
Know more