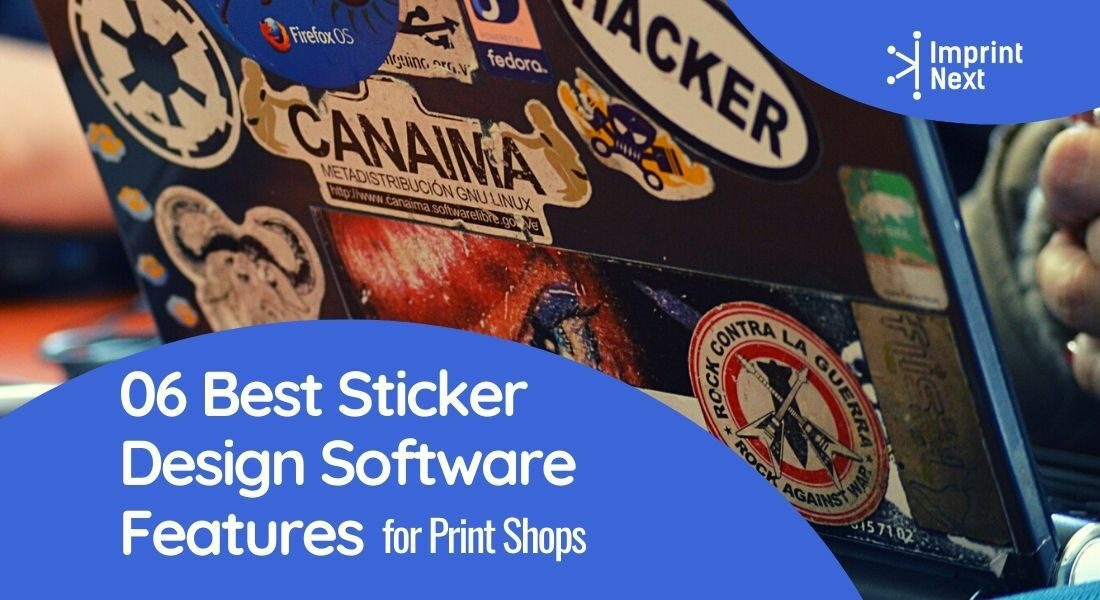 Last Updated on: 7th July 2022, 12:52 pm
Stickers are primarily used for marketing and promotion. We can say, it is mostly used by promotional product industries. They can be placed anywhere on the product in the form of slogans, taglines, names, logos, etc. Before you start applying stickers, you need to have certain programs that allow you to design stickers.
Almost every industry has been revolutionized by technology. Remember the days when you would create the design, go to the neighborhood print shop, get a few shoddy designs, modify them, and obtain the desired outcome? Well, that has entirely altered now. ImprintNext offers a web-to-print sticker design solution. These web-to-print shops use online sticker designer tools to sell custom stickers to their customers. Before we provide you with the names of the best websites where you can get stickers online, let's learn a little bit more about them.
Brief Overview of Sticker Design Software:
Web-to-print shops offer all the same capabilities as an e-commerce business, but with additional tools that let end users design or alter the product to suit their needs. When they are happy with the digital product, they can place an order.
The web-to-print sticker designer tool integrates with the webshop with all the features and functionalities required for designing and customizing stickers. The end-users choose from a thousand design attributes such as templates, clipart, colors, shapes, word cloud, etc, to create unique stickers.
Features of Sticker Designer Tool:
An exclusive sticker design maker that provides capabilities and functionalities for the customizing and designing of the stickers is known as sticker design software. It offers a top-tier quick and real-time sticker designing studio for end-users to design and evaluate before there place an order. It is also user-friendly.
The product designer app has all the necessary tools for clients to design or personalize stickers before choosing between different service providers. Without any design knowledge, end users may quickly create the sticker of their choice with the custom sticker designer. It gives DIY options that make it simple for customers to create stunning stickers for their branding requirements.
Here are the top features of the ImprintNext web-to-print sticker design solution for print shops:

Do you have printers? Are those printers sitting idle?
Become a Print-on-Demand dropshipping app like Printful or Printify. Dropship your merchants' orders.
Unlimited Merchant stores. Dropship and Fulfil Merchants' orders. Manage merchant invoice, sales commission, etc. Merchants sell the designed products in shopify, etsy stores, etc.
Know more
1. Fast & User-friendly:
Without any design experience, the product designer tool allows anyone to design stickers and labels. If you were a designer, you should have designed it in a high-end program and sent the design straight to the program for printing.
But the design tools are simple to use if you have no prior design skills. It supports all designs and concepts without imposing any additional restrictions.
2. Design Stickers in any shape and size:
Most stickers come in a variety of sizes and shapes. A decent editor can accommodate different sizes and forms. The size adjustments should be possible for you to make to your needs. Depending on your preference, you can provide the size in inches or centimeters.
Both fixed and custom sizes and shapes should be available. These two elements would simplify the design, and you could have it printed and delivered right to your door. Using text, images, clipart, or uploading different design elements and creating a bespoke pattern, custom size options enable you to create a customized design. Stickers are a fantastic marketing and customer-drawing tool, so it's crucial that the design reflects your company identity and is very professional.
3. Personalized Designs:
We use stickers to apply to a variety of objects, including notebooks, laptops, bottles, cars, and many more. However, because each of these items has a different size, you will need to adjust your design to fit the item that will contain the sticker. Therefore, the sticker design software offers all the tools you need to adjust the shapes and sizes to suit your needs.
4. Color pallete:
Each brand has a unique color palette. When it comes to reflecting the brand, you cannot just design stickers in any color. You can opt to use as much color as you like, but it all depends on how you plan to use the sticker.
The sticker designer tool has thousands of color options. You can select from a variety of color schemes and more clearly define your sticker design and logo with the aid of the sticker design application. As you would want to be very exact when designing a decent sticker, it is a major letdown if some colors are absent from the palette.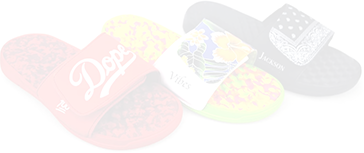 Boston based custom slide sandal maker has become $10 Million company using an online designer and unique growth marketing.
Read more
5. Design using Unlimited fonts & Clipart:
The product designer tool library must have a wide variety of font styles and clipart to help end-users build custom stickers.
If you want your sticker to be interactive, there should be enough design components already included so you don't have to create them on your own or search for them. Because you wouldn't want to spend days making just one sticker, a ready-made option also saves time. You should be able to upload any clipart or images you want to use to fully finish the design through the library as well.
6. Faster Approvals & Printing:
Most web-to-print shops have a print approval process. You're hoping for a quicker print approval process because it shouldn't take business days to accept the design you gave them before printing. Always conduct thorough research before selecting a sticker design software to determine whether it has a print approval process and, if so, what time frame you can anticipate to obtain your design.
Final Words:
Even though end users may lack design expertise, they should be familiar with some fundamental tools and have some creativity to design stickers that pose a market value.
Whether you need to design stickers for your car or notebook, the Imprinext sticker designer tool is suitable for printing die-cut stickers, labels, buttons, badges, etc.

Do you have printers? Are those printers sitting idle?
Become a Print-on-Demand dropshipping app like Printful or Printify. Dropship your merchants' orders.
Know more