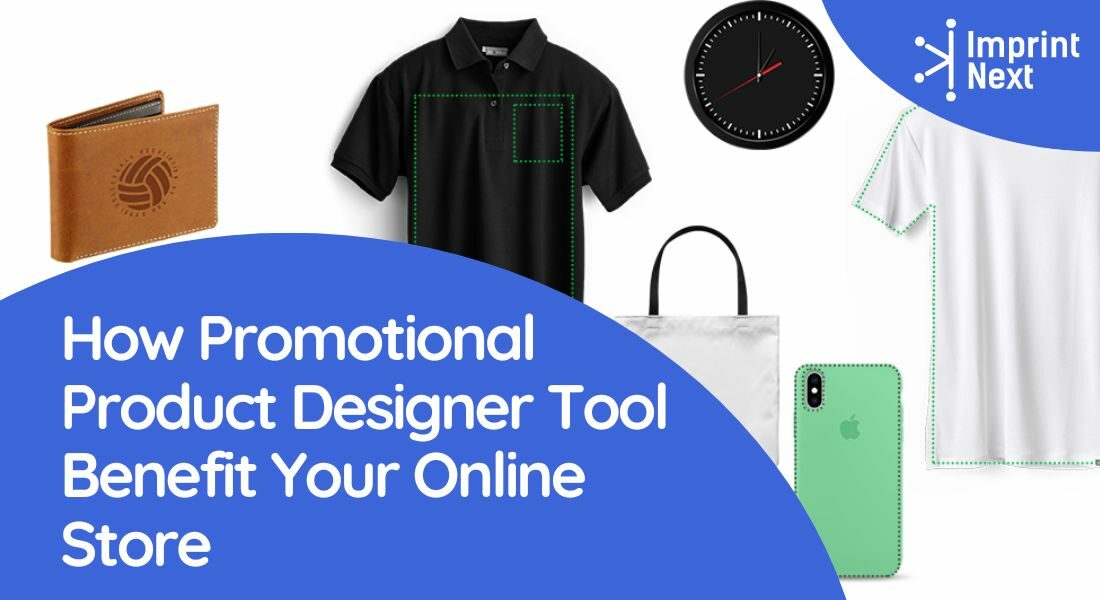 Last Updated on: 29th November 2022, 06:37 am
Among all product customization, promotional products are the most common. Many print shops offer customization of promotional products. The fact is that most customers who opt for promotional products are business organizations. They would usually need more than one products which is to be designed or customized separately. This slowly becomes a tedious and unproductive process for print shops to take orders in such large volumes from a physical store where most of the work is done manually.
Frustrated Customers:
There are many reasons why the traditional way is so frustrating to customers
Time-consuming: Businesses have to order multiple products one by one for promotional products, which can otherwise be done in a few clicks on an online store.
Lost Interest: Business organizations don't want to spend more time than they should, which is why most businesses are discouraged to shop for customized promotional products from physical print shops. Instead, they go for online promo products suppliers.
Expensive Process: Many have to spend tons of dollars on hiring designers, creating promotional products, and allowing a special team for the job. With an online eCommerce store, there is no need for designers and purchase products separately. It is achieved rather easily in a few clicks.
Cannot Make Changes: Once the design is finalized, it is difficult to make any changes if they need it. Even if they could, they have to run to the physical store again and make changes, which could be expensive and time-consuming.
Repeat Work: Most business organizations generally need customized promotional products every year and more often the design is the same for all products. With a physical store, they will have to repeat the work, which can otherwise be done easily with online stores without spending much time.
Frustrating Experience: Businesses get frustrated when they have to repeat their work and spend additional time on a simple task. It is more frustrating because the ROI from promotional products decreases when they order products from a physical store.
Cannot Have Rush Orders: In case the business needs promotional products in a rush, it becomes impossible to opt for a physical store.
Frustrated Print shops/Decorators:
Few Customer Reach: Physical stores have limited customer reach. As most customers are business organizations, it becomes difficult to make a business unless it is located in a corporate area.
Lost Sales: Prints shops are unable to reach all the businesses in the area and on top of that there are several competitors in the area which makes any business lose sales regularly.
Sales are Seasonal: Business organizations need promotional products only a few times a year when they are attending an event or trade show. This is why print shops get seasonal sales in their niche and they remain relatively ideal the rest of the year.
Unnecessary Effort to Convince Customers: Marketing becomes difficult for a promotional product printer, which is why they have to invest in sales professionals to convince their customers and prevent them from going to their competitors.
No Sales on Holidays: They remain closed on holidays and weekends, thereby losing a large chunk of sales.
Time Consuming: Before actually processing the order the print shops send and receive the designs, artwork, and other information back and forth before finalizing.
Lost Branding Opportunity: Manually taking orders often leads to miscommunication which may result in faulty prints and the customers get dissatisfied. This eventually creates a bad impression of the brand.
Swamped Art Dept:
Customer Dependency: Most businesses are unaware of the order process and have little knowledge of the print industry, which is why the art department often has to put off with the faulty designs provided by their customers.
Receive Frequent Unprintable Designs: Traditionally, the art department of the print shop is flooded with faulty designs, incomplete artwork, and unprintable low-resolution images.
Tedious Process: These incomplete designs are sent back and forth multiple times between the art department and businesses before finalizing.
All lost Orders: The tedious process sometimes discourages customers and they drop the order midway.
Lost (Sales + Time + Resources):
Lost Sales:
Print shops lose sales through multiple channels in the traditional way
Print shops lose sales because of the tough competition in the area.
Physical stores have a limited customer reach, therefore they have to make additional efforts to attract more customer
They lose customers because many companies prefer to order online to avoid the tedious process of the physical store.
Customers send low-quality artworks which after being printed they are unsatisfied with and ask for returns.
Because of the miscommunication between print shops and companies, they receive faulty images and lose branding.
Print shops have to stay closed during holidays and weekends, even though this is the time when most businesses opt to shop.
Lost Time:
There are many ways physical print stores lose time
Print shops lose time by sending back and forth the designs to customers for finalization.
Oftentimes the shop is ideal because there are no continuous orders.
The complete workflow in a physical print shop is manual, which takes up a lot of time, especially for repetitive work.
Sometimes customers are dissatisfied and ask for returns which is a complete waste of time and resources.
A big chunk of time is lost in taking and processing orders.
Lost Resources:
Physical product customizer takes up a lot of manual work for which print shops have to hire additional professionals.
Many man-hours are lost in the order process and design finalization.
Many printing inks, equipment, and resources are lost because of returned or discarded orders.
You need special professionals to explain the print process to inexperienced customers.
Lost $:
Avg. income per hour = ~$1500
Avg. income per 8 hour = ~$12,000
Potential $ lost during closed hours = ~$24,000/day
Additional man-hours to run the store = ~$3000/day
Avg. loss of money due to returns = ~$1500/day
Total avg. money lost = ~$28,500/day or ~$855,000/month
Other disadvantages of the old way are that print shops are unable to make an impression on their customers. They rarely get any time or medium to market their brand which prevents business expansion. They are always in a rush as most work is done manually so there is no organization. This, in turn, becomes a vicious loop and a tedious everyday process.
How does the Product Designer Tool Fix Your Problems?
Digital age:
80% of today's businesses prefer to shop for custom products online. This makes it very important for businesses to have a digital presence.
An online store with a promotional product designer tool enables the physical store to capture a larger audience outside its demographics. They can operate in multiple cities and can even go global.
With an online store, the print shop can stay open 24/7 and take orders even during holidays and on weekends.
Online presence facilitates businesses to market online and runs several online campaigns to reach more customers and get repeat sales.
The online designer tool typically comes with automated features and business tools that automate many repetitive works.
Businesses will be able to customize promotional products on a mobile phone without wasting time going to a physical store.
Social Presence:
With a social media presence, online print shops get the opportunity to reach up to 1billion potential customers.
Businesses have the opportunity to target marketing efforts to a specific group as per their preference.
Online stores can send their ads and messages to thousands of customers in minutes.
Businesses can connect to customers on a personal level to understand the market better.
Customer reach to multiple demographics:
Reach your business's full potential by going online and reaching more customers beyond your current location.
Go global and take orders from different time zones.
Online Business Expansion:
With an online promotional product customizer tool and eCommerce store, businesses have the opportunity to expand their business by connecting with global companies.
Online presence immediately makes a business noticeable to other businesses which increases the chances of business partnership.
Run efficient market research by connecting with potential customers directly.
With an online promotional product, customizer tool and eCommerce store businesses can easily set up multiple stores in multiple languages and themes depending on the location.
Add more products to sell online in a few clicks.
More Sales:
By now it's obvious that integrating promotional product designer tools will significantly increase your sales.

Do you have printers? Are those printers sitting idle?
Become a Print-on-Demand dropshipping app like Printful or Printify. Dropship your merchants' orders.
Unlimited Merchant stores. Dropship and Fulfil Merchants' orders. Manage merchant invoice, sales commission, etc. Merchants sell the designed products in shopify, etsy stores, etc.
Know more
With an online promo product tool, customers will be able to design their products by themselves in the comfort of their homes. This way they will value the product highly and there will be little chance of refunds and unhappy customers.
Customers love the interactive interface which enables them to customize their promotional product easily therefore they will have a positive impression of the brand and the business will get repeat sales.
With an online store, print shops are open 24/7 which is why they can accept orders during holidays and off-times.
Boost sales with online campaigns such as email campaigns, Google ads, social media ads, etc.
Print shops can up-sale and cross-sale other promotional products online to their customers, which is not possible with physical stores.
More Productivity:
Integrating an online promotional product customizer automates most of the repetitive work which speeds up the order process and production and even makes it efficient.
Because it has little human intervention, there is less chance of human error.
You can integrate third-party business tools and apps with the promotional product designer app to increase productivity.
An online promotional product designer has a virtual sample creation feature that enables customers to visualize their logo and messages on multiple products at a time. This makes the order process faster and allows up-sale and cross-sale.
Features such as low-resolution warnings enable businesses to quickly resolve the issue of faulty images. As everything is online it eliminates the lengthy process of sending back and forth the designs.
Pricing, taxes, and shipping are already in the store, which eliminates any misunderstanding between the print shop and the customer.
Printers get print-ready files that are well organized to make printing easier.
Customers get a real-time preview of the finished product for which there is little chance of returns and unhappy customers.
Time-on-site: Customers spend more time browsing online stores that integrate promotional product designer tools.
Increase in order value: The average order value per customer increases by 20%.
Repeat customers: Online stores with product designer tools receive multiple repeat customers.
Build a relationship: As customers create their design, the brand gets to interact more with the customer thereby building a strong customer relationship.
Fewer Resources:
With an online promotional product designer tool, most of the work is automatic and you need less manpower.
You don't need additional professionals to explain the printing process to customers as the online process is self-explanatory.
With the option of online branding, you need a few field marketing professionals.
More $
Avg. the income per hour = ~$4500
The avg. income per 24 hour = ~$108,000
Avg. loss of money due to returns = ~$1500/day
Total avg. money earned = ~$93,000/day or ~$2,790,000/month
Single/Bulk Orders:
The promotional product eCommerce app comes with a quotation feature to enable bulk orders.
Online stores receive both bulk and single orders round the clock.
The online promotional product customizer tool automatically produces print-ready files which makes production easier.
Automate the process of taxes, and shipping, with integrated apps.
Happy Customers:
Customer loves the shopping experience for which print shops get more repeat sales.
Easy artwork approval makes ordering hassle-free and fast.
Businesses create exactly what they want, hence they would value their product highly.
It takes little time from design to production.
More satisfied customers mean fewer returns and less wastage of resources.
No Artwork Mistakes:
Low-Resolution Warning – Promotional product designer tool automatically notifies customers if the uploaded image is unprintable.
Customer communication portal – It directly connects the production team to the customers to help them finalize the designs.
Artwork approval – It speeds up the process of finalizing the artwork before production.
Better reviews:
Enable customers to leave positive reviews on your online store.
Happy customers leave positive feedback which becomes a type of branding on its own.
Show your customer testimonials to new customers.
Give Your Customers a Better Shopping Experience:
Promotional product designer tools are also mobile-responsive which makes it easier for the customers to customize even on the move. It increases customer experience multiple times because they can visualize their creation and even see real-time changes. Take your customers from product selection to customization and then to checkout in fewer clicks.

Do you have printers? Are those printers sitting idle?
Become a Print-on-Demand dropshipping app like Printful or Printify. Dropship your merchants' orders.
Know more