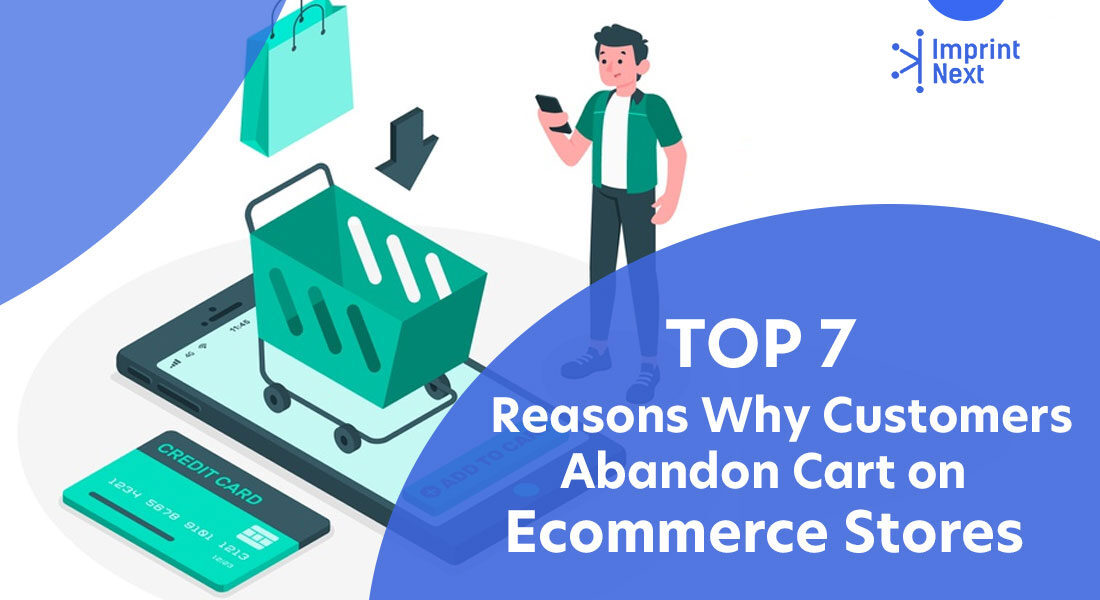 Last Updated on: 27th December 2021, 07:17 am
How can you reduce cart abandonment when you don't understand why customers abandon carts. We've come up here with the top 10 reasons for cart abandonment. We will also provide you with ways to reduce your cart abandonment and recover sales.
Cart abandonment is one of the primary reasons why eCommerce stores lose sales. On average, eCommerce stores lose nearly 75% of their sales to cart abandonment. In contrast, other industries experience as high as 83% of cart abandonment.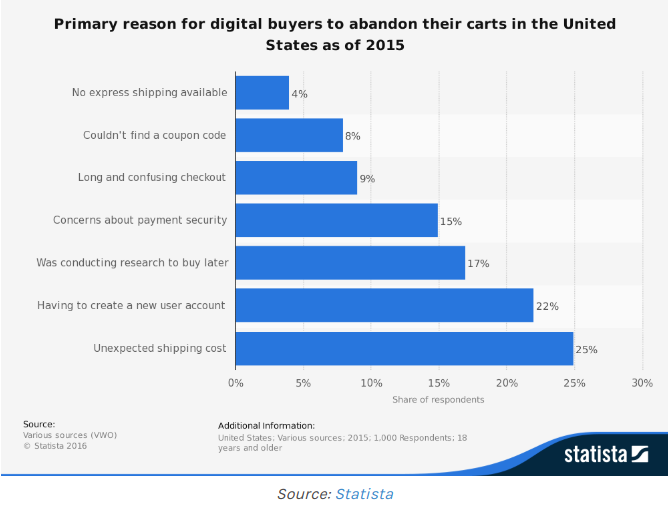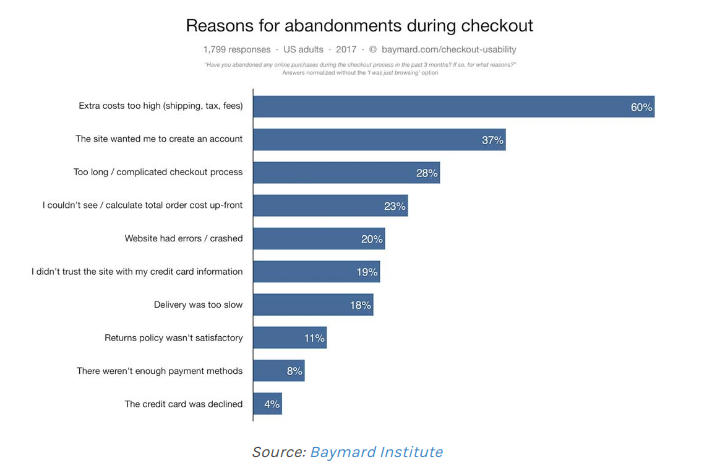 Here are the probable reasons behind cart abandonment:
01. Unexpected shipping cost:
Hidden costs are the primary reason why visitors leave without purchasing. Nearly 30% of customers cited shipping costs as the primary reason behind cart abandonment. You should pay attention to the hidden costs such as taxes and other charges, which need to be mentioned during the purchase process.
When presented later at the end of the purchasing process, these costs create immediate annoyance and irritation. It may even feel consumers feel remorse for purchasing. The solution would be to fully disclose expenses which is why transparency is highly valued by shoppers and is essential for the store's success.
Another way is to bundle the extra cost of the shipping into the product and offer free shipping to the customers. Statistics have found that free shipping is critical to 73% of customers to make a purchase and will encourage 93% of shoppers to buy more online.
02. Mandatory to create a new user account:
Customers look for convenience, and many are not comfortable creating a new account; maybe they are here to buy a single product and are in a hurry. Many customers want to shop online like they shop in-store; they want to pick their product, pay, and leave. Spending more time than expected is an essential source of friction.
More than 20% of cart abandonment happens when the customers are required to create a new user account. The solution is obvious; don't force first-time buyers to create an account. Therefore it is wise to include guest checkout.

Do you have printers? Are those printers sitting idle?
Become a Print-on-Demand dropshipping app like Printful or Printify. Dropship your merchants' orders.
Unlimited Merchant stores. Dropship and Fulfil Merchants' orders. Manage merchant invoice, sales commission, etc. Merchants sell the designed products in shopify, etsy stores, etc.
Know more
03. When customers decide to buy later:
Sometimes customers check out various products or the same product across multiple stores, looking for price, quality, shipping, and other special offers. The cart abandonment cannot be avoided, and there is simply nothing you can do.
It is common for people to exit the store to come back later to make the purchase, and many do come back and make the purchase. There is no particular solution for this type of cart abandonment. However, if you know that they are comparing prices, you could provide a price match guarantee pop-up to secure your customers.
04. Concerns about payment security:
Payment security is the primary concern among customers who abandon the cart. Significant causes of suspicion include poor web design, old layouts, missing images, no SSL certificate, etc.
The easiest way around this problem is to provide various social proof to assure customers that you are a trustworthy store. Include customer testimonials, product reviews, endorsements, etc.
05. Long checkout process:
Long and confusing checkout processes are at times annoying to customers. When they are presented with extreme forms, it is natural for them to bail out.
The core problem is a poor shopping experience, which results in 28% of shoppers abandoning their carts. The solution is to limit the number of screens, streamline site navigation, and reduce the purchase completion time.
06. When they don't find the coupon code:
Many come to your website only because they have a deal or a coupon. They couldn't find the coupon they were looking for. They will go and look for their product elsewhere. Nearly 10% of the customers abandon their cart because they couldn't find the coupon code they were looking for.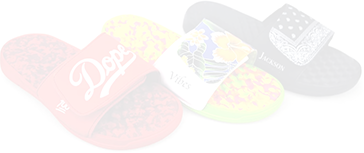 Boston based custom slide sandal maker has become $10 Million company using an online designer and unique growth marketing.
Read more
This can be solved by integrating the coupon code in the purchase process itself. Or you can use emails and pop-ups to give them the coupon code.
07. Sluggish Website:
Nothing can hurt you more than a sluggish website, has glitches and freezes during the buying process. Website errors crashes and load times are a major deterrent in the completion of the purchasing process. The solution is simple: you need a professional-looking website with cutting-edge design, layout, and security.
Plus, it has to be hosted from a reliable server to take multiple concurrent logins across the globe and be mobile-friendly.
Conclusion:
You must remarket to customers who abandon their shopping carts. The steps above will help reduce shopping cart abandonment. Remarketing helps you bring back the perspective, although you lose your way.
Related Questions:
Why is it good to have shopping cart abandonment?
Shopping cart abandonment lets you build a personal connection with your customer through email, call, and reward programs with the hope of bringing back customers who left just browsing your website. Additionally, it improves your skill and knowledge to upgrade your services as per the needs for a better consumer service.
What percentage of consumers don't abandon shopping carts?
About 31% of online users don't abandon shopping carts. Provided you have a good and reliable eCommerce service.

Do you have printers? Are those printers sitting idle?
Become a Print-on-Demand dropshipping app like Printful or Printify. Dropship your merchants' orders.
Know more