Last Updated on: 13th January 2023, 01:38 pm
Custom flags are great promotional items to display your brand, products, offers, etc. if you are in a trade show, exhibition, or running a shop. They are essential, economical, and attractive and can bring your message across in the best possible manner. If your store is situated in a busy city, it is highly essential to get your ads put up in a position where customers can note the product in the best possible manner.
Moreover, when you sell custom flags, you attract visitors to your store as they could personalize with names, numbers, designs, etc., that you print and sell them. The best possible way is to integrate a flag design software, and most probably, ImprintNext has achieved developing such a product designer tool.
It will have your cash registers rolling in an instant! You may be wondering how other retailers used outdoor ads to send a message. A manufacturer of flags may create individual flags and banners to suit your tea requirements. However, your manufacturing facilities need not be visited or long forms completed; most of your customers use their quick and easy-to-use online ordering system.
It would help if you never wasted time or get embroiled in publicity in this modern age of advertisement and marketing. It is instrumental in meeting as many people as possible in the shortest time and will encourage you to notice many people.
This is within your budget and will allow more customers to appreciate and know your product quickly. This is also the perfect way to meet the target market. New ideas that are creative and helpful to make your product visible on the market are crucial to creating.
Tips to Sell Custom Flags in Online Store:
Follow the steps below to increase your selling prospects of custom flags in your online store.
1. Choose the Supplier of Blank Flags:
You need blank items of all types to customize to sell your products in your shop. Therefore it is essential to find out from your neighbor or online the best supplier partners you can work with to get all goods you sell without any hassle.

Do you have printers? Are those printers sitting idle?
Become a Print-on-Demand dropshipping app like Printful or Printify. Dropship your merchants' orders.
Unlimited Merchant stores. Dropship and Fulfil Merchants' orders. Manage merchant invoice, sales commission, etc. Merchants sell the designed products in shopify, etsy stores, etc.
Know more
When selecting the supplier partner for white products such as Teardrop flags, rectangular flags, Feather flags, air dancers. etc., ensure that they are reliable and familiar with your business.
If you want blank t-shirts in the USA, for example, you can buy blank t-shirts in bulk from a range of wholesale flag suppliers.
2. Calculate Your Budget:
You can now determine which flag to sell since you have an idea of the number of flags.
You can first choose the types of little flags in value, such as Teardrop flags, rectangular flags, flags of Feather, and air dancers.
Also, costs to set up the store – offline, online, or a hybrid model need to be considered. Although an online company can cost less, it can cost you more in an offline business as you need a physical site in an obvious sector.
Thirdly, the cost to purchase applicable licenses and permits depends on your business model. You can need permissions such as an Offline and Online business license, a vendor's license, an employer identification number (EIN). To learn all these licenses and the expected costs, contact your nearest county clerk and consult a lawyer.
3. Know Your Competitors:
You cannot succeed if you do not understand the potential of your "rivals" or competitors! Therefore the rivals still study well in the industry.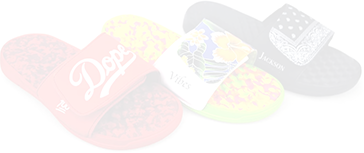 Boston based custom slide sandal maker has become $10 Million company using an online designer and unique growth marketing.
Read more
The explanation is that they are "brands," and at least at this time, you are actually the retailer dealing with those "brands."
Then what do I do? Be patient and strive – right and consistent.
Begin by considering those national retail stores dealing with personalized flags, etc. Create awareness among the public by offering them products at a nominal cost, meeting consumers' expectations, and achieving your position among the top sellers. You will then determine which items to start with and which prices to retain for them.
Once you have made it big in the domestic business, go for competing against global brands. Again first evaluate it instead of emulating it. To get a better view of where you are on the worldwide market, assess your products, price points, discount and pricing plans, and marketing strategies. Start by offering a product for international customers after a thorough review.
4. Offering Custom Feather Flags:
What if you allow your customers to write a quote or design on their own flag. Yeah, by incorporating an online product design software in your shop, you can give them freedom of personalization.
You would be able to add their individual preferences by converting your e-store into a personalization studio. When a product design software is integrated, a client can see a 'Customize' or 'Design' button on the product page, redirecting the client to the design page by clicking.
After landing on the design page, customers can avail of many customization options, including templates, clipart images, advanced image or text effects, filters, and more that can fully suffice customers' personalization needs. Customers can also preview the final design to understand how it would look before checking out to order the custom-decorated product.
5. Automate Your Print Job:
You should be able to manage custom printing effectively once an order has been placed. The automation of print jobs is, therefore, nowadays in high demand. If a successful print job manager is integrated and can help handle print jobs on different platforms, the work can be quicker and more comfortable.
Quickly obtain orders, workflows, and jobs identified, orders generated, jobs planned, controlled, monitored, and finished with a digital print job management system for final deliveries.
To achieve high customer loyalty, you would not only be able to achieve a more extensive loyal base with an integrated print workflow.
6. Inventory Management:
There are different inventory management systems. The two standard systems are vendor-managed inventory and in-house inventory management. Let's talk one by one about the two.
Inventory management is an aspect of the industry that you cannot stop. The two most common ones are a vendor-managed inventory system and an internal stock system from different inventory management systems.
Vendor Controlled Inventory ( VMI) is an inventory system in which a vendor or supplier manages your online shop. A vendor-managed inventory system has many advantages.
On the other side, you have to look after everything from ordering supplies, storing them to sending them to consumers if you opt for an internally based inventory management system. In general, the cost of handling your stock can be very high.
You can then use the VMI system if you want to save inventory costs. This model has helped even world-class retailers such as Walmart.
As for shipping management, instead of operating with a simple shipping service provider, you can opt for a dropshipping solution. A drop shipper provider will not only dispatch the ordered goods on your behalf but will also be responsible for the costs of distribution and returns (if any).
7. Online Marketing:
It's time for online marketing of your e-commerce store once you're officially launching your company. To improve web traffic and attract customers via social media, you can promote your store, update your company listing, marketing newsletters, blogs and discussions, and more. It allows your brand to grow organically, and free publicity is essential. But you can go for paid ads when you are looking for fast results.
Quality and promotion are all part of a company's growth. Regardless of how good the goods are, without people's notice, you cannot sell. Therefore it is essential to market your company and products effectively.
Digital marketing: It includes the amalgamation of on-site (content optimization, UX, the pace of website, etc.). Marketing off-site (social media marketing, guest posts, forums, Quora marketing, etc. PPC marketing.
Working with major retailers such as Amazon, Etsy, eBay, etc., to sell your custom handbags improves traction and publicity.
Promoting your brand through big offline players and dealers in the neighborhood to make you notice more people. your business
Influencer Marketing – Influencer  Marketing is popular and some of the most preferred marketing techniques. Whether it's electronics, clothing labels, shoes, or bag brand names, marketing influencers have been among the most common tactics to inspire them.
You can promote your business through famous bloggers and videos. If customers are confident that your brand is of high quality, they will undoubtedly visit your stores and purchase your items.
You may also make pay alliances or sign up for celebrity offers.
8. Ready to Sell:
Custom flags are not just style statements but also great promotional tools.
You are sure to attract a wider audience by including custom hoodies in your clothing business. And big profits are going to result in the new company's tremendous success.

Do you have printers? Are those printers sitting idle?
Become a Print-on-Demand dropshipping app like Printful or Printify. Dropship your merchants' orders.
Know more