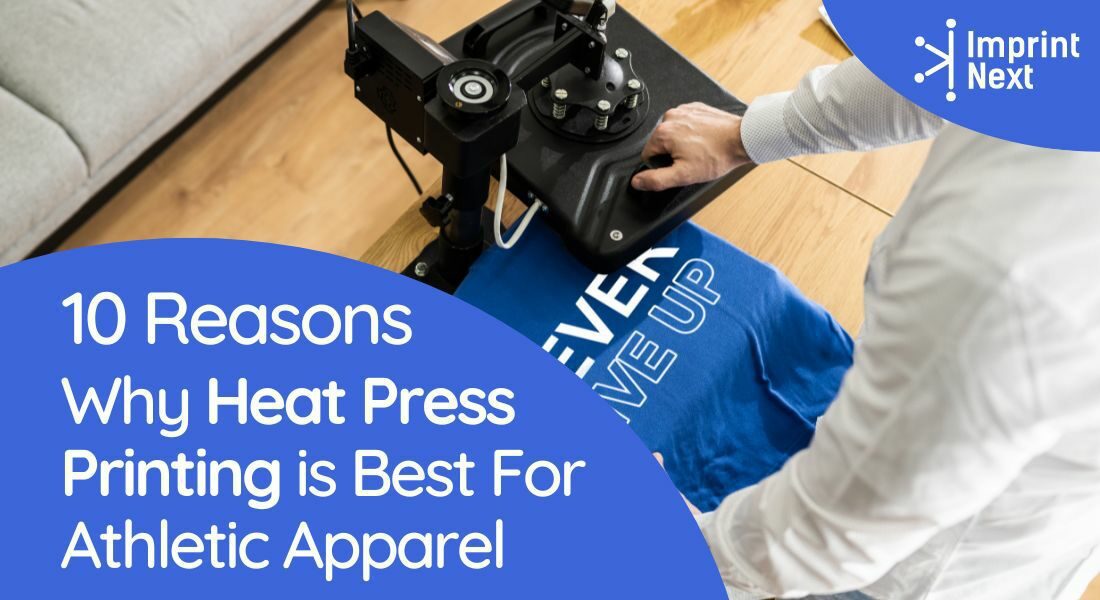 Last Updated on: 24th November 2023, 09:26 am
The use of heat press printing to number athletic apparel is an important element of the business for garment decorators in this small sector. Athletic authorities also have laws that specify a fixed number of positions, as well as their measurements and colors, and they have the authority to assign other athletes to those positions.
It's critical to have easily readable numbers.
Adding numbers to the team uniform can be done in a variety of ways, including screen printing, application, sublimation, screen printing, printed / cutting, and vinyl cuts.
You'll need to agree on the "right way" to number uniforms due to the benefits and drawbacks of each method. As a result, knowing where each method succeeds is crucial. Let's take a look at the advantages and why a store could opt to use it as their preferred numbering system.
10 Benefits of Heat Press printing for Jerseys:
1. Screen Printing is costly:
Consider the printing options available on the screen. There are two types of screen printing presses: manual and automatic. Both have minor operational and process variations, but they also have some aspects in common. To print text, names, and numbers on the artwork, you'll need a screen with a stencil. To put it another way, keeping the screens and providing a variety of typefaces in various sizes necessitates the expenditure of resources and space. The majority of retailers prefer to merely destroy the numbers once and maintain all of the displays.
Some screen printing techniques require a separate screen for each number, while others can fit 5 or more digits on a single horizontal screen.
Inventory, on the other hand, is a requirement. In popular sizes, there are eight typefaces: 4, 6, 8, and 10. 288 displays would be required.

Do you have printers? Are those printers sitting idle?
Become a Print-on-Demand dropshipping app like Printful or Printify. Dropship your merchants' orders.
Unlimited Merchant stores. Dropship and Fulfil Merchants' orders. Manage merchant invoice, sales commission, etc. Merchants sell the designed products in shopify, etsy stores, etc.
Know more
If all eight typefaces had a color outline for a two-color look, the overall screen count would be doubled. This does not make screen printing numbers unreasonably expensive, but it does demand initial and ongoing capital for scaling equipment and selection.
2. Heat press is simple and cost-efficient:
The process of heat press printing numbers is a straightforward one that many businesses execute on the production floor or in the office.
This is the primary reason why many sports organizations choose heat printing as a technique of embellishment. Instead of housing screens, decorators typically employ vinyl-cut or screen-printed transfer numerals.
In the vinyl-cut workflow, pre-cut numbers can be ordered or cut on-demand with a vinyl cutter. A graphic design program can give a designer digital access to millions of fonts.
A decorator can get the look and feel of plastisol-ink while ordering numerals that are already printed on a transfer sheet by employing screen-printed transfer numbers.
The decorator places orders with the transfer manufacturer's other sports clients while the screens are still being burned and held in the process.
This equates to more font options without the inventory.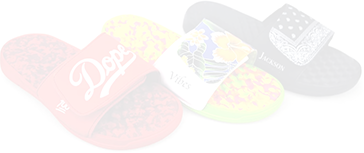 Boston based custom slide sandal maker has become $10 Million company using an online designer and unique growth marketing.
Read more
3. Easy Space Management with Heat press:
To begin, heat printing numerals only take up a modest amount of room.
It's a spotless operation with multiple organizations collaborating on a manufacturing or office floor. The majority of the projects require only a heat press to finish.
4. Requires less skill & knowledge compared to Screen Printing:
Athletic uniforms are made of a variety of fabrics, each with its own set of challenges.
Screen printing on these materials requires specialized inks and chemicals, as well as a high level of expertise. Thermal printing contains the chemical.
To address today's jersey printing challenges, there are a variety of adhesives and compositions for screen print transfers and vinyl stencils.
5. Silicon-based heat transfer for polyester jerseys:
For example, a decorator can use a silicone-based heat-transfer film to print bleed-prone polyester jerseys without the headaches of screen printing silicone.
To address the demands of ecologically conscious consumers and major sporting companies, new water-based technologies are being created in significant numbers.
When printing on synthetic textiles, water-based ink becomes more difficult to utilize.
It becomes much easier to work if the decorators utilize a heat press to apply for water-based transfer at the proper time, temperature, and pressure.
6. Easy to apply individual player names:
While some teams still do not include player names on their uniforms, the majority do as part of the typical back ornamentation above or below the number.
Heat printing can be used to print individual player names.
7. Clean and eco-friendly:
Screen printing generates a significant amount of waste, whereas heat presses do not. Because screen printing needs the use of a significant amount of chemicals, as opposed to heat press printing, which does not.
The heat press produces high-quality prints because it uses specialized ink for advanced graphics software packages. It also makes your work more versatile and convenient.
8. Use multiple colors with heat press:
Unlike screen printing, which only enables you to use one color at a time, heat press printing, particularly vinyl transfers, allows you to print many colors on your clothes.
Furthermore, the heat press is low-cost and easy to set up, making it suitable for usage at home. In contrast to screen printing, which requires a specialized workspace as well as considerable setup and setup, digital printing does not.
9. Using Vinyl Cutters in Heat Press Printing:
Vinyl cutters can process materials swiftly enough to complete an entire lineup in a matter of minutes. These names can then be heat-applied to the jersey, often in conjunction with the number.
In this scenario, heat printing makes sense because most decorators want the name and number to look, feel, and be the same color.
10. Suitable for all types of orders:
Orders should be placed in bulk whenever possible. You'll keep losing customers if you're finicky about accepting orders based on their value.
As a result, a heat press is profitable even if you receive fewer orders from a client. This is not the case, however, in the case of screen printing. If you don't want to lose money, you must take orders in quantity.
Conclusion:
As a result, if you're selling athletic clothing, thermal printing is your best bet. It has been a favorite choice for team decorators for decades.
Whether it's a flagship store for an arena fan shop, a sponsored tour squad, or a seamless customer experience, many of the world's most well-known firms are already experiencing the benefits.
All that is required is a heat press.

Do you have printers? Are those printers sitting idle?
Become a Print-on-Demand dropshipping app like Printful or Printify. Dropship your merchants' orders.
Know more