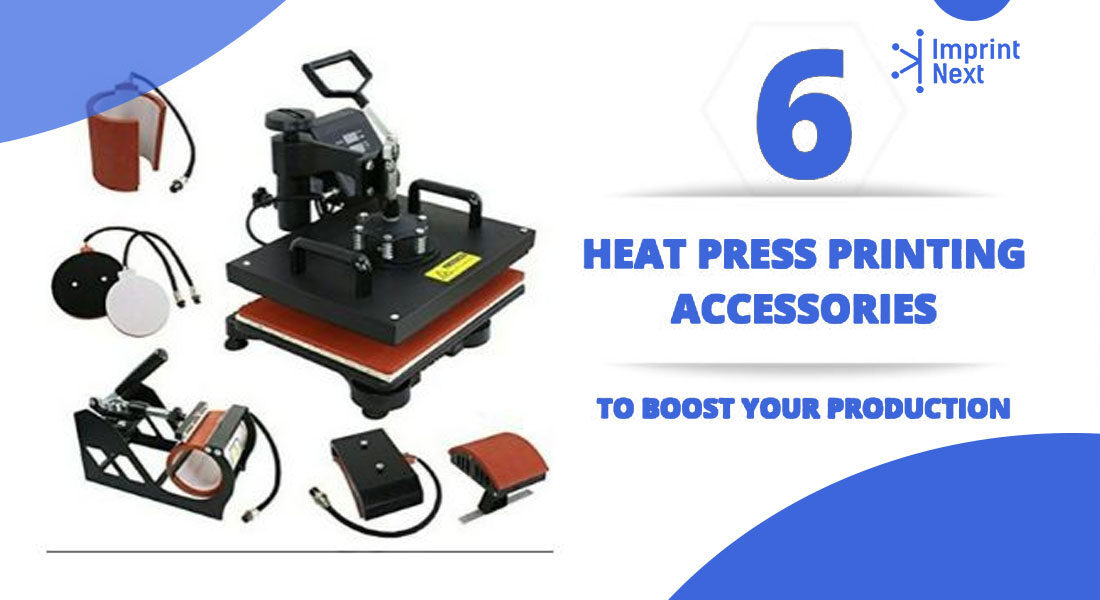 Last Updated on: 26th November 2021, 09:46 am
Being new and without using heat-press accessories, you may face many issues in setting appropriate time for heat application, temperature control, and pressure. You may also wonder about fixing a price for your service that makes a profit.
No worries! If your a heat press newbie or a veteran, you always find something to learn never known before. Similarly, this blog introduces some new techniques and solutions to heat printing challenges that will make the process easier.
There are various solutions to overcome the challenges that come with garment decoration. You may find the attachments and accessories from a local store to overcome your challenges, whether fixing elevated-carts to laser-alignment systems.
6 Essential Heat Press Accessories To Boost your Production:
Protect your heat press equipment, ease in the production process, keep your machine running smoothly and print beautiful designs with ease. You must include the following heat press materials on your wish-list:-
01. Fix a Stand Below the Heat Press:
Stands are required to fix the heat press's vertical height, thus preventing you from bending and reducing fatigue on your joints.
Especially if you require more flexibility and mobility in your production area.
Thus, while purchasing a stand, you must ensure that it is designed to fit your heat press in terms of size and sustain weight.

Do you have printers? Are those printers sitting idle?
Become a Print-on-Demand dropshipping app like Printful or Printify. Dropship your merchants' orders.
Unlimited Merchant stores. Dropship and Fulfil Merchants' orders. Manage merchant invoice, sales commission, etc. Merchants sell the designed products in shopify, etsy stores, etc.
Know more
02. Use platen covers:
Platen covers are essential to cover the plate that improves the platens and improves efficiency while printing athletic clothes like jerseys.
Suppose you are using a threadable press, use a non-stick lower platen cover that allows the garment to rotate both sides easily. Thus, ensuring heat press on both sides of the garment without removing it.
Even if you are using non-stick platens in place of non-threadable ones, putting a garment and taking it off the press becomes easier.
However, silicon pads won't worth it as you spend a lot of time covering and uncovering silicon pads that ultimately cost your time and profit.
Therefore, platen covers play an essential role in improving the press's versatility, making it easier to print on handbags, caps, etc.
Platen covers prevent the base pad from wearing off the corners.
Save your heat-press pads from garments by keeping the platen cover between both, ensuring protection and cleanliness.
Upper platen covers protect the pads from chemicals, emulsions, adhesives, etc.
Most importantly, the upper platen cover protects the heat pressing elements from rust due to atmospheric moisture.
03. Application Pads to print irregular surfaces:
If you are printing a bag, cap, footwear, etc., you must protect buttons and zippers for heat press. Therefore, flexible application pads are great for protecting and preventing the application of heat press undesirable areas.
For heat press on thicker materials, you may apply more heat for an increasing period to penetrate the print into the thicker material. Thus, application pads and heat printing pillows are essential to prevent heat application over sensitive areas.
However, some manage using cover sheets, but it can decrease the heat application by 20 – 25 degrees, which will not give you proper temperature to apply for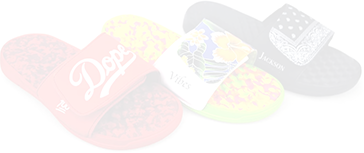 Boston based custom slide sandal maker has become $10 Million company using an online designer and unique growth marketing.
Read more
04. Adjustable platens for irregular surfaces:
It may be challenging while pressing irregular sized items like bags, caps, etc. However, manufacturers have gone a step ahead to offer variable-sized platens designed for specific object printing applications.
Therefore, the all-in-one adjustable platen can be used for various shapes by changing their size configuration.
Take an example of adult and kids apparel, bags, etc. As the item size differs for both, you need two different platens to suffice the same. Instead of wasting time trying to adjust your heat-press, use adjustable platens for quick and easy applications.
Moreover, you can also use interchangeable platens to print over unusual places like sleeves and chest(left or right) areas with ease.
Interchangeable platens also eliminate the need for pillows and other equipment to print on irregular surfaces through heat transfers.
If you are screen printing a garment, do not use heat printing pillows.
05. Use Lazer alignment helpers:
For design positioning, the registration requires proper layout tools like rulers, T-square tools, chalk, etc.
However, in terms of accuracy and consistent positioning, use a laser alignment system to better position for every heating job.
Once you set up the system, you no longer require other tools, thus reducing the burden of repeated checking and improves efficiency.
06. Reduce Weeding time with Weeding Helpers:
Everybody wants to save time and money and run a profitable heat press printing business. So, you must make the best use of your materials and weed your design faster and efficiently.
Therefore, using heated weeding tables and panels reduces weeding time in the HTV process.
You may also weed using a tweezer or knife, but it can be tiresome and time-consuming compared to using a weeder.
Wind-up:
Moreover, the attachment of such heat press accessories to your machine increases productivity, efficiency and saves time and money in the long run.
Tools like laser alignment systems, weeders, etc., will help improve workflow and ease in the production process.
Use stands and carts specifically built for your heat press to easily access them and organize your shop.
Use platen covers to protect your equipment from damage and rust using high-quality platen covers.
Related Questions:
How to print an image on any product you want?
Heat Transfer Printing technology is the solution to print an image on any product. For personal use, you need heat transfer presses and get a large format printing machine for industrial purposes.
What is the optimum temperature and pressure required for a heat press?
Standard transfer temperature should be within a range of 375° to 425° F under a pressure range of 276 to 552 kpa.
What materials can you heat press?
It is unsuitable for heat press except for plastic or rubber-like materials that melt or change their property upon heating. Therefore, you get an endless list of heat press items like T-Shirts, Ceramic Tiles, Mugs, Caps, Tote Bags, Lettering, Numbers, Rhinestones/Crystals, wood, metals, fabric materials, etc.
 What are the types of inkjet printers?
There are two types of inkjet printers- namely Piezo type printers & Bubble Type printers. Epson printers are piezo type, whereas Canon and HP printers are  Bubble Type.

Do you have printers? Are those printers sitting idle?
Become a Print-on-Demand dropshipping app like Printful or Printify. Dropship your merchants' orders.
Know more