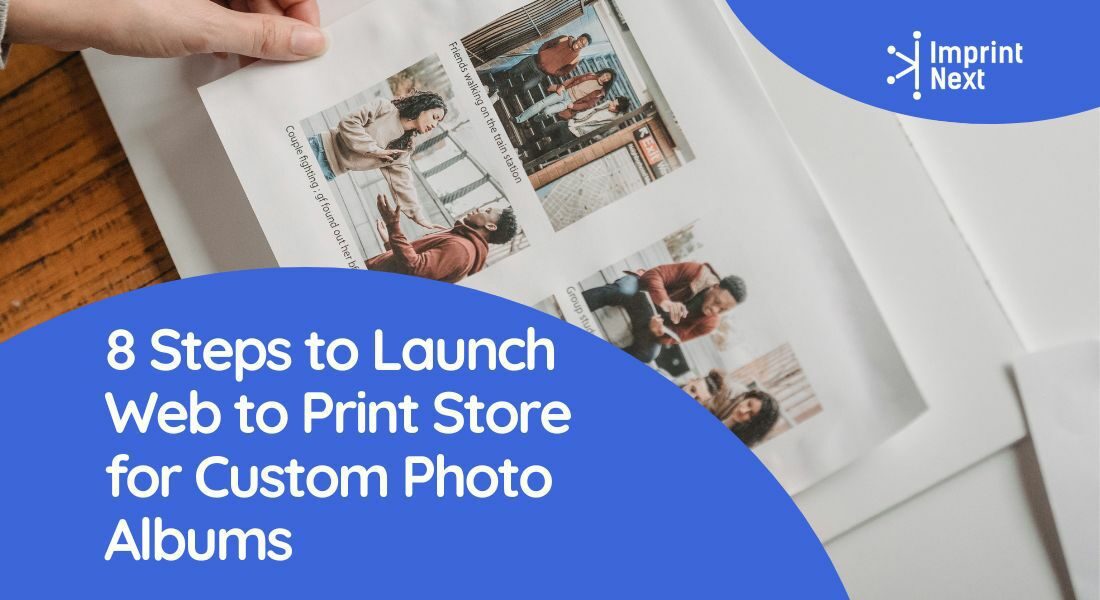 Last Updated on: 22nd August 2022, 12:39 pm
To successfully sell custom photo albums online, a print shop needs to carefully consider many details like printing the cover, photographs, previewing, and many other factors.
People want to save their most precious memories in personalized photo books, especially for major life events like weddings and children's birthdays. Users can make complete photobooks online thanks to modern web-to-print technologies. Customers don't have to send a tonne of photographs to a printing facility and exchange endless design revisions.
Instead, use web-to-print to enable your clients to purchase personalized photo book albums online. Although this technology has the potential to completely transform your business, it's crucial to lay out the personalization strategies so that users can place orders more easily.
Steps to Launch Web to Print Store for Selling Custom Photo Albums:
A photo book is a multi-page print product with a design process consisting of multiple discrete stages: designing a cover, uploading photos, previewing, and other phases. The web-to-print program must be dependable enough to process all the data because individuals upload multiple visual elements.
1. Use Pre-designed or Create Your own Template for Photobooks:
The online catalog is typically where the client's journey on your website begins. You can create photobook layouts and organize them by style, topic, or purpose to make navigating easier.
These albums can be organized into categories such as weddings, welcoming a new baby, families, vacations, and other events. With ImprintNext photo album design software, offer a pre-designed template as an alternative to give your customers the freedom to design their photo albums any way they choose. Moreover, Consider won't need to have design skills to modify and customize photo albums.
2. Designing the Cover:
Users can select the photobook cover during the initial customization stages by adjusting choices like the material type, colors, or form. There are many different photobook cover layouts. The ideal fit for your client depends entirely on your technical prowess and creativity.

Do you have printers? Are those printers sitting idle?
Become a Print-on-Demand dropshipping app like Printful or Printify. Dropship your merchants' orders.
Unlimited Merchant stores. Dropship and Fulfil Merchants' orders. Manage merchant invoice, sales commission, etc. Merchants sell the designed products in shopify, etsy stores, etc.
Know more
For instance, your customers might prefer a cotton cover with a nameplate or an eco-leather cover with embossing. Even rare materials like wood or acrylic might be offered for photobook covers.
The album title can then be updated with the names and other details of your consumers. You can apply an interface that forbids changing design components if you don't want users to alter things like the font, size, or title position.
3. Allow Users to Upload Images:
Nowadays, a lot of people keep their images outside of their camera rolls, such as on social media. The web-to-print software enables users to upload images from their system or social media directly into the product design studio. Integrate external image sources with your web-to-print technology to enable this feature.
Consider that after a special trip, your clients are customizing a photobook. They could want to include some expert photos of locations from a photo bank in addition to their own photos.
The product design software is compatible with various devices, such as smartphones or tablets, for user convenience. Your customers will be able to use just a smartphone to upload their photos directly to the editor.
Moreover, the auto resolution checks whether the image resolution is appropriate for printing. As a result, it ensures the comes out to be bright and clear, leaving all possibilities of color fading and blurred.
4. Layouts and placeholders:
Layouts and placeholders might help your users as they develop their stylish photobooks. The number of photos and how they are arranged on a page spread are determined by the layout. Allowing consumers to alter the layout for each spread, choose a backdrop color or pattern, and add some captions to share their narrative will engage them more in the personalization process.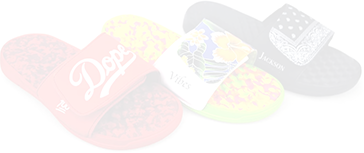 Boston based custom slide sandal maker has become $10 Million company using an online designer and unique growth marketing.
Read more
Customers can add their photographs to ready-made placeholders. Users can place their images in these unique elements, which come in a variety of shapes. Placeholders don't always have to be rectangular; they can also be circular, oval, or square. Moreover, they can customize using various pre-designed shapes.
5. Intuitive Design Process:
Give your customers the option to resize, rotate, or apply filters to objects. Alternately, impose limitations and prohibit certain features to avoid causing design harm.
To make the design editor interface more responsive and user-friendly for users, you can add additional tips to it.
6. Let Users Design With Backgrounds, Template & Clipart:
You can play an active role in helping your customers create unique photobooks by preparing a library of backgrounds and clipart.
Gradient color palettes or even predesigned ornamental patterns add some extra flair to your customers' background options.
7. Allow Customers to get a 3D preview of their Design:
A photo book is a complex printed product, so your customers may want to see how it will appear in real life. You can display a photobook in 3D during the preview process to make it look more realistic. For example, the final design can be shown in a natural setting on a physical object or surface like a wooden desk.
Customers may also see the book spreads in the preview and check if they uploaded their photos correctly.
8. Integrate Web-to-Print Photo Book Design Software:
Whether it is photo albums or any eCommerce product, when it is customized, you need to transfer and store a large amount of graphical data. To organize data storage and order processing, you can create an account with Amazon S3 storage. ImprintNext integrates Amazon S3 to automatically transfer the print files to the cloud storage. Moreover, the web-to-print software automatically fetches all data which is accessible for further processing. It includes photos, design files, order information, and other data like finishing options.
Customers may choose to add print methods such as embossing or debossing on photo albums. These options may affect the final product price, and web-to-print can send this information to your e-commerce module.
Increase sales by offering customers additional services like another print product related to their current order. For instance, if your clients create a photobook dedicated to a recent vacation, you can offer to add a magnet with one of their uploaded photos to the order. The ImprintNext solution allows users to create print products on a wide range of surfaces, from paper to plastic and even metal.
Final Words:
ImprintNext is a web-to-print solution that can meet all of these tasks and adapt to your unique business needs and equipment setup. If you want to sell photobooks online with a modern web-to-print tool, don't hesitate to contact us.

Do you have printers? Are those printers sitting idle?
Become a Print-on-Demand dropshipping app like Printful or Printify. Dropship your merchants' orders.
Know more