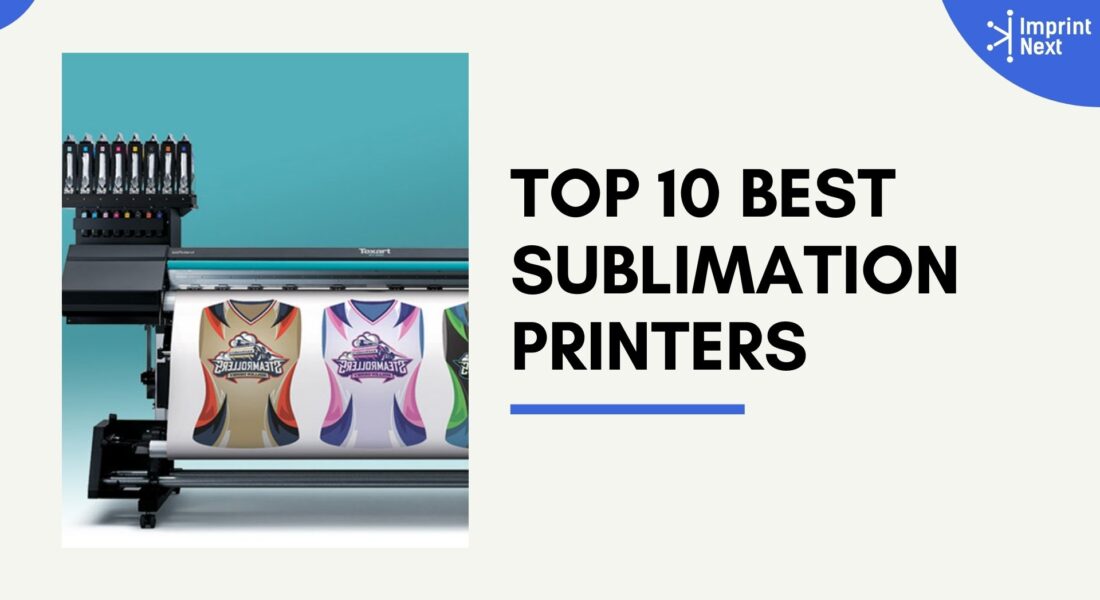 Last Updated on: 1st September 2021, 09:26 am
You have decided to buy a sublimation printer for your custom printing business. Whether you search it online or offline, price is the greatest deciding factor. That becomes budget-friendly if you could know the right printer for your business.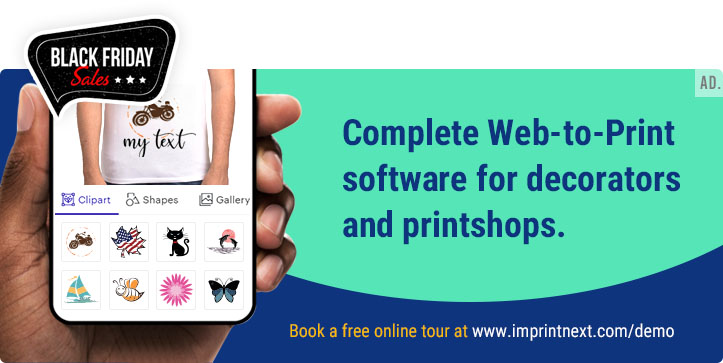 If you are a large-scale business, you need the commercial version and for small-scale or home-based businesses, the mini or compact versions are available too. However, it becomes difficult to find the right one when there are different brands offering different devices.
10 Best Dye Sublimation Printers:
So, let us narrow down our search to the top 10 list of sublimation printers. Whether, does it fit your business? So, let us get through the list of sublimation printers.
1. Mimaki TS55: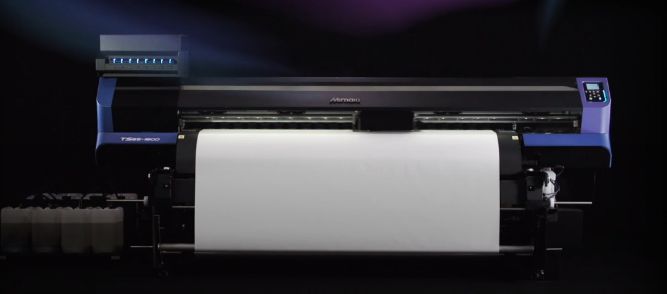 Price: $25,995
Mimaki TS55-1800 is a wide format sublimation printer. It means you can print as large as 74 inch wide prints.
The Mimaki printer is a perfect textile/garment printer. It reaches a maximum printing speed of 135 sqm/h.
Even if you continuously operate for a long time, it does not affect its performance. Furthermore, it ensures minimal expenses in a long time running cost.
Highlighted Features:
With a maximum print speed of 135 sqm/h, you can print at a resolution of 480×600 dpi.
Comes with a mini-jumbo roll unit that transfers paper with a length of about 2,500m. As a result, it cost per square meter and reduces downtime.
With 10kg bulk ink tanks ensure uninterrupted production due to shortened ink replacements. Comes with 4,6,7,8 color ink configuration.
It is installed with an extended heater. It dries the ink quickly which prevents blockage of the medium due to the wet ink.
The overall dimensions of the printer are 2,773 x 998 x 602 mm.
2. Epson SureColor SC-F7270: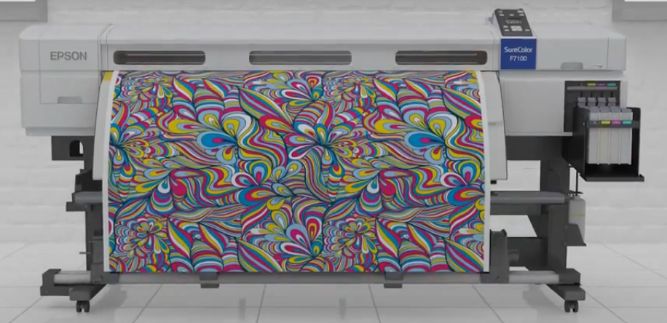 Price: $16,558
Epson SC-F7270 is a dye-sublimation printer.  Mostly it is a wide-format printer. Because it can print 64 inches wide prints.
The uses PrecisionCore TFP printheads. It includes thousands of micro printheads that improve print quality, increases print speed, and decrease ink usage. That is to say, your sublimation ink lasts longer and reduced expenses in the long run.
Additionally, it has 1.5L ink tanks for Cyan, Magenta, Yellow, and Black, not cartridges. It means, your ink is going to last longer, which deduces downtime while in production.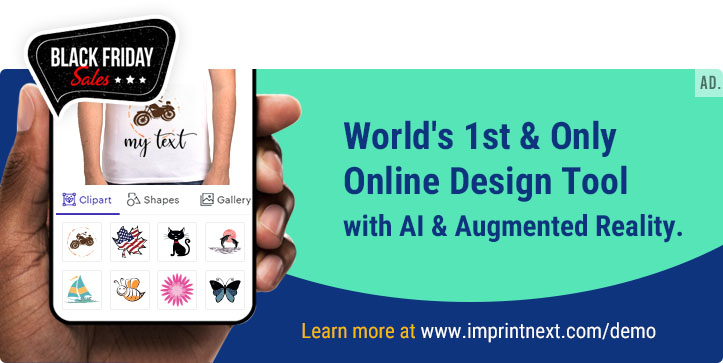 Highlighted Features:
Suitable for printing fabrics, textiles, and soft-signage.
Faster production speed i.e. 58.9m2/h. It is suitable for product decoration industries that need fast production turnaround.
Comes with a 2.5" Colour LCD control panel for easy operation.
The overall dimensions of the sublimation printer
Comes with one year warranty including printheads
3. Brother MFC-J995DW: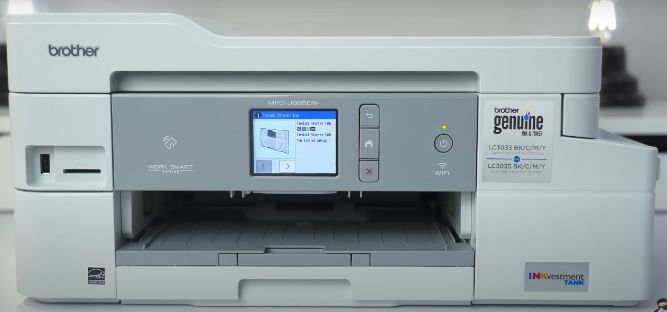 Price: $325.16
Brother MFC-J995DW is a desktop sublimation printer and one of the cheapest printers available at $199. Therefore, it is the right for printing in-home or small stores.
It is installed with four ink storage tanks each for C, M, Y, and K. That provides enough juice for your printer to deliver uninterrupted prints for a year. Without the need to purchase a new ink.
With 2.7 inch LCD panel, you can easily navigate through all print settings with a single touch.
Highlighted Features:
Comes with 1-year of ink in the box that prints 150 pages per month.
Wireless operation. You can operate from your mobile device.
The overall dimensions of the printer are 7.7 x 13.4 x 17.1 inches.
Lastly, it comes with a two-year warranty.
4. HP Stitch S500: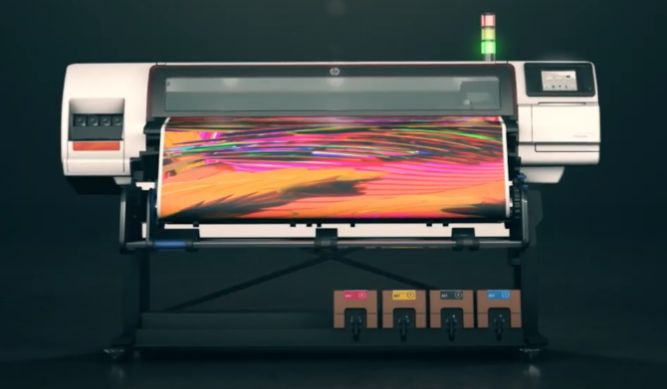 Price: $18,995
Usually, before buying a sublimation printer, we think of Epson, Sawgrass, Mimaki, Mitsubishi as the right manufacturers. But which it comes to an HP, we usually don't think it is right to fit for sublimation printing.
However, we will be wrong if we still have that same opinion. HP has developed and manufactured dye-sublimation printer series each for small, medium, and large-scale print production. Therefore, you need a perfect buying guide that helps you choose the right HP sublimation printer for your business.
HP printers have no such conversion process as inkjet printers. It is manufactured exclusively for sublimation printing.
Highlighted Features:
Suitable for print shops that sell custom apparel, signage and promotional product industries
Robust sublimation printer that prints up to a width of 64 inches.
It has a maximum production speed of 1185 ft²/hr.
The overall dimension of the hp sublimation printer is 2560(Width) × 710(Depth) × 1420(Height) mm.
5. Sawgrass Virtuoso SG500: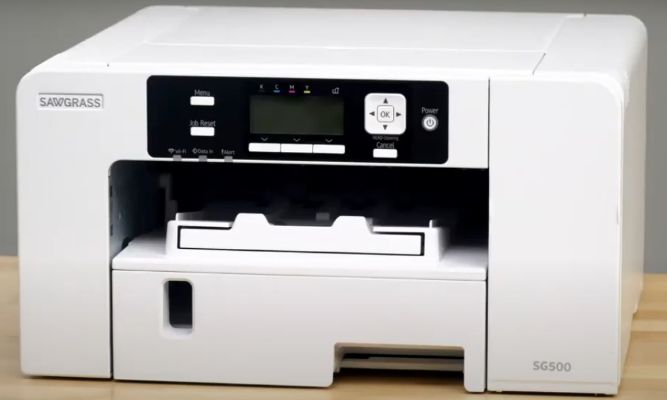 Price: $549.00
You have a t-shirt store and want to get into the custom printing business. Sublimation is obviously your first choice. Then Sawgrass Virtuoso SG500 is quite an affordable printer. That is to say, your initial cost and running expenses shall be below.
Basically, it is an inkjet printer. You can convert it into a sublimation printer for t-shirt printing. SUBLIMAX- It is a Sawgrass sublimation paper that comes with it.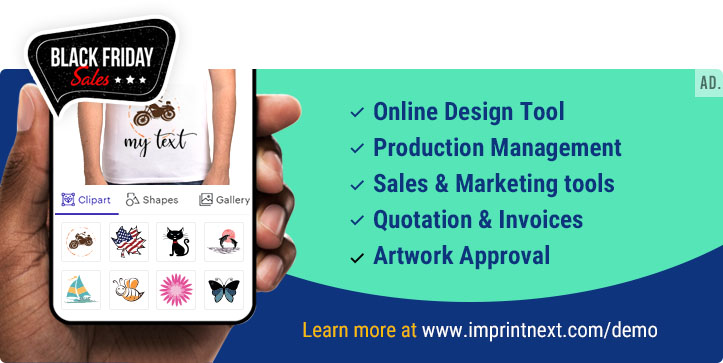 SG500 is more power-efficient compared to SG400. It prints at a higher resolution and features WiFi connectivity. Moreover, the SG500 is compatible with all the accessories of SG400. So, if you want to change, you won't have to pay an extra price for buying accessories.
Highlighted Features:
Get high-quality resolution prints at 1200 dpi. That means the prints are vibrant HD-quality images.
Its printing speed is 240 prints per hour. Around 50% higher than SG400.
Comes with a product designer software, known as CreativeStudio.
Print media up to 51˝ long.
Suitable for sublimating mugs, hand/tote bags, t-shirts, pillow covers, etc.
The overall dimensions of SG500 are 44 x 35 x 4.4 cm.
Two-years product warranty
6. Epson SureColor F170: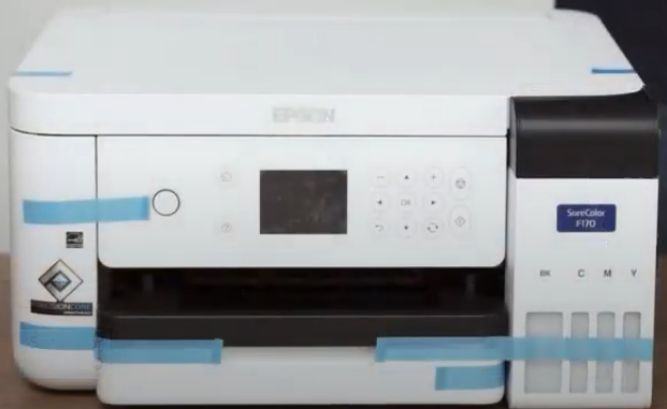 Price: $399.00
Epson SureColor F170 is a dye sublimation printer for small print shops and product decorators. It is ideal for beginners who are now in the sublimation printing business. Moreover, it is small, compact, and affordable who a want printer on a low budget.
It uses PrecisionCore print head technology for faster and high-quality prints. The dye-sublimation printer has 150-sheet auto-feed tray capacity with Mac and Windows print software.
Highlighted Features:
Suitable for dye-sublimating awards, plaques, coffee mugs, mousepads, keychains, and more.
Archives a maximum print resolution of 1200×600 dpi.
Connect easily via USB, Ethernet or WiFi.
The overall dimensions of the printer are 13.7″ x 13.7″ x 7.4″ and weighs 10.2 lb.
Moreover, it comes with an overall 1-year warranty.
7. Mimaki TS100:
Price: $9,995.00
Mimaki TS100 is an entry-level printer. It has various print modes or print speeds. The highest of them is 70 m²/h.  For high-quality printing, it has a print speed of 19 m²/h.
It is equipped with Dot Adjustment System(DAS). If you change the media or printing conditions, the DAS automatically adjusts the ink dot position as per the necessity. That is to say, you do not have to change the print settings individually for each type of media. The system does that by default.
Highlighted Features:
Prints a maximum resolution of 900dpi.
The Nozzle Check Unit detects the nozzle status and performs automatic nozzle cleaning if required.
Achieves a maximum print width of 1,620 mm of substrate thickness of 1 mm or lower.
The overall dimensions of the sublimation printer are 2,775 x 700 x 1,475 mm and weigh 166 kg.
8. Epson EcoTank ET-4760: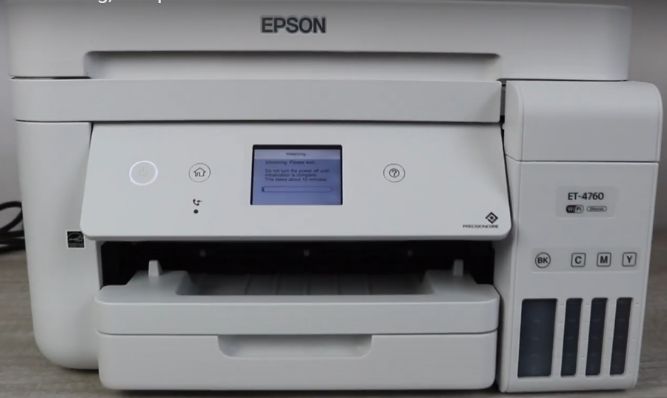 Price: $499.99
The EcoTank ET-4760 is a wireless dye-sublimation printer. With a sheet capacity of 250 papers. As a result, it helps to produce a large number of prints with a minimum paper refill.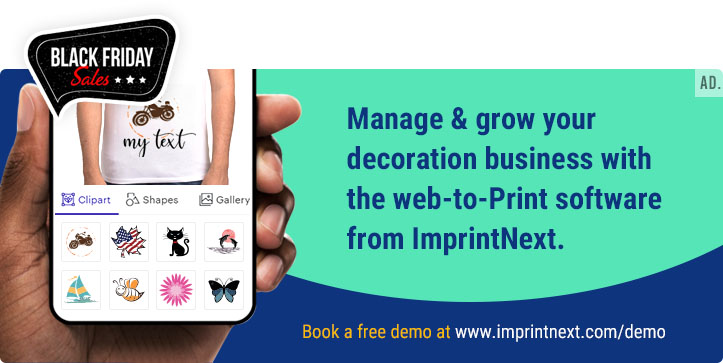 Most importantly, borderless printing is a rise in demand. It gives a complete space for printing images with lots of details.
Instead of ink cartridges, it uses ink tanks. That is to say, 80 in cartridges is equal to a single ink tank. It means you do not have to worry about frequent downtimes due to empty ink.
Highlighted Features:
Voice-activated control for fully hands-free operation.
Cartridge-free printing with super-sized ink tanks that saves up to 90% of the cost of replacement of ink
It can print 15 papers per minute in black and 8 pages per minute in color.
The overall dimensions of the printer are 14.8″ x 13.7″ x 9.1″.
Comes with 2-years limited warranty
9. Epson Artisan 1430: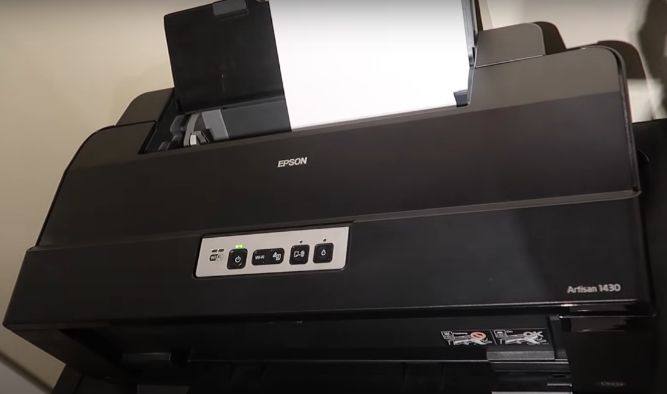 Price: $3,254.00
The Epson Artisan 1430 is a photo printer. But it can also be used as a sublimation. You only have to change the ink supplied with the printer to sublimation ink.
We know that t-shirt print even if it is small, should be of high quality. As the Artisan 1430 is a photo printer, it delivers a high-quality print.
It easily prints a media size of 13 inches wide. Hence, it is enough for professional apparel designers.
Highlighted Features:
Prints a maximum resolution of 5760 x 1440dpi. Print smooth and accurate images and grain-free photos that are crisp and clear.
Achieve borderless prints of size up to 13×19 inches.
It has six ink palettes for advanced photo printing. They are yellow, black, cyan, magenta, light cyan, and light magenta.
The overall dimensions of the printer are 24.3″ x 12.7″ x 8.5″ and weighs about 26 lb.
10. Mitsubishi CP-K60DW: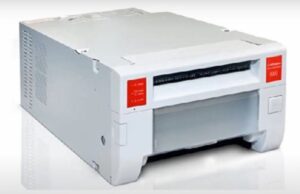 Price: $515.00
The Mitsubishi CP-K60DW is a compact dye-sublimation printer. It uses a thermal method to produce high-quality images.
The printer is suitable for sublimation printing on laminated surfaces.
You can images of size 4×6 inches in 11.4 seconds. Further, you can print images of various including an aspect ratio of 1:1.
Highlighted Features:
3-color dye-sublimation printer that prints i.e cyan, magenta, and yellow for surface lamination.
Prints a maximum resolution of 300×300 dpi.
Moreover, you can print a maximum area of 6×8 inches.
The overall dimensions of the sublimation printer is 10.8 x 17.6 x 6.7″ and weigh 26.5 lb.
Final Words:
Although Epson and Sawgrass printers are in the limelight, there are other printing brands like Mimaki, HP, Mitsubishi, etc, who sell devices at affordable prices.
Some of the printers are multi-functional. They can print, copy, fax, scan for full control of print shops.