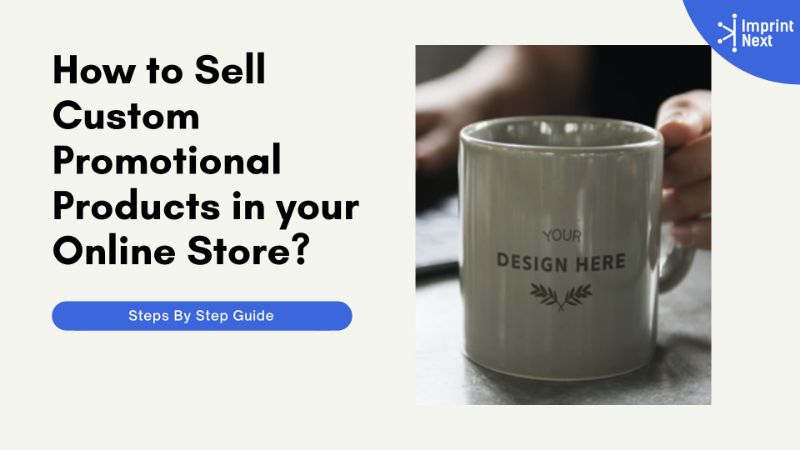 Last Updated on: 11th January 2022, 12:57 pm
Selling custom promotional products is a profitable business. You will need to find an established direct sales dealer or franchise, or start your business from scratch. To sell customized promotional products, where your customers can write names or apply designs for advertisement or gifting purposes, all you need a promotional product design software(we recommend Imprintnext).
Within the next five years, there will be an increasing demand for promotional products which could include items for resale, licensing, and b2c business. If you are part of this expanding and highly competitive marketplace, selling custom promotional products is the right idea to start.
Promotional products will never be irreplaceable, no matter how digital the world goes. People have never left writing entirely from ancient times when people would write on leaves, rocks till current times when they use copy and pen instead. It clearly shows that a good scope exists to sell promotional products online.
Before getting started:
Why should you Sell Custom Promotional Products over Traditional ones?
You can select traditional items first so that they can be a little more affordable. Ok, maybe you're right, but think about it again! Do you think that people will only look at conventional goods, in this ever-changing digital environment, where technology progresses every day? Although it still matters to traditional items, times are changing, and people are looking to customize and adapt – almost in anything. And in giving them this personalization, you cannot afford to fall behind. So, how are you about to go? Let's jump in to learn.
Contrary to previous years, it is no longer daunting to deliver customized products. It is no longer vital for you to list, satisfy, and validate your customers' customization requests if they do not meet customers' needs.
Therefore, integrating an online product design software, especially ImprintNext, and you're done!

Do you have printers? Are those printers sitting idle?
Become a Print-on-Demand dropshipping app like Printful or Printify. Dropship your merchants' orders.
Unlimited Merchant stores. Dropship and Fulfil Merchants' orders. Manage merchant invoice, sales commission, etc. Merchants sell the designed products in shopify, etsy stores, etc.
Know more
Generally, if you want to offer customization online, you must start with an online or e-commerce store. Ensure that you choose a technology partner that will enable you to build stuff and trust all of your technological needs.
Therefore, let's read about how to get started and sell promotional products online.
1. A Business Plan is Foremost:
A business strategy is the first step towards a new organization. If you want to enter the paperwork business, you will streamline your business, manage your finances, and give your customers the best products.
Many schools, colleges, and educational institutions continue to hunt for dealers who can satisfy their wholesale stationery orders for types, crayons or chalks, or other paper goods. You can still start your business as a B2C company when you sell the first pieces of stationery goods to individual customers. It means that you can steadily expand into B2B after success in the B2C sector as well.
1.1 Offer a wide range of Promotional Products:
Unless all your products are ready-made, consumers may find a range of other competitors with similar products to yours. Therefore, they can not interact as much as anticipated with your shop and your deals. To get your crowd going, you can attempt to sell some specific items, such as a pen, pencil, or a register. With custom paperwork goods, you can cater more efficiently to a mainstream audience.
1.2. Infrastructure:
Your business infrastructure will rely on your business model. You may have to pay less than an offline store opening if you open an online post office. For a physical shop in a 'heavy traffic location,' you won't have to pay the rent for attracting more clients.
If you first start selling promotional products and are unsure about your success rate, a safer alternative is an online print shop. And somewhere you don't have to 'purchase' or 'rent' a physical shop. Moreover, it includes an additional fee with an immense initial cost to purchase or rent a physical store and continuing costs to retain it later.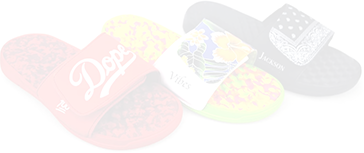 Boston based custom slide sandal maker has become $10 Million company using an online designer and unique growth marketing.
Read more
1.3. Brand recognition strategies:
No matter how top-of-the-range products or services you deliver, they are worthless unless the consumer knows them. Focus, therefore, on how you can expand your scope between the target audience.
1.4. Resources:
Bear in mind that to develop your company, you would need minimal human resources. Even if you begin a home business with an online paper shop, you will still need employees who can process orders, administer them, and help with other site-related tasks.
2. Register your Business:
Register your company first with local authorities, whether it is an online business or an offline business. Furthermore, to avoid any legal questions later, you always need a minimum number of licenses and permits for your company. Establish a legal company-an LLC, a DBA, or a company depending on your company form.
Upon registration for your company, receive all required licenses and licenses essential for your company. You may need licenses for both online and offline companies, including the licensing of sellers, employer identification number (EIN), company tax certification, and many others.
Generally, it would help if you had licenses, and authorizations for an offline company will usually be needed. However, it's best to contact your county office or check the official site designated for that reason by your state, if you aren't aware of all the licenses you need.
3. Look for Big Industry Players and their Strategies:
Regardless of the business-rivalry is still there. Some experienced brands are still ubiquitous and on-demand in your industry. Make no exceptions for the stationery company. For example, some of the more experienced players in the paperwork industries, Faber-Castell, Camlin, MontBlanc, etc. lead the way.
You must be 'like' them if you want to compete with them. However, that does not mean that you have to emulate From products to web design to other techniques. It means that your general strategy, whether in terms of goods, quality, or price, should be examined intensively. It lets you choose how much you can spend on your company to differentiate it.
3.1. Do not copy your competitors:
Two different activities are looking for your rivals and copying your rivals. If you copy what your competitor has, your shop will not be unique. Therefore, evaluate your competitors to determine your position and what measures are needed to achieve your company's level.
You also have to look for and evaluate your competitors, particularly during the season, on another important point.
4. Choose a Supplier:
For a seller, it is often an important decision to select the right supplier. You may end up in situations outside of stock if you do not obtain a timely supply of products.
It can contribute to late delivery complaints from your customers. Therefore, always work together with a timely supplier and supply your company with goods on time.
5. Inventory Management:
You can handle or take a drop-shipping solution from your indoor inventory. In-house inventory management is usually more expensive – particularly with budgetary constraints – although you can still choose one of the better methods. Also, in-house management of inventories can often take more effort, time, and money.
That is why you should consider a drop-shipping solution as it does not only manage order returns and other delivery complaints, but it takes care of your orders as well.
It means you can save a lot of money by handling the stock in-house.
6. Online Marketing:
Now, you are ready to sell custom products online, take the best way to promote your products – and your company, of course.
Although it can help, an Internet presence can still enhance anything for even offline businesses, though there are forms such as brochures, handouts, donations, news ads, discounts, endorsements, etc.
Learn about techniques for supporting the paper industry.
7. On-site Optimization of eCommerce Store:
You won't be able to appeal to a broad audience if you cannot optimize your website. That is why you always need to make your site user-friendly, interactive, and engaging.
See to it that the name, look, and feel of your site suits your brand.
Ensure that with highly skilled and appropriate keywords, you always boost your website content.
Make sure the website is entirely responsive so that users on all devices can easily access it.
è Continue to conduct a timely web audit to determine the efficiency of your web. Find and solve problems such as broken ties, low-quality computer pictures, etc.
Don't have too much material or photos on your website pages. Maintain attractive and readable pages.
8. Off-site Optimization of Online Store:
Link-building has always been a unique off-site promotional optimization technique. Do not forget that when building links, you create links not merely to drive more traffic, but to drive better traffic.
All these off-site optimization techniques will contribute to improving quality traffic on your website. Some of the off-site optimization techniques include guest posts, forum posting, Comments on blogs. Most importantly, do not spam your brand and link it to various websites that are not important.
9. Social Media Marketing:
The existence of any brand in social media is a must today. Select one or more of your brand's social media sites and develop a social marketing strategy.
Update the customers with releases and sales of new products and other discounts. It will help you extend your scope to include more people who recognize their brand through social communication and land on your website.
10. Email Marketing:
Email marketing is a conventional but great way to meet and boost the overall consumer journey.
Engagement leads to e-mails containing the corresponding contents and surveys at a specific point in the sales activity and attracts clients, or better yet, repeated customers.
11. Paid Advertising:
Display ads will work well even if you like the consumer looking for goods or services close to what your company provides. You can run your business' display advertisement campaign and determine which websites to use.
You can always contact a skillful digital marketing specialist or a digital marketing firm to help you devise a good display ad strategy and change your budget accordingly.
12. Keep Patience and Begin:
Keep patience and strive for consistent success. Don't start with imprudent expenses after that 'flash in the pan.' Instead, have some funds with you in reserve:
To be able, like a natural or human-induced accident, recession, or something else, to cope with any emergency.
To ensure that to start and running an eCommerce store.
Concluding:
Promotional products will possibly remain forever. Therefore, you can start your own paper company if you want to do so, follow the right path, and transform it into a successful and top-notch business.

Do you have printers? Are those printers sitting idle?
Become a Print-on-Demand dropshipping app like Printful or Printify. Dropship your merchants' orders.
Know more