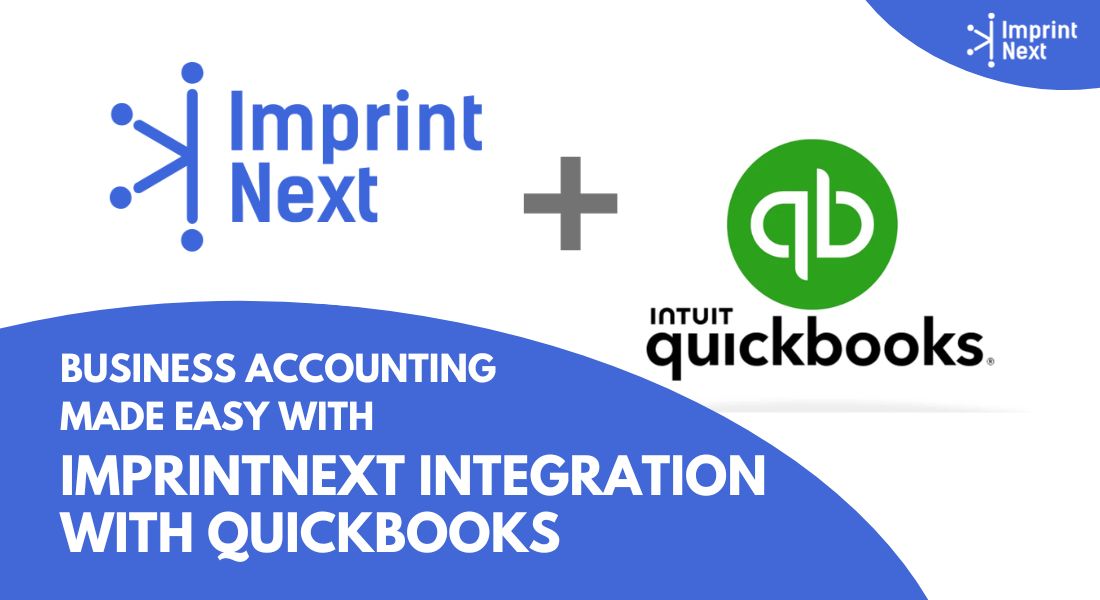 The  integration of ImprintNext web-to-print software with Quickbooks has been introduced for both online and offline stores. 
For those registered with Quickbooks as an accounting service, our solutions have made it easy for every order processed through the system. ImprintNext transfers all the accounting information in real-time.
It also transfers other relevant client and product data to QuickBooks without the time-consuming task of exporting and uploading.  You can create invoices instantly, based on the data in your ImprintNext system, thus eliminating the need for redundant data entry.
About ImprintNext:
ImprintNext is a web-to-print product design software that provides a design interface for users to design and personalize products directly from an eCommerce storefront. The product automation feature helps online shop owners manage the printing tasks associated with print procurement including project sourcing, bidding, supplier management, cost analysis, and report generation. It helps to manage the entire print procurement and product lifecycle from the initial specification to project delivery.
Features offered by ImprintNext software include an online design tool for eCommerce stores, admin panel for back office management of design tool, sales, and quotation, orders production job, drop ship & order fulfillment, etc. It centralizes all job and pricing data and dramatically improves efficiency while reducing errors.
ImprintNext + Quickbooks Integration:
If you are registered with Quickbooks, then ImprintNext integration with Quickbooks makes it easier for sellers to handle accounts and business. 
If you are using Quickbooks with ImprintNext, then your data from ImprintNext will be automatically transferred to Quickbooks. 
Key Benefits:
1. Invoices:
Once the quotation is approved by the customer, the invoice is generated by ImprintNext which is automatically sent to your Quickbooks account. No manual intervention is needed.

Do you have printers? Are those printers sitting idle?
Become a Print-on-Demand dropshipping app like Printful or Printify. Dropship your merchants' orders.
Unlimited Merchant stores. Dropship and Fulfil Merchants' orders. Manage merchant invoice, sales commission, etc. Merchants sell the designed products in shopify, etsy stores, etc.
Know more
2. Estimates & Quotes:
After you create quotations and estimates, ImprintNext sends it to your Quickbooks account for the further perusal of data. Moreover, you can customize the settings to send data directly to your customers as well.
3. Expenses:
Easily keep a record of your production and overhead expenses maintained with ImprintNext tools and also export them to your QuickBooks account.
4. Staff Information:
Keep staff information, assign work to your staff, manage and monitor your production job progress and keep track of all from your Quickbooks account. ImprintNext compiles the data and automatically sends it to your Quickbooks account.
The tool also includes a job calendar that helps track various production deadlines and a reporting system offering detailed reports to manage and analyze metrics such as purchase volume, costs, supplier performance, and cost savings.
ImprintNext manages the printing needs of corporations, government agencies, print management companies, in-plant facilities, print brokers, resellers, universities, non-profit organizations, and print manufacturers.
Other Features of ImprintNext Product Designer Tool:
Tons of Featured clipart, font libraries & other pre-loaded design assets to choose from and start your T-shirt customization business.
As a vendor, you can configure the product design area, price tables, designs, templates, and orders and manage the other design studio features effortlessly from ImprintNext's backend admin panel.
Developed using programs like HTML5 and AngularJS to make the plugin compatible across all devices i.e., mac, windows, smartphones, tablets & PCs.
Easily integrates into eCommerce platforms such as Magento, Shopify, Opencart, Prestashop, WooCommerce, BigCommerce, and many more to provide an immersive web store experience.
Designed to Support various decoration and printing methods such as DTG, Sublimation, Screen Printing, Embroidery, Heat Transfer, and more.
Generate high-resolution print-ready files with Vector PDF, SVG, and 600 DPI PNG formats.
Supports multiple languages & currencies as per your country and need.
Round-the-clock technical support  & get free updates for a year.
Admin Features for Print Shops
1. Flexible Decoration Area:
Set multiple decoration areas for your product.
You can add multiple decoration areas of different shapes and sizes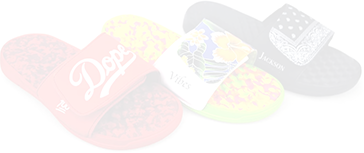 Boston based custom slide sandal maker has become $10 Million company using an online designer and unique growth marketing.
Read more
2. Dynamic Print and Price Setting:
Set variable prices for different printing processes, product sizes, color variants, etc.
Keep the pricing process transparent and updated according to the customizations made on the product.
3. Flexible Price Rules:
Set multiple price rules based on print color and product size, design area, use of the white base, and a lot more. Also for the usage of specific clipart, fonts, templates, and images uploaded by the user. Set variable pricing as per order quantity, multiple colors used, screen cost, etc.
4. Unlimited Cliparts, Fonts & Assets:
The tool is preloaded with a vast and unique collection of 5000+ t-shirt clipart, 100+ fonts, and other design assets.
Users can upload unlimited fonts, clipart, images, and more.
5. Pre-decorated T-Shirt Templates:
The ImprintNext product designer tool comes with a bundle of pre-decorated t-shirt templates. You can create more templates of your choice.
6. Order File:
To ease the print process for the vendor and client, ImprintNext auto-generates print-ready order files after a user places an order.
Generate all order files on your server. We do not host any of your files and data.
7. Multistore:
The ImprintNext product designer tool seamlessly integrates into major e-commerce platforms.
The multi-store feature is available for all e-commerce platforms such as  Shopify, Magento, WooCommerce, BigCommerce, OpenCart, PrestaShop, etc. As a print business if you operate or provide your service through multiple apparel designing websites, with ImprintNext you give your customers complete freedom to design their own ideas.
8. Multiple Language, Multiple Currency Support:
As a print business owner, you have the freedom to set up your stores with different units, multiple languages, and currencies. 
Choose from multiple color themes for these stores as well.
9. Allow/Block Design Features:
Allow, block or hide design features which you want in the design studio.
10. Marketplace:
Create a thriving e-commerce marketplace experience with ImprintNext. 
Enable users to sell their designs with the approval of the admin.
11. ImprintNext Admin:
Robust Web-To-Print admin features that let you configure your storefront that fits best your business needs.
Get organized, grow your sales and give customers an all-new T-shirt designing experience with the rich and robust features of ImprintNext product design software. 
Final Words
ImprintNext ranks among the top product design software as it is curated with features, popularly wanted for modern-day printing needs.  
It helps print shops and custom apparel businesses to grow faster and allures your customers with its ergonomically advanced customization features.

Do you have printers? Are those printers sitting idle?
Become a Print-on-Demand dropshipping app like Printful or Printify. Dropship your merchants' orders.
Know more