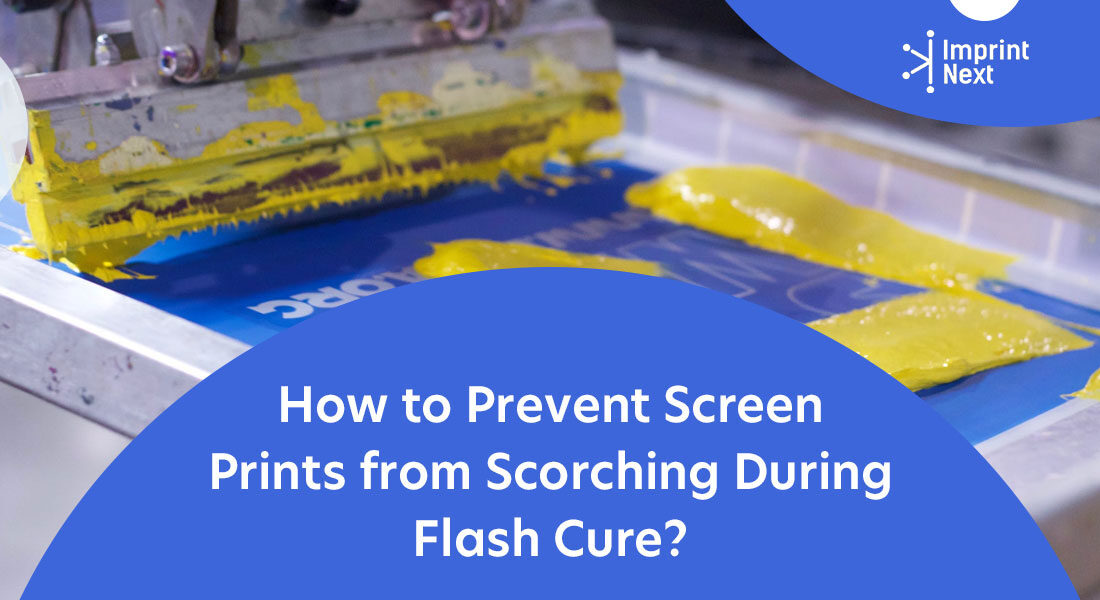 Last Updated on: 7th February 2022, 01:17 pm
Scorching is a common issue among screen printers, and often they are not careful, and a few screens get damaged due to overheating. However, preventing your screen prints from scorching is easier if you follow a few steps. In this blog, we have laid a set of few steps to help you determine how much heat your screens need.
Overheating can leave a brown or yellowish scorch mark on your garments, especially visible if it's a light-colored garment. Carefully applying heat to the screenprints can help you prevent scorch marks by setting-up proper equipment, monitoring, and quality control in your print shop.
1. Set Aside Finer Substrates That are More Likely to Scorch:
To prevent scorching of screen prints, you have first to find out the delicate and more likely substrates to get scorches. Most light-colored garments such as white and light grey show up scorch mark pretty easily. Light-weight cotton fabrics also get scorched easily. On top of that, some synthetic fabrics scorch with a little more heat above their tolerance level. They get scorched more easily than their cotton counterparts.
2. Time to Adjust Your Conveyor Dryer:
Some screen printers run the screenprints through a conveyor dryer the same way without fine-tweaking for each substrate. To prevent scorching on fabrics, you will have to adjust the settings for its heat and speed on the conveyor dryer.
When you have a delicate fabric prone to scorching, you should run it through the conveyor dryer at a lower temperature and for a longer time.
3. Adjusting the Flash Cure Unit:
Overheating the fabric in flash cure units is the most common reason among screen printers for scorched fabrics. When dealing with lighter fabrics or delicate substrate, you should lower the temperate and adjust it for different types of fabrics. You should also raise the unit's height so that the substrate is farther from the pallet when the ink cures.
4. Using Specialty Inks:
Sometimes you would need specialty inks to prevent scorching on screen prints. If regular plastisol ink on synthetic fabrics scorches easily, you should use specialty inks that cure them at a lower temperature.

Do you have printers? Are those printers sitting idle?
Become a Print-on-Demand dropshipping app like Printful or Printify. Dropship your merchants' orders.
Unlimited Merchant stores. Dropship and Fulfil Merchants' orders. Manage merchant invoice, sales commission, etc. Merchants sell the designed products in shopify, etsy stores, etc.
Know more
5. Carefully Monitor Temperatures:
All industrial conveyor dryers and flash cure units come with temperature controls to enable fine-tune or adjust the temperature and exposure time, depending on the substrate. These controls are perfect for customizing your cure unit for each print job, but to prevent any scorching, you have to monitor and keep a close eye on the temperature on the conveyor. You should know that the longer it runs, the hotter it gets in the dryer under the flash. Also, depending on the humidity and room temperature, it could affect your print curing. You should monitor the temperatures with a temperature gun.
6. Finally Removing Scorch Marks:
On the flip side, if your tees do get a scorch mark, you don't necessarily have to toss it into the trash. There are some ways to fix the issue and remove the scorch marks. You can easily treat the white garments with a mixture of hydrogen peroxide and water or just give them a wash in the washing machine. You could also spray the marks with commercial solutions for the job.
Nearly all screen printing shops have to deal with scorched tees once in a while. Learning more about the curing temperature and time for each garment type can really help you get around the problem.

Do you have printers? Are those printers sitting idle?
Become a Print-on-Demand dropshipping app like Printful or Printify. Dropship your merchants' orders.
Know more