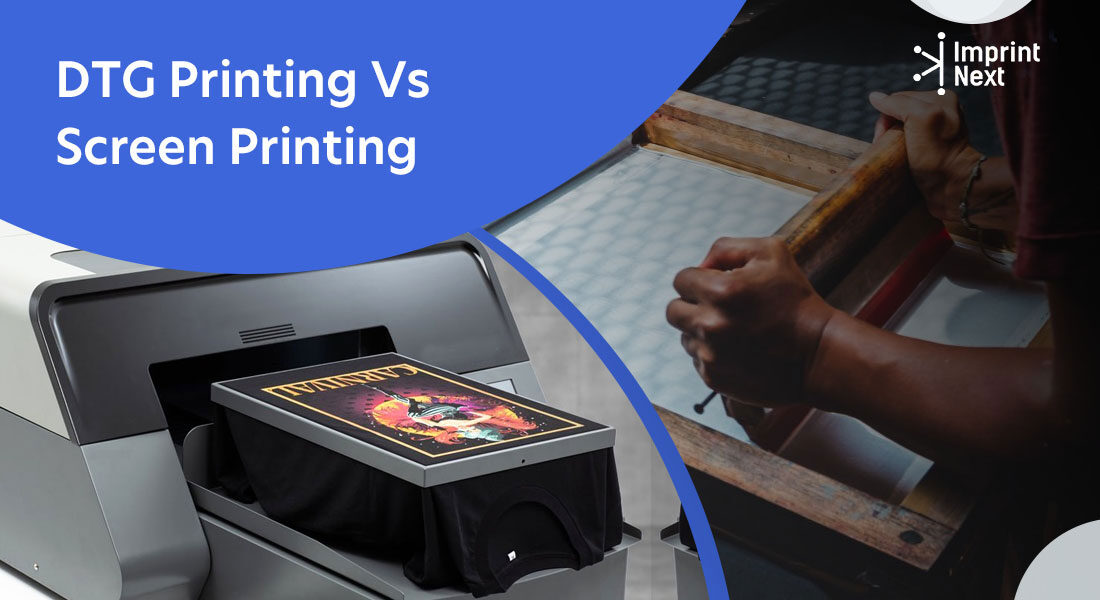 Last Updated on: 26th November 2021, 09:45 am
Digital printing is becoming more popular and affordable. But is it ready to derail the kind of textile printing – screen prints? Here are a few points on DTG vs. Screen Printing.
DTG vs Screen Printing:
Long story short – screen still rules for bulk printing. Both the printing techniques are suitable for t-shirts, hoodies, sweatshirts, etc. Screen printing is typically done by applying ink through a mesh-like stencil of the design. This is generally a manual process, and hence labor-intensive.
The ink spread has to be done individually every time for each color. So multi-colored prints take time, as each color is separately applied. Also, a separate stencil has to be created for each color. This entire procedure is redundant in direct to garment (DTG) printing. DTG is essentially digital, that is, it is similar to inkjet printing technology.
The design can hence be of any number of colors. The print timing doesn't depend on the type of graphics. Every print comes out in one go.
Even though it is more convenient to print on DTG, it is an expensive process when it comes to bulk printing. Screen printing turns to be economical in the war of DTG vs. screen printing. But for printing a single piece, screen print is not viable as a separate dye has to be specially made for each color.
Here, DTG printing comes as a boon. Single piece orders can be processed economically using this technology. Hence users can print their designs using custom t-shirt designing tools like ImprintNext without having to bother ordering ten pieces of the same model. It is impractical for someone to order multiple parts of the same t-shirt unless there is a team or event requirement. Modern DTG has overcome problems like white base requirements for printing on a darker material.
Screen Printing Pros & Cons:
Pros:
– Economical
– The quality of prints is high
– Colors last well
– Tried & Tested

Do you have printers? Are those printers sitting idle?
Become a Print-on-Demand dropshipping app like Printful or Printify. Dropship your merchants' orders.
Unlimited Merchant stores. Dropship and Fulfil Merchants' orders. Manage merchant invoice, sales commission, etc. Merchants sell the designed products in shopify, etsy stores, etc.
Know more
Cons:
– More top setup cost
– Labor intensive
– Multiple colors require separate slides
– Slower process
– Prints can be thick at times
– Single copies are not economical
DTG Printing Pros & Cons:
Pros:
– Easy to set up and use
– Inexpensive and fast unique prints
– Designs cannot be felt on hand unlike screen prints
– Designs with numerous colors take the same time as single colors
– Cleaner process
– Easy to customize
Cons:
– Not so economical in printing bulk quantities
– A white base is required to print on dark-colored material
– Fabric dependent
What is Screen Printing?
Screen printing is labor-intensive but one of the best, most-popular, and cost-effective methods of printing artworks on the t-shirt. Compared to DTG, screen printing is a little complicated. Where in DTG, the artwork is printed as a whole on the t-shirt, for screen printing the design has to be broken down into various layers of colors. This makes screen printing limited to a certain kind of print on fabric.
What is DTG Printing?
DTG is a rather new t-shirt printing method where a digital printer applies ink directly onto the fabric. Because it is digitally printed by a machine, there's no limit to the types of designs and the number of colors you can use. DTG creates vibrant prints with a high level of detail. Although it is a great option for elaborate designs on t-shirts, it does make it expensive compared to screen printing.
Comparison in Design-DTG Vs Screen Printing:
DTG printing produces only a single layer of ink for the final design, whereas screen printing employs multiple layers to produce its final design.
Screen printing will produce more saturated and vibrant colors for the design but the colors used are limited, whereas DTG produces a detailed artwork with unlimited colors but produces a slightly faded design for its single layer of ink.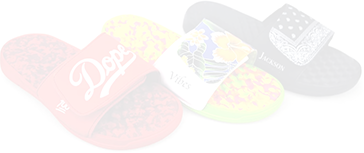 Boston based custom slide sandal maker has become $10 Million company using an online designer and unique growth marketing.
Read more
Comparison of Cost:
Screen Printing – It is cost-effective for larger batches but not much for one-offs. Preparing stencils for the projects means it has a high setup cost, making it inefficient for small orders. Since each color needs its stencil, the final prices might be higher for the set-up cost. Once the screens are made you can print as many t-shirts you like using inexpensive tools, making it highly cost-effective for large orders. Cost per shirt drops with an increasing number of orders.
DTG printing, on the other hand, is more cost-effective for smaller batches and the number of colors used will not affect the final price. On the contrary, large batches will use up more ink and take more time which makes large orders rather expensive. DTG machines themselves cost a lot, at least above $50,000 for a professional setup. The cost per shirt remains the same even with the increasing number of orders.
Best Fabric for Screen Printing:
which fabric is best for screen printing? Screen printing can be done with pretty much all types of fabric, only you have to take care of the type of color you use for the type of fabric. You can use water-based or plastisol ink on cotton, silk, wool, polyester, and jersey fabrics. [Starting a Screen Printing Business – The Complete Guide]
Best Fabric for DTG:
Which fabric is best for DTG? DTG is best with 100% cotton, especially combed and ring-spun cotton to create the best printing surface for DTG printers.
Top 10 DTG Printing Machines 2020
M&R M-Link-X
Kornit Breeze
Ricoh RI 6000
The Brother GTX
Col-Desi (DTG Digital) M2
Epson F2100
Brother GT-381
Brother GT-782
Freejet 700TX
Anajet MP10i
Top 10 Screen Printing Machines 2020
M&R Stryker Automatic Oval Screen Printing Press
MHM S Type Xtreme
Roq ROQPRINT ECO
Brown ElectraPrint Automatic Textile Printer
MHM IQ-Oval Compact
Workhorse Freedom express series
RPM Revolution series
Tas Hawk HX20
Anatol Titan M Automatic Screen Printing Machine
Printex Hurricane SL

Do you have printers? Are those printers sitting idle?
Become a Print-on-Demand dropshipping app like Printful or Printify. Dropship your merchants' orders.
Know more