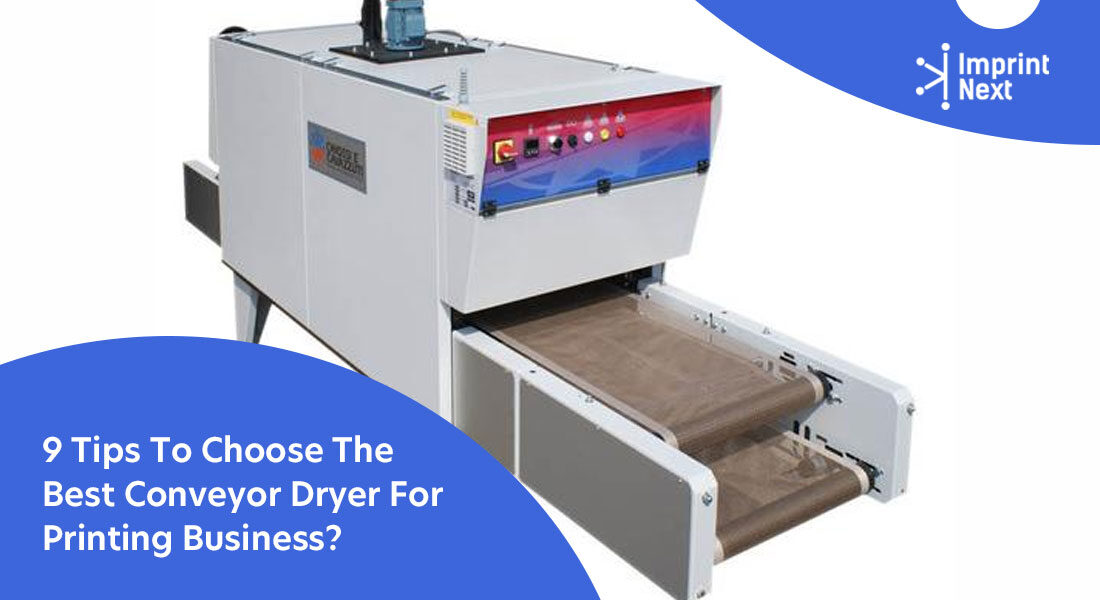 Last Updated on: 28th November 2023, 01:28 pm
The right conveyor dryer for your screen printing industry depends upon your production and business goals. There are a lot of conveyor dryers available in the market, but deciding the right one can be a challenging task.
As it is evident that no one size dryer fits all, you have to choose as per your requirement. You may search around other print shops to get an idea.
However, it may not be proper for your business, as everyone possesses different business requirements. For instance, narrower or broader conveyor belts for personal or commercial purposes.
01. What Type Of Conveyor Dryer Is Suitable For Your Shop?
There are two types of conveyor dryers: – Gas dryers and electric dryers. You must know which dryer is suitable for your business.
Now, let us discuss each of the conditions below:-
02. What Is The Size Of Your Shop?
Dryers come in various shapes and sizes, but the most important among them is the heat section. The most common size of conveyor dryers is 6′, 8′, 10′, and 12′.
They also come in a variety of belt speeds from 24" to 84".

Do you have printers? Are those printers sitting idle?
Become a Print-on-Demand dropshipping app like Printful or Printify. Dropship your merchants' orders.
Unlimited Merchant stores. Dropship and Fulfil Merchants' orders. Manage merchant invoice, sales commission, etc. Merchants sell the designed products in shopify, etsy stores, etc.
Know more
For commercial purposes, go for a bigger conveyor dryer, as bigger is better.
The size of the conveyor dryer both in terms of length and width directly affects your out and productivity.
If you are using a small conveyor dryer, you are going to face a slower production rate as you wait long for drying every t-shirt. Mainly, for existing screen printing, it is feasible to expand your business with a broader conveyor dryer.
03. The Right Size Of The Dryer In Terms Of Workflow:
You may ask, do you always require a large conveyor dry? The answer lies with you. Record the workflow, averages, and production peaks of your shop. It also influences the size of the dryer you need for your shop.
Most importantly, your screen printing dryer should at least suffice for your average daily requirements. Being a screen printer, if you are seeking more business, then you have to go beyond your daily print averages.
It means your operators should not be standing long at the conveyor dryer waiting for the shirt to dry. It delays your production process.
One way to get out of this is by using a split-belt conveyor dryer. It is when two belts are running independently through the heating chamber — something like two dryers in one machine.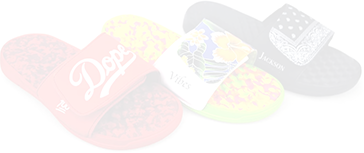 Boston based custom slide sandal maker has become $10 Million company using an online designer and unique growth marketing.
Read more
04. Airflow Around Conveyor Dryer:
It is not only the dryer but also the surrounding acts as the leading player for ink curing. No matter what the material your t-shirt made of or the type of ink used for printing. Airflow is essential.
Good air movement prevents the t-shirt from scorching and burning issues. A strong airflow accelerates the drying of printed t-shirts.
Not only for screen printing but also post DTG printing, airflow is suitable for your t-shirts for the ink to dry and last longer.
However, this is not in the case of plastisol inks as it cures a 320 degrees Fahrenheit, unlike DTG and water-based inks where removing moisture is more comfortable with airflow.
The better the dryer airflow, the more efficiently it cures.
05. Gas Vs. Electric Dryers:
The critical question is how to power your conveyor/screen printing dryer. You may use either of the two — gas or electric. Before applying to anyone, you must ensure the resources to make it a useful function.
Let us start with gas dryers.
If you are printing with multiple printing inks like plastisol, water-based, or DTG inks, gas conveyor dryers can be the best option for you. Most gas conveyors are designed for large production and mostly opted for commercial purposes. It has an overall average length of 20 feet. Therefore your shop size should be significant.
06. How Do Gas Dryers Work?
Gas dryers heat the drying chamber through the convection process. Unlike electric dryers, it gently applies heat (not suddenly). Therefore, t-shirts and other garments should prevent the damage of fabric.
Another benefit is energy saving as compared to electric dryers. Gas dryers save as much as 30% in energy costs as compared to the electric dryers. Additionally, it also depends upon the shop location.
It may cost you high at purchasing, but you compensate for the extra cost with energy savings over time.
07. Electric Dryers:
The alternative to gas dryers is electric dryers. Before you go with electric dryers, check for single-phase or three-phase electrical connections in your shop. You may call an electrician to get the details. Because this will help you decide the right dryer, you should go with it.
If you have a three-phase power supply, it will be cost-saving to use electric dryers. Running a dryer in three-phase power supply will cost half as much as operating in a single-phase supply.
08. How Do Electric Dryers Work?
The electric dryer uses infrared panels known as I.R panels for heating. Unlike gas that heats the chamber of the dryer, electric I.R. dryers directly heat the garment/ substrate.
The I.R directly heats the t-shirts, hoodies, or any garment passing beneath them.
Electric dryers are the most beneficial for screen printers that use plastisol inks. It quickly brings high temperatures for proper curing of plastisol inks.
Pros Of Electric Dryers:
The electric dryers are less expensive than gas dryers
It is quick and directly heats the fabric. It does not follow the conventional process of heating the chamber and then the material.
Best for curing plastisol inks.
Cost-effective operative under three-phase electric supply.
Cons Of Electric Dryers :
Ignores air circulation that is essential for curing
Due to list air circulation, electric dryers are not suitable for dry-fit, polyester, or other heat-sensitive fabric.
Chances of garment scorching due to poor air circulation.
Not suitable for water-based and DTG inks.
Pros Of Gas Dryers:
Gas dryers save 30% more in energy costs.
It provides ample air circulation for proper curing.
Suitable t-shirts, polyester, and heat-sensitive garments.
It prevents scorching and burning of fabric.
Suitable for curing water-based and DTG inks.
Avoids overheating of the ink
Cons Of Gas Dryers:
Comparatively expensive to electric dryers.
Not suitable for plastisol ink applications.
It requires a longer time to dry ink. As a result, it consumes more energy and increases capital costs.
09. Which One Should You Buy?
Electric dryers are cheaper at the upfront, but gas dryers are less expensive to operate. If you are starting with athletic wear like jerseys, go for gas dryers because it requires a steady application of heat under ample supply of air that is beneficial when curing water-based and DTG inks.
Conclusion:
When it comes to choosing the right dryer, make sure you are getting the right one. The conditions we discussed above are the essential aspects that fulfil the true purpose of your screen printing business.
Finally, choose the conveyor dryer to customize your shop needs completely.

Do you have printers? Are those printers sitting idle?
Become a Print-on-Demand dropshipping app like Printful or Printify. Dropship your merchants' orders.
Know more