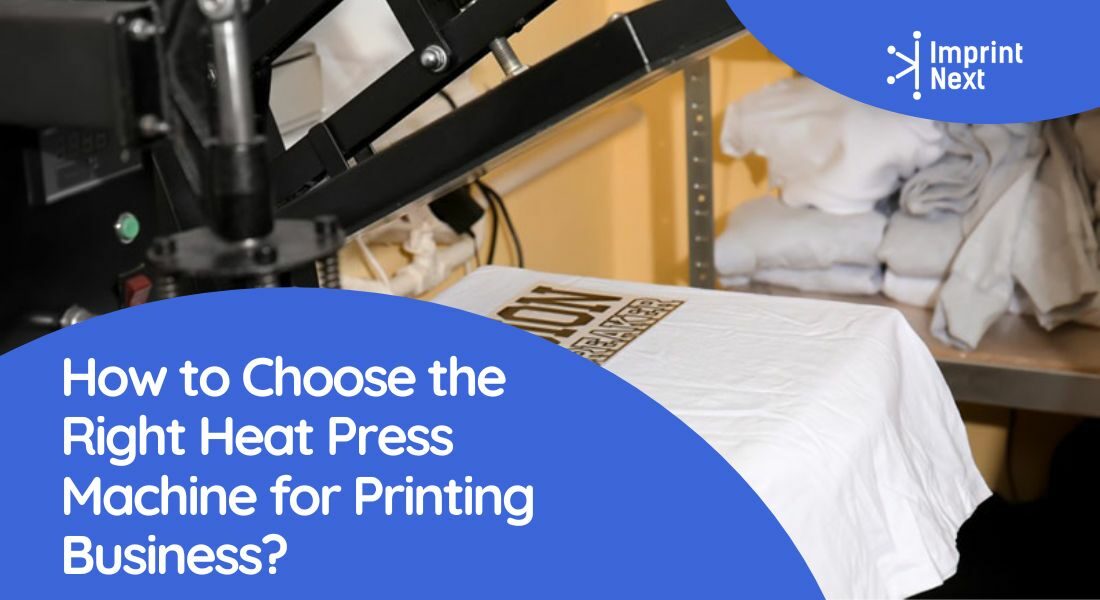 Last Updated on: 2nd May 2022, 12:27 pm
If you are new to heat press printing, then you are looking for your first heat press machine. Or you may be replacing the old model with a new one that is most accurate to your business needs.
Searching for a new heat press is like a discovery. The type of heat press, pressure, temperature, and even custom platens that suit your business type. For instance, wide platens for adult garments and narrow ones for kids.
Additionally, we will also be discussing the functions and features of the latest heat press in the market. What are the challenges? And the right printer you should shop for to overcome your business needs.
Types of Heat Press Machines With the Comparison:
Now, let us start with the type of heat press available on the market.
Everybody likes to style and appearance. In the same way, there are various types of heat press available in the market. Which one is the right for you in terms of usability and productivity?
Let us discuss this below.
01. Manual Swing-away Heat Press:
The swing is designed to rotate the upper plate away from the lower plate toward the left or right.

Do you have printers? Are those printers sitting idle?
Become a Print-on-Demand dropshipping app like Printful or Printify. Dropship your merchants' orders.
Unlimited Merchant stores. Dropship and Fulfil Merchants' orders. Manage merchant invoice, sales commission, etc. Merchants sell the designed products in shopify, etsy stores, etc.
Know more
Merits:
Get a full view of the garment layout area
Accurate application and use.
Room for free ventilation.
Energy-efficient because it prevents heat loss due to less exposure to air.
Demerits:
Heat press work becomes tedious.
Takes more time.
More workspace is required.
02. Manual Draw Heat Press:
This is a type of swing-away heat press where you manually draw the lower platen towards yourself keeping the upper platen still.
Merits:
It requires a small space as it is operated like a drawer.
Safe to operate due to a heat-free work surface.
Get a full view garment layout.
Preserves platen heat after turning off the switch.
Demerits:
Similar to manual swing, heat press work becomes tedious and lengthy.
When you are moving the layout surface like a draw, there are chances of designs getting out of place.
It is difficult to print heavy or bulky garments like hoodies, sweatshirts, etc.
03. Clamshell Heat Press:
Clamshell is the type of heat press machine that is most commonly found in the marketplace. It has a hinge connecting the upper and lower platen. Therefore, we raise the upper platen by opening up the clamshell.
Merits: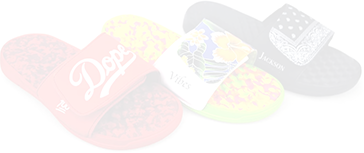 Boston based custom slide sandal maker has become $10 Million company using an online designer and unique growth marketing.
Read more
Most suitable for beginners as it is easy to use.
Takes up a little space for storage.
Portable heat press machine.
Easy to work with fewer application steps.
Best for t-shirt printers.
Demerits:
Limited space for the application.
Difficulty to print bulky items.
Careless handling can cause burns.
Harder to maintain temperature.
Heat easily dissipates as the upper platen is exposed to air.
04. Automatic Air Operated Heat Press:
This type of heat press is designed where you move the upper platen away from the lower platen. But you get an automatic closing and opening system by pressing two buttons.
The word 'air' emphasizes using an air compressor for implementing automatic functionality.
Merits:
Automatic functionality bars force the open and close of the platens.
Prevents wear and tear.
Get a full view of the garment layout.
Precise layout application.
Electricity is efficient as less energy is lost due to limited exposure of platens to room air.
Considered the most durable of all.
Demerits:
It takes a longer time to complete the printing job.
Swinging action takes more space.
Requires an air compressor for automatic functionality.
Expensive than the manual heat press machines.
Which Heat Press Is Right For Your Business?
The right heat press depends upon the garments/substrate/items you are printing at your workshop. Here are a few recommendations to select the right one for your printing job.
01. For Sublimation Printers:
Those who are doing sublimation printing, go for the Manual Draw heat press machine. Although you may find Clamshell Heat Press a popular option, you may end up with ghosting of sublimation transfers.
Sublimation printing is mostly used for thicker items like coffee mugs, plaques, bulky garments, etc. Therefore, a manual draw or swing-away heat press can be the most suitable option for you.
02. For Dtg Printers:
For curing DTG prints, the Automatic Air Operated Heat Press is the best option for you. Because DTG printing requires a longer dwelling period curing.
Therefore, with an automatic heat-press, you don't have to stand beside the machine for a longer period.
03. For T-shirt Printing Businesses:
If you exclusively print custom t-shirts and that too with screen printing, go for the Clamshell Heat Press machine.
Screen printing transfers require a lesser layout as compared to other printing methods, It allows you to press the garment at a faster rate with a clam press. Most importantly, the clamshell press is the most portable machine for custom printing.
04. For Sports Uniform And Jersey Printing:
If you are printing a sports uniform & jerseys with name/letters and numbers, go with a manual draw or swing-away heat press machine.
Because printing names, letters, and numbers, require proper visibility and layout. To make the job successful without heating your face or burning your hands' a manual draw or swing-away heat press is ideal.
05. For Printing Everything:
If you decide to heat press a little bit of everything, then swing-away / swing arm heat press is the best option for you.
Which Heat Press Machine Should You Purchase?
While you may be clear with the type of heat press to buy. But there are other factors too when purchasing a heat press.
Factors like quality, precise temperature, ease of handling, warranty coverage, tech support, etc allow you to make the best decision for purchasing the heat press.
Now, let us discuss each of the factors below to help you make the right decision. You need to consider the following features for evaluating the heat press you will purchase.
01. Manufacturer:
A manufacturer becomes a brand for good service, Know the brand, its services, and reputation before you purchase one. Else you may end up getting a broken/damaged heat press that won't help your business.
Everything isn't always going right with top manufacturers, but they do have a strong exchange/return policy. Knowing that you buy from a trusted seller feels you confident in your purchase. Make a checklist of these questions to trace the right one.
Q. Does the company you are buying heat-press, provide you a reliable and prompt customer service?
Q. Do they provide tech support or troubleshoot mechanical issues with the heat press?
Q. Are they polite and resolve issues quickly?
02. Quality:
High-quality and durable machines cost you more than the cheaper ones. As you constantly open and close the platens, the clamps should be sturdy to withstand the constant movement.
High-quality parts are necessary to perform better. So, how to check which machine is of high or low quality. Make a checklist of the questions below.
Q. Which material is the heat press machine made of?
A. Go for steel because it is durable.
Q. Is the heat press machine a complete unit? Check for welded frames if any.
A. Machines with fewer welds are better
Q. What is the warranty on the heat press?
A. 5 years warranty is the industry standard
Q. Check for reviews. If any
03. Accurate Time:
For a successful heat transfer application, you follow an accurate curing time. Else known as the dwell period. A timer on your machine saves you from the burden.
But, a timer also comes with certain specifications. What conditions/features should you look for in the timer of a heat press machine?
Q. Are the readings of time, temperature, and pressure displayed in analog or digital format?
A. The digital panel is accurate as it gives an exact value. Remember! In a printing job even a minute alteration in time, temperature and pressure may affect your printing quality.
Q. Does the timer have an automatic reset feature?
A. Automatic reset feature eases your job of resetting the timer each time you start printing a new one.
Q. Does the timer come with an automatic alarm and Turn OFF feature?
A. If a heat press automatically opens up after a set period, you can multi-task rather than standing near the machine too long.
Q. Can you customize the features of the heat press?
A. If you are an experienced printer, you may set values for each function.
04. Temperature:
To get a durable print on the garment, you need a heat application over the print area. Inadequate or excessive temperature can destroy the print.
So, you need to measure each degree's rise or fall in temperature. Therefore, how to search for the heat press that records the accurate one? Check the following list of guidelines.
Q. Does the heat press use a bi-metallic thermometer or resistance temperature detectors(RTD probe)?
Q. What is the spacing of the heating element inside the heat press?
A. Elements should not space more than two inches apart.
Q. What is the type of temperature gauge?
Q. What is the thickness of the heat press platen?
A. ¾ inches is the ideal thickness of the platen. Thinner platens lose more heat.
Q. What should be the highest temperature of a heat press?
A. Some substrate requires 400 degrees to cure.
Q. What is the maximum time a press should heat up?
A.  The standard time is 20 minutes
05. Pressure:
Pressure and temperature are the key elements to applying heat on the print surface. It is important to have the correct pressure –light, medium, or heavy depending upon the substrate or material.
Most importantly, pressure should be evenly applied to the entire print area. Therefore, check the points before purchasing a heat press.
Q. Is the pressure reading analog or a digital display?
A. Similar to the timer, you need accurate pressure. So, digital reading is preferable.
Q. Can you adjust the pressure over the center print area?
A.  Applying pressure at the center facilitates even application.
Q. Is the pressure effectively applied to every corner of the platen?
A. To test, put four square papers on each corner of the platen and apply the pressure. If you can pull out any one of them, it implies uneven pressure of heat press platens. Therefore, reject the press.
06. Platen Size:
The standard size of a heat press platen should measure between 15″x15″ to
16″x20″. If you are decorating XL, XXL, or larger t-shirts you require large platens.
Custom platens also come in different sizes as per your business requirements. For instance, if you print kids' and adults' garments, bags, hats, and shoes then you need to have platens of different sizes accordingly.
Q. What custom platens are available with the machine?
Q. How easily can you change the platen?
Rough handling can damage your heat press.
Conclusion:
Many decorators have made huge profits by incorporating product customization into their business. Irrespective of what you perform like screen printing, DTG, or sublimation, a heat press machine is crucial to perform the curing process.
Do not compromise with quality for the price by holding hands to invest in a heat press. So, you must remember that improper curing or drying of ink will destroy the print and ultimately your reputation.
Finally, while purchasing a heat press do not compromise with quality. Keenly follow the methods above to select the right one for your printing business.

Do you have printers? Are those printers sitting idle?
Become a Print-on-Demand dropshipping app like Printful or Printify. Dropship your merchants' orders.
Know more