Last Updated on: 26th November 2021, 09:45 am
Product Customization is the booming trend in the current times and the future. The global market for the custom t-shirt printing industry is expected to cross ten billion dollars by 2025 at a compound annual growth rate of 6.3%.
The period right now we are in the growth phase and this is global market data. We are not just looking into the U.S. market data.
Rather we have taken information from different authorized sources to serve you better information about the growth of the custom apparel business.
When we look into the annual survey made by the Specialty Graphic Imaging Association (SGIA) where they gathered a lot of people within and outside their organization.
They asked a similar question to each one about sales growth achieved for selling custom t-shirts. The data showed that 69 percent of businesses surveyed achieved at least a five percent growth in the garment decoration business.
Then talking about the U.S. Around 70 percent of the US-based businesses are showing right about what the previous information had said 5% growth. Now they could achieve a 29.3% growth selling custom apparel.
This is not the end. Even some of them achieved triple growth in annual sales as compared to previous global data of 6.3% by incorporating product customization into their business.

Do you have printers? Are those printers sitting idle?
Become a Print-on-Demand dropshipping app like Printful or Printify. Dropship your merchants' orders.
Unlimited Merchant stores. Dropship and Fulfil Merchants' orders. Manage merchant invoice, sales commission, etc. Merchants sell the designed products in shopify, etsy stores, etc.
Know more
This shows that not only the US but also the global market is really on a fantastic growth path for selling custom decorated apparel.
06 Reasons To Add Product Customization Into Your Business:
From the above discussion, you might have got some idea about adding production customization features can surge your business profits within a short span.
Now, let us dive deeper into it.
01. Global Data for custom t-shirt printing Business:
Differentiate yourself from the market by introducing product customization into your business.
When we look into the survey that explains the growing demands of particularly custom t-shirt printing business, you will be astonished to know that it shall reach a value of more than 3 billion US Dollars by 2025.
Just have a look at the graph:-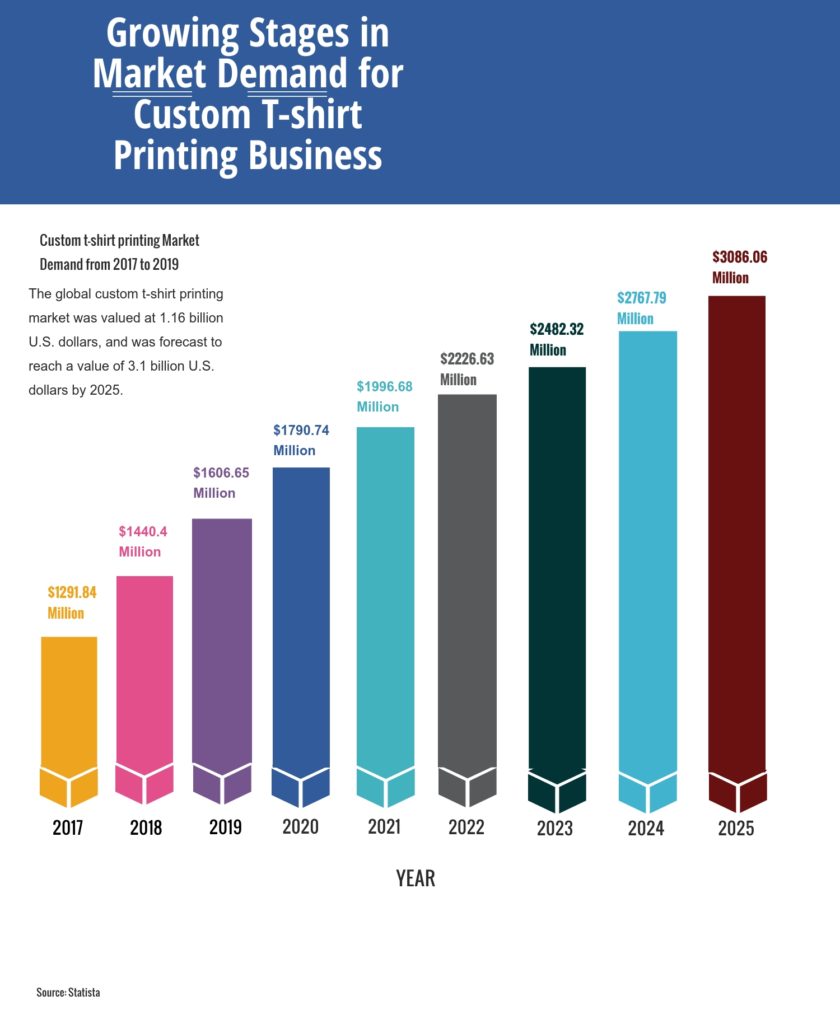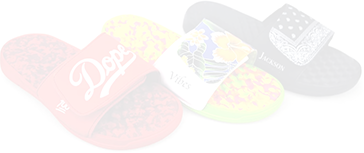 Boston based custom slide sandal maker has become $10 Million company using an online designer and unique growth marketing.
Read more
The global demand for custom t-shirt printing business has seen a tremendous rise from $1291.95 million in year-2017 and predicted to increase by 3.1 billion dollars in 2025.
Custom t-shirt printing is feasible with design software like ImprintNext T-shirt Designer Tool that provides a design platform for customers in your online store.
In simple terms, offering your customers to design products, that they want to use or wear– is what trending around.
02. What Google Search Say:
The data does not confine to what people said during a conversation. When we look at the trends what are people asking for on the Internet and when they go on Google and search.
The results are clear. When we look at Google Search Trends for custom t-shirt printing, so this is from 2004 through the present.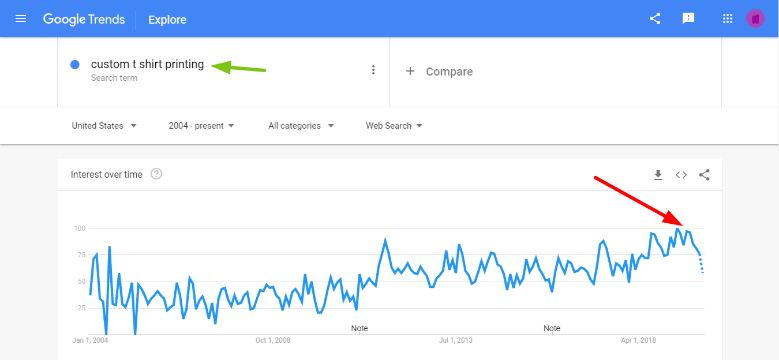 We see that there is a relatively flat period of time from about 2004 to about 2008.
And then as digital technology started increasing and digital printing became more mainstream we're seeing that growth trend happens. We are seeing high spikes during the seasonality of custom apparel.
Therefore, we deduce that ¾ the quarter time period we see the spikes come up and we're seeing that significant growth.
So, the Google Search Trends report shows that people are searching for custom printed t shirts more and more on the internet.
If they come to know that it is available and more likely affordable, they will definitely buy the stuff.
Now, we made another research in Google Trends by adding a suffix "near me" to the custom tee shirts i.e. "custom t-shirts near me". We got amazing results.
Just Have a look!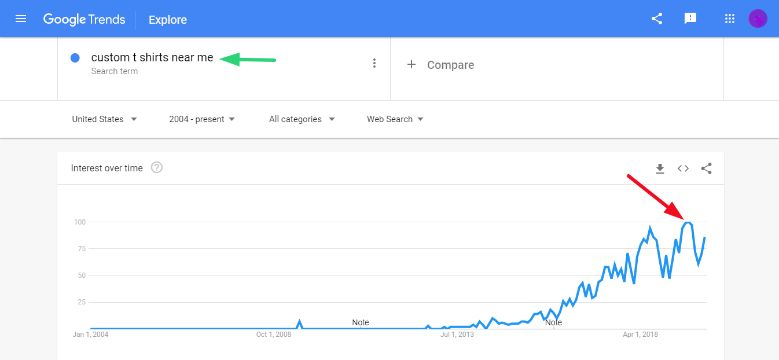 When we add the term "near me" to this search we see a really high slope in the growth. that was non-existent between the range of 2004 till 2012.
Being able to get a custom t-shirt near you, quickly, easily, and affordable is what people search for.
Now, the beginning of the digital age of t-shirt printing and being able to create things quickly, easily, and at a low production cost. That means it can be a fair price for the consumers. Something they are willing to pay which has really started to spike over the past few years and growing fast in the current trends.
03. Industry Survey:
Coldesi- a Product printing equipment supplier industry has a large group of customers. When these customers( actually the sellers of custom apparel) were asked about their business like how often do they get small quantity orders or how often do customers ask for custom t-shirts. The outcome was—75% of the survey states that small quantity orders were often requested by their customers.
Therefore, 75% of these people are asking for personalized products. So,, you need digital printing equipment to meet the demands for this type of service. You can also purchase a Direct-to-garment printer from some of the reputed companies.
Now, coming to the next 50% of the survey stated that orders for custom decorated apparel have increased significantly to 14.85% as compared to the previous data of 5% especially from the year-2013.
This significant growth in demand for custom t-shirts and apparel goes along with the Google Trends data that is discussed above. We see that more and more people are looking and asking for personalized orders that you need to be able to digitally print for it.
However, some of the sellers also reported that they did not find any significant increase in their business. The apparent reason may possibly they don't have good business strategies or maybe some other reason too.
04. Demand for custom printed t-shirts:
About 74.74% of surveyed business owners describe their demand for custom printed t-shirts as increasing. About 19.09% of business owners reported a significant increase in the custom t-shirt printing business.
Remember! That people demand custom t-shirts just for them. And typically these types of orders come with a medium to small size orders.
Looking deeper into it. Gone those days when customers used to purchase a product that pre-designed by a manufacturer. That obviously seems that a customer got no freedom to wear his choice. They are bound to look for numerous garments that suit their matter of choice.
Now, with the advent of digitization and custom printing technology, consumers create their ideas and get a completely self-decorated product. This also creates a sense of uniqueness to stand out from the rest.
This is the obvious reason that fascinates a customer to opt for self-customized products. And that is now possible with a product designer tool(discussed below) and a printing machine.
05. Standard Pricing:
Growth in your business has to do with the affordability for consumers and also the profitability for the business owners.
The average pricing for selling a single personalized shirt is $21. And if you receive bulk orders for 10 to 20 shirts, then your average pricing must be $18.
The reason for such pricing is, $18 or $21 is affordable and reasonable for selling a t-shirt.
It is also a profitable price for the business owner especially considering the total cost in a blank t-shirt maybe $3 or less. And further applying a print on it, your production costs can hardly be $7 to $8 except screen printers.
Therefore, based on a low production cost, you are getting a high margin by selling these t-shirts between $18 to $20.
Therefore, selling custom t-shirts is really affordable and reasonable which creates a product customization market that grows quickly.
06. Impact of Technology:
When we talk about technology and what has helped to deliver a custom printing market, then you may come across white-toner printing and full-color t-shirt transfers.
Let me define these terms. A color transfer is similar to a transparency film that you run through a LED printer that has white toner and other colors as well.
Let us follow the steps of how you can print a graphic on a t-shirt quickly that you can deliver it at a fair price to the customer and get a profitable amount for you.
Step 1- Receive the graphic image file:
A customer chooses a product from your online store and selects the option for customization by clicking on the "customize" button. For instance, a product like a t-shirt.
Further, using a product designer tool, the customer creates designs on the t-shirt or any product he likes, and finally places an order.
You receive the order with the print file in a vector graphics format that you print as per the order.
Now, a question arises, where to get a product designer tool. The answer is here.ImprintNext Product Designer tool is designed and developed for print shops that sell custom apparel, signage, and promotional products. The software easily integrates onto your eCommerce store that customers use to design whatever product he likes. As simple as that.
Step 2- Prepare it to print:
You need to transfer this print file to your product printing machine, maybe for screen printing, DTG printing, engraving, embroidery, embossing, sublimation, heat-transfer, dye-sublimation, and much more.
If you own a digital printing, you can directly transfer the print-file to the software that comes with the digital printer and prepares for the transfer to go on the apparel.
Step 3- Apply to a t-shirt or any product:
Finally, you can apply the graphic image contained in the print file onto the shirt. It is a simple step process that allows you to print one shirt to one-hundred.
Conclusion:
Lastly, the entire article is all about informing you of the current market trends of demand and technology in the field of product customization/personalization. Now, it is time for the print shops and eCommerce stores to integrate custom product designing and printing into their business processes. If you do not own any printing machine, you can approach the print fulfillment centers that also provide you drop-shipping services. In conclusion, I advise you to switch over selling custom decorated products that are a rising demand at current times and more in the future.

Do you have printers? Are those printers sitting idle?
Become a Print-on-Demand dropshipping app like Printful or Printify. Dropship your merchants' orders.
Know more