Last Updated on: 26th November 2021, 09:45 am
Many things have evolved with this digital application, from converted desktop inkjet printers to today's purpose-built direct-to-garment (DTG) equipment.
On the other hand, the process has remained mostly unchanged: the best substrate is still 100 percent cotton shirts. Water-based ink is still printed with an inkjet print head. On shirts, a pretreatment solution is still utilized before the white ink is printed.
Some of the most noteworthy modifications and developments are as follows:
Pretreatment solutions and application procedures that are more effective:
Printhead technology has improved.
Improved ink chemistry
Increased manufacturing rates
Pre-treated shirts are available.
Conveyor dryers are used for curing.
The Future of DTG printing:
The advancement in direct-to-garment printing technology is seen today mirrors the progress in the future. So, let us discuss some of the key points below:
1. Progress is Garment Pretreatment Technology:
In recent years, the pretreatment solution has evolved from a hard, occasionally yellow chemical on the garment to a thinner, clearer solution. As a result, dark-colored shirts (which require a white underbase) and white and light-colored shirts can use it (no white ink).
The goal of pretreatment is to get the ink to start curing on the shirt's surface before it permeates into the fabric. A screen printer does something similar by printing a white bottom base and flashing the ink before applying the other colors. Thus, the ink on the garment's surface "flashes" as a result of the pretreatment.

Do you have printers? Are those printers sitting idle?
Become a Print-on-Demand dropshipping app like Printful or Printify. Dropship your merchants' orders.
Unlimited Merchant stores. Dropship and Fulfil Merchants' orders. Manage merchant invoice, sales commission, etc. Merchants sell the designed products in shopify, etsy stores, etc.
Know more
When printing with CMYK inks exclusively, you can pretreat a white or pastel shirt, although it's not necessary. Brighter, clearer images, and better washability can be achieved by pretreating these clothing.
2. Use of Automatic Pre-treatment Machines:
Any type of pretreatment that results in inconsistent application on the fabric surface will produce similarly inconsistent prints. Moreover, taking another route, the amount of pretreatment and consistency applied across the entire picture area has an impact on the final print.
Most DTG decorators now regard automatic pretreatment equipment as just as crucial as the printer, heat press, or conveyor drier. As a result, most decorators have abandoned the pump bottle, paint roller, and power sprayer to favor automatic pretreatment equipment. Again, the key factors are uniformity of application and cleanliness.
3. Evolution is Print Heads:
Print heads were designed for printing on paper and diverse ink chemistry in the early days of the DTG process. Unfortunately, this resulted in some clogging concerns, which persist today in machines designed as recycled paper printers.
On the other hand, most modern machines have print heads designed expressly for use with DTG's water-based textile inks.
4. Ink Developments:
DTG printers have become more reliable, thanks to advancements in ink, particularly white ink.
In today's white ink, the titanium dioxide used as a pigment is better suspended, resulting in fewer particles settling and, as a result, less head clogging.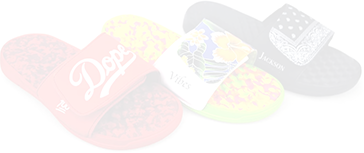 Boston based custom slide sandal maker has become $10 Million company using an online designer and unique growth marketing.
Read more
5. Use of Conveyor dryers instead of Heat Press:
For many years, heat presses were the standard for curing DTG-printed clothing, and most decorators still use them today. On the other hand, Conveyor dryers are becoming a more common alternative, especially if you have multiple DTG printers.
It's usual for decorators to upgrade to a conveyor drier whenever they install a fourth or fifth printer.
6. Faster Production with DTG:
DTG printing is more competitive with other decoration technologies due to its faster manufacturing times. It's also becoming more normal to use numerous printers to boost efficiency.
Now you may order garments that have already been treated and sent to your store. These shirts didn't print properly in the past, but now they print as if you prepped the garment yourself.
7. Use of DTG for Large-scale Production:
Answers these three questions:
Are you wasting money by turning down shorter-run projects?
Do you wish to have an e-commerce presence on the internet?
Are you using a lower-skilled labor pool because the training is simpler?
Almost all garment decorators are now living and working in a new world where customers desire unique products in small numbers and now. Because they don't want to carry enormous decorated-apparel inventories, even experienced purchasers are approaching garment decorators and asking for many shorter runs instead of larger-scale production.
Instead, they want decorators to operate as a sort of "storage" for their products. Therefore, you'll need the capacity to produce in an on-demand environment for some of these consumers.
8. Despite being new, it is advanced:
Despite the fact that DTG decorating is still relatively new, many online garment vendors employ it. Orders are filled on demand; in many cases, they are printed and dispatched the same day.
In the beginning, people were skeptical of DTG technology. However, when the digital approach gained traction and eventually flourished, many screen printers came to discover how many orders they were turning down due to minimums.
9. Speed Production with DTG:
When it comes to DTG printing, speed is the next frontier. In its infancy, a process that took 10 minutes or more now takes less than a minute. Today, the average print time for a 10″ x 12″ graphic on a colorful shirt is still approximately two minutes, and even the cheapest printers can print a white tee in less than a minute.
With increasing availability from garment makers, the habit of purchasing pretreated clothes will undoubtedly grow. But, will you be able to stop pre-treating your own clothes?
Probably not, but our clients occasionally tell us which clothing they want you to embellish.
10. Shorter Learning curve:
Unique styles and colors will necessitate digital decorators pre-treating clothing that is not part of the manufacturer's typical offering.
While there is a learning curve to becoming an excellent DTG decorator, it is substantially shorter than the learning curve for most other decoration approaches. Screen printing, for example, necessitates the use of a variety of screen mesh counts, ink selections, and other factors.
Conclusion:
DTG printing entails repeating the same stages in the manufacturing process. In actuality, the art department makes the majority of the printing selections. In most cases, a DTG machine operator just loads and unloads clothing.
If it hasn't already, DTG printing is most certainly in your near future. Moreover, this change is becoming easier to tackle, thanks to advancements in inks, pretreatment, and machines.

Do you have printers? Are those printers sitting idle?
Become a Print-on-Demand dropshipping app like Printful or Printify. Dropship your merchants' orders.
Know more