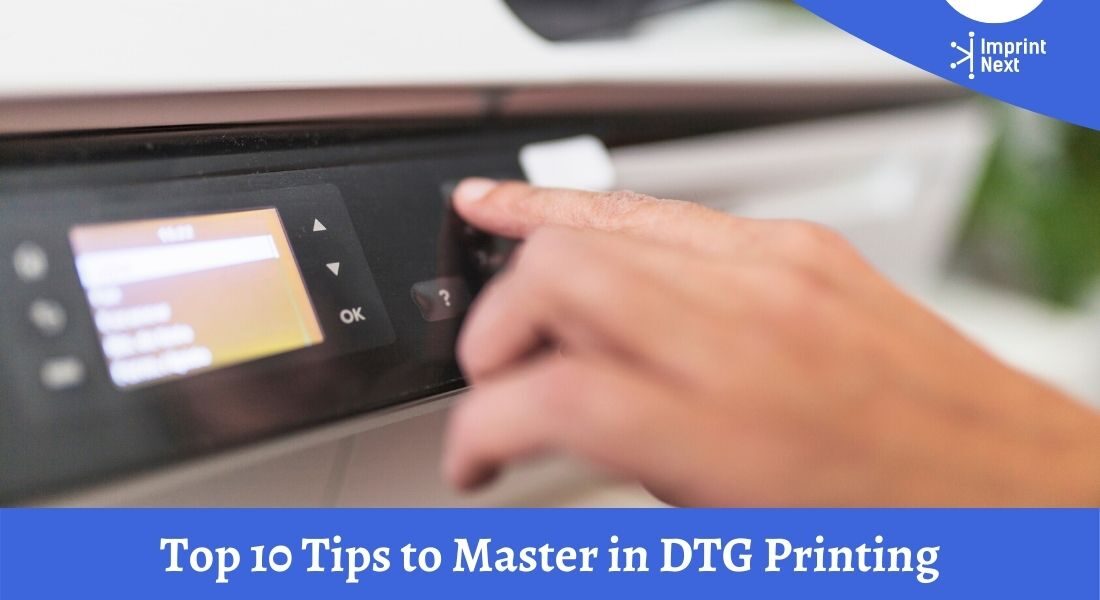 Last Updated on: 26th November 2021, 09:46 am
With the advancement in technology, there is a shift from traditional techniques to a modern approach in DTG printing. In today's times, the effective technique to Direct-to garment printing for fashion-based production and photo-realistic decorated apparel.
If you step into the vibrant world of DTG printing, you would still find a remarkable presence of Screen Printing. However, there are many printers who moved to the best DTG practices and this transition was found to be smoother.
While you won't find any trouble in learning the new techniques because it is pretty short. Still, it requires special cleaning, prepping, and production — processes that are worth an investment. Moreover, it gives the customers who are enthusiastic about purchasing custom apparel because it results in a life-like finished product.
Here are the tips that make you master the trade in DTG Printing:
1. Set your business goals:
It is a common mistake with many decorators who fall into the trap of accepting too many orders, beyond their capacity. However, they are not able to deliver the same in time.
As a DTG decorator, it is important to know that you should push your self into the promises, in the greed of more business that you cannot fulfill.
Moreover, do not allow the customer to push into the product realms in which you are not proficient.
It is better to give your clients a limited selection that you are proficient in providing without any faults or errors in time.

Do you have printers? Are those printers sitting idle?
Become a Print-on-Demand dropshipping app like Printful or Printify. Dropship your merchants' orders.
Unlimited Merchant stores. Dropship and Fulfil Merchants' orders. Manage merchant invoice, sales commission, etc. Merchants sell the designed products in shopify, etsy stores, etc.
Know more
2. Keep all your job Record:
What expert or professional printers do is that they know the importance of keeping records. So that they can track the works in terms of progress. And check whether it is completed or not.
While learning from these experts, you should also maintain a job sheet that keeps track of the processing of garments, fabrics, inks, and outcomes.
So, you can begin to streamline your business and production process to offer a better outcome.
Keep note that you should not experiment with new processes or methods while dealing with client orders.
Because such innovation may cost your time and even disturb your production and delivery process. As a result, there will be chances of losing clients. Hence, you must follow the predefined procedure to remain on the safer side.
3. Set Up a production platform:
When your workplace is tight, cluttered, and in a congested environment, it is inevitable to control your and your team member's frustration and mistakes.
Because a congested environment makes it messy to deal with large orders that may cause mistakes.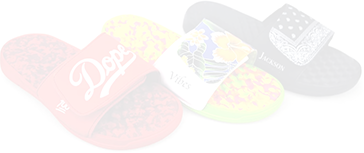 Boston based custom slide sandal maker has become $10 Million company using an online designer and unique growth marketing.
Read more
Therefore, you must set up your shop in a logical manner that helps you to expand your merchandise and production. And your operators work quickly without needing to move too much between machines or rooms.
Moreover, you must encourage employees to participate by asking them to weigh in on how to make workflow more efficient.
After all, they're the people performing these tasks every day.
4. Placement on the platen:
While you will start by using a measuring device to determine placement on the plate, developing a good eye for placement is beneficial when you gain more experience.
These abilities, combined with an additional collection of platens, can significantly improve efficiency, as it helps you to reload the next collection of clothing as the printer is printing the current clothing.
Most importantly, you must not replace the measuring divice if you are not proficient in placement and positioning
5. A consistent pretreatment method is necessary:
Pretreatment method is the utmost necessity. Because it helps the ink adhere to the garment and can make or break the finished piece's quality
While some decorators make a common mistake by applying the manual spray to get the same results. However, it does not perform well in the long term.
.A pretreatment machine is critical to ensure consistent pretreatment application. Also, after pretreatment, it is prudent to prepress the dress in a heat press to smooth the wrinkles and dry the cloth for improved penetration.
However, if you find fibers sticking up after pretreatment, consider pressing the garment again.
6. Regular maintenance of the machine is Important:
If you find the ink drying over the print head's face or in edges, you are supposed to disrupt your production. Else it may lead to the dripping of ink drops onto your client's orders.
Furthermore, you must prevent this buildup, cap, and wipe assemblies before retiring the machine for the day.
While you must follow the manufacturer's maintenance recommendations ensure your DTG machine functions optimally.
Moreover, perform a regular print-head test to ensure that no blocked nozzles are present.
Always strive to implement best practices along the way, with some deriving from issues of the collective industry and some being unique to your particular shop and process.
7. Use Good Quality Garments:
If you print on garments that are of good quality, you find a huge difference in the print quality. Like printing on a 100% cotton t-shirt is soft, comfortable and people love to wear.
However, if you want to print on a 50/50 garment, you need to be careful while decorating because there may be a degradation in the print quality.
Most importantly, avoid polyester garments when printing with DTG, As polyester material repel water and that can seriously pose printing problems in DTG.
However, if you want to print on polyester, then you have to be an expert.
8. Practice to Expertise:
DTG printing is not as easy as you think. From t-shirt placement to final printing, you need to skill up your hands.
I said t-shirt placement. If you are mistaken to place the t-shirt even a few millimeters off the border, you have spoiled the job. You can better understand why I said this.
When you start with your first DTG printing, you should not distract your eyes, even for a single moment. Else you will commit an error when you print.
Most importantly, don't skip the step. Practice as long as you can so that you are even more confident the next time you print.
9. Choose the Suitable DTG Printer:
There are many reputed suppliers of DTG printers.
You can choose the best DTG printer for your business. You can lease a printer if you cannot afford to buy it.
10. Efficiency is the utmost priority:
To increase your efficiency, you cannot forget the least bothered, i.e. cleaning.
You can also separate the pretreatment and printing operations to increase speed and eliminate mistakes.
Always keep extra platens of various sizes beforehand as you won't in short of this equipment while there is an urgency.
Not only the shirt you are currently printing, but you also have to keep ready the subsequent one to eliminate the time gap.
Conclusion:
The tips to master DTG printing is of utmost importance to learn as a beginner and to speed up if you are a veteran.
Although screen printing is tough, DTG printing is not an easy task as many believe. From placing the garment to printing, the entire procedure needs skill and expertise.
Therefore, you must master on these steps to get a successful DTG priting output.

Do you have printers? Are those printers sitting idle?
Become a Print-on-Demand dropshipping app like Printful or Printify. Dropship your merchants' orders.
Know more