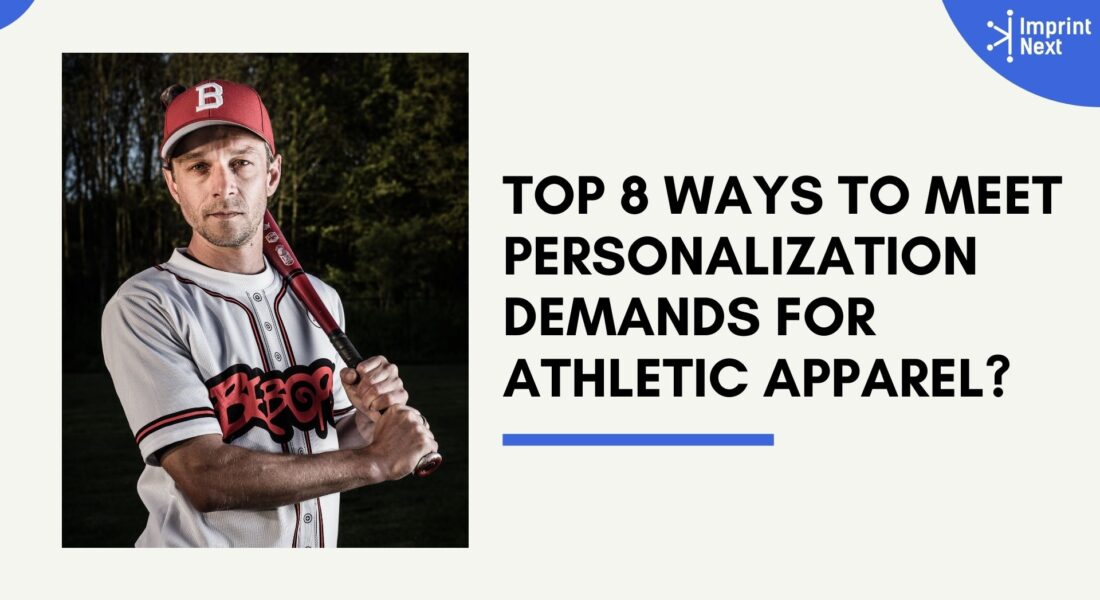 Last Updated on: 9th March 2023, 01:30 pm
To meet the personalization demands of the athletic apparel market especially uniforms and jerseys, the most preferable decoration options for customization include screen printing, heat transfer, and heat transfer vinyl.
When we receive an order to print around 300 shirts, it means we are not printing a single color design, logo, names, and numbers 300 times i.e. for each shirt. That is to say, the order comprises printing for 20 different teams each having at least 15 pieces to print. It is similar to 20 different teams each having 15 players taking part in a tournament. So, the most feasible or the convenient print method usually preferred is direct screen printing.
More to say, athletic apparel is short-lived. It means athletic apparel is worn only for the tournament. Further, it may not be used as casual wear that needs the print to be sturdy lasting for a long time. In that case, for loose numbering, logo, name & numbers, ready-to-apply transfers are affordable and worth it.
Best Ways to Meet Personalization Demands in Athletic Apparel Market:
But, here we are going to plan even further and discuss what is better for you when picking up a print method when printing certain orders. So, if you are to accomplish huge orders you must have a solid game plan that produces better quality and profitable output,
1. Heat Transfer Vinyl:
Heat transfer vinyl is the most cost-effective and easiest print method for personalizing jerseys.
The name & numbers, logos mostly come pre-cut that you can quickly apply onto the apparel.
Further, you can offer multiple team colors, athletic fonts at regular sizes, these are the most obvious options found in the print shops.

Do you have printers? Are those printers sitting idle?
Become a Print-on-Demand dropshipping app like Printful or Printify. Dropship your merchants' orders.
Unlimited Merchant stores. Dropship and Fulfil Merchants' orders. Manage merchant invoice, sales commission, etc. Merchants sell the designed products in shopify, etsy stores, etc.
Know more
For those who prefer to get into the printing business in the sports market, adopting the heat transfer vinyl printing method welcomes you to this business. Because investment is the major concern for beginners and this print method does not require you to invest in equipment besides a heat press. Further, you can also keep pre-cut numbers in stock for the last-minute on-demand additions with heat transfer.
2. When Budget is Tight:
If you have a tight budget and looking to save even more without sacrificing finished print quality, you can choose and keep stock of letters and numbers that are pre-aligned for immediate heat press applications. In this case, you won't need a computer, vinyl, or a printer. Simply, you get a heat press and print hassle-free.
With this decoration method, you can quickly and easily personalize jerseys, sports apparel, athletic wear, team wear, and apparel following easy-to-perform steps. There are pre-cut and pre-spaced names, numbers. logos, fonts, colors for all sizing. Thus, it allows you to achieve a multi-layered print and eliminates the need for manual labor.
3. Product Exactly What is needed:
Cuttable heat-transfer vinyl has a place in the team-apparel market because it enables in-house cutting of colors, typefaces, and specific sizing that precut letters and numbers do not allow.
Once you start filling orders, you'll have a better idea of the popular materials and team colors you should maintain on hand. You may also easily generate a distinctive two-color, layered effect with one of the new thinner vinyl materials while keeping the stretch and performance of the uniform without sacrificing its feel.
Multiple colors and layers can add weight to a jersey or make it feel heavy, therefore it has an advantage over other decorating methods.
Cutting your own names and numbers also allows you to produce exactly what you need with no added inventory, as well as speedy production of any inevitable fill-ins.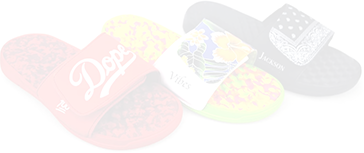 Boston based custom slide sandal maker has become $10 Million company using an online designer and unique growth marketing.
Read more
4. Screen Printing:
Athletic apparel mostly comprises team names, numbers, player names, and sponsored partners' logos.
To print logos on the chest or numbers on the sleeve, print shops usually look for screen-printed transfers or embroidery. Embroidery in case demanded by the client.
They can be ordered and produced using the same ink formula, so everything matches in color and feel. Grouping or gang-sheeting different images is easy and economical, so you'll be ahead of the game compared to other decorating processes.
You can easily stock transfer sheets, logos, names, and numbers of various shapes and sizes to personalize apparel at the last minute.
You need not worry about screen printing as it does not add a stiff or paper-like feel to uniforms and jerseys. Moreover, screenprints offer superior durability, they are lightweight and soft to touch.
Besides uniforms, if you decorate warm-ups and school gears, stock the team's logo with corresponding player names and numbers to deliver a superior look that offers a premium return.
5. When you are printing sponsor partner logos:
Adding sponsor strips is simple and inexpensive using screen-printed transfers.
You may get six separate 2″ x 11″ sponsors on one page using the same gang-sheet strategy. Simply separate the strips and heat-apply as needed.
6. Decorating for On-site Events:
If you're decorating for on-site events like sports tournaments, gymnastics, events, or cheer competitions, screen-print transfers are a great option.
Print a set of transfers with the event name on the front and another with all of the participating teams on the back.
Include extra personalization possibilities and sales by including add-ons like flag packs, "mom/dad" — even player positions or personal events.
Allow the consumer to select the print and apparel item, and you'll be able to provide a custom-printed product in seconds with just a heat press.
7. Patches & Emblems:
The classic jersey-and-hat combo isn't the only way to dress up your team. Staff hats and clothing that match the home and away uniforms are now available.
For decades, embroidery has been the most popular choice for left-chest and hat embellishments, but there are now other high-end alternatives.
If you want the high-end look of embroidery but don't want to outsource or invest in new equipment, there are a number of emblems and patches you can make with just a heat press to obtain the same professional look.
When you choose this option, you don't have to sacrifice detail or color. To fit any team, there is an entire range of emblems with various finishes, textures, and endless color variations, as well as dimensionally stitched patches with customizable thread selections.
8. Maximize your Product Offerings:
Maximize your equipment by offering fanwear and accessories that support the teams for which you're decorating.
You easily can add a mascot or team logo in a one-color vinyl graphic or a screen print transfer to a sweater or polo and a fan's favorite team player on the back using a precut number.
It's the perfect way to add sales and boost your profits, all while making the team and fans happy.
Conclusion:
There are many full-proof methods from which to choose if you're just going into the athletic market or want to broaden your decorating possibilities.
I hope you find these suggestions useful, and I wish you and your company may excel achieve success selling customized sports apparel.

Do you have printers? Are those printers sitting idle?
Become a Print-on-Demand dropshipping app like Printful or Printify. Dropship your merchants' orders.
Know more