Last Updated on: 26th November 2021, 09:45 am
Starting an online store is not child's play. First, you need to develop a store. Then advertise it over the internet so that people know about you. For selling a product you need to contact a manufacturer and get products in your warehouse. And we cannot forget shipping. The customer is not going to come to you. Rather you are shipping items to the doorstep. Shipping imposes a cost.
Some other tips like providing discounts, cashback on your products attract users to choose you more than your competitors. This helps you to draw more sales and make business quickly.
5 Things You Must Need to Start an Ecommerce Store:
To start an online store, you must have a domain and that must be unique. Here, that is how you should get started:
1. Get a domain name:
This is the first thing you need to do if you want to start an online store and later in
It's going to represent your company.
Your domain needs to be easy to spell. If you try to come up with some crazy name that no one knows how to spell, no one's gonna go to your website.
It needs to be easy to remember just because it's easy to spell. If people can't even remember what is your domain name. They're never gonna go to it.

Do you have printers? Are those printers sitting idle?
Become a Print-on-Demand dropshipping app like Printful or Printify. Dropship your merchants' orders.
Unlimited Merchant stores. Dropship and Fulfil Merchants' orders. Manage merchant invoice, sales commission, etc. Merchants sell the designed products in shopify, etsy stores, etc.
Know more
There are a lot of websites you can go to buy a domain name from GoDaddy and Namecheap. These are two popular ones out there now.
When thinking about coming up with a name for your company and your domain name.
Make sure it includes a keyword that you want to rank for on Google.
So when someone types in something that represents your company into Google that's a keyword and you want to make sure your domain name contains it.
2. Pick a Shopping Cart Platform:
Picks a shopping cart platform. This is a really important decision and there are a lot of shopping cart platforms a lot of different options but there are only two that I would recommend.
One is Shopify and the other is  Woocommerce.
Shopify starts at around 30 dollars a month. Shopify is easy to use and it just works. You don't need to have any technical knowledge and it has a great community around it.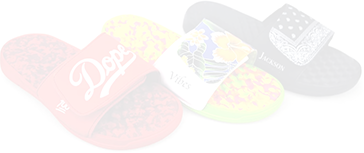 Boston based custom slide sandal maker has become $10 Million company using an online designer and unique growth marketing.
Read more
One of the best features of Shopify is all the apps. There's a ton of apps so if Shopify is out of the box. You can find an app that will do pretty much anything you can imagine.
On the other hand with WooCommerce all you have to do is pay for hosting and that's gonna cost you to start around $4 a month.
It's a lot cheaper of an option. Using Woocommerce if you have technical knowledge. If you know about HTML CSS JavaScript and/or you're willing to learn. The last issue with WooCommerce is that it does break easier and there's not really any support to help you out.
Whereas Shopify does have dedicated support. So what I'd say is if you're looking to start a real business.
Therefore, go with Shopify it's worth the money. But if you're just looking to test out if internet marketing entrepreneurship and e-commerce is right for you then just going with WooCommerce.
Moreover, if you want to start a small online business, Woocommerce is a better option.
3. Setup an Online Store:
After you've purchased your shopping cart platform you need to actually set up your store.
The first thing is to get a fundamental knowledge of SEO search engine optimization.
That is how Google determines what websites rank.
Once you learn about SEO and keyword, create a website that Google will want to rank higher.
It will bring you free traffic which everybody wants.
The next big mistake that people make is they build a website that's confusing to use. You want to make it as easy as possible for a customer to purchase from you now this sounds simple but the truth is you get a hundred people to your website but only one of them buys, that's not very good.
You want to get as high of a conversion percentage as possible. You want as many of those people purchasing and that'll make you more money.
4. Make Your Website Legel:
Let us talk about how to make your business legal in the eyes of the government.
Everyone gets hung up on this and they think it's really hard to start an online business or a business in general legally.
It's not at all. There are a few simple things you'll do:
First, you're gonna file for an EIN number and an EIN number. It is free to get.
Then you file for a state seller's permit in whatever state you live in and that's also free to get. So you can pay sales tax so some states and some countries obviously do not require that.
5. Create a Business Entity:
And the last major step is to create a business entity and the two main ones that I'd recommend are either a DBA or an LLC. An LLC provides more protection but it's a lot more expensive and a DBA doesn't provide as much protection. But it allows you to get a business bank account business credit card.
All those kinds of fun things you also probably don't need a trademark or a patent for your logo or your idea unless you think that there's potential that someone might infringe on it.
6. Getting Customers to Your Website:
The most often overlooked and most important part of starting an online store and that's getting customers to your website
The ten ways to get customers to your website are as follows:
The first one is SEO which we already talked about and that's just ranking high on Google. So you can get free traffic to your website.
The next one is content marketing. Creating really unique interesting content articles blogs, podcasts, YouTube videos whatever all this is free to do. Once again if you do this properly you can get customers to your website for free.
You can use public relations PR to get into newspapers magazines on radio shows podcasts.
Try to go be a guest or get articles written about you in other media.
Another free option is using social media which is Instagram, Pinterest Facebook, Snapchat, YouTube, or whatever social media is popular for you.
Use your niche to develop a community and you can use that to drive traffic to your website.
There are also some great paid ways to get customers to your website. Adwords which basically search text ads. So anytime someone searches a keyword in Google that you think would be a good customer for you. You can show them an AdWords ad and they'll click on your ad and come to your website.
There's also a product listing edge which specifically shows a product a price tag and so people can see your product before they click on the ad. When they click on it they're more likely to be in the purchasing mindset because they already saw what your product looks like and they already saw a price tag. There's also paid social media with Facebook ads, YouTube ads, Instagram ads all these can work really well for the correct kind of product.
Influencers not only can you get great photos of your product. But these influencers will also post on their own social media which will get you even more followers & more customers.
Use Google's ad network to get your banners all across the web. Put a banner on their website and if it's a really niche town website. It might be a good option for you.
The best way you can spend your money online is by retargeting ads these are the ads. When someone comes to your website anywhere they go online your ads will follow them. These ads were great because they already know about your website but maybe to purchase yet and so. by seeing your ads, again and again, they'll come back to your website and eventually make the purchase.
7. Sell on Amazon as well:
The biggest mistake new eCommerce store owners make is they only sell on their own site and they don't sell on Amazon. And that's a huge mistake. Amazon is so much easier than selling on your own site.
When you try to sell on your own site you have to convince people to come to your website. It is really hard to do you have to spend a lot of money on marketing.
To do that Amazon already has 150 million Prime customers.
With separate stores, even if you get a customer to your site trying to convince them to purchase and trust you is very hard a typical eCommerce.
Having a website has a conversion rate of about one to three percent as opposed to Amazon which has a conversion rate of 10 to 30 percent.
The reason for this is people trust Amazon. Amazon is a trillion-dollar company. Amazon also makes up 50% of all e-commerce sales.
It means that one out of two purchases that are made online are made through Amazon.
So you should have your own website but you should also sell whatever products are gonna be selling on Amazon as well.
Final Words:
So, an eCommerce store involves a multi-step process. The easy way is to hire an online store development firm that can develop an attractive online store for you. You also need an SEO guy who can publicize your shop through digital marketing.
If you do not want product procurement and warehousing, go for drop-shipping.

Do you have printers? Are those printers sitting idle?
Become a Print-on-Demand dropshipping app like Printful or Printify. Dropship your merchants' orders.
Know more