Many people have made the decision to expand their businesses, take on more work, or change their professions completely. This has been influenced in part by the rise in online business and work due to the pandemic.
This has had a significant impact on the print industry, one of the industries feeling the repercussions of the massive online expansion, causing many print enterprises to identify strategic gaps that weren't apparent before the pandemic. It has provided many people with the chance to expand their enterprises, and one way that print and graphic design firms have done this is by turning them into print resellers.
Who is a print reseller?
You could be asking yourself, "What exactly is a print reseller?" to start. after which there will be a plethora of queries! This post will first address the first query before looking at the advantages of being a print reseller and what that truly entails.
Print reselling, to put it simply, is the practice of a printer not actually printing the products they offer. They will instead engage with a bigger printing company or a Trade Printer, who will accept bulk orders for all kinds of printed items, from business cards to banners and posters.
Work of a Trade Printer:
Smaller printing companies, graphic designers, creative agencies, and many other print-related businesses can purchase printing supplies and services from a trade printer at wholesale prices.
Trade Printers operate on a business-to-business model, which means they don't interact with consumers and can provide smaller print-related businesses with much more affordable, preferable rates for large orders. Orders will be shipped by the Trade Printer either directly to the customer or to the print reseller, but they will always come in plain packaging to protect the Trade Printer's anonymity to the customer.
Benefits of working with a Trade Printer:
In reality, all individuals involved in this type of printing process benefit from the partnership. The amount of business that the resellers generate makes the Trade Printer happy. The reseller benefits from this money at discounted, wholesale pricing without having to make a large equipment investment because the Trade Printer probably has years of experience, equipment valued at thousands of pounds, and the ability to print hundreds of goods efficiently.
A benefit that is subsequently transferred to the customer since the reseller can likewise maintain a competitive price. When they have an excess of work, some smaller print firms also use Trade Printers, which gives them more flexibility when it comes to customer orders.

Do you have printers? Are those printers sitting idle?
Become a Print-on-Demand dropshipping app like Printful or Printify. Dropship your merchants' orders.
Unlimited Merchant stores. Dropship and Fulfil Merchants' orders. Manage merchant invoice, sales commission, etc. Merchants sell the designed products in shopify, etsy stores, etc.
Know more
What should a print reseller look for in a Trade Printer?
If you are considering starting a print reseller business, it is usually a good idea to research Trade Printer's reputation. An excellent place to start is typically how long a place has been in operation, and a lasting firm has typically endured for a solid reason.
Having said that, it is well worth checking out testimonials and reviews if a Trade Printer is still in its infancy but provides good packages, great value, or novel ideas. Finding a professional printer who will offer an account manager or consulting service to you is ideal since it will help you determine exactly what works for you and ensure that your clients' needs are addressed.
Reasons for Becoming a Print Reseller:
Dozens of companies could benefit from adding print reselling to their services. Businesses like the ones below are just a few examples of companies that might gain:
Ad and creative agencies
Graphic Designers
Promotional product distributors
Banners printers
Small to medium print businesses
Photographers
Freelance writers
Artists
You can choose from hundreds more products as a print reseller than you would be able to on your own. As a result, you can expand the range of products you offer to your clients and accept orders that you couldn't accept in the absence of a trade print partnership. Since trade printers typically have the most cutting-edge technology, which you benefit from as a print reseller, this will often put you ahead of the competition.
Some people find that working as a print reseller also gives them more time to pursue their passions for designing, artwork, and producing the best products for their customers. Reducing the amount of time spent reviewing artwork, taking challenging orders, and worrying about shipments or logistics gives you more time to focus on the goals you had when you first started your company. All of this is feasible because the trade printer relieves you of those duties as a print reseller.
How do you become a Print Reseller?
It's time to start looking for a reputable trade printer if you decide that becoming a print reseller is something you want to pursue. The next step will be to get in touch with them to go over account setup and what it entails. They typically have a consultant or account manager who will go over all of your options with you.
The exciting part then begins! Choose your marketing strategy, update your website if you already have one, and start informing your clients about the exciting new development in your company.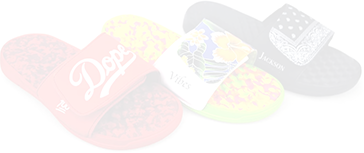 Boston based custom slide sandal maker has become $10 Million company using an online designer and unique growth marketing.
Read more

Do you have printers? Are those printers sitting idle?
Become a Print-on-Demand dropshipping app like Printful or Printify. Dropship your merchants' orders.
Know more