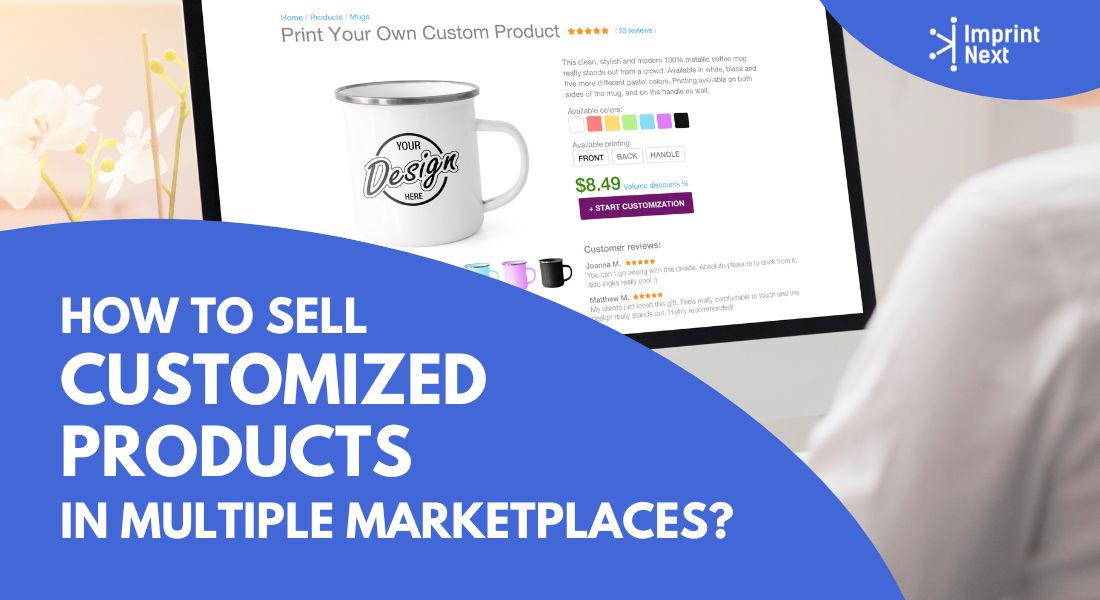 Last Updated on: 21st November 2023, 10:47 am
Do you know that the online marketplaces have become bustling hubs? The new entrepreneurs and merchants are trying to go ahead of the big players in the eCommerce industry. But do you know what strategies they have started adopting?
Practically, the online marketplace has become saturated with similar types of products available even next website. Let us take an example of apparel. There are hundreds of stores that sell t-shirts.
Then how are you going to distinguish yourselves? Accept that you are a reputed merchant, but for how long you will be following the traditional way?
So, the new benefit that online stores provide is product customization. This allows your customers to customize products directly from the ecommerce storefront using a product designer tool.
Now, if you want to start your print-on-demand and drop shipping model,  being a merchant you can easily connect with vendors.
Therefore, ImprintNext empowers merchants by offering a comprehensive suite of features that ensure seamless order management, increased sales, and simplified workflows.
1. Multi-vendor Market Place:
One of the standout features of ImprintNext is its multi-vendor marketplace functionality.

Do you have printers? Are those printers sitting idle?
Become a Print-on-Demand dropshipping app like Printful or Printify. Dropship your merchants' orders.
Unlimited Merchant stores. Dropship and Fulfil Merchants' orders. Manage merchant invoice, sales commission, etc. Merchants sell the designed products in shopify, etsy stores, etc.
Know more
You can sell customized products on various platforms while connecting with your parent store for drop shipping. This means that when orders come in from Shopify, Etsy, or any other supported marketplace.
Moreover, you can handle the fulfillment process on behalf of the vendors, eliminating the need for manual involvement.
2. Seamless Multi-Channel Selling:
You are a print merchant and you want to serve your customers. You need a one-stop solution to expand your sales across various platforms like Shopify, Etsy, Amazon, and eBay.
Instead of juggling multiple platforms separately, this tool streamlines the process, allowing you to sell your designs or artwork across all these channels.
Moreover, it acts like a central hub. From here you can easily manage your storefronts without the headache of logging in and out of different accounts. Furthermore, with just a few clicks; you can reach a broader audience
3. Efficient Order Management:
With ImprintNext, merchants no longer need to manually process orders from different channels. The app automates the order fulfillment process, streamlining operations and saving valuable time.
Being a merchant, you can easily simplify order processing by automating the entire fulfillment process across various channels.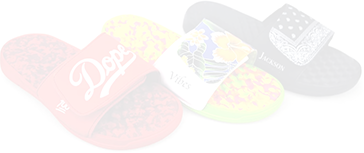 Boston based custom slide sandal maker has become $10 Million company using an online designer and unique growth marketing.
Read more
No need to manually sort through orders from different platforms. When your customers are placing orders and your order fulfillment, you can manage the entire process in one place.
4. Simplified Dropshipping:
Ease you complexities of drop shipping by creating a direct link between you and your merchants. Through this connection, you can efficiently fulfill orders on behalf of the merchants.
As a result, you do not need to have an all-time involvement and monitoring of the drop-shipping process.
It's like setting up a trusted bridge between vendors and merchants, ensuring that orders are processed and delivered swiftly without requiring the merchants to micromanage each transaction.
This allows merchants to focus on other critical aspects of their business, knowing that the fulfillment process is in capable hands, making the entire operation more efficient and hassle-free.
5. Transparent Commission Tracking:
ImprintNext business hub module becomes the central control center. You can easily manage commissions and sales invoices for merchants. You get all the information on your dashboard about earnings and transactions.
This tool ensures transparency and ease in tracking sales performance, providing merchants with concise and straightforward insights into their earnings.
Therefore, you do not need a dedicated financial assistant to record and compute every transaction and commission.
6. Unlimited Affiliate Stores:
Being a merchant you can create numerous affiliate stores. This allows you to fulfill a diverse range of catalog products across multiple channels.
This helps you to expand your reach, offering products through various storefronts tailored to specific audiences.
Moreover, it simplifies the management of different products. It ensures smooth operations and effective fulfillment, ultimately boosting sales and customer satisfaction across diverse platforms.
With this capability, merchants can tap into new markets and audiences, amplifying their sales potential without any limitations.
7. Enhanced Financial Operations:
You can easily navigate sales commissions, guaranteeing precise and transparent invoices while maintaining a crystal-clear record of every transaction.
Therefore, you can focus on your business without getting into intricate financial management.
Right from the dashboard get a clear overview of earnings and sales data, Thus, be informed and make the right decisions for your business.
8. Streamlined Workflow:
By automating various processes, ImprintNext optimizes workflow management for merchants.
Thus, allowing them to focus on creativity and growth rather than operational intricacies.
9. Consolidated Operations:
A centralized hub helps you gather operations across multiple marketplaces into a single, user-friendly platform.
Most importantly, this significantly reduces the complexity you face in handling multiple sales channels.
When you manage various marketplaces, the app simplifies tasks.
Moreover, it streamlines workflows, thus minimizing the challenges of handling multiple channels separately.
As merchants, you can now oversee and manage your sales data, orders, and product listings from one interface.
Final Words:
ImprintNext for POD and drop shipping businesses provides a user-friendly, all-in-one solution for merchants looking to scale their businesses across multiple channels. It simplifies the merchant-vendor connection for managing stores, sales, and commissions.
In conclusion, if you want to streamline your print-on-demand and drop shipping operations across various marketplaces, ImprintNext stands out as a comprehensive solution. Moreover, you can easily connect with vendors, manage commissions, and create unlimited affiliate stores.

Do you have printers? Are those printers sitting idle?
Become a Print-on-Demand dropshipping app like Printful or Printify. Dropship your merchants' orders.
Know more