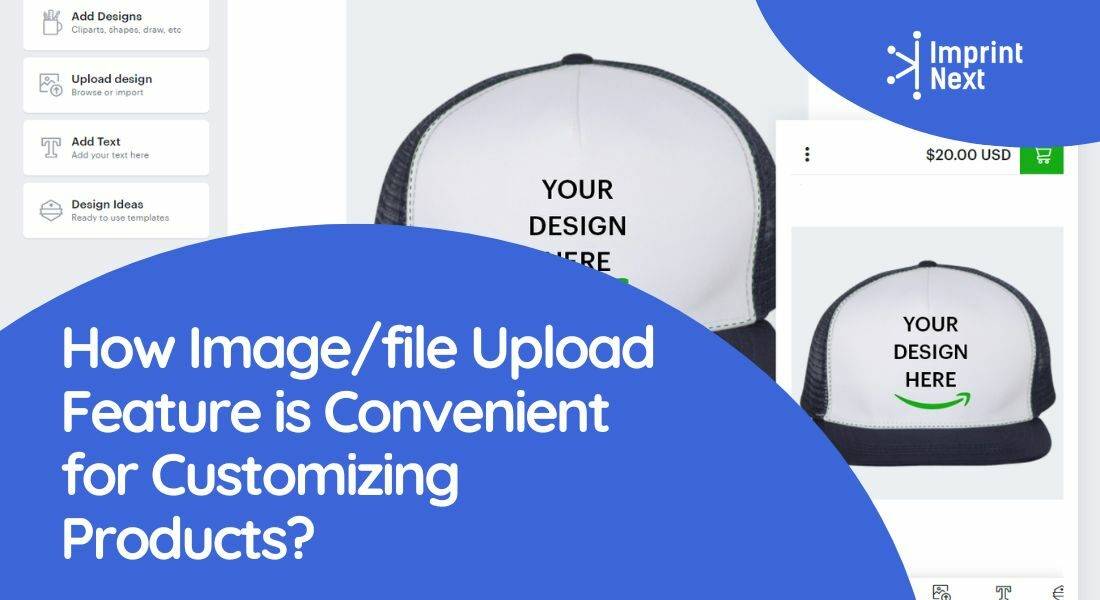 Last Updated on: 2nd August 2023, 02:00 pm
In recent times, we have observed a significant increase in requests from clients inquiring about the possibility of placing online orders via file upload. As the world moves towards digitization, consumers prefer the ease and convenience of online shopping over traditional methods.
At ImprintNext, we recognize this shift and strive to provide the best possible experience to our clients. One way we achieve this goal is by offering a simple yet effective file upload system for placing print orders.
Customers can easily upload their print-ready files in various formats including PNG, JPEG, PDF, SVG, and Vector, among others.
Once uploaded, they can preview their designs in real-time before proceeding to checkout. This user-friendly interface eliminates the need for complicated order creation procedures, saving both time and resources. Furthermore, our advanced order management system helps ensure that orders received via file upload are processed promptly.
This not only enhances the efficiency of our operations but also guarantees timely delivery of printed materials. Overall, our commitment to staying ahead of industry trends and embracing new technologies sets us apart as a leader in the field of print production. We look forward to serving you and helping you succeed in this ever-evolving marketplace.
How does file/image upload feature work?
The ability to select products and upload customized artwork directly from our website offers unparalleled flexibility to buyers seeking personalized solutions.
Our intuitive interface simplifies the entire process, starting with the selection of desired items from our extensive catalog.
After choosing the appropriate product, users can upload their own designs in various image formats such as JPG/JPEG/GIF/PNG/BMP/EPS, which can be viewed in real-time using the built-in live preview function.
To refine the design even further, cropping, resizing, and adding a white border options are readily accessible at the click of a button. Satisfied with the previews, buyers can move on to the cart page where they can review and confirm their choices.
Any additional comments or instructions regarding the order can be added during this stage. Lastly, our site facilitates easy modifications to orders until checkout, guaranteeing that every detail meets the buyer's expectations.

Do you have printers? Are those printers sitting idle?
Become a Print-on-Demand dropshipping app like Printful or Printify. Dropship your merchants' orders.
Unlimited Merchant stores. Dropship and Fulfil Merchants' orders. Manage merchant invoice, sales commission, etc. Merchants sell the designed products in shopify, etsy stores, etc.
Know more
Advantages of Image Upload for Product Customization:
Faster Uploading: Slow upload speeds can result in frustration and lost productivity. Our software boasts lightning-fast transfer rates, making the upload process quicker than ever. Users won't have to wait long to see their designs come alive on screen.
Multiple File Parallel Uploads: Time is money, especially in business environments. Our software enables users to upload multiple files simultaneously, significantly reducing wait times and increasing overall efficiency.
Configurable Extensions: Tailoring our software to match specific requirements is crucial. Therefore, we offer an option to configure supported file extensions from the backend. Administrators can choose which types of files should be allowed for upload, providing enhanced security and compatibility.
Handy Editing Features: Raster images like JPGs and PNGs often require minor adjustments before being used in professional contexts. Our software provides practical tools for cropping, resizing, and applying filters, streamlining the editing process and improving results.
Real-Time Preview: Viewing the outcome prior to actual usage saves valuable time and resources. Our software displays a live preview after uploading, giving users immediate feedback on how their designs appear. This feature helps avoid costly mistakes and reduces the need for revisions later on.
Compatible Across Platforms: Integrating our software into existing eCommerce systems shouldn't pose any problems. Designed to work seamlessly across diverse platforms, our solution ensures maximum adaptability and versatility. Whether you use Magento, WooCommerce, Shopify, or other popular eCommerce frameworks, our software fits right in.
Benefits of File Upload for Print Shops or Product Decoration industries:
1. Streamline business operation:
By implementing a streamlined workflow, our platform enables printers to receive high-quality, print-ready files directly from clients, minimizing the risk of errors caused by manual data entry.
With the user-friendly file upload feature, users can effortlessly send their customized graphics securely and efficiently, saving both parties significant amounts of time and resources. Through automation and standardization, this process has been optimized to enhance accuracy, speed up production cycles, and improve overall customer satisfaction.
As a result, printers can focus more on delivering exceptional final outputs rather than spending excessive time on administrative tasks.
Ultimately, this advanced approach translates into faster turnaround times, improved quality, and increased profitability for businesses utilizing our platform.
2. Increased Efficiency:
The incorporation of a robust file upload mechanism within our platform revolutionizes the way printers manage their daily operations. By leveraging this convenient tool, service providers can achieve remarkable improvements in terms of efficiency, productivity, and competitive advantage.
Specifically, accessing client-supplied files becomes incredibly straightforward, allowing printers to start working on orders almost immediately upon receipt. With a single mouse click, relevant information, including graphic elements and text content, become available, enabling them to begin preparing prints without unnecessary delays or hindrances.
Additionally, our system's intuitive interface enables staff members to quickly locate and retrieve necessary documents, saving time spent searching through folders or email archives.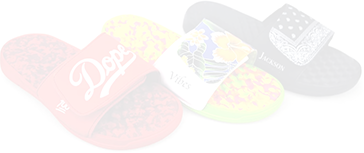 Boston based custom slide sandal maker has become $10 Million company using an online designer and unique growth marketing.
Read more
Overall, these combined advantages translate into accelerated turnaround times, higher output volumes, and ultimately greater success for companies adopting our solutions.
3. Improved UI:
By integrating a user-friendly file upload functionality, our platform empowers end-users to submit their materials quickly and seamlessly. This simple yet effective addition significantly enhances the overall experience for those interacting with our system, leading to heightened levels of satisfaction and loyalty.
Without having to navigate complex interfaces, spend countless hours uploading files individually, or engage in cumbersome processes, clients are now able to swiftly share their desired artwork or graphics with ease.
This improved user experience not only fosters positive interactions but also encourages repeat visits, promoting sustainable growth and stability for businesses relying on our platform.
Ultimately, this superior level of usability translates into stronger relationships between brands and their customers, driving mutual benefits and lasting success.
4. Better Communication and enhanced collaboration:
The inclusion of an efficient file upload mechanism serves as a catalyst for strengthening communications between printers and clients.
Traditionally, exchanging important information was challenging due to various factors such as differing time zones, language barriers, and technical limitations. However, by providing direct access to vital graphics and related documentation, our platform enables open dialogues between stakeholders, paving the way for constructive conversations.
Printers can review submitted files, offer suggestions, or request clarification on specific aspects that might affect the final outcome. Conversely, customers benefit from timely feedback, ensuring they meet all requirements, and their expectations align with the intended result.
Enhancing collaboration throughout each stage of the design and production process is crucial to achieving outstanding results, fostering trust, and maintaining long-lasting partnerships.
By addressing issues early on and creating an environment where ideas flow freely, we optimize the value of our platform, promoting successful ventures built on strong foundations.
5. Easy to Use:
An easy-to-use file upload solution that boasts lightning-fast performance across multiple web browsers. The streamlined design ensures compatibility irrespective of the device being used. Be it desktop computers, laptops, tablets, or smartphones.
This universal adaptability guarantees seamless experiences for every type of user, regardless of their preferred operating systems or devices.
Final Words:
ImprintNext product customization software typically includes a comprehensive array of features designed to assist users in managing print jobs efficiently.
One fundamental aspect of such tools is the ability to upload preconfigured designs for immediate processing and subsequent production. This capability eliminates the need for lengthy explanations or additional correspondence during the quoting phase, allowing for faster approval and execution of projects.
Moreover, when purchasing products online, consumers enjoy an effortless shopping journey where they can explore available merchandise. Configure personalized settings, view real-time prices, and complete transactions by submitting custom graphics via our cutting-edge file transfer technology.
This innovative approach reduces operational overhead and minimizes human error rates, thereby optimizing productivity and maximizing profit margins.
Additionally, offering this facility contributes to elevated output quality since users have full control over the layout, colors, typography, and other critical components influencing their brand identity or market presence.
In conclusion, embracing this advanced technology allows organizations to excel in today's highly competitive environments. Thus, capitalize on emerging trends, and stay ahead of industry peers who may lag behind in terms of adaptability and responsiveness. Adopt our top-notch solutions today and see your business flourish tomorrow!

Do you have printers? Are those printers sitting idle?
Become a Print-on-Demand dropshipping app like Printful or Printify. Dropship your merchants' orders.
Know more